The way we shop is evolving, both online and in the real world, enabling new opportunities to engage with consumers and influence their decisions. We look at how big tech is developing new tools, investing in startups, and using partnerships to expand its reach across the customer journey.
Competition for consumers' attention has intensified, particularly online, where the average consumer spends more than 13 hours a day. The concept of "online shopping" is also expanding to new platforms. At the same time, retailers of all sizes are on the hunt for tech that will help them digitize operations across stores and online. 
In this evolving retail environment, big tech companies Meta, Amazon, and Google continue to expand their product development, investment, and partnerships into new sectors of retail tech.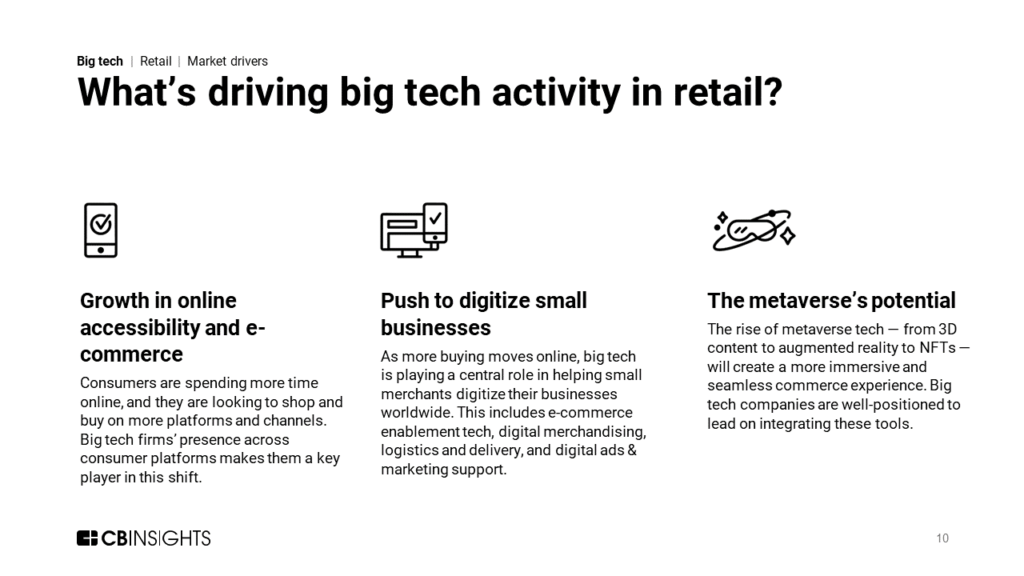 Download the report to find out:
How each giant's retail tech priorities have evolved over the last 3 years

The top areas of retail tech where big tech is investing

The global markets where big tech companies see the most potential for growth

What the big tech companies' expansions into retail tell us about their broader strategies
REPORT HIGHLIGHTS:
Big tech companies will make themselves more prominent competitors with traditional retailers.

The giants are reaching into retail across the customer journey, capitalizing on their ability to collect consumer data and personalize the experience.

Retail tech-as-a-service providers will gain new competition from big tech companies as well.

The tech giants are elevating themselves as B2B partners to optimize retail operations online as well as in stores.

Big tech is eyeing the metaverse as retail's next destination. Since 2020, nearly a quarter of Meta, Amazon, and Google's retail investment activity has focused on metaverse tech.
If you aren't already a client, sign up for a free trial to learn more about our platform.