Quantum computing is still nascent, but it's already sparking a revolution in technology. We look at how Google, Microsoft, Amazon, IBM, and Intel are establishing themselves in the quantum space through product launches, R&D projects, investments, partnerships, and more.
Quantum is heating up.
Funding to quantum tech startups soared to record levels in 2021. Media interest in the space has continued to climb. New milestones and scientific breakthroughs are being announced at a quickening pace.
Against this backdrop, big tech companies Google, Microsoft, Amazon, IBM, and Intel are investing heavily in building their own quantum computers and developing applications around enterprise use cases.
With enormous prizes on the horizon, none of these big tech companies want to be left behind.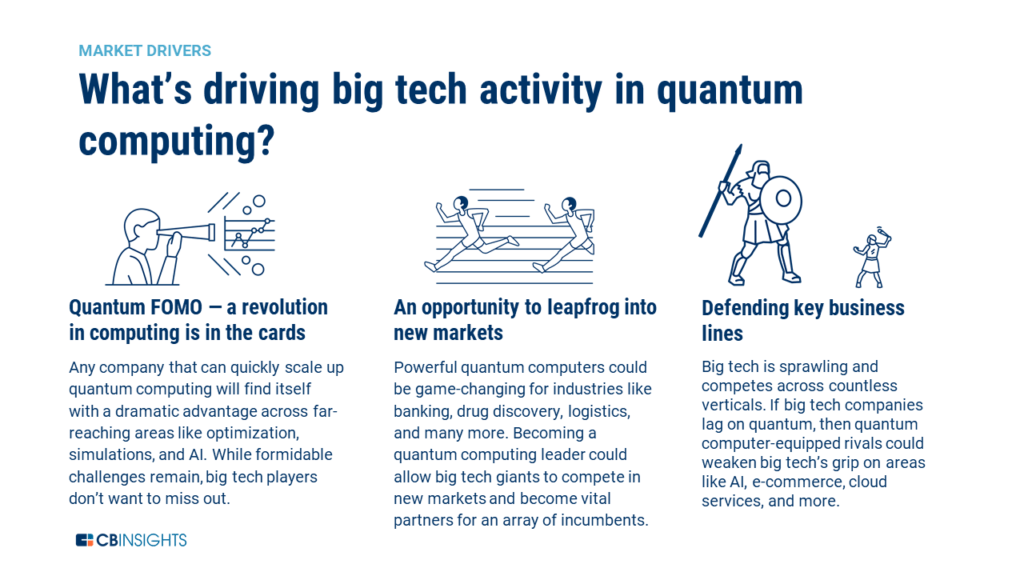 Download the report to find out:
How big tech companies are looking to gain from quantum advances and their strategies for commercializing quantum computing
The different approaches they are using to develop their own quantum computers
How big tech giants are using partnerships to build out their quantum capabilities and stake out market positions
Which strengths and capabilities differentiate each big tech company in quantum
REPORT HIGHLIGHTS:
Big tech's quantum activity is ramping up quickly. Google, Microsoft, Amazon, IBM, and Intel are all developing their own quantum computing hardware. Big tech companies have already been behind several breakthroughs in the space.
Cloud is an early area of quantum competition for big tech. Google, Microsoft, Amazon, and IBM have all launched quantum computing services on their cloud platforms. Numerous startups have partnered with big tech companies to offer remote access to a broad range of quantum computers.
Big tech is poised to forge ahead with quantum advances. Google, Microsoft, Amazon, IBM, and Intel all have ambitious quantum roadmaps. Expect rising qubit counts and more frequent demonstrations of commercial applications.
Watch for quantum computing to become a hot geopolitical issue, especially for US-China relations. Expect quantum-forward big tech companies, including China-based Baidu and Alibaba, to be drawn deeper into political debates. In the US, government efforts to rein in big tech could be countered by officials nervous about keeping up with countries racing ahead with quantum technology.

If you aren't already a client, sign up for a free trial to learn more about our platform.