Big tech is coming for pharma. We analyze Amazon, Microsoft, Apple, and Google's strategies and priorities across the pharmaceutical value chain.
The pharmaceutical industry is going digital. 
Big tech companies are leveraging their expertise in software, data, and AI to capitalize on rising opportunities in the space, from research and discovery to clinical development to patient monitoring.
Amazon, for example, is working to build out a digital pharmacy following its 2018 acquisition of PillPack. Meanwhile, Microsoft is using its AI capabilities to make the drug discovery process more efficient.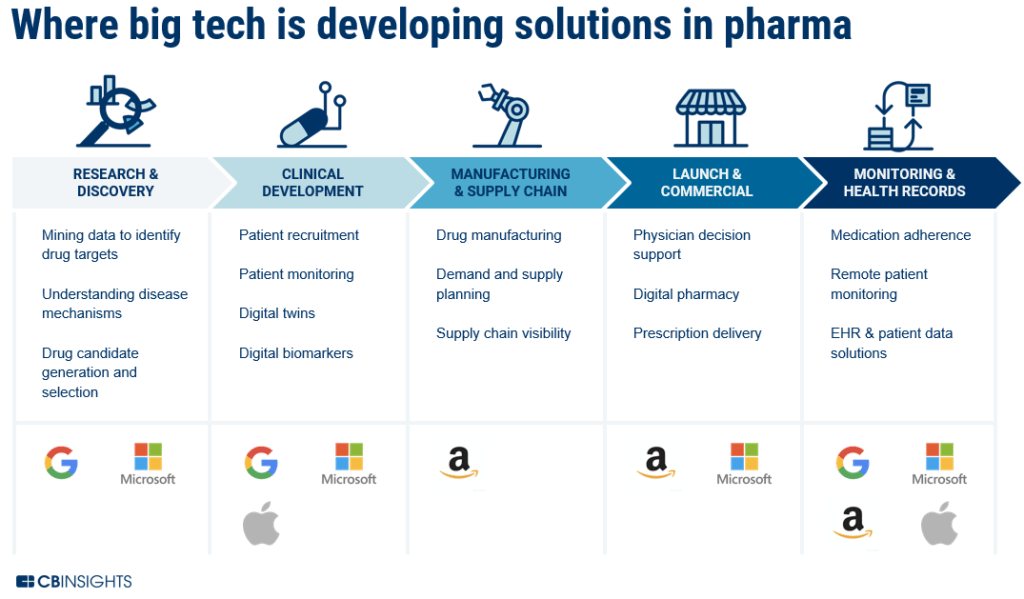 Below, we break down how Amazon, Microsoft, Apple, and Google are tackling the following components of the pharmaceutical value chain:
Research & discovery: Includes solutions for mining biological data to identify drug targets, algorithms to understand disease mechanisms, and using AI to generate and select drug candidates.
Clinical development: Technology for clinical trial recruitment and improved patient monitoring, including digital twins to minimize development costs and digital biomarkers to measure participant health.
Manufacturing & supply chain: Includes initiatives to build in-house drug manufacturing, real-time data on medication supply and demand, and IoT tech for supply chain visibility.
Launch & commercial: Solutions for clinical decision support, treatment optimization, online pharmacy, and prescription delivery.
Monitoring & health records: Technology to improve medication adherence, remote patient monitoring, patient data storage and security, and electronic health records.