The tech giants saw record growth last year. We dig into where Facebook, Amazon, Microsoft, Google, and Apple (FAMGA) are placing their bets and analyze their strategies across cloud, retail, AI, and more.
Big tech giants — Facebook, Amazon, Microsoft, Google, and Apple (FAMGA) — achieved record growth over the past year. In 2021, the group saw aggregate revenue of $1.4T and poured money into high-growth areas like mobility, cybersecurity, and AI.
We dig into FAMGA's acquisition and investment activity in 2021, highlighting key trends, top deals, and more.
Download the report to find out:
Which tech giant leads investment activity

The technologies and industries gaining traction among FAMGA

Where big tech has placed its $1B+ bets
Report highlights:
FAMGA SLOWS ITS Funding ACTIVITY IN 2021
Big tech-backed funding dipped to $9B in 2021 from 2020's record high, with blockbuster deals to companies like Cruise Automation, Deliveroo, and Databricks.

BIG TECH ACQUISITIONS REACH A 5-YEAR LOW
FAMGA's acquisition activity continued its downward trend.
Microsoft leads FAMGA in acquisitions over the past 5 years and upped its acquisition pace significantly in 2021.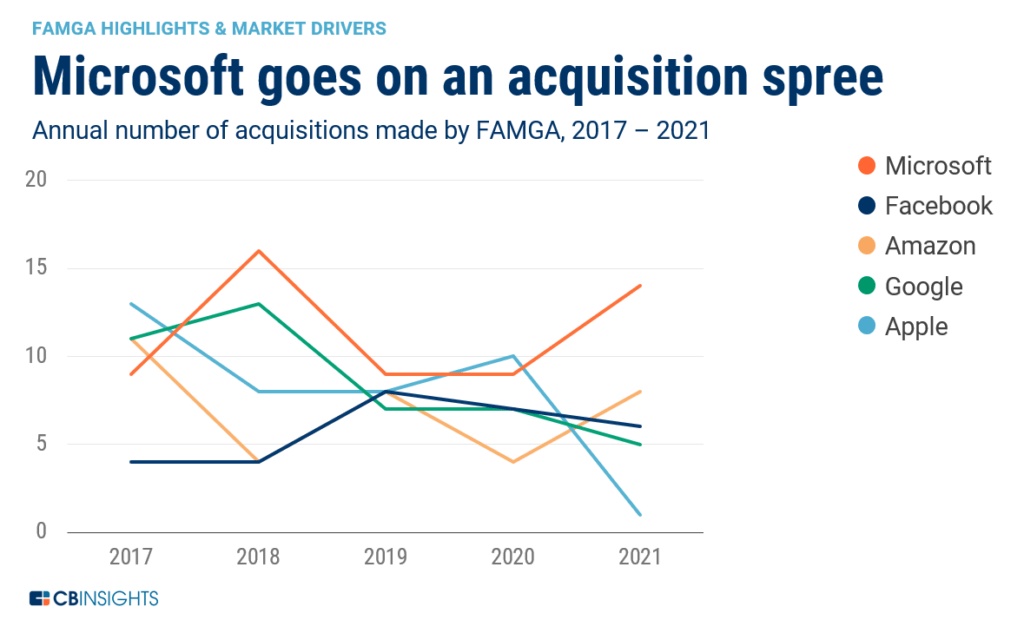 Download the full report to see all of FAMGA's investments and acquisitions in 2021.
If you aren't already a client, sign up for a free trial to learn more about our platform.