Creators demanding monetization tools have long been ignored. Now, the tide may have turned in their favor — and tech giants are finally capitulating.
Social media giants have long relied on free, user-generated content to capture users and eyeballs. 
Consumer social apps from Vine to Instagram served as the main platforms where influencers and creators amassed large followings. But the lack of monetization tools left a gap. Influencers were increasingly frustrated that their high-traffic content gave big media platforms lots of eyeballs, but relatively scant content creator rewards. 
Fast forward to 2021, following a pandemic when social giants saw user growth and content consumption surge, tech companies are scrambling to engage and lure users amid an explosion of new social apps like Clubhouse and TikTok.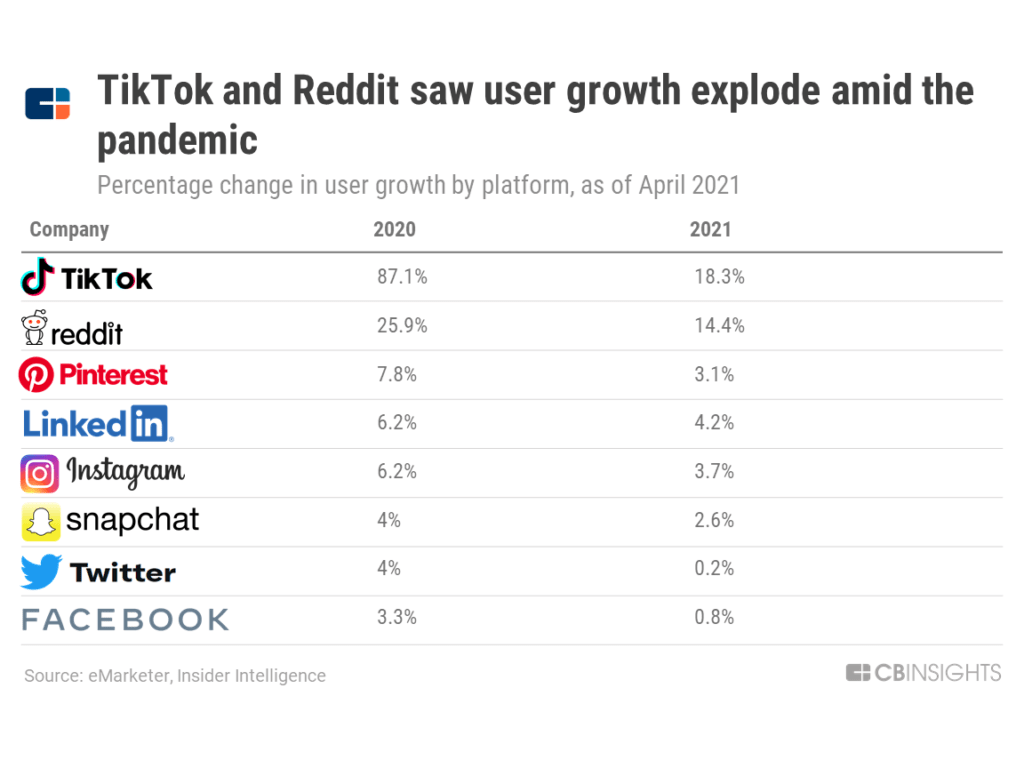 Amid the boom in new social apps, "creator-first" companies have emerged to offer services like influencer marketplaces, merchandise stores, and tipping platforms to help content creators make money across multiple platforms. More importantly, they give influencers leverage with the media platforms where they've built an audience.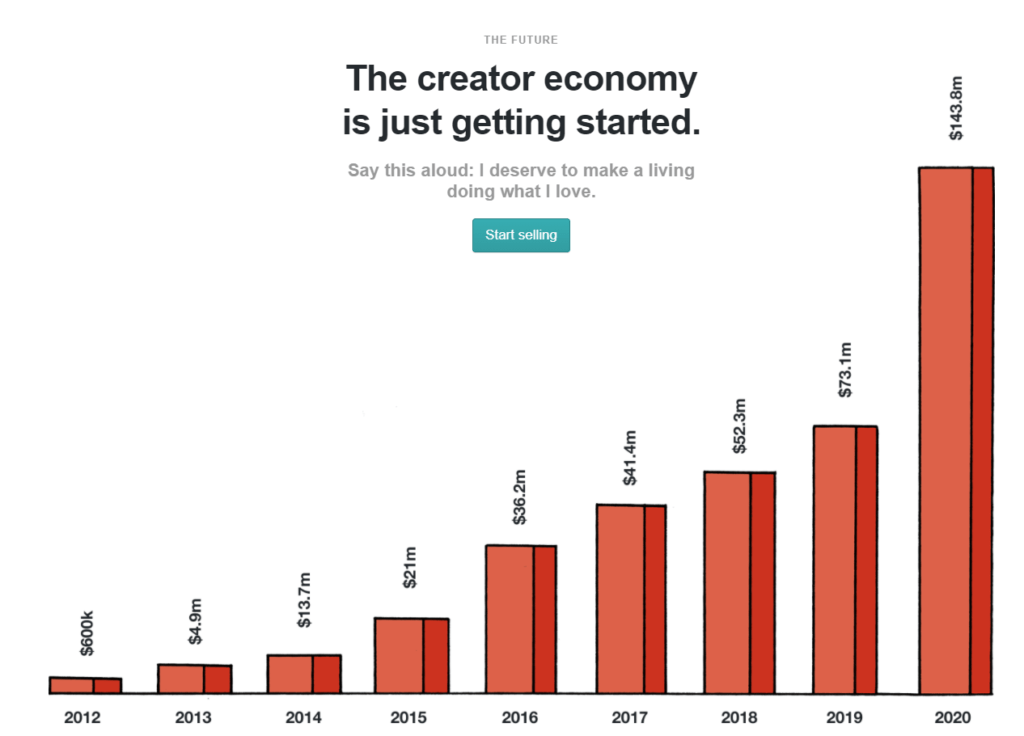 Source: Gumroad
Seeing this opportunity — and threat — big tech is finally starting to expand its product suite to encompass creation and monetization tools, so creators aren't swayed to go elsewhere. Along the way big tech hopes to capture a bigger slice of a market estimated at $104B and growing, according to Influencer Marketing Hub.
Given the massive scale of these tech giants, their push into creator tools presents imminent danger for the independent startups offering off-platform services as well as standalone media products that offer alternative platforms for creators.
"The power has shifted away from the platforms to the creators," SignalFire principal Josh Constine told Reuters. "The platforms all stepped up and realised that they were in grave danger of losing their labor force, if they didn't add these features."
Below, we analyze how tech giants are exploring opportunities to roll out tools for content creation, monetization, and more for creators — and what it means for the broader creator economy. 
Table of Contents
Facebook's massive scale makes it a formidable rival to any social company whose product it copies
Facebook's snowballing revenue was only boosted by the pandemic, driven by users spending more time and money online. But to keep the content machine churning, Facebook is finally courting creators — after a long period of benefiting from free content — with more features and cash. 
It's seen some traction: the number of content creators on Facebook earning $10,000 a month from ads and fan support grew by 88% from 2019 to 2020, and the number of creators earning $1,000 per month nearly doubled over the same timeframe.
"To help more creators make a living on our platforms, we're going to keep paid online events, fan subscriptions, badges, and our upcoming independent news products free for creators until 2023. And when we do introduce a revenue share, it will be less than the 30% that Apple and others take," Facebook CEO Mark Zuckerberg recently announced.
The company is rolling out feature after feature across video, audio, and more, after a long stretch of sidestepping creators' demands for content and monetization tools on its platform. Facebook has drawn criticism over the years for its copycat features — cloning products from other large players like YouTube, Twitch, LinkedIn, Tinder, Snapchat, TikTok, Craigslist, and more — but that's the strategy it's continued pursuing. For example, the company recently rolled out features that resemble Clubhouse's audio rooms and Substack's newsletter platform. 
It remains to be seen whether this strategy of throwing everything against the wall and seeing what sticks will drive product and engagement growth or increase ecosystem bloat. However, Facebook's massive scale — counting 2.85B monthly active users as of Q1'21 — makes the company a formidable competitive threat to any media company whose product it chooses to copy. 
Facebook's broad dip into the creator economy has the aim of helping creators build businesses on top of its platform, aligning with its long-held goal to "reduce passive consumption" of content. With its TikTok clone, Reels, Facebook is clearly hoping to emulate the success it had when Instagram copied Snap's Stories feature — it now claims 500M daily active users, while Snap counts 280M daily active users. Fundamentally, these strategies tie into Facebook's ambition for hypergrowth to bolster ad revenue.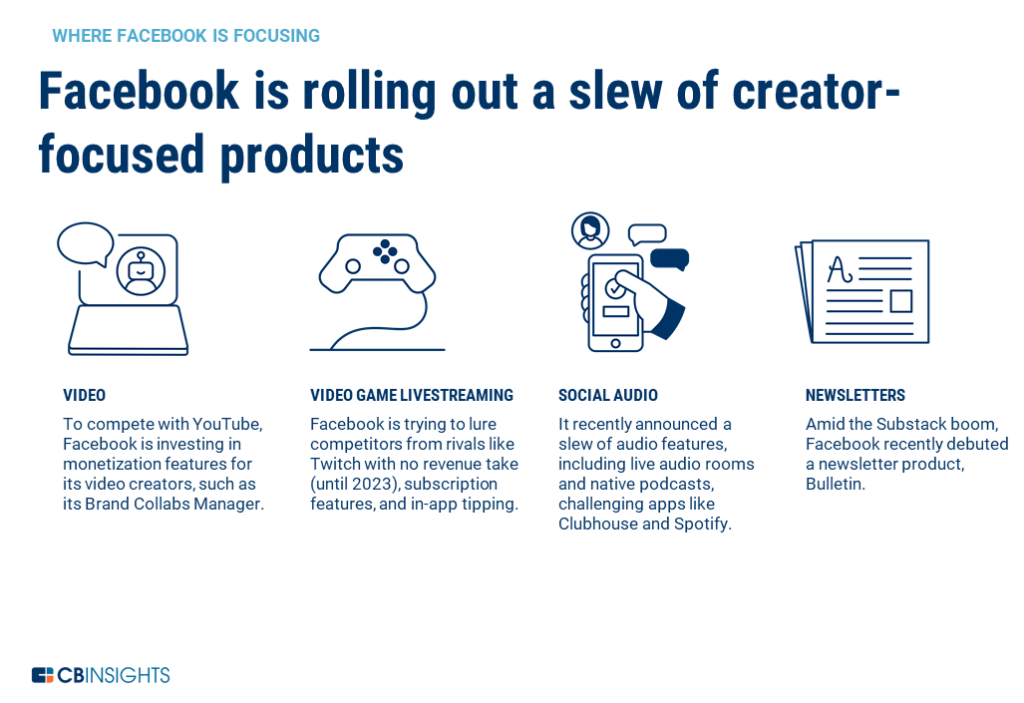 VIDEO & LIVESTREAMING
Facebook's ambitions to become a video-first organization are well known. As early as 2014, Zuckerberg said that "in five years, most of [Facebook] will be video."
Its grand "pivot to video" proved to be a major flop after it was revealed that Facebook misguided advertisers and publishers with inflated metrics, but the tools spawned amid the push for video remained. In 2017, it launched its creator analytics platform, Facebook Creator, which allows users to manage content scheduling, publishing, and metrics. However, monetization features were practically nonexistent: it lacked subscriptions, tipping, or even the ability for creators to insert revenue-sharing ads into their videos. 
Content monetization was a thorny issue at the time, with the demise of Vine serving as a cogent reminder that creators were, by then, powerful enough to demand compensation — if not, they'd leave the platform.  
In 2019, Facebook debuted a slew of more creator-friendly tools to woo video creators to Facebook Watch from YouTube, including prioritization in its video ranking algorithm and more flexibility around ads. It also updated its Brand Collabs Manager, which connects creators with advertisers. In 2020, Facebook took direct aim at YouTube by debuting official music videos on its video platform.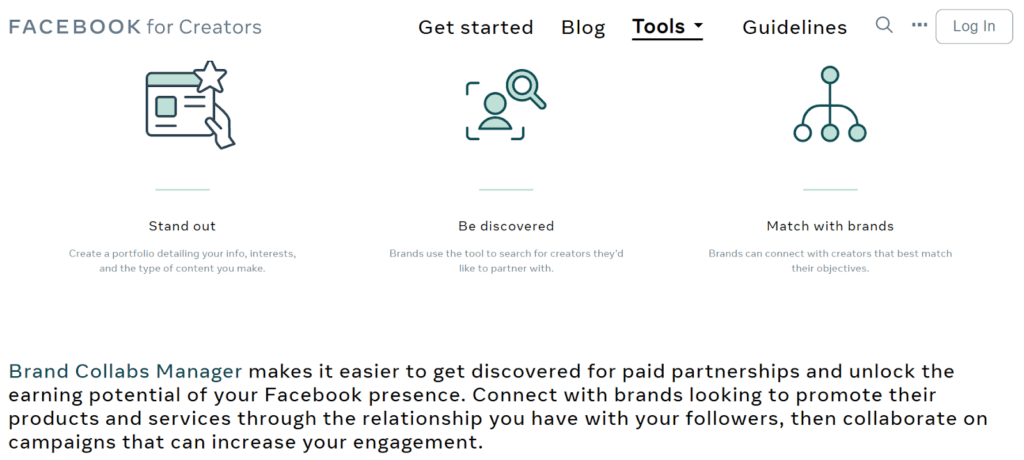 Source: Facebook
"Facebook has been studying TV for a few years now, and they see there is a certain equation to the size and success of TV," Ben Winkler, OMD's chief investment officer, told the New York Times in 2018. "It's three elements: a high-quality user experience, prominent high-quality video and a curated, restricted supply of said video. What that equation results in is higher rates and stable, consistent ad dollars and growth — and Facebook is looking for ad growth."
Another pivotal pillar of its video business is video game livestreaming. 
Facebook got into the game livestreaming space with its 2018 launch of Facebook Gaming, which saw viewership surge by 79% amid the pandemic. Its streaming service has lagged behind YouTube and Amazon-owned rival Twitch, but Zuckerberg recently announced that it would not take any cut of streamer revenue until 2023 to lure streamers from competitors like Twitch. 
Currently, Facebook Gaming is equipped with a similar set of monetization features as Twitch. Standard subscriptions cost $4.99, the same as Twitch, and the company was set to resume taking a 30% cut this fall — before it pushed that out to 2023. Twitch, by comparison, takes a 50% cut of most standard subscriptions, though it recently rolled out adjusted subscription tiers. Facebook Gaming also allows viewers to tip via Stars and streamers to roll ads before, during, or after their streams as additional monetization options.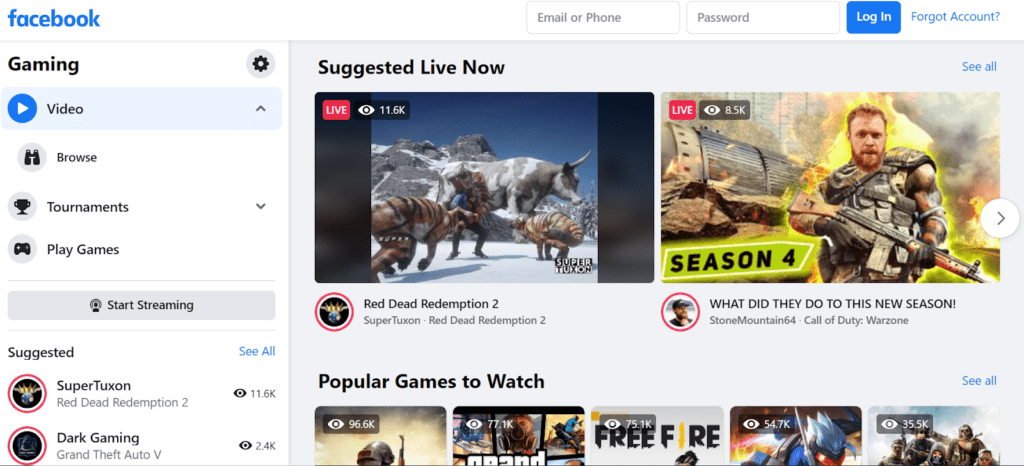 Source: Facebook
Additionally, Facebook is taking a page directly out of Discord's playbook — it's launching Fan Groups to help streamers build their communities. These groups will allow conversations to be threaded by topic (or even moved into separate channels); furthermore, viewers who have tipped will have badges displayed next to their names. 
To build out its gaming ecosystem, it recently acquired Unit 2 Games, which develops Roblox-esque game creation platform Crayta, to incentivize further game creation on its platform.
Per Facebook Gaming VP Vivek Sharma, "[Facebook] can now make content creation easier than ever by bringing our team together with Unit 2 Games' team and technology. In the future, people on Facebook will create experiences in a matter of minutes without the need to code, while more advanced creators can make content limited only by their imagination."
SOCIAL AUDIO
Facebook is entering the crowded audio market following Clubhouse's pandemic success, which netted the app a $4B valuation just a year after launch. 
In June 2021, Facebook rolled out a batch of audio products, including Live Audio Rooms, similar to Clubhouse's audio rooms, as well as native podcasts. 
It also plans to launch further audio creation tools, which allow users to mix audio tracks, add sound effects and filters, and more, and Soundbites, which are short audio clips, later in the year. 
In terms of monetization, users will be able to tip creators through Stars, Facebook's native tipping system. Eventually, Facebook plans to allow creators to charge for one-time or recurring access to Live Audio Rooms and said it would roll out an Audio Creator Fund to support emerging creators.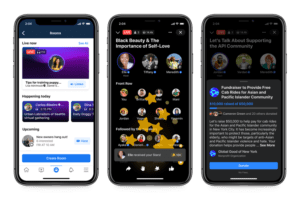 Source: Facebook
To retain creators, Clubhouse introduced a payments feature and kickstarted an accelerator to fund emerging creators' shows. Other tech giants, like Twitter, have also rolled out nearly identical social audio features. 
NEWSLETTERS 
Amid the Substack boom, Facebook launched a newsletter product, Bulletin, which allows writers to launch free and paid newsletters. 
So far, it's recruited writers like writer Malcolm Gladwell, author Mitch Albom, and organizational psychologist Adam Grant by paying them upfront. While the product is still in closed beta, Facebook eventually plans to expand its partnerships with writers, especially with those who cover local news. 
It has also said that it won't take any cut of subscription revenue at launch. Competitors Substack and Revue currently take 10% and 5%, respectively.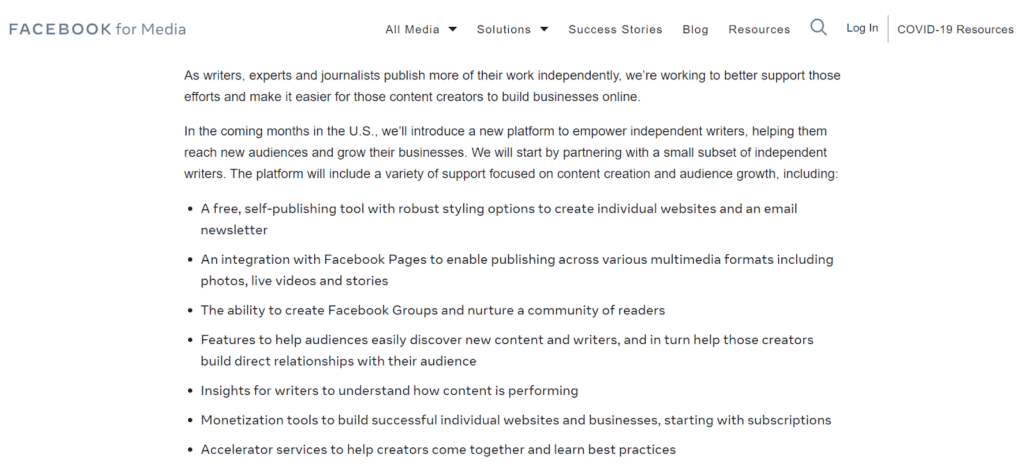 Source: Facebook
Facebook's re-entry into news products is controversial, given its history of deprioritizing media and business posts. But given the recent exodus of journalists from legacy publications and the rising popularity of Substack, newsletters offer a juicy product from which Facebook stands to derive some benefit. Even if the material profit is negligible compared to its advertising revenue, newsletters are another flourishing part of the creator economy ecosystem — something Facebook is looking to integrate itself further in.  
INSTAGRAM ECOSYSTEM
For years, Facebook's Instagram failed to capitalize on — and take its cut of — the burgeoning influencer economy, which is estimated to hit $22B by 2024. 
In April 2021, it finally announced a slew of broader monetization tools for influencers, including Creator Shops, native affiliate links, and a marketplace to connect influencers with brands. It earlier debuted badges, a tipping feature for influencer livestreams. 
Instagram also recently launched its inaugural Creator Week in an effort to appease disgruntled influencers on its platform, who have long raised concerns about algorithm changes and lack of direct monetization tools.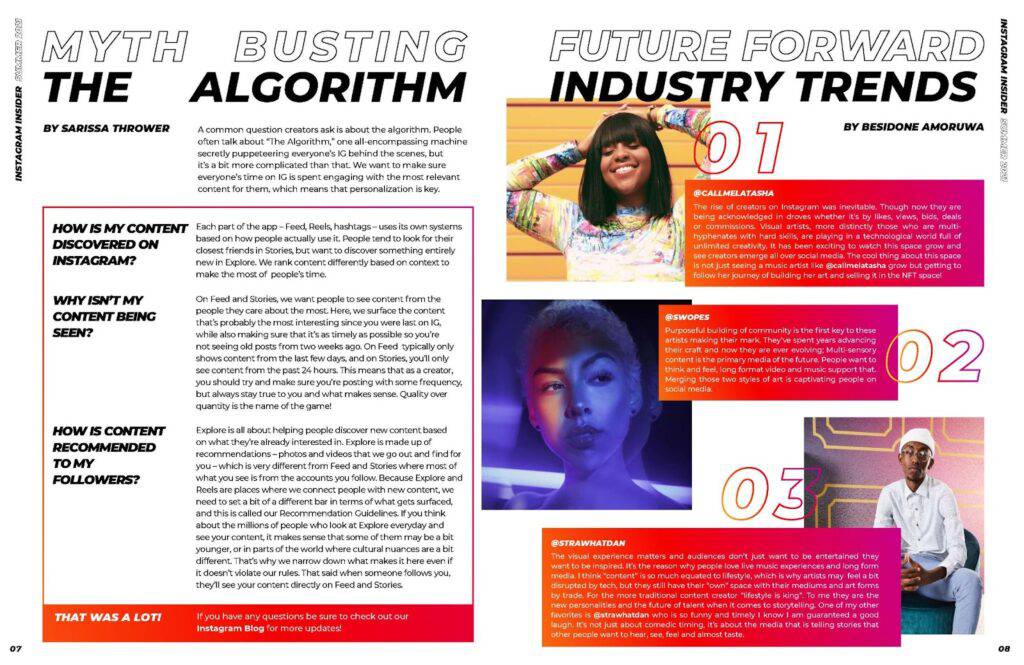 Source: Instagram
"Our goal is to be the best platform for creators like you to make a living," Zuckerberg said in the livestream. "And if you have an idea that you want to share with the world, you should be able to create it and get it out there easily and simply — across Facebook and Instagram — and then earn money for your work."
Instagram is also hoping to edge out TikTok with its native short video feature, Reels, which was unveiled in August 2020. It offered upwards of six figures to popular creators, with the largest potential checks being cut to those posting exclusively on Reels.
This catch-up comes years behind the curve:
"Influencer marketing has existed for over 10 years, and this is the first time they host a large-scale event?" Starfund partner Gil Eyal told Digiday. "It speaks to how YouTube and TikTok are threatening them in the influencer space."
Influencer marketing began taking off in the 2010s, and influencers themselves were some of the earliest drivers of the birth of influencer marketplaces — or platforms where influencers could connect with brands directly to ink sponsorship deals.  

News mentions of "influencer marketing" have surged since 2016. 
Today, this economy has flourished into a massive market, with platforms that handle everything from influencer discovery to campaign management to payments solutions. CreatorIQ is one of the top-funded startups in this market, having raised $39M in total.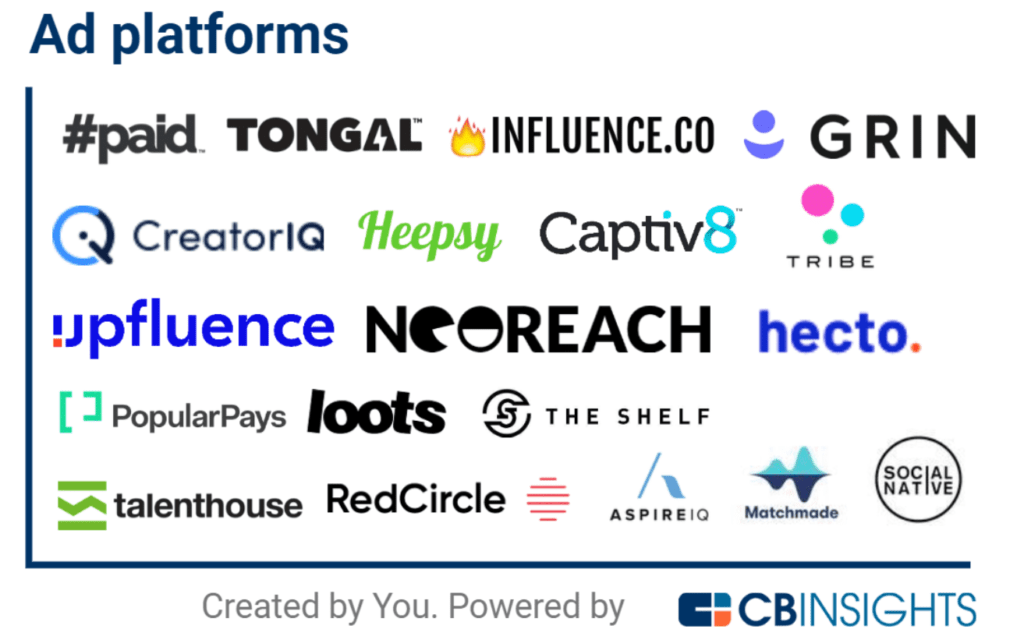 Check out the full creator economy market map here.
But as Facebook rolls out native monetization tools for Instagram, these influencer agencies may soon face an existential crisis. In-app monetization features could disrupt the need for a third-party marketplace, as influencers can source deals directly on the platform and launch their own shops. 
Amazon's Twitch may look to merge livestreaming with commerce
Amazon is doubling down on livestream commerce, and it aims to lure creators and influencers who want to earn affiliate revenue on the platform.
Its efforts are reflected in its several patents in the space, with one of them showing how the e-commerce giant plans to add "electronic commerce functionality in video overlays."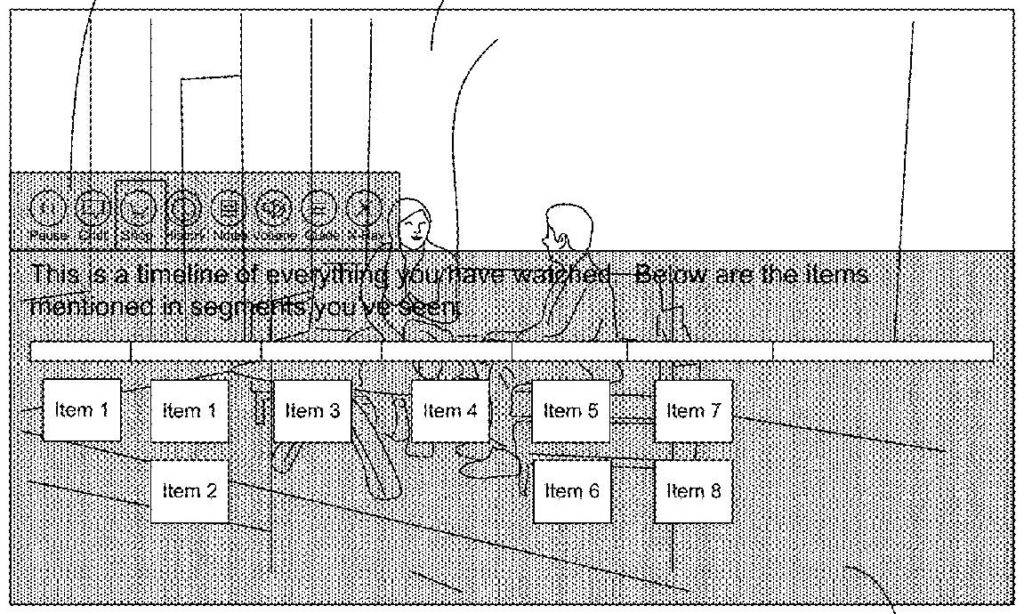 Source: USPTO
Meanwhile, its Amazon Live Creator app allows influencers to livestream and earn commissions through livestream sales.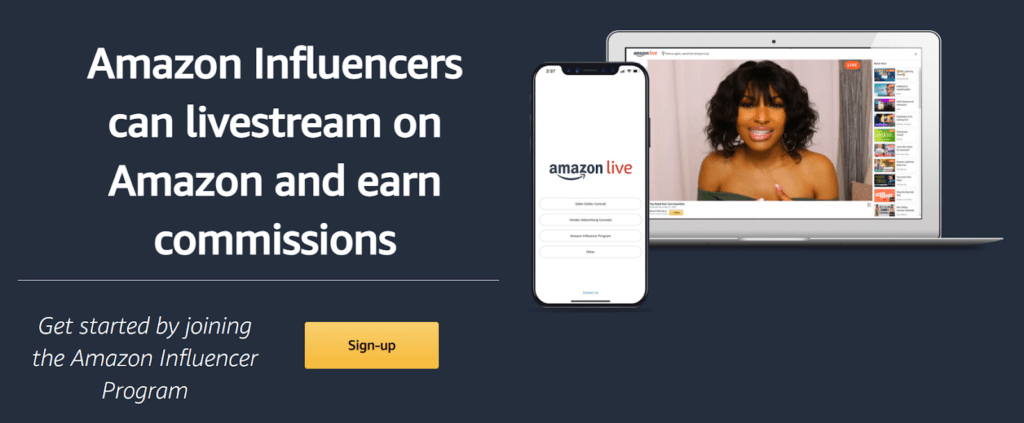 Source: Amazon
But where it may find the most traction is through Twitch, its game streaming service. Amazon previously hosted a Prime Day livestream on Twitch to sell its products — similar to QVC — and Burberry streamed its Spring/Summer 2021 show on Twitch. 
The platform currently remains an unchallenged leader in the video game livestreaming space, accounting for a whopping 91% of the market. In Q3'20, creators streamed 206M hours — nearly double year-over-year — and users viewed 4.7B hours of video on Twitch. It also hosts some of the biggest gamers, including Tyler Blevins ("Ninja"), Turner Tenney ("Tfue"), and Imane Anys ("pokimane"), which each boast millions of followers.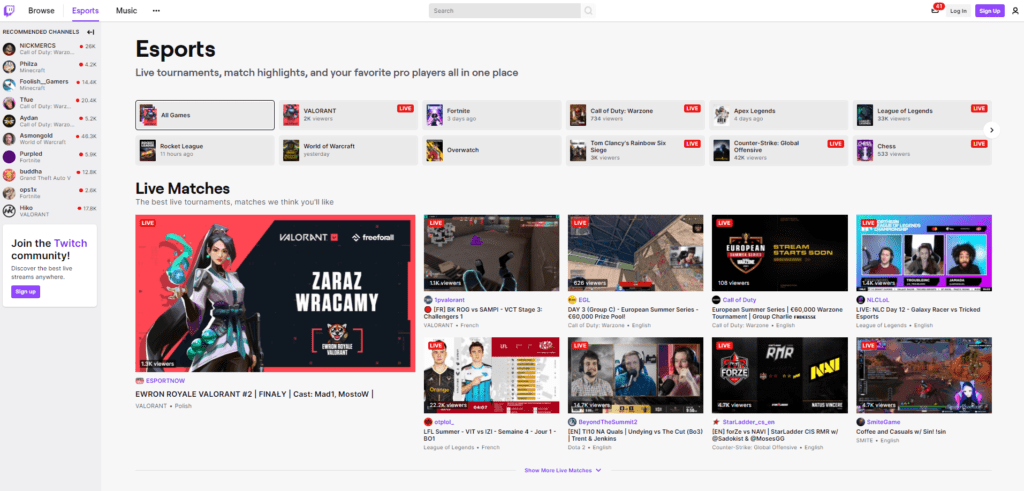 Source: Twitch
Twitch currently derives the majority of its revenue from its 50% cut from subscriptions, but it's reportedly hoping to up its ad revenue, which has higher profit margins. 
To fuel subscription growth, the company recently launched tiered subscriptions that differ by country to account for local pricing. 
"The percentage of active users in Europe or Asia who support creators with a subscription is roughly 50% lower relative to North America. In Latin America, it's nearly 80% lower," per a Twitch post. 
The feasible next step for Amazon would be to integrate these livestreaming capabilities to promote more e-commerce purchases. Creators and brands alike could follow Burberry's route and stream on Twitch, selling products for affiliate dollars. 
Livestream shopping is a critical next step for companies looking to succeed in social commerce, and Amazon is clearly looking to expand in this realm. 
Elsewhere, China is arguably the pioneer of livestreaming commerce. Taobao and JD.com represent the largest competitors in the market, and tech giants in the US are hoping to emulate their success. For example, Taobao Live, Taobao's livestreaming platform, reaped $7.5B in the first half hour of presales for Singles' Day, China's annual shopping festival. 
The trend is expected to generate up to 20% of its total e-commerce sales by next year, up from 10% in 2020, according to estimates by HSBC and Qianhai Securities.
Heavy demand is also illustrated by China-based livestreaming app Kuaishou's $5.4B oversubscribed IPO in February — the largest since Uber's $8.1B debut — following its stellar gross merchandise volume growth in 2020. 
Microsoft looks to acquire creator communities
Microsoft CEO Satya Nadella has been bullish on the idea of prioritizing content creation over pure consumption. 
Microsoft's first moves manifested in fostering more creative environments for game developers. In 2014, it bought Minecraft's intellectual property for $2.5B, and in 2017, it launched its Xbox Live Creators program, which allows developers to publish their own games to Xbox One for sale. In 2019, Github rolled out sponsorships, or voluntary donations, allowing users to help fund developers working on open-source projects. 
"We are the company that stands for the builders, the creators," Nadella said back in 2016. "Every choice we make is about finding that balance between consumption and creative expression. I am inspired by what I see in the Minecraft generation. They see themselves as not players of a game, but creators of a world they dream up."
Amid the growing focus on creators, another obvious realm for Microsoft to capitalize on is LinkedIn, which has spawned an influencer class of its own. In March, the platform launched "creator mode," which highlights users' posts above their work experience to help them grow their audiences. 
Already, LinkedIn has debuted creator-focused features like newsletters, livestreams, and Snapchat-like ephemeral stories. Direct monetization tools have yet to appear on the platform, but the company said it will build more tools for creators going forward, including live audio rooms.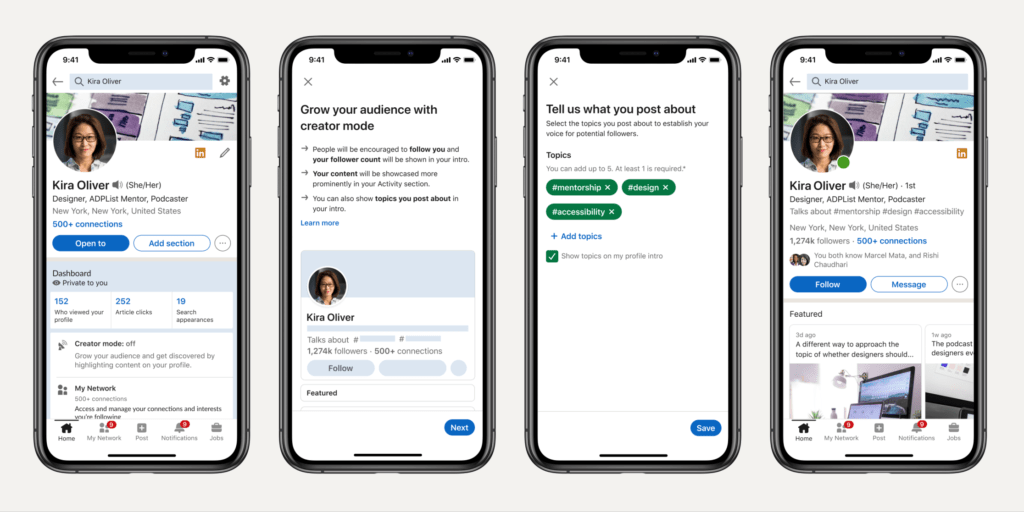 Source: LinkedIn
Nadella's ambitions have also been reflected in recent bids for more consumer-focused companies, such as TikTok, Pinterest, and Discord — an effort to snap up more established communities. 
"Creation, creation, creation — the next 10 years is going to be as much about creation as it is about consumption and about the community around it, so it's not creating alone," Nadella told Bloomberg in March 2021. "If the last 10 years has been about consumption — we're shopping more, we're browsing more, we're binge watching more — there is creation behind every one of those. But I see that phenomenon being much more democratized."
Google's YouTube continues shelling out cash to creators, takes on TikTok with Shorts 
YouTube is one of the biggest players in the digital advertising space. The video sharing platform would be the fourth-largest seller of digital ads if it were a stand-alone company, after its parent company, Alphabet, Facebook, and Amazon, per Fortune. 
One of the strongest appeals of the platform to creators is the sheer amount of cash it spends in keeping them on the platform: it gives creators 55% of ad revenue and has paid out $30B to creators in the last 3 years.
"It's a competitive landscape, and creators certainly can go other places," YouTube CEO Susan Wojcicki said in an interview with Fortune. "But at the end of the day, if we offer the most amount of reach and the most amount of dollars or financial success, creators will come to us."
More than 500 hours of content are uploaded every minute and more than a billion hours of video are watched every day on YouTube, and it is expected to reap $30B in ad revenue in 2021.  
YouTube currently has a channel memberships option for creators who want to launch exclusive videos and sell official merchandise through the platform. It also has an invite-only BrandConnect platform that matches video creators with brands that want to ink sponsorship deals.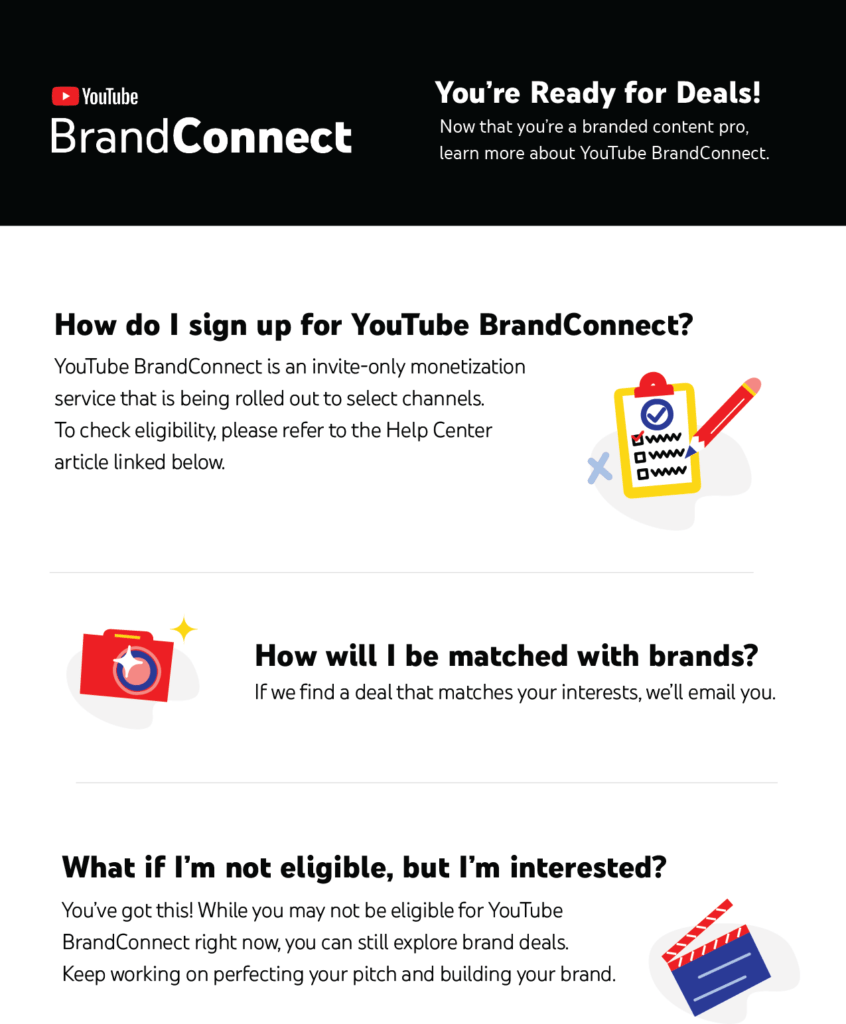 Source: YouTube
In addition to allowing creators to sell monthly memberships and merchandise, both physical and digital, YouTube will soon set up a system for one-time payments, like a tip jar. 
This isn't the first time YouTube has dabbled with tipping features — in 2017, it shut down its Fan Funding feature, which allowed fans to donate to their favorite creators, though it didn't support recurring donations. Fans can also purchase "viewer applause" — of which YouTube takes 30% — as well as Super Chats, both of which are Twitch-like monetization features tipping creators during videos and livestreams. 
In May 2021, it said it would infuse $100M into a fund for Shorts, which are short videos to rival TikTok. These creators would be paid by viewership and engagement, a marked shift from its ad revenue-sharing system. 
"The Shorts Fund is the first step in our journey to build a monetization model for Shorts on YouTube. This is a top priority for us, and will take us some time to get it right," the company said in a blog post.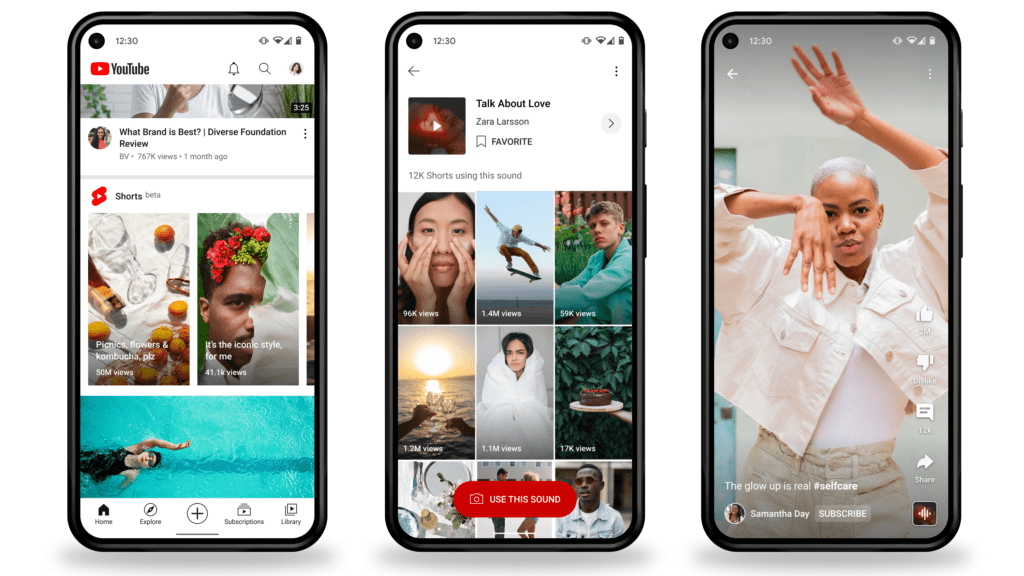 Source: YouTube
Apple gets slammed for its 30% 'Apple tax'
Apple's notorious App Store cut is facing pressure from other big tech companies and small creators alike.
The App Store — which generated an estimated $64B in revenue last year — represents a pivotal revenue stream for Apple. Currently, Apple takes a 30% cut from any in-app purchases — though it reduced its take rate to 15% for apps garnering less than $1M in annual revenue last November.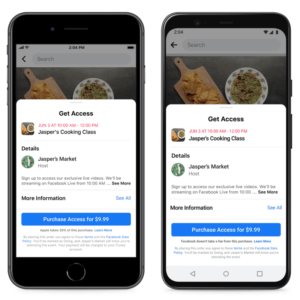 Source: Ars Technica
Fortnite maker Epic Games launched an antitrust suit against Apple for this exact reason, though an official verdict has yet to be reached. Though Apple says it treats all developers equally, big players like Netflix and Amazon Prime are exempt from the tax. 
In April, it was charged by the European Commission for violating antitrust laws in the music streaming market on 2 primary fronts: one is Apple's in-app purchase policy and 30% cut, the other is its practice of banning developers from telling users of alternative, cheaper subscription options. This stems from an earlier Spotify complaint, which said Apple abused its power to stifle competition — Spotify directly competes with Apple Music. 
European Commission EVP Margrethe Vestager commented: "Our preliminary finding is that Apple is a gatekeeper to users of iPhones and iPads via the App Store. With Apple Music, Apple also competes with music streaming providers. By setting strict rules on the App store that disadvantage competing music streaming services, Apple deprives users of cheaper music streaming choices and distorts competition."
Beyond objections from tech companies, creators have been voicing their own concerns.
Fanhouse co-founder Jasmine Rice recently spoke out against Apple's commission, arguing that it directly hurts individuals and creators who want to sell their own products or services. (Fanhouse is an Only Fans-like platform that allows creators to post private content for a subscription. It takes a 10% cut.)
"We explained to Apple that we could pay them 30% of our revenues (from our 10% take rate),"  she tweeted. "It'll be harder to cover costs and build features as a startup, but at least it'd be coming from us. Apple insisted on taking 30% of creators' total earnings."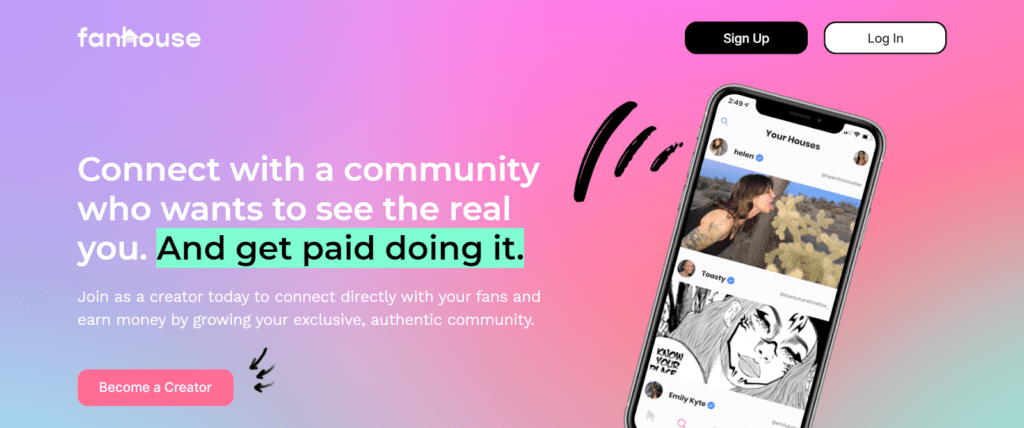 Source: Fanhouse
Google Play similarly takes a 30% cut, but it reduced that to 15% for the first $1M developers make each year. By comparison, other infrastructure platforms take a smaller percentage — Stripe, for example, takes 3% from retailers using its payments processing platform. 
OnlyFans founder Tim Stokely pointed to this cut as one of the primary reasons it isn't in the App Store: "It's really important to us to be able to pay creators the highest commission possible."
"The creator economy would be 10x larger today if Apple's fee was 3% instead of 30%," Gumroad founder Sahil Lavingia said in an interview with The Information. "I would say it's the number one bottleneck to the creator economy today." 
What big tech's moves mean for the future of the creator economy
Big tech and obvious competitors like TikTok aren't alone in their chase for creators. 
Snap, for example, is emerging as a dark horse in terms of innovation and content creator tools. Beyond its innovation in content tools and features — it pioneered AR lenses and Stories — Snap's also beginning to dole out wads of cash to its creators. After launching its own TikTok competitor, Spotlight, in November, it's since been paying $1M daily to its top video creators and has given out more than $110M in total. However, its rollout of monetization features has been comparatively slow. 
Gaming platforms are emerging as serious competitors as well, pushing the boundaries of native content creation and engagement tools through their specific technical capabilities. Roblox, for example, is investing in synthetic media and building out its vision of a full-fledged metaverse, opening up the door for Roblox-specific content creators to emerge. 
Beyond incumbent consumer social or gaming companies, the broader expanse of creator economy companies has produced several contenders. Patreon has raised $412M in total at a $4B valuation, while OnlyFans is reportedly seeking financing at a $1B valuation. Substack, for example, was launched in 2017 and has captured much attention since, most recently raising $65M at a $650M valuation. 
Fundamentally, big tech's shift into the creator economy boils down to one goal: to retain users. The products and services that evolve out of big tech's efforts will thus necessarily focus on their own platforms — to keep users engaged in the Facebook or YouTube or Twitch ecosystem specifically. These tech conglomerates will prove difficult competitors to best, given their sheer scale and the hordes of cash they're able to deploy. 
Creators, however, are likely going to favor becoming platform-agnostic and becoming independent brands to ensure less dependence on any one platform. 
Where the rest of the creator economy upstarts may derive greater success is in "rebundling" these services beyond any one specific platform. This can manifest in tools that help creators make videos for Facebook, YouTube, and Twitch; analytics platforms that manage splintered revenue streams; or community management services that help creators independently build and communicate with a social network of fans. 
If you aren't already a client, sign up for a free trial to learn more about our platform.