From built-in infotainment systems and connected vehicles to fully autonomous vehicles, we look at how big tech companies are integrating into new automotive verticals through new product launches, investments, M&A, and partnerships.
The automotive space is undergoing a digital transformation, and big tech companies are well-positioned to help the industry navigate the technological changes ahead.
Google, Amazon, Microsoft, and Apple are leveraging their software development and cloud computing capabilities to support automakers as they increase connectivity, improve sustainability, and tackle the autonomous driving challenge.
With big tech companies looking to expand the reach of their cloud services and gain market share in the vehicle space, expect the auto and mobility space to remain a strategic focus for years to come.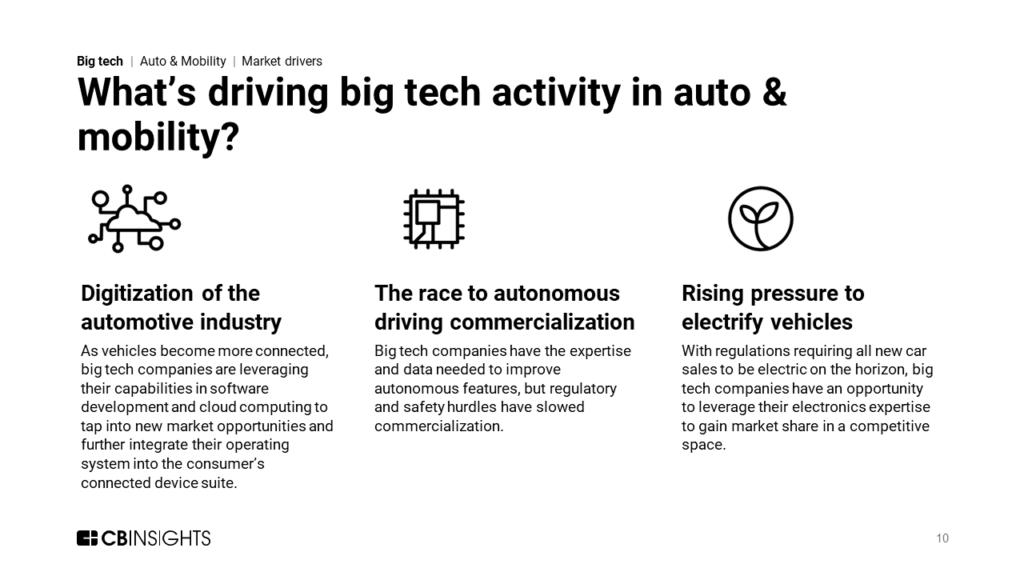 Download the report to find out:
The competitive advantages of different tech giants in auto & mobility
Where big tech is competing in auto & mobility
How big tech is impacting the future of auto & mobility
Report Highlights:
Big tech companies are leveraging their strengths in software development, AI, and cloud computing to reshape the future of auto & mobility. Google, Amazon, Microsoft, and Apple's automotive investments have centered on the in-vehicle experience, autonomous driving, vehicle electrification, and connected vehicle infrastructure since 2015.
Big tech is doubling down on connected, autonomous vehicle technology. Since 2017, Google, Amazon, Microsoft, and Apple have collectively acquired or invested in 13 companies in autonomous driving tech and 4 companies in connected vehicles tech, which amounts to over 40% of the automotive investment activity.
If you aren't already a client, sign up for a free trial to learn more about our platform.