Every investor wants to back a unicorn. We look at who has the most unicorns in their portfolios and the investors best at placing early-stage bets on companies now worth $1B+.

There are currently 750+ private unicorn companies valued at $1B+ — all featured on CB Insights' real-time global unicorn tracker.
Over the years, some 3,600+ investors have backed these unicorns. While the vast majority (67%) of unicorn investors have only invested in one unicorn company, there are some investors who have pulled away from the group, backing 10, 20, and even 100+ unicorn companies.
Using CB Insights data, we look at which investors have backed the most unicorns — and which are in the best position to see big returns from an exit.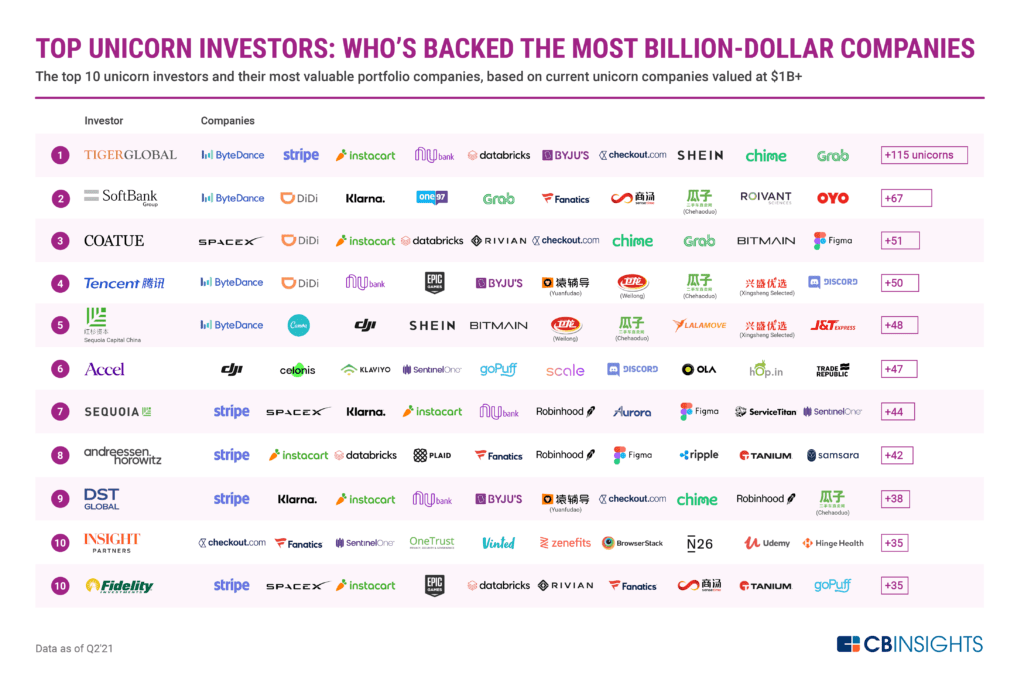 In this report, we cover:
The top unicorn investors and their most highly valued portfolio companies
Geographic trends
The early-stage investors getting in on the ground floor
The most efficient unicorn investors
Note: Data is as of Q2'21.
The world's top unicorn investors
The top unicorn investors, based on the total number of current unicorns they've invested in, are:
Tiger Global Management
SoftBank Group
Coatue Management
Tencent Holdings
Sequoia Capital China
Accel
Sequoia Capital
Andreessen Horowitz
DST Global
Insight Partners
Fidelity Investments
US-based Tiger Global Management has the most current unicorn companies in its portfolio, with more than 120 current unicorns backed.
Japan-based SoftBank Group comes in second place, backing 77 unicorns, followed by Coatue Management, with 61.
Over 350 institutional investors boast at least 5 unicorns in their portfolios.
Among unicorn portfolio companies, Instacart has been backed by the most top 10 unicorn investors, with 6 investing in the company: Tiger Global Management, Coatue Management, Sequoia Capital, Andreessen Horowitz, DST Global, and Fidelity Investments.
The grocery delivery app joined the unicorn club with a $2B valuation in 2014 and was most recently valued at $39B in March 2021.
Stripe has been backed by 5 of these top investors, while ByteDance (valued at $140B, making it the world's most valuable unicorn), Checkout.com, Chehaoduo, Databricks, Fanatics, and Nubank have all attracted investment from 4.
For more on top unicorn investor trends, download the full report.
If you aren't already a client, sign up for a free trial to learn more about our platform.