These venture bets on startups that "returned the fund," making firms and careers, were the result of research, strong convictions, and patient follow-through. Here are the stories behind the biggest VC home runs of all time.
In venture capital, returns follow the Pareto principle — 80% of the wins come from 20% of the deals.
Great venture capitalists invest knowing they're going to take a lot of losses in order to hit those wins.
Chris Dixon of venture firm Andreessen Horowitz, a CB Insights Smart Money VC, has referred to this as the "Babe Ruth effect," in reference to the legendary 1920s-era baseball player. Babe Ruth would strike out a lot, but also made slugging records.
Likewise, VCs swing hard, and occasionally hit a home run. Those wins often make up for all the losses and then some — they "return the fund."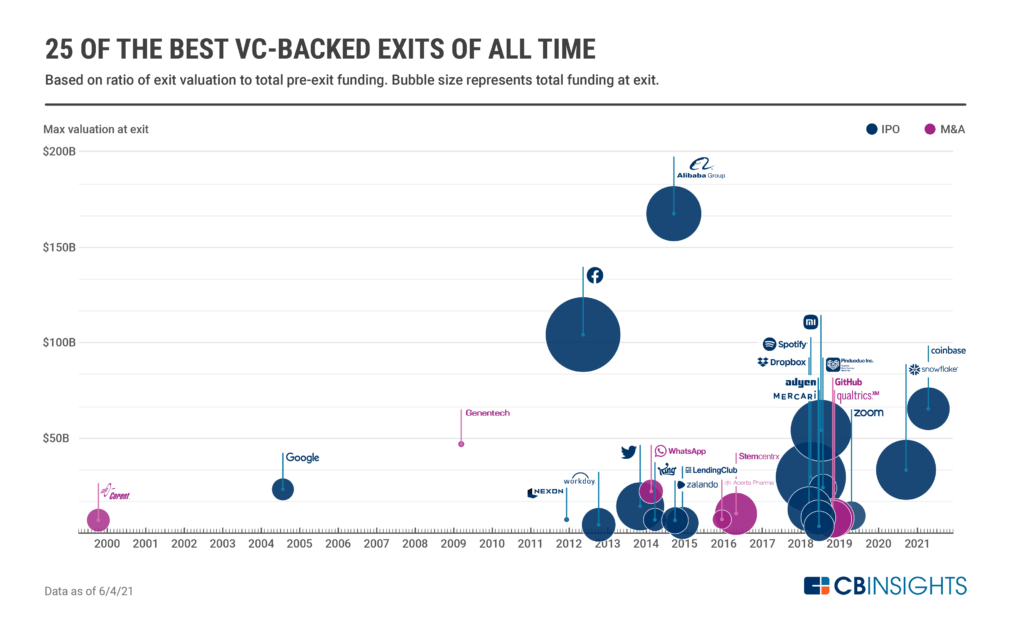 We analyzed 45 of the biggest VC hits of all time to learn more about what those home runs have in common.
To do so, we pulled data and information from web archives, books, S-1s, founder interviews, the CB Insights platform, and more. For each company, we dove into the remarkable numbers they posted before their IPOs and acquisitions, the driving factors behind their growth, and the roles of their most significant investors.
Download the full report to see our analysis on each specific case.
Table of contents
WhatsApp
Facebook
Groupon
Cerent
Snap
King Digital Entertainment
UCWeb
Alibaba
JD.com
Delivery Hero
Zayo
Mobileye
Semiconductor Manufacturing International (SMIC)
Meitu
Google
Twitter
Zynga
Lending Club
Genentech
Stemcentrx
Workday
Rocket Internet
Qudian
Acerta Pharma
Nexon
Zalando
Ucar Group
Webvan
Qualtrics
Mercari
NIO
Meituan Dianping
Xiaomi
Pinduoduo
Ele.me
Adyen
GitHub
Flipkart
Spotify
Dropbox
Coinbase
Uber
Airbnb
Zoom
Snowflake
If you aren't already a client, sign up for a free trial to learn more about our platform.