2020 was a redefining year for beauty tech. As consumer values and expectations shifted, big beauty corporates and startups alike have been forced to adapt. From "waterless" beauty products to virtual try-on, here are the trends and tech that will continue to transform the sector in 2021 and beyond.
2020 was a redefining year for every industry — including beauty.
Beauty sales declined as much as 30% in the first half of the year, according to McKinsey. Even major brands took a hit: Coty (owner of CoverGirl and Rimmel) saw its share price drop 52% at the end of March, while Ulta Beauty's stock saw a 29% decline — though both have since bounced back as the US beauty market is expected to recover and reach pre-pandemic levels in 2021.
Covid-19 caused interest in categories like makeup — which was already falling — to further wane as consumers had fewer social engagements. Certain areas within beauty, such as skincare, became an area of focus instead as people looked for ways to de-stress.
---
DOWNLOAD THE FULL REPORT BELOW


---
More than a year later, Covid-19 continues to shape the space, but brands are now better equipped to deal with the seismic shift in consumer values and expectations.
From virtual try-on features to AI-enabled skincare analysis to "waterless" beauty products, the pandemic has accelerated once fringe technologies. And with a further emphasis on health and wellness, beauty brands have had to evolve from a one-dimensional category to something more holistic and inclusive.
Along these lines, sustainability and a focus on environmental impact has taken on urgency at major beauty players looking to appeal to an increasingly eco-conscious population: Some, like L'Oréal and Estée Lauder, have announced goals to reach carbon neutrality, while others have begun innovating in more specific areas, like reusable packaging and refillable business models. Synthetic beauty ingredients are also getting attention.
In 2021, the beauty industry is taking with it many learnings and permanent shifts from the past year. And while some trends will fizzle out, others will only expand their reach. In this report, we look at the latest innovations across every part of the beauty space and highlight the top industry trends to watch in 2021 and beyond.
Table of Contents
Personalization gets more sophisticated
Big beauty incubates its own disruptors, ramps up acquisitions
Inclusive beauty becomes table stakes — and new niches create huge opportunities
Beauty goes global … and local

Manufacturing & Distribution

Synthetic beauty gains traction, riding sustainability and supply chain tailwinds
New sustainable packaging prototypes and business models take off
'Waterless' beauty as the next big eco trend

Pricing

Beauty brands focus on value and varied pricing

Marketing & Merchandising

Beauty further integrates with the wellness economy
Big tech capitalizes on beauty
Virtual try-on enables product discovery and engagement
Ingredient transparency trumps clean beauty

Customer Experience

Unbundling the salon and spa continues
New approaches to omnichannel for beauty take hold
Beauty Product Development
Product personalization gets more sophisticated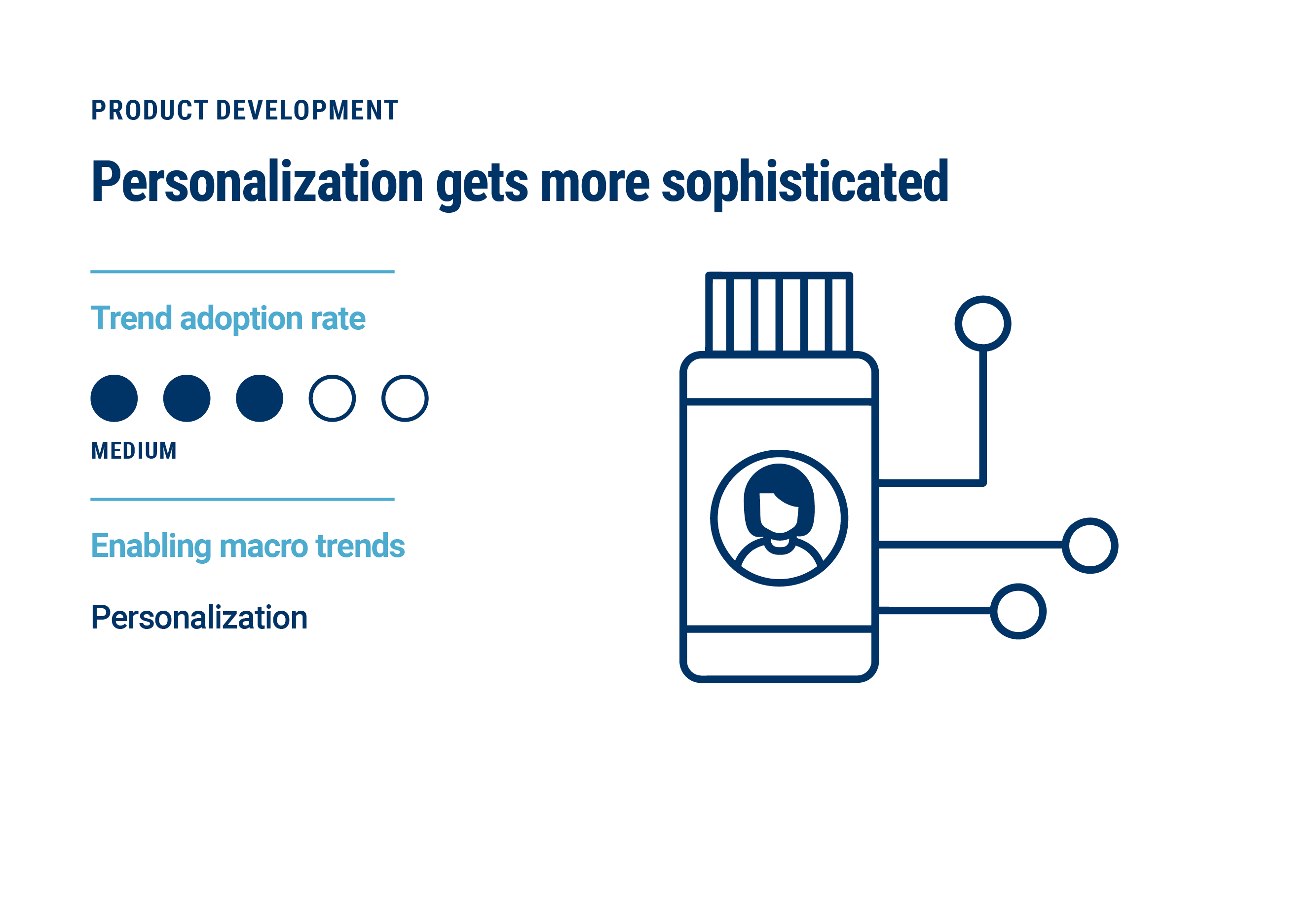 While product personalization isn't a new trend, beauty brands are continuing to adopt new tech and refine their methods to create more customized formulations for consumers — from tailor-made lip color to individualized hair treatment.
A Forrester study found that 77% of consumers have chosen, recommended, or paid more for a brand that provides a personalized service or experience, while Accenture found that 75% of consumers are more likely to make a purchase when recommendations are personalized to them, propelling the push for brands to personalize and differentiate offerings.
Many are addressing personalization with a variety of different technologies and approaches, such as:
Quizzes, which address customer-specific preferences and customize products according to the results. Quizzes are pervasive in the burgeoning direct-to-consumer (D2C) personalized haircare market, which has seen companies emerge across geographies like the US (Function of Beauty), India (Bare Anatomy), Japan (Medulla), and more.
Custom printing, in which companies formulate products specifically for each user. MAC Shanghai custom 3D prints eyeshadow palettes for customers, for example, while Shespoke has developed software that allows it to manufacture custom-mixed lipsticks at scale.
At-home devices, which can measure user conditions, like the emergence of dark spots or surrounding environmental concerns, on a daily basis. L'Oréal's Perso device accounts for this data to dispense custom-formulated makeup every day.
DNA testing kits, which allow companies to provide product recommendations or create custom products based on users' genes. Allél, for example, analyzes users' genes through a DNA test to provide targeted skincare products.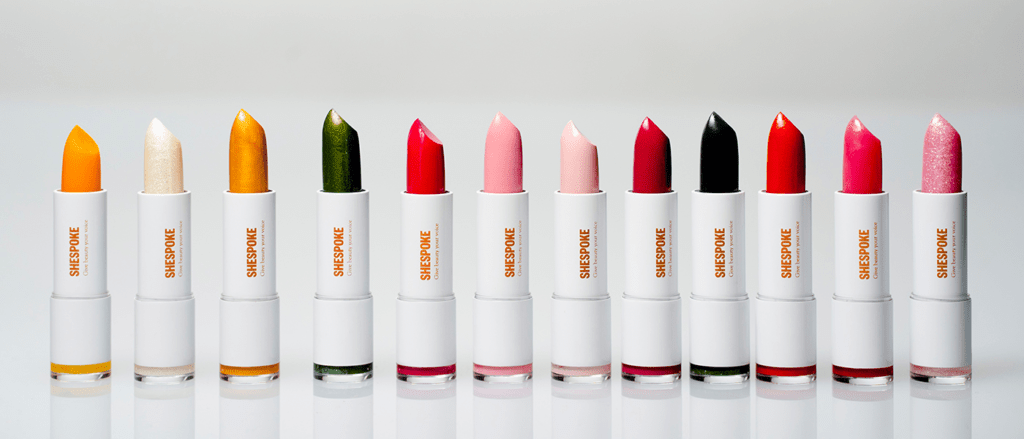 Source: Shespoke
AI also presents a big opportunity for brands looking to further personalize processes, especially in areas like skincare analysis.
Skincare brand Proven, for example, says it feeds consumer data into its AI platform — which contains information on more than 100,000 products, 8M+ testimonials, 4,000+ scientific publications, etc. — to provide the most effective ingredients for users. Atolla also uses AI capabilities to customize facial serums for consumers by using data collected through quizzes and tests (measuring oil, moisture, and pH levels) that are then processed by the company's algorithm.
Beyond quizzes, corporates have kept up by expanding to in-home devices that can gather more granular, specific user data to measure skin condition or deliver products more precisely.
Last year, L'Oréal launched Perso, its AI-powered device to formulate and dispense personalized skincare, lipstick, and foundation. The Perso app crunches data on a user's skin condition via an uploaded selfie, environmental conditions via location data, and user-inputted skincare concerns to dispense custom formulas through the device.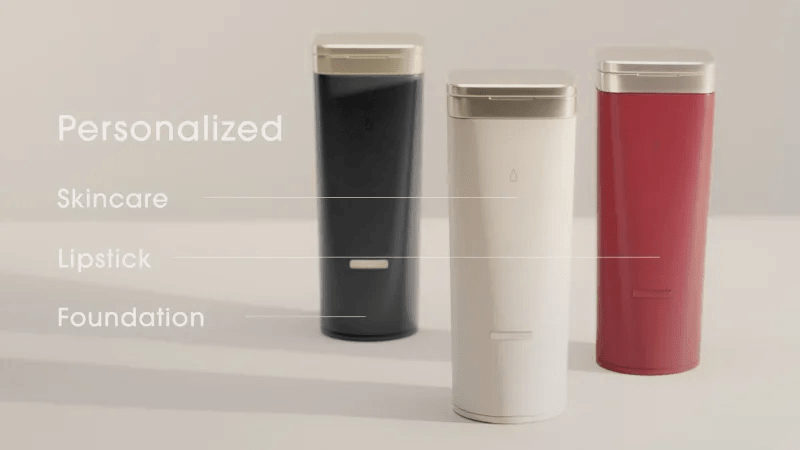 Source: L'Oréal
L'Oréal-owned ModiFace also allows customers to try on makeup virtually. The ModiFace app uses AI to scrape and analyze images and descriptions of products from brands and social media posts to produce a more realistic augmented reality (AR) projection on users.
Meanwhile, Johnson & Johnson has developed a host of personalized skincare systems, ranging from skin-scanning devices such as the Neutrogena Skin360 to 3D-printed face masks through its Neutrogena MaskiD technology.
Genomics is also playing a bigger role in personalizing beauty recommendations.
Companies like OmeCare's OmeSkin, Allél, Skinshift, and others are offering beauty-focused DNA testing kits, which can curate product recommendations or branded, personalized products based on users' genomic skin traits.
Beauty brands have long pursued personalization, but have experienced plenty of starts and stops between lack of technological advancements, poor data collection processes, and nascent business models, among other factors.
"There is still no [cosmetics] company that has been able to integrate personalization into their business models," Shiseido president Masahiko Uotani said in an interview with the Nikkei Asian Review.
The promise of personalization is appealing to customers looking to avoid decision fatigue, but the granular information collected by many brands may raise some concern — many privacy policies of these upstart consumer beauty brands allow them to sell such information to other companies at will.
But the benefits of personalization, including serving those missed in mass-market product offerings, will push brands to strike a balance between preserving privacy and innovating for new revenue streams. Look for brands to continue to develop hyper-personalized offerings in order to differentiate themselves from competitors and cater to consumers more effectively.
Big beauty incubates its own disruptors, ramps up acquisitions
The beauty industry has been awash with incubators in recent years.
Often, it can be cheaper to incubate or accelerate new companies (that could serve as potential partners or acquisitions down the line) instead of developing in-house brands. Furthermore, indie brands often succeed in the areas beauty corporates don't, namely niche categories, targeted distribution, and social media prowess.
After seeing the success of independent players — such as vertically integrated incubator Seed Beauty, which is behind ColourPop, Kylie Cosmetics, and more — big beauty corporates have followed suit with their own incubators and accelerators, with examples including:
Sephora Accelerate has been investing in and supporting female founders since 2016, growing brands like organic beauty line LXMI and premium essential oils brand Vitruvi.
Beauty conglomerate L'Oréal (which set up the first beauty startup accelerator in Africa in 2018) offers a variety of internal initiatives to support its commitment to new brands and technologies, such as the Open Innovation Program, the Women in Digital program, its Technology Incubator, and the launch of corporate venture capital fund L'Oréal BOLD.
Target also has its own accelerator program, Target Takeoff, to mentor emerging beauty brands. Among its alumni are gender-neutral makeup line Fluide and Mented Cosmetics, which makes makeup for people of color.
L'Oréal's Seed Phytonutrients and Unilever's Skinsei are just a few examples of internally incubated brands.
Following 2020's spotlight on racial justice and equity, a newfound focus on funding diverse brands has emerged as well. In June 2020, Glossier committed $500K in grants to 16 Black-owned beauty businesses, while L'Oréal recently partnered with the NAACP to grant 30 $10K grants to Black-owned beauty businesses. Sephora Accelerate's 2021 cohort will also only include founders of color.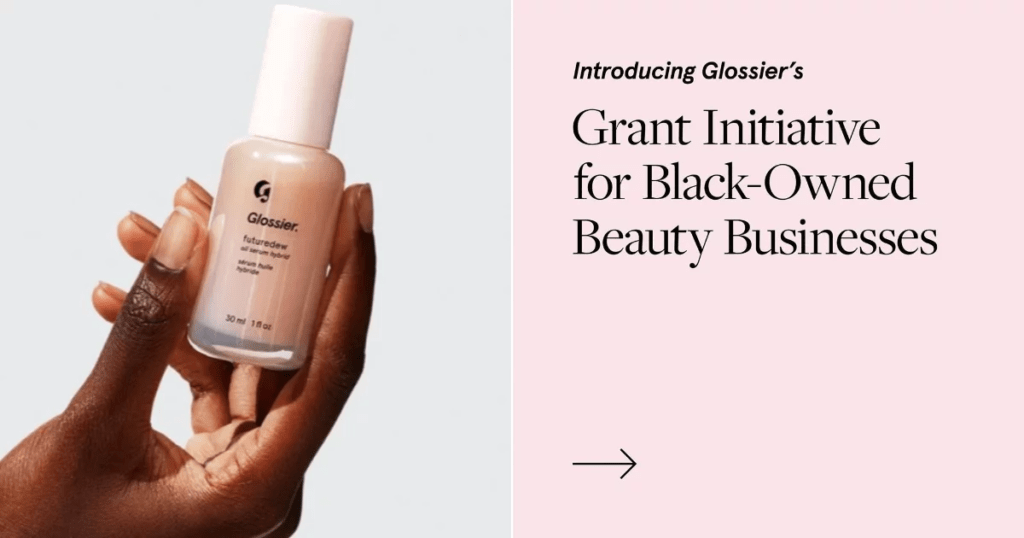 Source: Glossier
Beyond incubators and accelerators, big beauty has been busy with a slew of acquisitions over the past year to expand customer acquisition channels, such as influencer marketing or better e-commerce infrastructure, and double down on burgeoning trends like natural beauty, including:
New opportunities are also opening up for beauty brands looking to exit.
Beauty-focused SPACs have emerged of late, including Powered Brands, which is looking to acquire between $800M to $1.5B of assets to compete with legacy beauty brands, and Waldencast Acquisition Corp., which is expected to ink deals in the $1.5B to $3B range.
It's never been faster to launch or grow a new brand with the proliferation of beauty incubators and growth of e-commerce and D2C channels. "Big companies like Estée Lauder, L'Oréal, and P&G are really an amalgamation of lots of brands, and when they roll up all those brands, they hit a revenue number. That revenue number and that earnings number defines how well they do is and who in the market buys that stock," Luxury Brand Partners CEO Tevya Finger told Glossy.
Currently, beauty juggernauts are looking to indie brands to experiment in newer markets and nascent trends. In-house incubators offer a way for conglomerates to build relationships or even gain equity stakes in these companies — paving the way for future acquisitions as it becomes clear which early-stage brands will mature and which will fizzle out.
(Clients can read more about independent and corporate-owned beauty accelerators and incubators here.)
Inclusive beauty becomes table stakes — and new niches create huge opportunities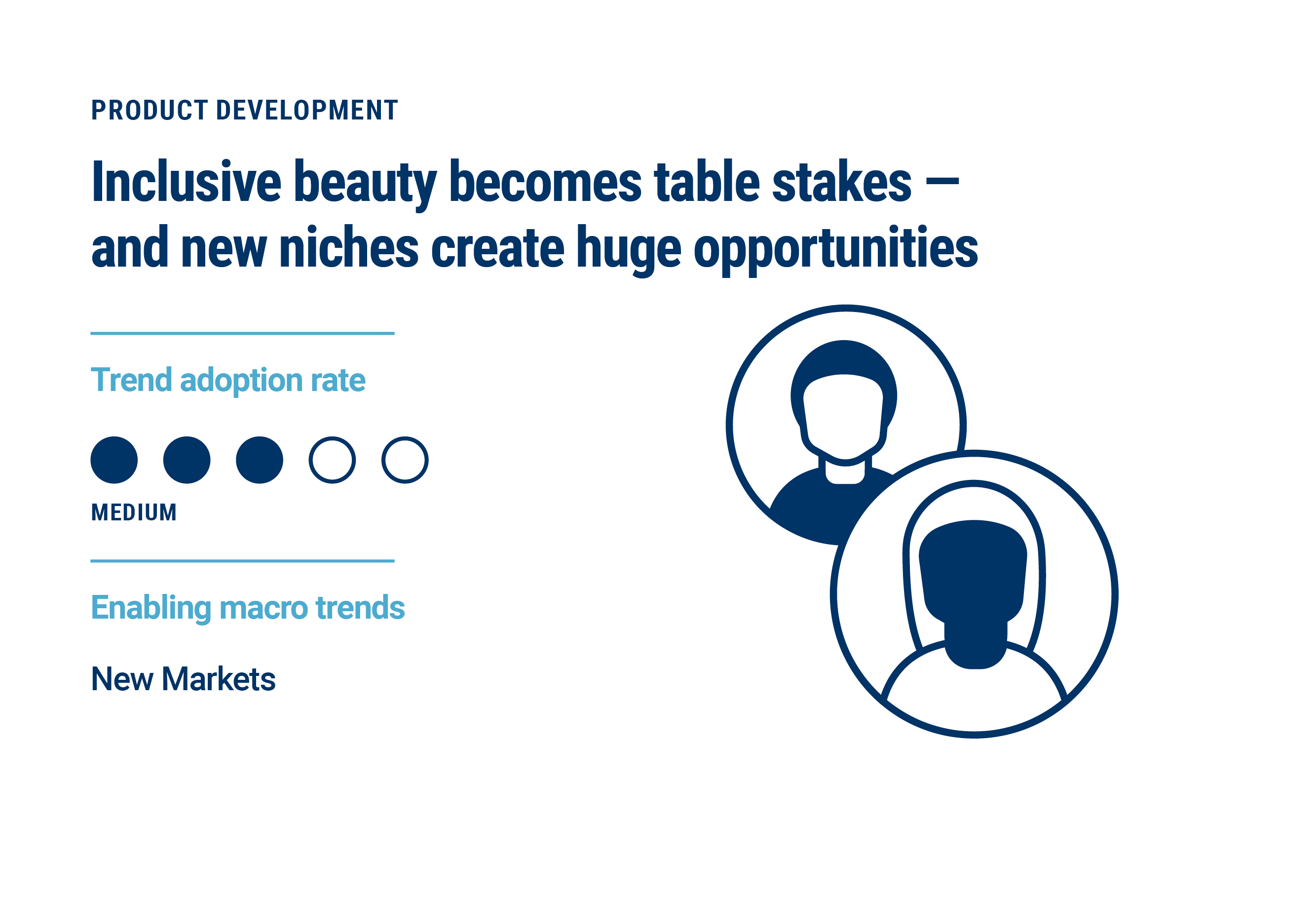 Since Fenty Beauty's launch in 2017, "inclusive beauty" has become an industry buzzword, encompassing new demographic markets that are becoming increasingly important for the beauty industry to target.
For example, major retailers like Sephora, Macy's, and Bluemercury have committed to the 15 Percent Pledge — a promise to commit 15% of shelf space to Black-owned businesses. Ulta Beauty also pledged to double the number of Black-owned brands carried by the retailer by the end of 2021, committing more than $25M to the push for greater diversity.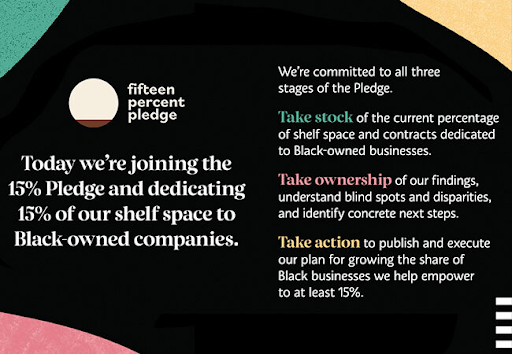 Source: Sephora
As the trend continues to gain traction, understanding the difference between "niche" and "underserved" audiences remains crucial, as there exist many demographics with untapped potential.
Below we outline a few of these markets, which are becoming integral to defining the future of inclusive beauty — and that should remain a high priority for brands looking to capitalize.
Male personal care & beauty routines
Male grooming has expanded beyond face washes, moisturizers, and basic hygiene products to include eye creams, face masks, sunscreen, makeup, and more over the past few decades. Many of today's brands, such as Stryx, Shakeup Cosmetics, and War Paint, are employing D2C distribution and refreshed packaging to attract a new generation of male consumers.
Since Unilever's $1B acquisition of Dollar Shave Club in 2016, M&A of men's personal care brands has spiked, with deals including: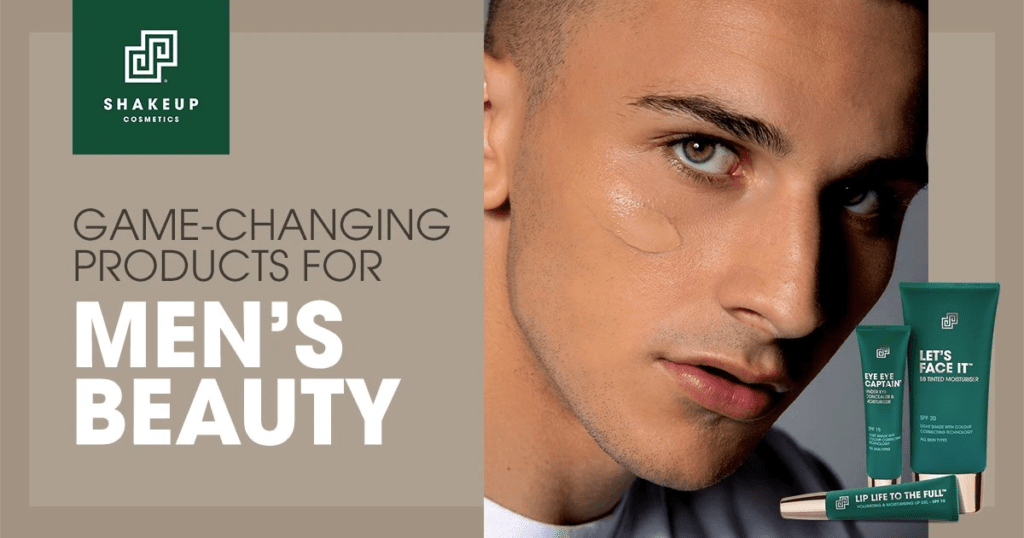 Source: Shakeup Cosmetics
D2C brands targeting men's personal care like Bevel, Lumin, Huron, Scotch Porter, Stryx, Hawthorne, and more have all reported growth in 2020, according to WWD. In January 2021, Hims & Hers — which launched as a holistic male wellness brand through its suite of haircare, skincare, and supplement products but has since expanded to women's wellness — went public in a $1.6B SPAC deal.
In Asia, men's skincare and makeup has been a burgeoning trend for years now, with the US catching up only fairly recently, which some attribute to "quarantine boldness."
South Korea has been a trendsetter in this category, with men in South Korea accounting for a fifth of global spend on men's skincare in 2018 — a trend often attributed to the rise in popularity of K-pop idols.
Furthermore, China represents one of the fastest-growing markets for men's beauty and grooming products. Already, the country's male skincare market was more than twice the size of South Korea's and more than three times the size of the US market as of last year, per Euromonitor. Local D2C brands are popping up to capitalize on the opportunity — at least 10 new China-based male skincare brands were reportedly launched in 2020.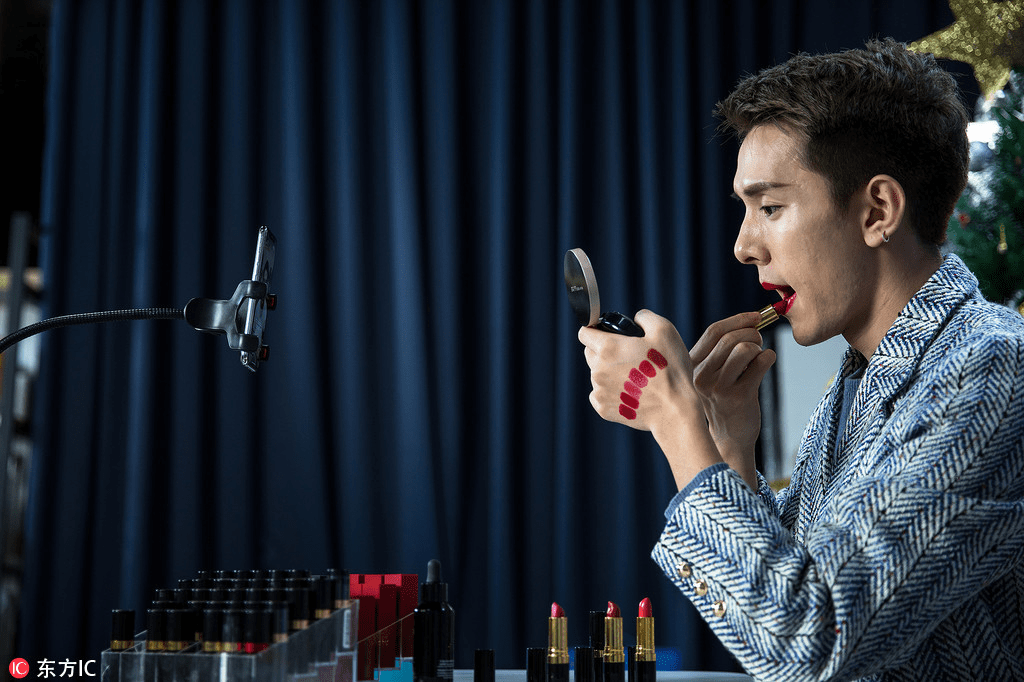 Source: IC
Meanwhile, global brands have already rolled out men's cosmetics lines. Chanel first launched Boy de Chanel in South Korea, while Shiseido said its male makeup line saw double-digit growth amid the pandemic, bolstered by Japanese businessmen in their 40s.
Gender-neutral beauty products
Gender-neutral makeup lines are the next step in inclusive beauty, as younger generations erode traditional gender norms and stigmas. More than half of Gen Zers believe that gender is nonbinary and encompasses a spectrum instead.
As a result, brands are rolling out beauty products that aren't targeted at one specific gender. Skincare brands from Aesop to Ursa Major to Non Gender Specific have ditched gendered marketing, opting to package and sell unisex products that focus on specific skin concerns or conditions instead. In makeup, examples include Fenty and Milk Makeup, as well as indie startups like Fluide and Jecca Blac.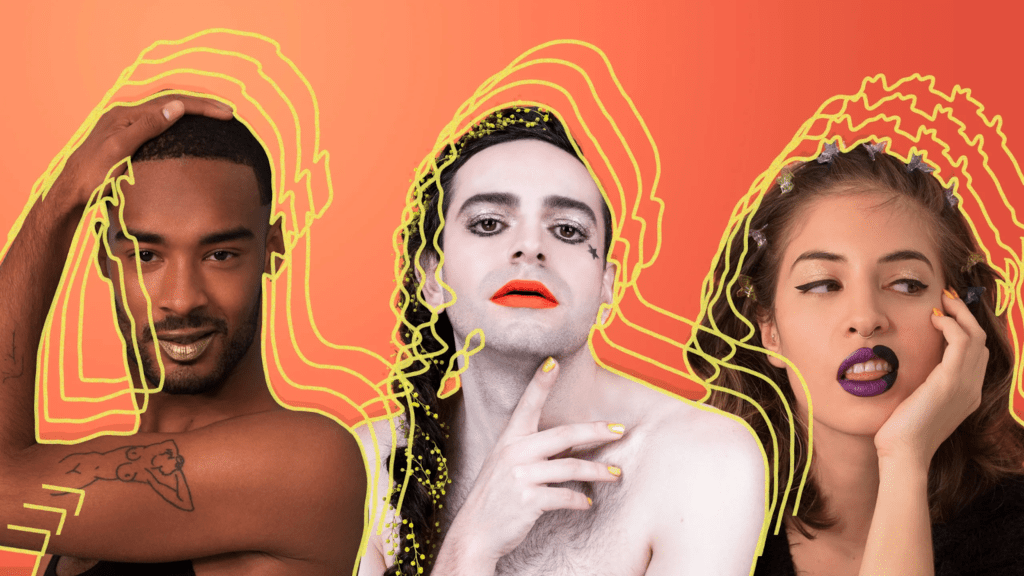 Source: Fluide
Already, corporates are taking note. Clean, gender-neutral fragrance company Phlur was acquired by Los Angeles-based beauty incubator The Center in February 2021.
Incumbent brands including MAC Cosmetics, Tom Ford, Gucci, and Marc Jacobs have all launched gender-neutral lines across makeup, fragrance, and clothing as well.
"As a culture, we are realizing that gender is no longer a fixed concept," said Sam Cheow, senior vice president of corporate innovation and product development at the Estée Lauder Companies, in an interview with Harper's Bazaar.
People of color
Though there's been a lot of buzz around more effectively targeting people of color in the beauty sector, there's still much to be done.
Beyond Fenty, a number of inclusion-focused brands like Mented Cosmetics, Urban Skin Rx, and Live Tinted have forged partnerships with larger retailers like Ulta Beauty, Target, and CVS to roll out their products nationally.

Source: Mented Cosmetics
Existing corporations have focused on growing brands founded by people of color to target disparities in traditional beauty products and cater to underserved markets. Black consumers account for $1.3T in buying power; the Black haircare industry reportedly represents a $2.5B market.
To tap into this massive market, among others, grants and accelerators for founders of color have emerged over the past year, including Glossier's and L'Oréal's grants to Black-owned businesses and Sephora's recent accelerator cohort, which included only founders of color.
"Because a founder is of color does not mean that their business has to be focused only on people of color," Keenan Beasley, the founder and CEO of beauty incubator Supply Factory Brands, told Glossy. "Our design target for our Sunday II Sunday brand is the multicultural woman, but products are still great for all women, which is where we started at."
Lack of representation reaches beyond foundation shades and marketing. Black dermatologists make up just 3% of the field in the US, which has marked effects on beauty product development. Darker skin reacts differently to skin conditions like acne, eczema, and keloids, and is more susceptible to hyperpigmentation due to higher amounts of melanin. But many products are tested on lighter skin tones, ignoring efficacy for people with different skin tones entirely.
In November 2020, Unilever-owned Vaseline launched the Equitable Skincare for All program in conjunction with actress Regina King and startup Hued to offer more training for dermatologists and resources for people of color.
Ultimately, brands that can cater to these demographics without oversimplifying the nuanced dynamics of their communities will be more likely to succeed in the increasingly saturated beauty market.
Beauty across generational cohorts
Major opportunity exists in meeting the needs of cohorts beyond the young adult (ages 18 to 35) segment.
A few brands are working to cater to older consumers, such as Gen Xers or baby boomers. In particular, perimenopausal concerns have seen increasing attention in skincare, for example:
AbsoluteJOI is a skincare brand that makes products for women of color. Its founder Anne Beal has said that its core customer group is women in their 40s and up, and that the skincare company boasts a return customer rate of 30%.
Pause Well-Aging focuses on menopausal skincare products that address perimenopausal concerns such as hot flashes, night sweats, and skin elasticity.
Arfa's (now Chord) State Of brand also markets products that target menopausal concerns, from cooling spray to hand and joint cream.
Ilia Beauty launched a marketing campaign in September 2020 that featured women between the ages of 20 and 70.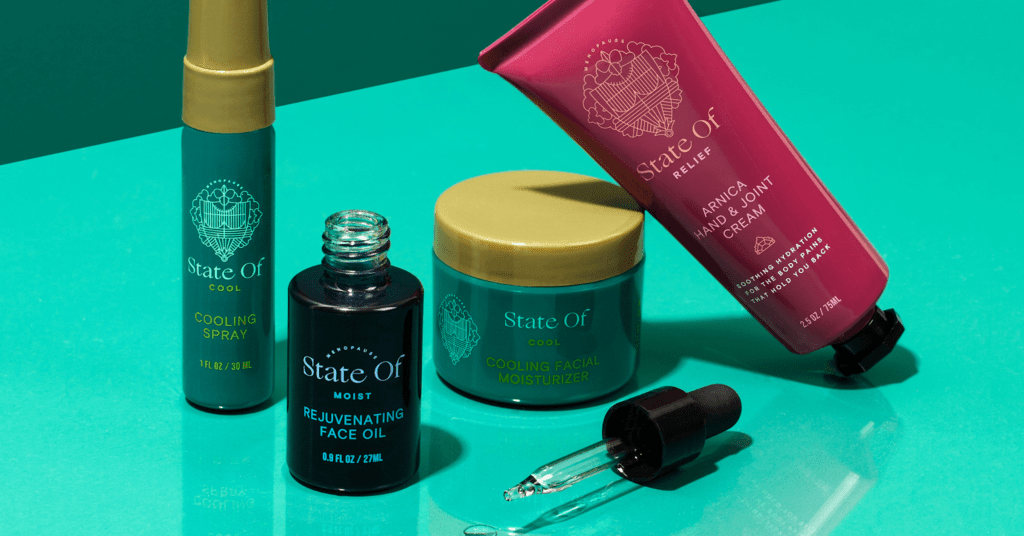 Source: State Of
Beauty brands are also looking to babies and children for untapped opportunities, with examples like:
Jessica Alba's The Honest Company, which got its start in baby care, recently went public, raising more than $412M in its debut.
Amyris brand Pipette, which was launched in 2019, expanded into Target in February 2021.
Baby care brand Mini Bloom was launched in December 2020.
Luxury skincare brands such as Pai Skincare, Dr. Barbara Sturm, and others have expanded into baby and children's skincare products.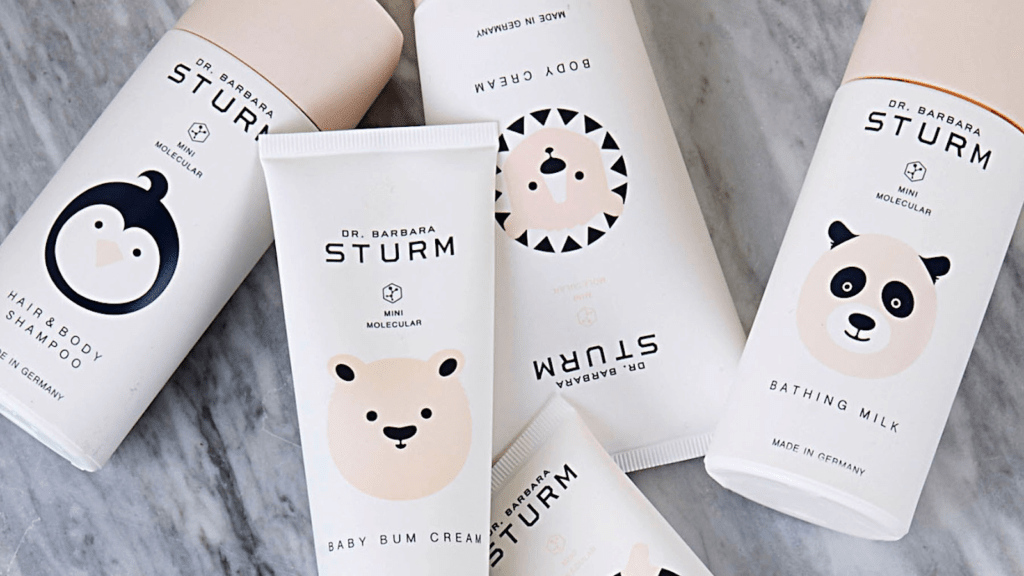 Source: Dr. Barbara Sturm
Gen Z-focused brands such as UK-based Plenaire and Bubble have also been on the rise. Meanwhile, incumbent brands like Chanel, YSL, and others are revamping their product launch and marketing strategies to attract younger shoppers.
Social media has become a critical way for teenagers to find the trendiest products in line with their clean beauty needs and beyond — "edutainment" for beauty and skincare products.
TikTok, in particular, is a massive opportunity for brands, driving viral sales and reshaping consumer preferences.
CeraVe, e.l.f. Cosmetics, and The Ordinary have moved up in the rankings, becoming some of the top skincare brands for teens over the past year, largely thanks to influencers on the platform. Meanwhile, Peace Out Skincare saw sales for its pore strips quadruple in just 24 hours after it was endorsed by TikTok "skinfluencer" Hyram Yarbro, while another teenager's viral video drove nearly $850K in sales for The Ordinary.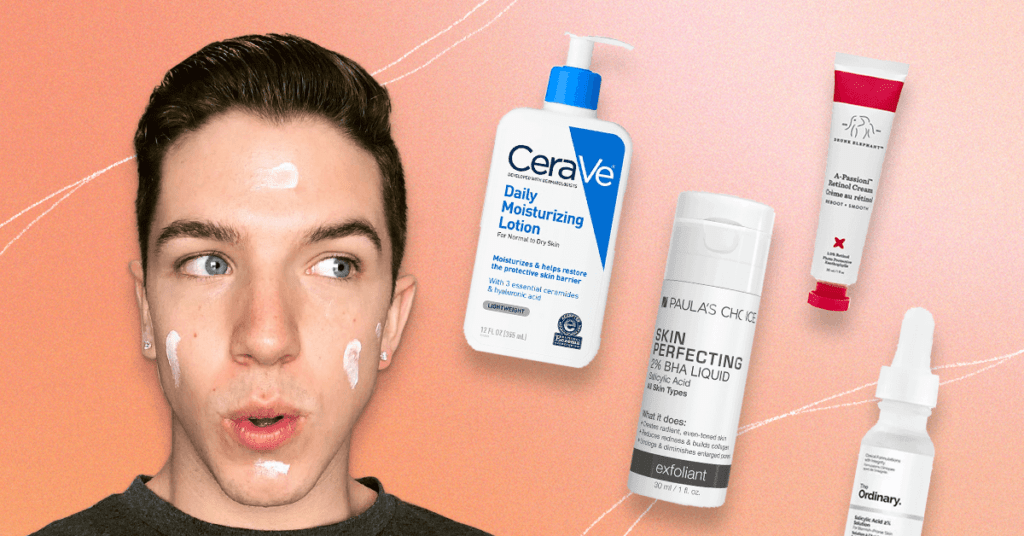 Source: Hyram Yarbro
TikTok influencers Nel Twins also launched their own cosmetics line in April 2020, while the D'Amelio family has worked with Morphe Cosmetics to roll out a variety of makeup products.
Of course, to get into the hands of teens, parents must also be convinced that these products meet a real need and are safe for regular use.
Ingredient transparency and nontoxic options will be crucial for this category to see sustained growth. According to DECA, 80% of female teens said they were willing to spend more for "clean" beauty.
Beauty goes global … and local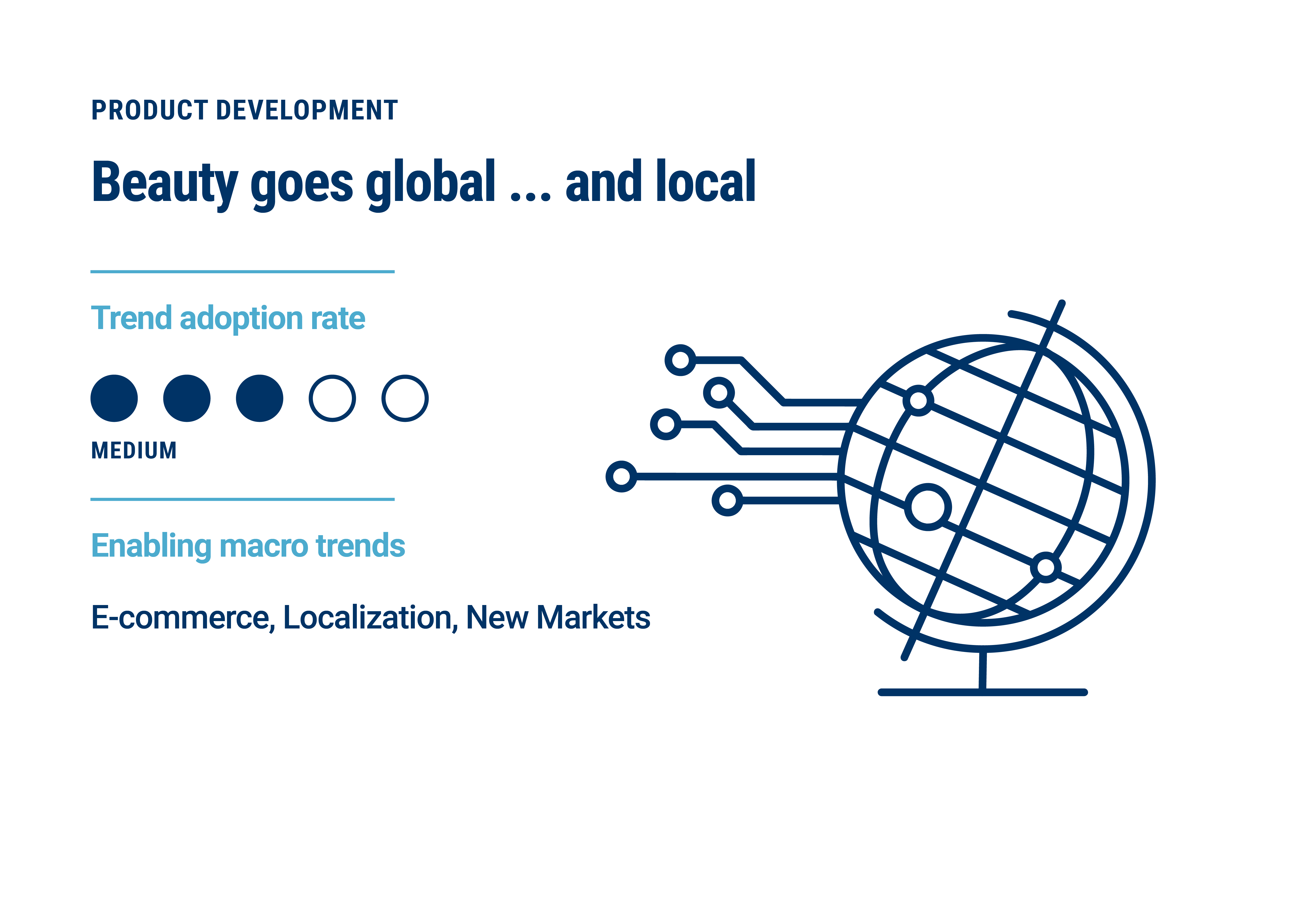 K-beauty hit the United States in 2011 when Sephora began carrying Korean skincare brand Dr. Jart+. Since then, Western shoppers have clamored for Korean beauty products, with items like sheet masks and snail cream becoming commonplace in beauty stores. Cosmetics exports from Korea surged 15% in 2020, thanks to growing demand from the US and other Asian countries, per the Korea Customs Service and the Korea Cosmetic Association.
But the beauty boom isn't limited to K-beauty; other markets are garnering attention for their own heritage-inspired products. Beauty markets across the globe are developing brands for internal consumption while also exporting them globally.
This includes Asian beauty markets like China, which is a hotbed for virtual beauty thanks to its advanced mobile technologies and tech giants. In recent years, homegrown beauty brands such as Perfect Diary, Florasis, and Judydoll have emerged to address native demand in the second-largest market for makeup. A number of factors have propelled their growth: shifting perspectives in favor of domestic brands, the ability to leverage cultural connections, and rapid manufacturing, among others. Some brands are able to launch new product lines in just 3 months.
"For instance, they understand what works best for Asian skin. They are also quick to pick up the current beauty trends that Chinese consumers are drawn to, and are fast in launching products that leverage those trends," Nanyang Technological University associate professor Elison Lim said in an interview with Insider.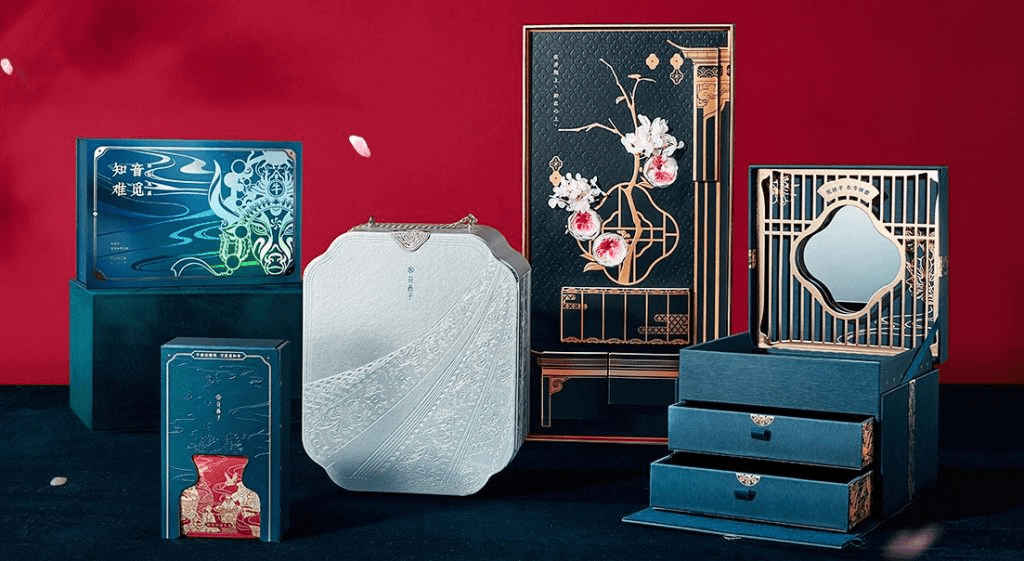 Source: Florasis
C-beauty brands have also leveraged partnerships to gain traction beyond local markets. Perfect Diary dropped an eyeshadow collaboration with the Metropolitan Museum of Art in 2019 and signed Australian singer Troye Sivan as an ambassador. In November 2020, Perfect Diary's parent company, Yatsen, debuted in a $617M IPO on the NYSE. Zeesea similarly released eyeshadow palettes in collaboration with the British Museum, while Millet Pepper has focused on global expansion via selling on Amazon or through influencer marketing in Europe.
Other major beauty markets include:
Indonesia, which has the largest Muslim population in the world, offers a booming halal beauty market. Makeup and skincare brands like Base, Esqa, and Rosé All Day are examples of Indonesia-based halal-certified brands focusing on this market.
Brazil represents one of the fastest-growing global markets for beauty and personal care. For example, D2C cosmetics brand Sallve recently raised $21M at a valuation of $116M.
India-based Nykaa has raised more than $94M and is reportedly planning to go public at a valuation of $3B. The beauty market in India is projected to surpass $20B by 2025, thanks to a spike in consumers' disposable income and broader exposure to makeup overall.
Big beauty corporates are also attempting to penetrate new markets, especially in South Asia and Africa. L'Oréal is doubling down on the South Asia Pacific, the Middle East, and North Africa — regions which will account for the bulk of L'Oréal's new business over the next decade, per the company.
Ultimately, targeting new continents — or even country-specific markets — requires hyperlocalization, especially as the global beauty markets further develop and new heritage-inspired trends take off.
Manufacturing & Distribution
Synthetic beauty gains traction, riding sustainability and supply chain tailwinds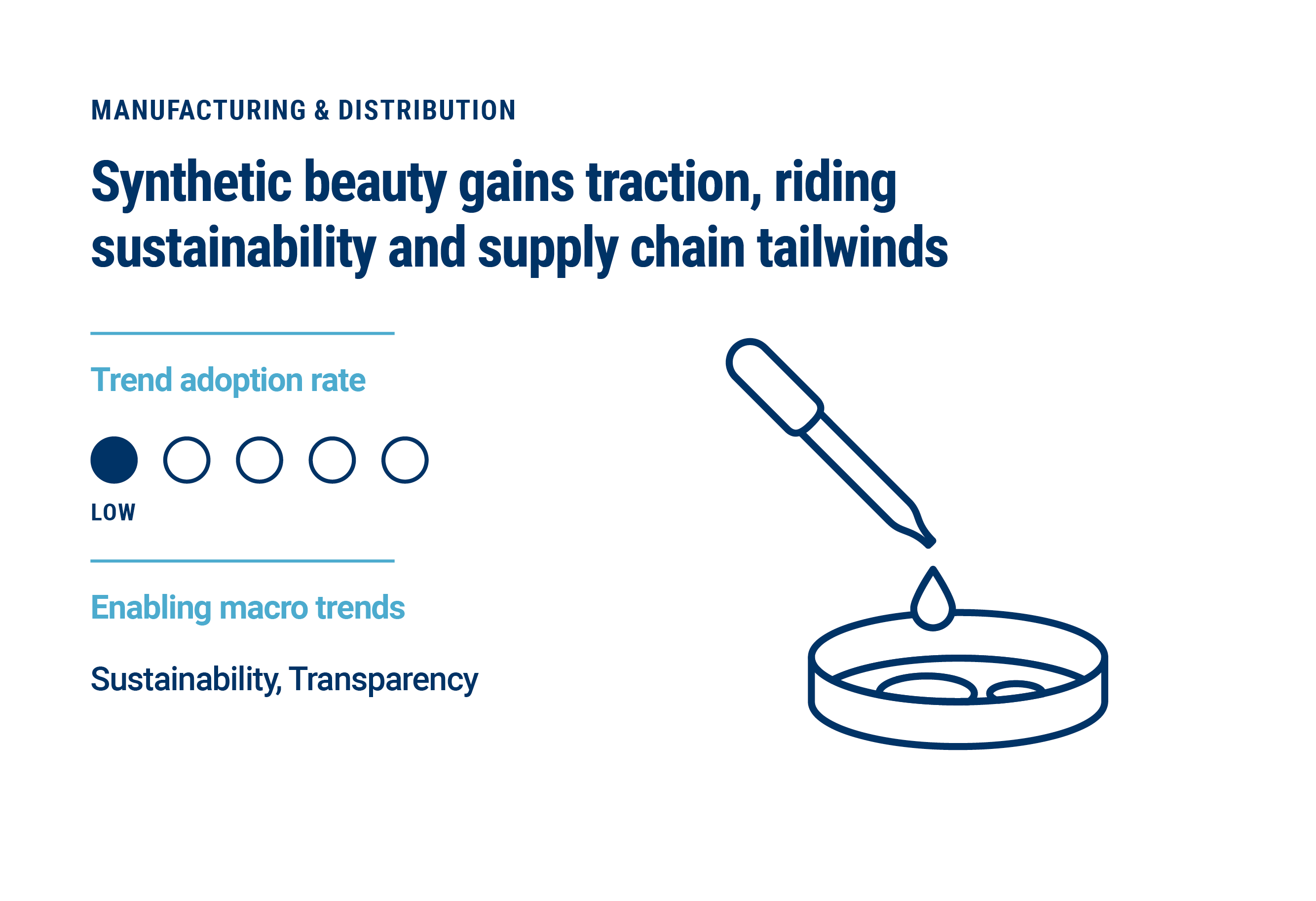 Biotechnologies are increasingly impacting the production of beauty ingredients. Consumers are continuing to realize that not all synthetic ingredients are detrimental, and that biosynthetic ingredients offer a viable, more sustainable alternative.
On the business front, using ingredients that are mined or farmed introduces potential supply chain volatility, given the quantity of vendors, farms, and fisheries that have to be involved in supplying ingredients, while synthetic ingredients are made in more controlled environments that can offer consistency.
Furthermore, the process of growing ingredients in a lab reduces the "devastating impacts of farming, fishing, extraction, or the involvement of intermediaries which can drive up the price and carbon footprint of raw materials extracted from the earth in lengthy, global supply chains," said sustainability consultant and All Earthlings founder Sarah Jay in an interview with Coveteur.
Several brands are experimenting with biosynthetic ingredients:
Ginkgo BioWorks, which recently announced it will go public in a $17.5B SPAC deal, has genetically engineered yeast fermentation to produce rose oil with new and unique scents without relying on expensive rose petals.
Biotech "ingredients-as-a-service" company Geltor offers vegan collagen technologies crafted for skincare ingredient applications.
Startup C16 Biosciences uses a brewing process to produce a sustainable alternative for palm oil instead of relying on traditional agricultural processes, which have been scrutinized for their damage to the environment and links to labor abuses.
Vegan skincare brand Biossance creates its own eco-friendly squalene, an ingredient typically taken from shark livers.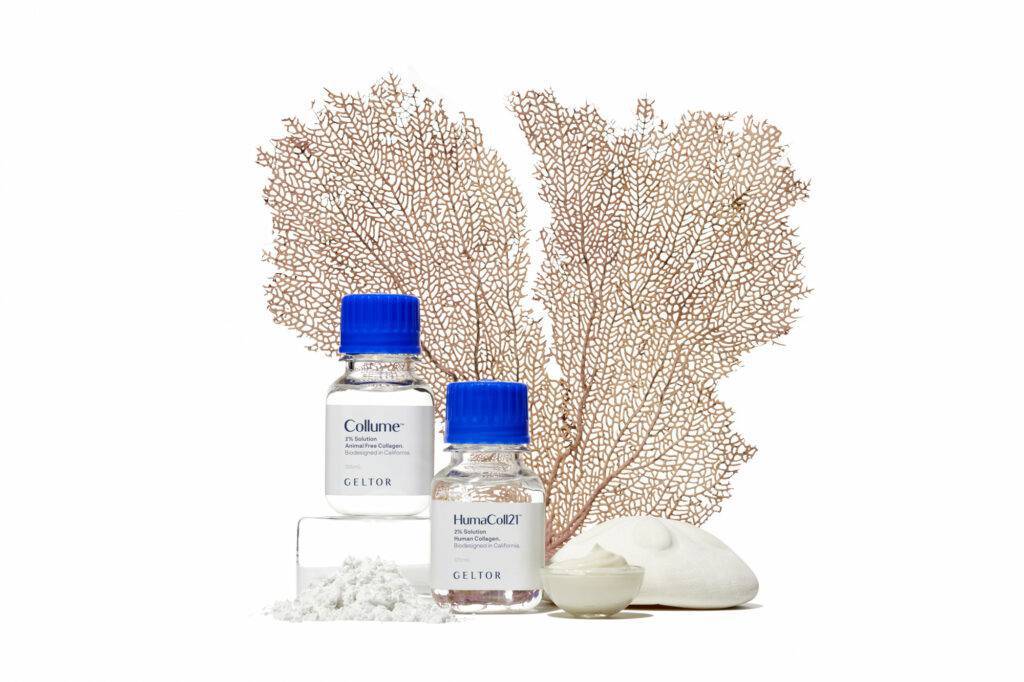 Source: Geltor
Beauty conglomerates have been active in developing biotechnology partnerships as well.
Johnson & Johnson, maker of brands like Neutrogena and Aveeno, is investing in new engineered preservatives that could be used in items like haircare or body care products. The company invested in Curie Co, a startup that makes biomaterials to replace preservatives in everyday beauty and personal care products, through its JLABS incubator. L'Oréal signed a licensing deal with biotech bacteria company Micreos, while Estée Lauder inked a joint development deal to explore lab-based materials in skincare. In March 2021, beauty conglomerate Coty partnered with LanzaTech to leverage the biotech company's sustainable ethanol in its fragrances.
Lab-grown ingredients can serve as a differentiator for brands in the broadening landscape of natural, sustainable clean beauty. Furthermore, biosynthetic ingredients can mean cost savings for companies down the line, including reduced transport costs, lower supply chain risk, and decreased emissions.
The challenge remains in scaling up production. Given rapid expansion plans and high demand, companies should keep an eye on quality control — new plants can encounter hiccups that may compromise the final product. At the rate the planet's resources are being depleted, the shift to lab-grown ingredients may arise out of necessity.
New sustainable packaging prototypes and business models take off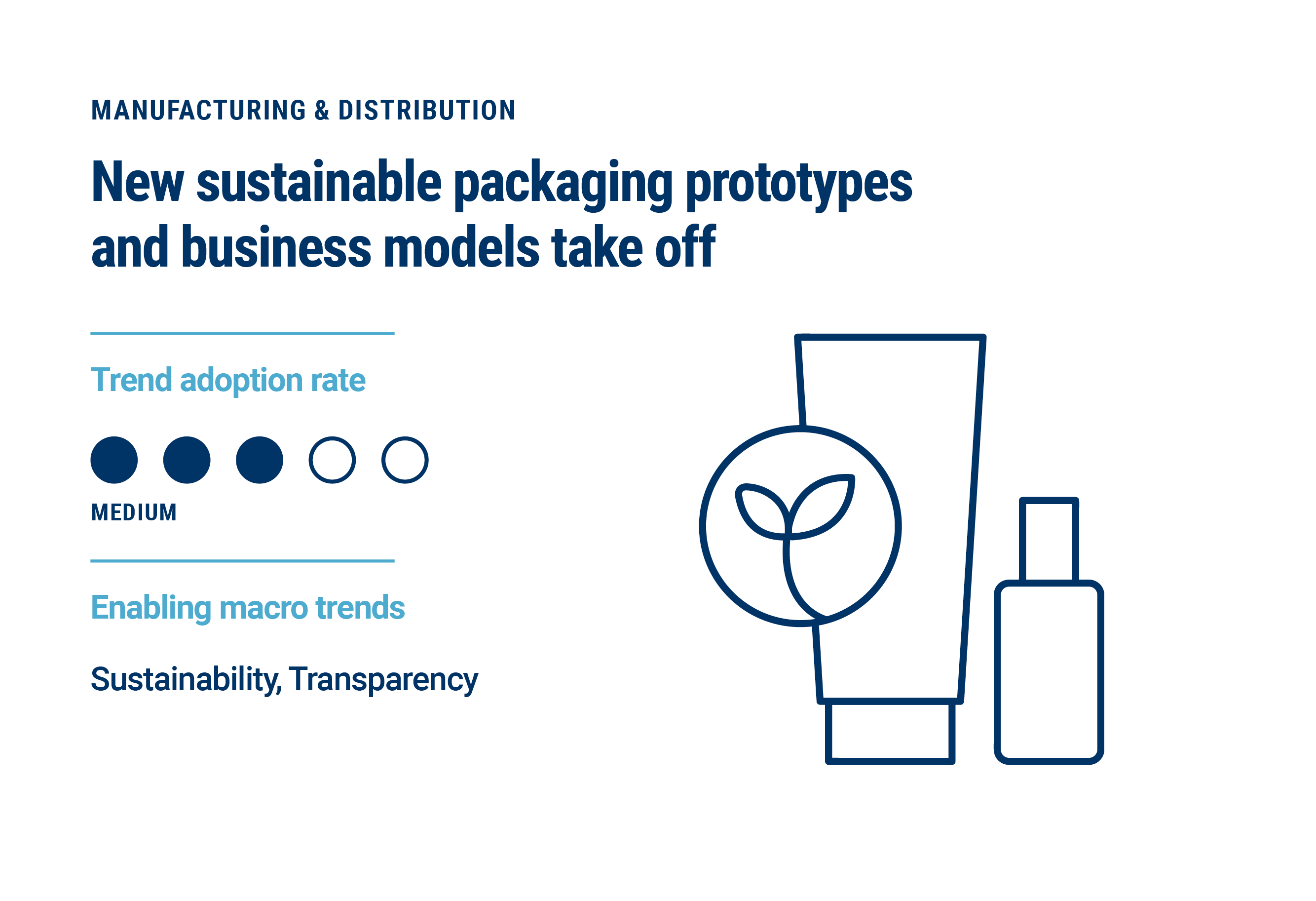 Sustainability is a hot topic across virtually every sector, but it's become a particularly important conversation within CPG, an industry with replenishable products historically featuring single-use packaging.
The beauty and personal care industry generates nearly 120B packaging units every year, and nearly 91% of these fossil fuel-based bottles, wrappers, and other plastic waste are never recycled, accumulating in the ocean and landfills.
Consumers — especially millennials and Gen Zers — are leading the shift away from single-use plastic. Up to 70% of surveyed US consumers said they would pay more for sustainable packaging, per McKinsey. This shift is accelerating as government regulation in the EU and select US states pushes CPG companies toward adopting more sustainable alternatives. The EU, for example, has a goal of becoming carbon neutral by 2050, and the European Green Deal aims to shift to completely reusable or recyclable packaging by 2030. Nine states, including California, New York, and Maine, have enacted statewide plastic bag reduction laws or bans.
Beauty conglomerates and indie brands alike have tapped into this trend: L'Oréal, Estée Lauder, and Unilever have all pledged to reduce single-use packaging, while brands like Pai Skincare and HiBar are reducing virgin plastic use or moving away from plastic entirely. Synthetic biotech company Amyris recently acquired a majority stake in sustainable cosmetics brand EcoFabulous — the seventh clean beauty brand in its portfolio.
As pledging to reduce single-use plastic becomes fundamental, the shift toward sustainable packaging is spurring new business models.
Refill models are being embraced across different beauty verticals. Myro and By Humankind allow users to refill deodorant, while Kjaer Weis and Asa Beauty allow consumers to restock makeup.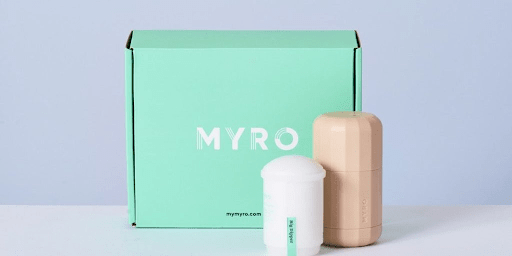 Source: Myro
In-store refills have yet to pick up — especially after the Covid-19 pandemic — though there is opportunity here. The Body Shop launched its refill stations globally in March 2021, allowing consumers to refill shower gels, hand soaps, shampoos, and conditioners in stores. Chile-based Algramo, which expanded to New York in August 2020, also offers opportunities for refilling household products, though beauty and personal care is likely a future opportunity thanks to its partnerships with Unilever and Nestlé.
Recycling models are also being adopted, such as those by early pioneers of the process MAC Cosmetics and Lush, both of which allow consumers to return empty product containers (to be recycled) for free items. Newer initiatives include:
In April 2021, Lush launched its Bring It Back program in the UK and Ireland, allowing customers to return any Lush plastic packaging to be recycled for a small discount.
In 2019, recycling co TerraCycle launched Loop, where customers pay a refundable deposit for shipped containers that are to be cleaned, refilled, and reused after return. The company has partnered with several retailers including Ulta, Nordstrom, Tesco, and Sainsbury's.
Sephora has been testing a pilot recycling program in Utah and Colorado since 2019; no expansion plans have been announced.
Biodegradable packing is another avenue of interest that has seen traction, pioneered by industries like food and beverage. Neutrogena, for example, put out compostable wipes. Other alternatives include paper and fiber-based packaging being developed by early-stage companies like Paboco, Paper Water Bottle, and Ecologic. L'Oréal leveraged Ecologic bottles in the launch of its sustainable personal care line, Seed Phytonutrients, including paper shampoo bottles that don't break down in the shower.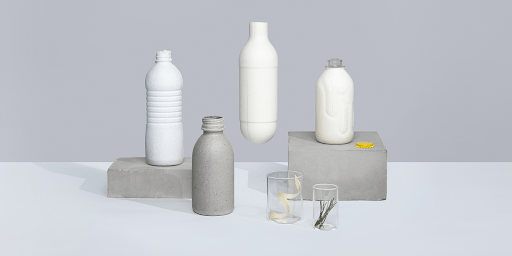 Source: Paboco
Some beauty brands are exploring more creative solutions, using materials like mushrooms, wood pulp, or agar.
Despite burgeoning interest, companies can face barriers in scaling up production. Watch for the beauty and personal care category to follow the food and beverage industry, as companies in the space have adopted biodegradable and recycled plastics more broadly.
'Waterless' beauty as the next big eco trend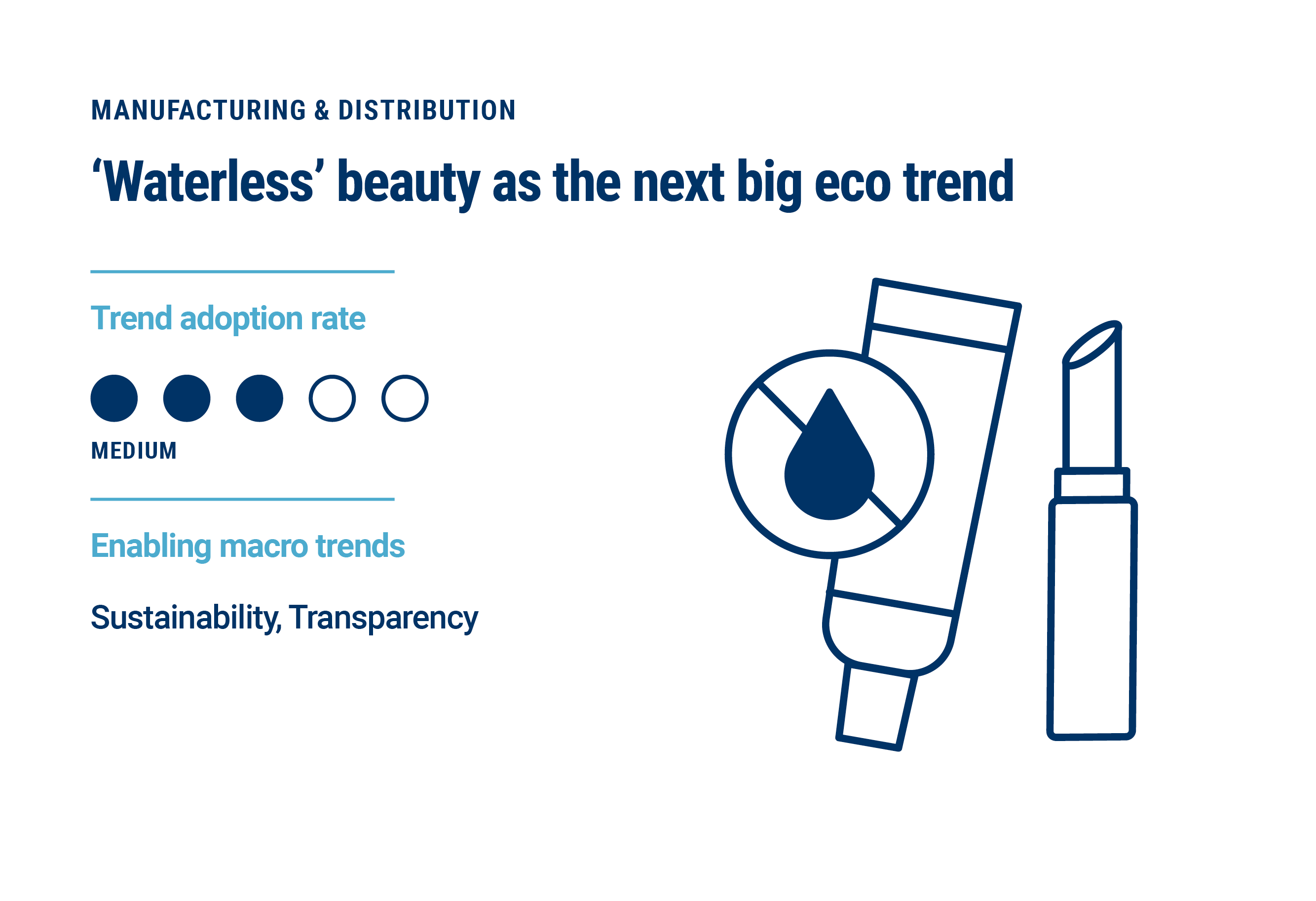 A typical bottle of shampoo consists of 90% water, and shipping bulky, water-based products leads to substantial transportation costs, increased emissions, and more packaging. Removing water from product design and shipping is a key emerging theme across beauty brands' efforts to improve operational sustainability.
A wave of startups and corporates are developing innovative material solutions to concentrate the active ingredients in shampoo, hand soaps, and more. These companies formulate and package products to improve convenience and user experience, which eases consumers into using more sustainable products without changing their routines to accommodate, for instance, scoopable shower gels or chewable toothpastes.
Emerging startups and recent corporate developments here include: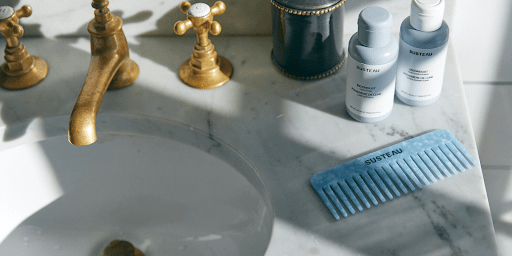 Source: Susteau via Beauty Independent
Expect to see more major retailers stocking these options in an effort to bring sustainable products under the roof. However, the ultimate impact of these products will depend on how much consumers are willing to change their routines to adapt to these new formats, which may not be as convenient as traditional water-based products. (For more, read our brief on How Material Innovation Will Improve Sustainability In Beauty & Personal Care.)
Some companies are also introducing waterless or water-reduced initiatives to salons. Glosslab, for instance, has developed a waterless manicure that it offers to clients in its own salons on a membership basis. The company raised a $4M seed round in May 2021.
Meanwhile, L'Oréal, in partnership with tech startup Gjosa, developed a device called the Water Saver that reduces the amount of water required at rinsing stations in salons. L'Oréal is looking to bring it to 10,000 salons in coming years and says it can save up to 80% of water used in rinsings. L'Oréal acquired a minority stake in Gjosa in March 2021.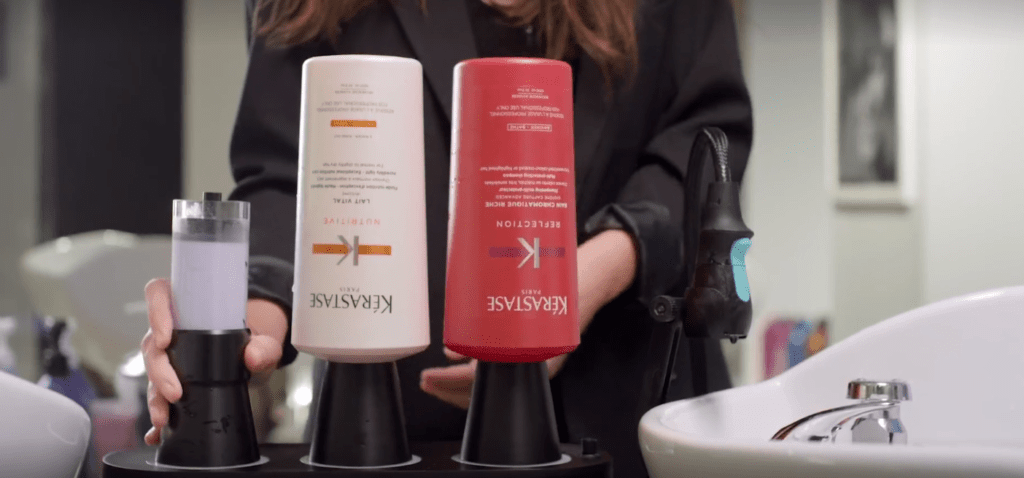 Source: L'Oréal
It's becoming critical for beauty brands to incorporate sustainability into their business model and operations, and water-saving techniques are crucial to the process. Beauty and CPG incumbents should look to use investments, M&A, or partnerships to bring these tech innovations in-house to help achieve broader sustainability goals.
Pricing
Beauty brands focus on value and varied pricing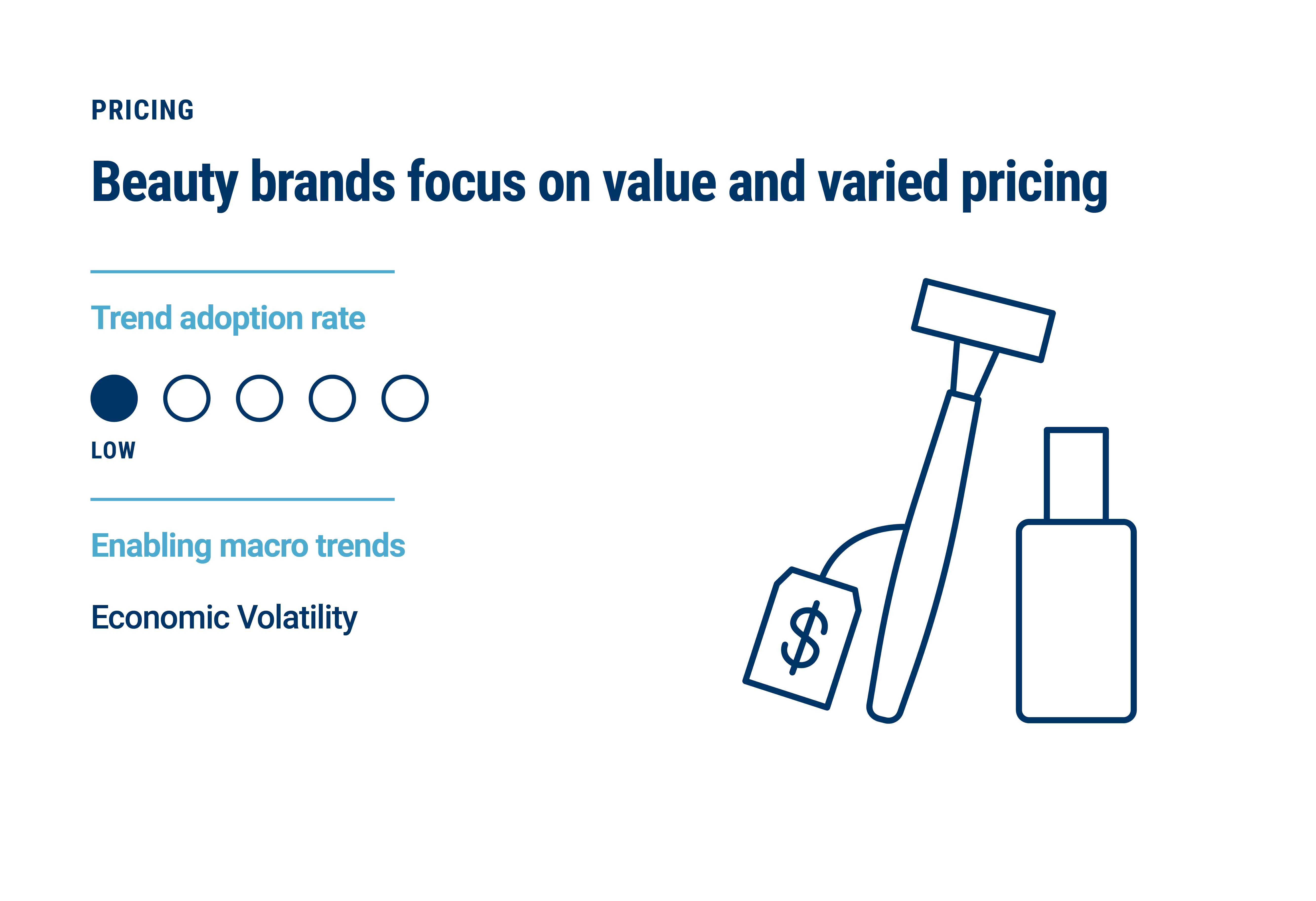 During recessions and economic downturns like the Covid-19 crisis, beauty tends to be a resilient category due to what's known as the "lipstick effect" — consumers' tendency to see beauty as an affordable, small luxury during uncertain economic times.
In 2020, retailer Revolve, for one, saw "more deliberate purchasing behavior by consumers during the Covid-19 pandemic as well as a Covid-19-driven shift … to product categories with lower price points and lower return rates, such as beauty, and away from occasion wear."
While some consumers saw an increase in their disposable income during the pandemic, for many shoppers, the economic uncertainty of the pandemic has driven a renewed focus on products that carry more value at cheaper price points. Amid this shift, beauty has largely held its place in shoppers' lives, attracting spending even when other product categories have taken a hit.
A February 2021 PowerReviews survey found that consumers are now 40% more willing to try new beauty products than before the pandemic, and 59% report spending the same or more on beauty as they did prior to Covid-19. For many, the conditions of the pandemic drove them toward product categories like skincare (and away from those like makeup) that play a central role in at-home routines.
"The beauty category, while not recession-proof, has fared better than many other discretionary categories in economic downturns, reflecting the relatively low price point and the connection with the product … Engagement with the beauty category remains strong, despite the uncertainty many guests are experiencing today." — Ulta CEO Mary Dillon, Q1'20 earnings call
Beauty brands are continuing to connect with consumers by employing varied pricing strategies that appeal to wider swaths of shoppers.
Companies like Deciem are using transparent pricing models and established, science-backed ingredients that are cheaper to manufacture — ultimately driving the price of products down. In 2020, Deciem nearly doubled sales to $460M, primarily through its skincare brand The Ordinary, which has developed a strong cult following.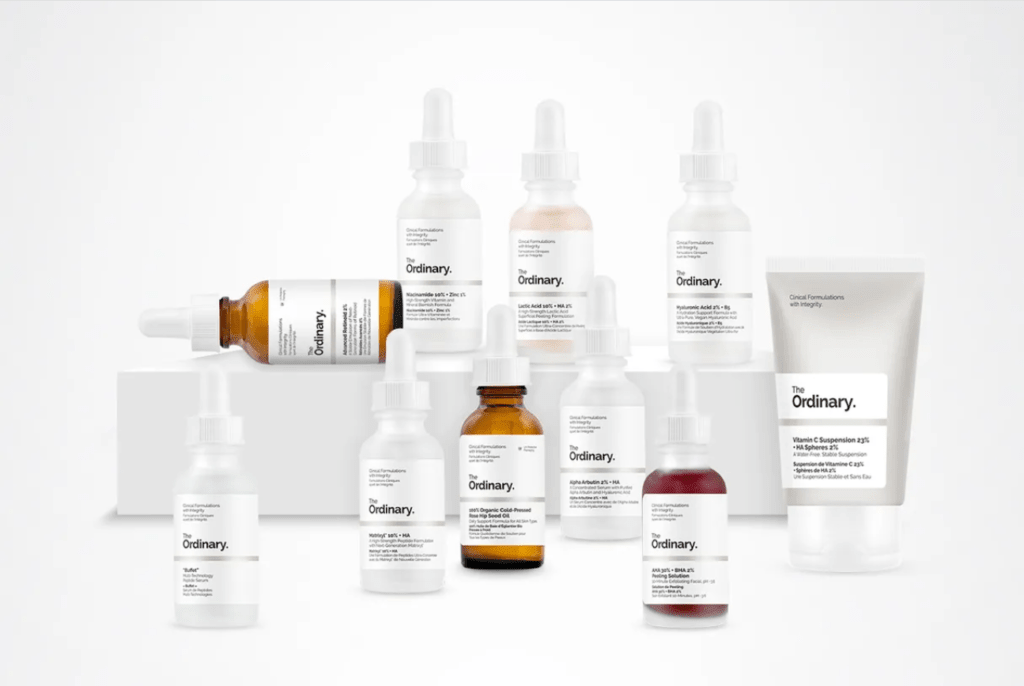 Source: Racked
Estée Lauder purchased a majority stake in Deciem at a $2.2B valuation in February 2021. In doing so, the incumbent is diversifying its product portfolio and catering to new segments of shoppers — whether they are seeking more affordable product lines, like The Ordinary, or more expensive ones, such as La Mer skincare, also owned by Estée Lauder.
In China, Perfect Diary has become one of the country's most talked-about beauty brands since launching in 2016, competing with well-known global players like L'Oréal and Estée Lauder, even while offering its products at a mass-market price point. Perfect Diary uses the same production factories as large, reputable luxury brands like YSL and Dior. Perfect Diary remains focused on targeting lower-tier cities, where customers may be less accustomed to the beauty market and more open to trying out new brands.
For brands, targeting multiple price points and diversifying product portfolios could help them weather periods of economic uncertainty. L'Oréal, for instance, has credited its diverse pricing strategy for enabling it to "absorb even severe market conditions like in 2020."
Coming out of the pandemic, as economic recovery looks different for consumers with different wallets, there is opportunity at multiple price points. Beauty brands and conglomerates will increasingly use varied pricing strategies to appeal to a broader range of shoppers, with the goal of remaining essential to their routines.
Marketing & Merchandising
Beauty further integrates with the wellness economy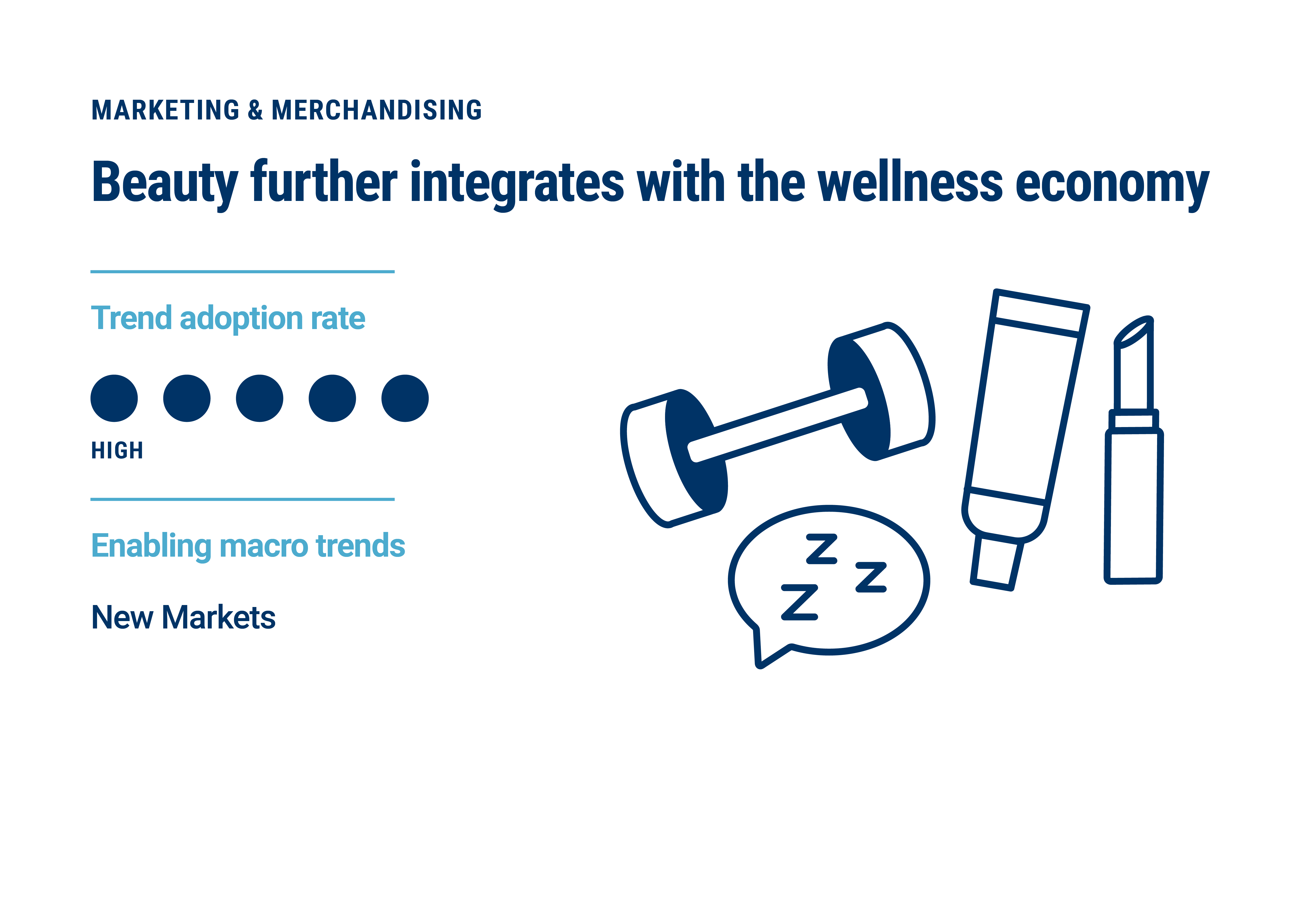 The surge of consumers focusing on self-care amid the pandemic has only accelerated the emergence of wellness as a holistic trend extending to traditional beauty areas like skincare.
Ingestible beauty, supplements, and vitamins
Ingestible beauty is one wellness area gaining traction. Already popular in Asia, the trend of food, supplements, or drinks promising beauty benefits has continued to pick up steam. This "inside-out" approach emphasizes preventing issues that other beauty products may only be able to cover up. Companies in the space often promote a "feeling good is looking good" ethos.
While beauty supplements aren't a new concept, an increasing number of startups are targeting the market with products that promise beauty benefits such as weight loss, clearer skin, and stronger hair.
Investors have backed companies in this space such as skincare supplement startup Moon Juice, beauty-focused vitamin provider HUM Nutrition, and Nutrafol, a company offering supplements for thicker hair growth which has raised $36M from investors including Unilever.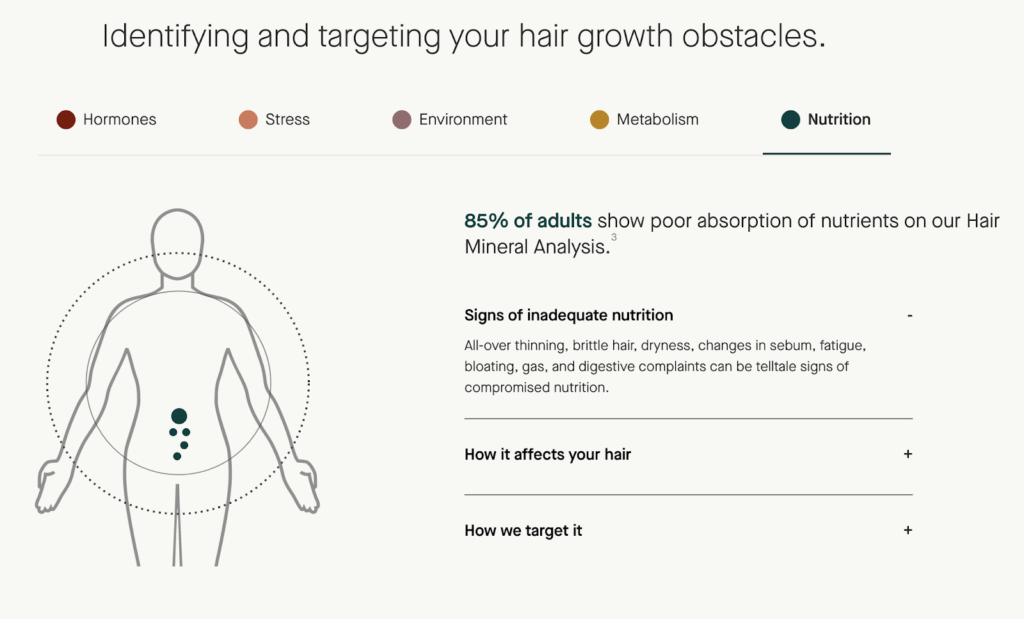 Source: Nutrafol
CPG incumbents are also making moves. Nestlé, for instance, acquired a majority stake in skincare startup Vital Proteins last year. The company offers collagen — a protein that helps form skin — in products like powders and snacks.
New formats for ingestible beauty are also emerging, including companies offering daily skincare shots (Akiva), collagen-infused drinks (SkinTe, Pop & Bottle), and even meal kits (Sakara Life, Urban Remedy).
Going forward, expect a greater focus on the connection between gut health and beauty as the microbiome gains momentum as a wellness topic. Beauty Chef, a startup that has raised $6.8M, is already marketing its products by linking beauty to gut health.
Health remains a priority for companies going after the beauty market
As more consumers link beauty to general well-being, some healthcare companies are positioning their products to grab a slice of the beauty market — while leaning on their science-based authority.
For example, Hims & Hers offers telehealth consultations and prescriptions for a broad array of health issues ranging from infections to mental health, but its services also extend to anti-aging creams and haircare products. Similarly, India-based CureSkin provides dermatological assessments alongside broader health advice on diet and lifestyle.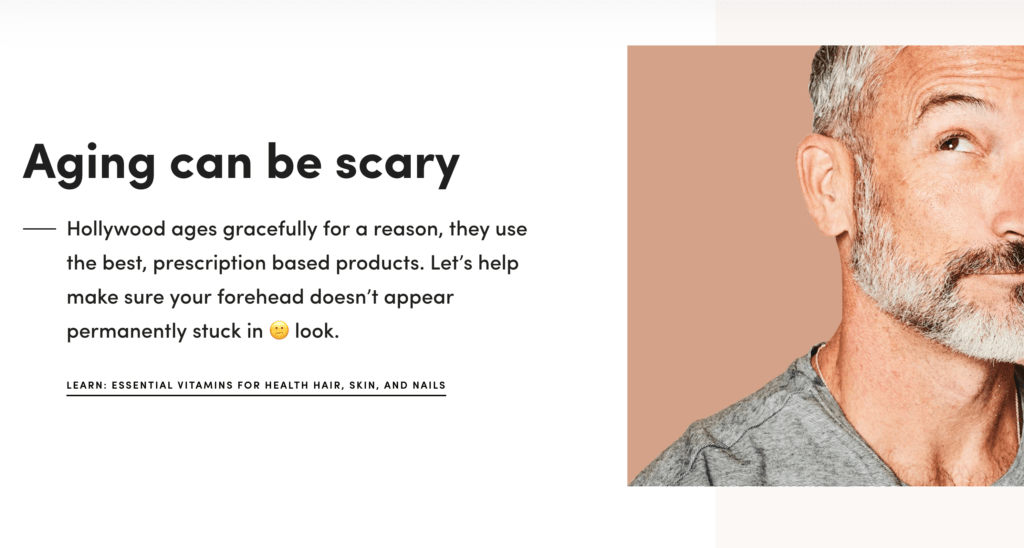 Source: Hims & Hers
Conversely, some brands are looking to offer consumers an alternative to doctor visits for certain issues. Topicals and Musely, for example, are targeting skin conditions like eczema that would normally require a trip to see a specialist to get a prescription.
One emerging trend reflecting this convergence of health and beauty is the "skinification" of makeup, which refers to traditional beauty products like foundation and concealer which also promise healthier skin. Companies targeting this space include early-stage startups Ilia Beauty, Saie, and Revolution Beauty.
As the space becomes more crowded, watch for companies to differentiate themselves with pairings of "inner" and "outer" products, such as ingestibles and topical creams, marketed around beauty benefits. Haircare startup Prose, for instance, recently launched a subscription service for supplements which it says can prevent hair loss and promote healthier scalps.
Scents for stress and beyond
Another emerging beauty-wellness area to monitor is "functional fragrances" — scents purported to have effects like reducing stress. These are already being offered by companies like Neom Organics and Aeroscena.
Looking ahead, expect functional fragrances to be incorporated into more beauty products and categories, including experiential beauty offerings such as spas and wellness hotels. For instance, Aeroscena, which backs its scents with clinical research and also focuses on healthcare applications, has seen its fragrances used throughout select MGM Resorts in their wellness-focused Stay Well suites.
Despite their momentum, companies tying beauty to overall well-being face challenges around perceptions of effectiveness and trust. Though brands commonly cite clinical studies alongside their products, consumers may become skeptical if they don't notice a difference in a real-world scenario, especially for products positioned as having a direct impact on health. Companies going after the space will have to calibrate their messaging carefully — and prioritize transparency — to successfully engage customers while managing expectations.
Big tech capitalizes on beauty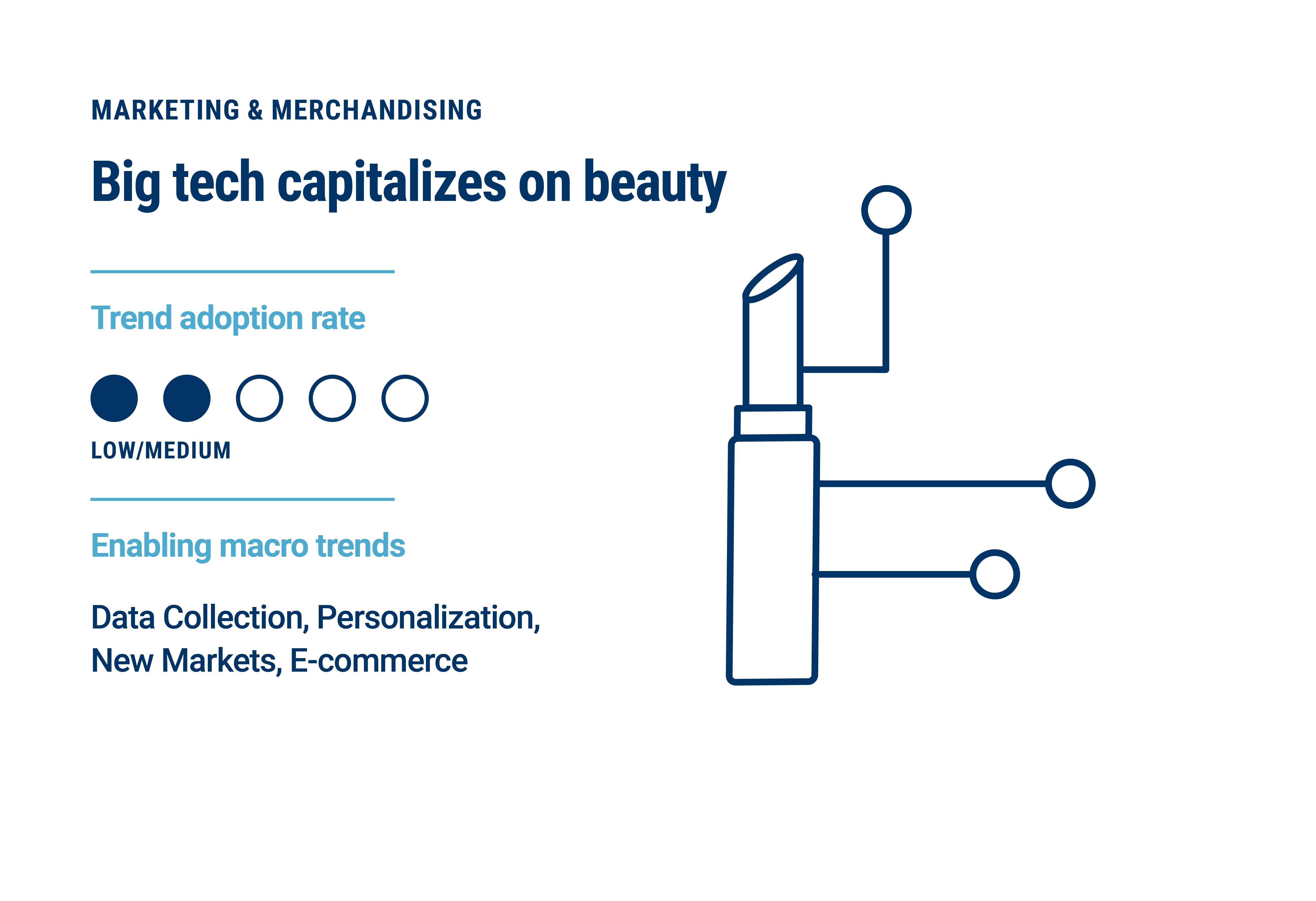 Tech is playing a bigger and bigger role in the beauty industry.
Tech companies' extensive reach — which can include search data, smart home devices, AI capabilities, e-commerce platforms, and more — offer compelling opportunities to cash in on the beauty market. For example:
Amazon runs a dedicated beauty supply store that sells salon products and equipment to businesses. It even opened a brick-and-mortar hair salon to showcase its tech.
Google works with brands to use its search data to better understand beauty shoppers' preferences.
Livestreaming beauty shopping is taking off on platforms like Facebook-owned Instagram and Alibaba's e-commerce site.
Below, we look at where big tech and beauty are colliding.
Big tech offers online beauty retail channels
Amazon has made major strides in expanding its beauty retail channel. It launched a private label beauty brand called Belei in 2019 and recently invested in India-based D2C beauty site MyGlamm.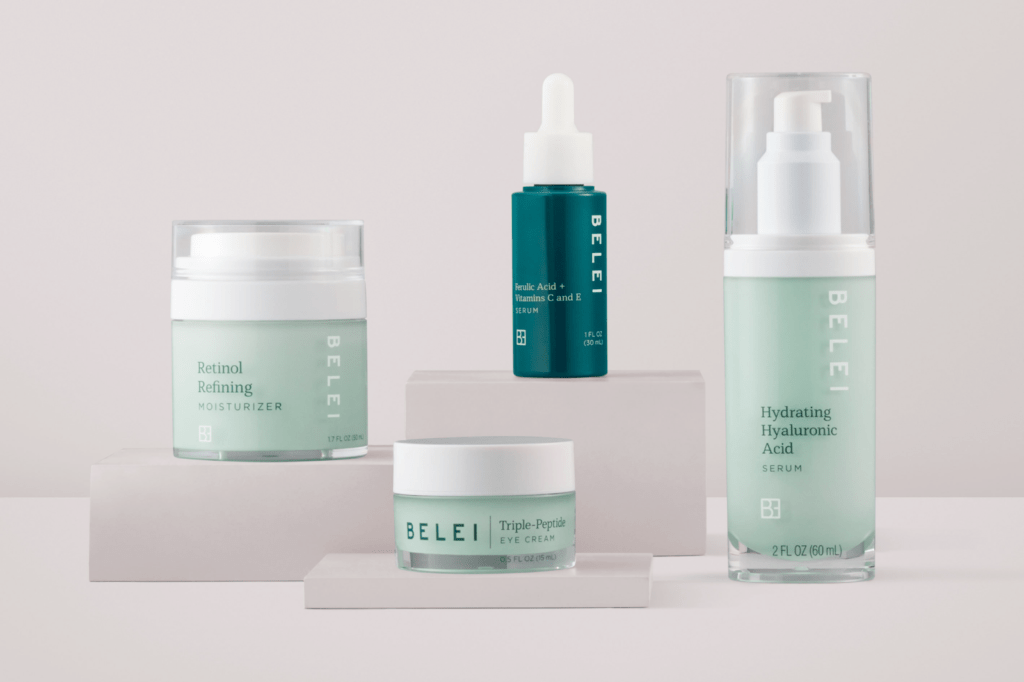 Source: Amazon
In addition to its traditional e-commerce site, it also sells beauty products on its Amazon Fresh and Whole Foods online grocery platforms — a distribution channel that received a major boost during the pandemic and presents an opportunity for Amazon to cross-sell beauty products alongside consumers' regular food orders.
Meanwhile, Facebook-owned Instagram has become a strong retail force within the beauty industry.
The platform has played a major role in creating digitally native brands across all consumer categories and is particularly well suited to beauty — an industry that is inherently visual, based on peer recommendations, and has a relatively low barrier to entry.
In 2019, the company launched in-app checkout for shoppable posts and has since rolled out features such as augmented reality shopping, in-app reminders for new product drops, and even shoppable videos — expanding its e-commerce role for beauty products being promoted by brands and influencers.
Big tech-enabled livestreaming is gaining traction among beauty influencers
Instagram is not the only company using video to sell beauty products. Livestreaming, which refers to livestreamed shopping trips where viewers can purchase the items being featured, is offering a new way to engage younger audiences and boost sales. The approach is already popular in Asia, but it has started to make inroads in markets like the US.
China-based tech giant Alibaba offers livestreaming and AR features which it has used to attract luxury beauty brands to its e-commerce platform.
Much of the beauty livestreaming activity in Asia has been driven by high-profile influencers — known as KOLs (key opinion leaders) — like "Lipstick King" Jiaqi Li, who reaches millions of viewers every month. However, more sophisticated approaches are starting to emerge, such as that taken by early-stage startup Zamface, which offers a platform to help viewers find a livestreamer with similar facial features to them.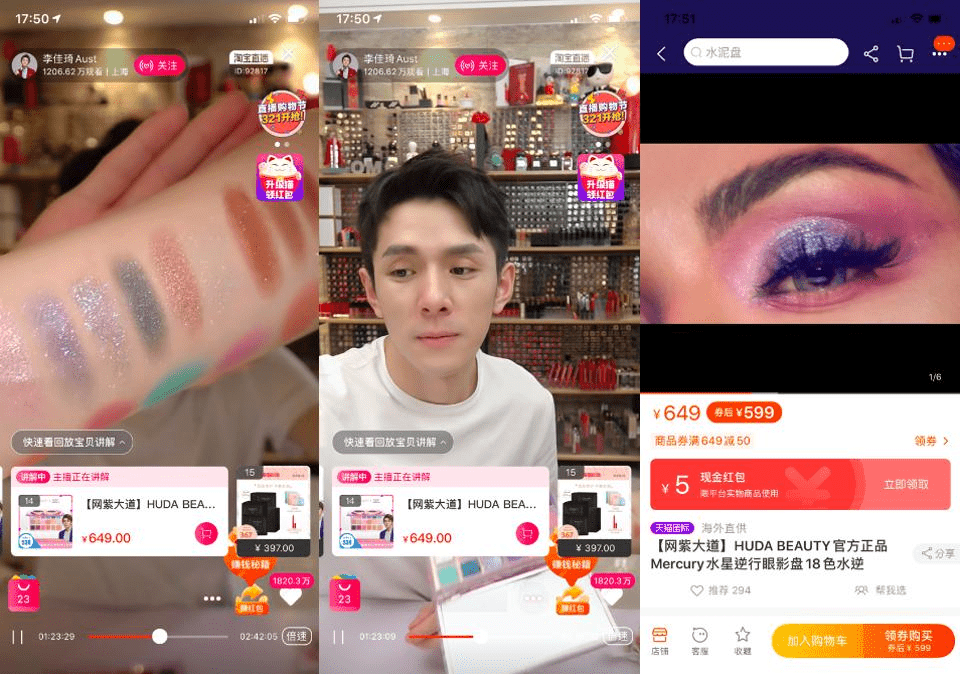 Livestreamer Jiaqi Li promoting beauty products on Alibaba's platform. Source: Alizila
Voice assistants will help bring beauty into the smart home
Voice assistants like Amazon's Alexa and Apple's Siri present partnership opportunities for big tech and beauty.
Amazon, Apple, and Google all offer voice-enabled smart speakers and have designs on deeply integrating their virtual assistants into peoples' home lives. At the same time, beauty companies are looking to master voice-based shopping to ensure their brands remain top of mind for consumers.
Sephora, for instance, partnered with Google to offer its own Google Assistant app that allows users to order products, access skincare advice, and view Sephora's YouTube videos.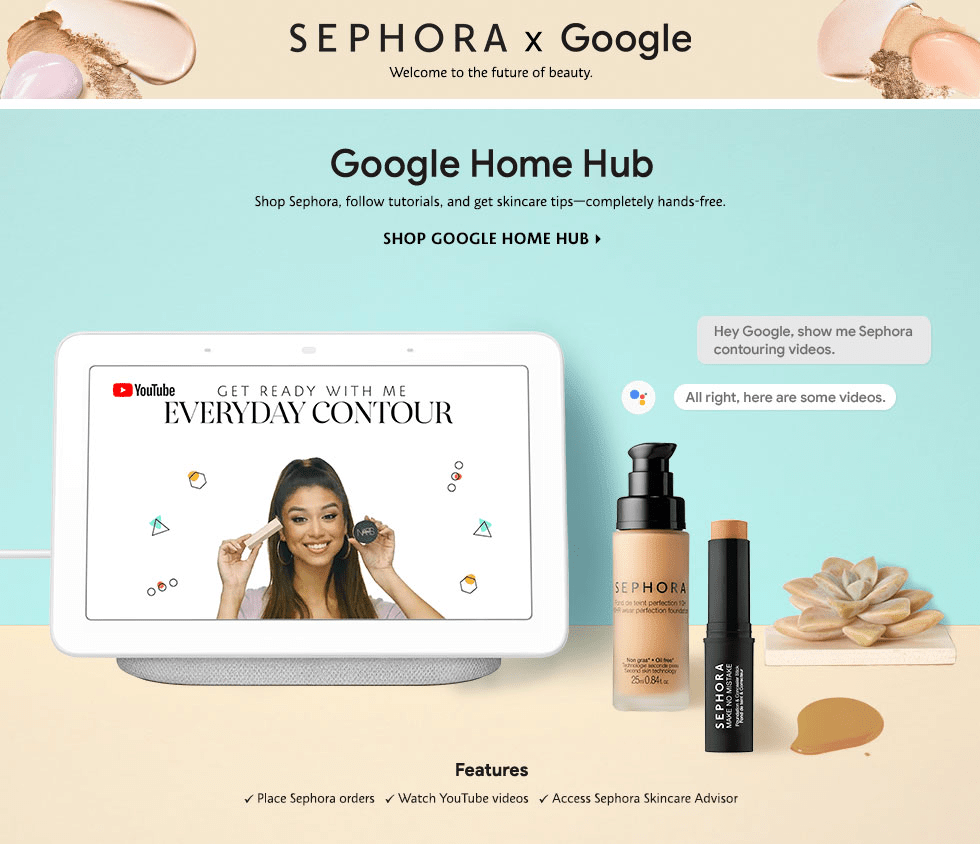 Source: Sephora
With smart home concepts continuing to gain traction, beauty brands will have to consider how voice technology — and partnerships with big tech — could be used to address shopper pain points, from personalized recommendations to conveniently booking reservations. (For more on the future of the smart home, clients can check out this report.)
Beauty hasn't historically been a key focus area for big tech, but these giants will inevitably continue to extend their influence in the sector.
As the beauty industry becomes more tech-enabled, opportunities for big tech companies to monetize their data, platforms, and devices will only increase — but, even as partnerships abound, they may eventually find themselves competing more directly with increasingly tech-savvy beauty incumbents.
Virtual try-on enables product discovery and engagement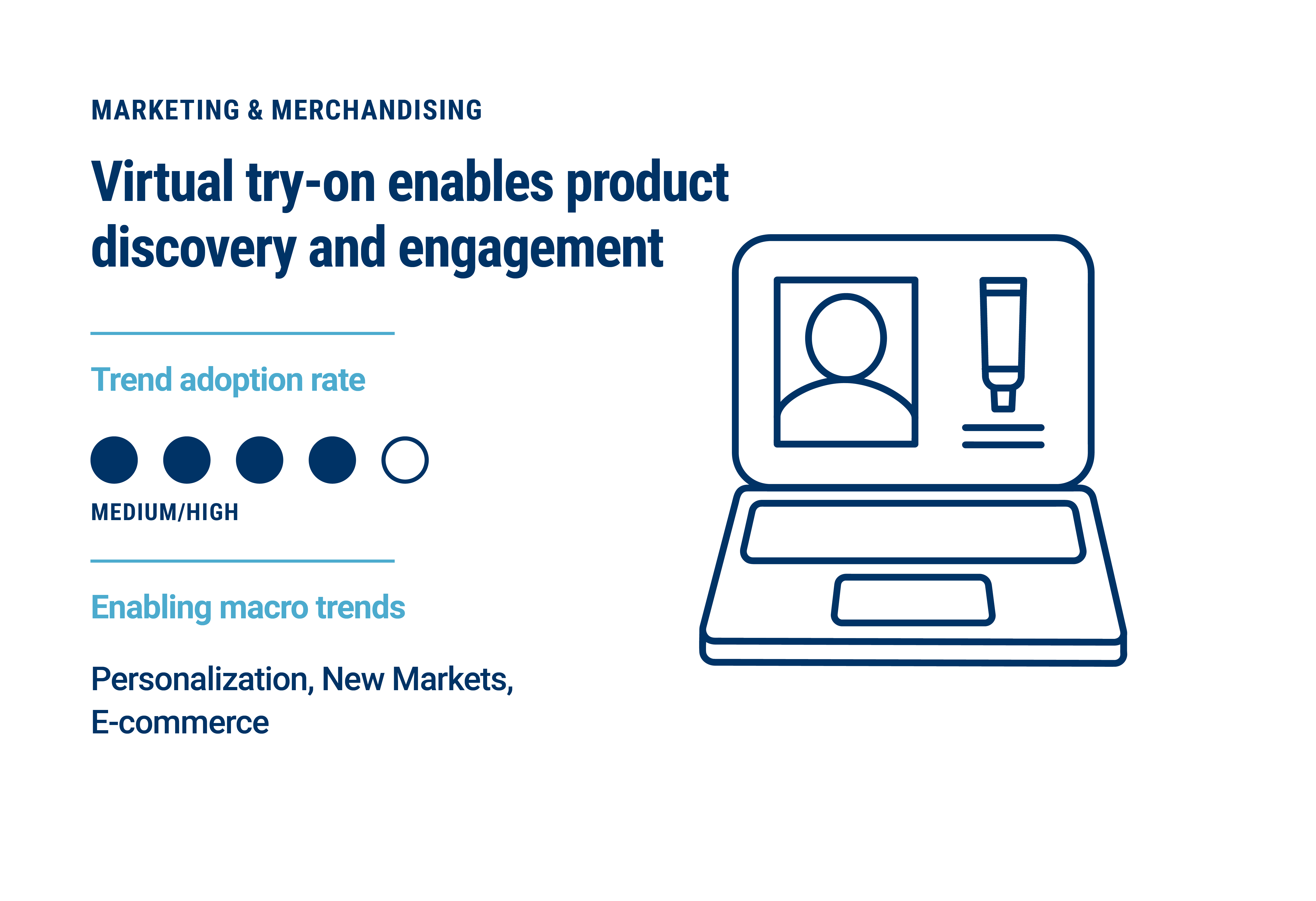 Virtual try-on tech leverages augmented reality to allow shoppers to test how different beauty products will look — without needing to reach for the makeup remover wipes afterward.
While the technology has existed for some years, the Covid-19 pandemic has solidified virtual try-on's place in the beauty industry, as customers seek personalized recommendations they can try on safely, often while shopping online from their own homes.
In beauty retail, virtual try-on tech serves a dual purpose: combining both augmented reality and computer vision, it allows shoppers to virtually test out different looks, while simultaneously collecting behavioral data for brands. Notably, virtual try-on can also help brands personalize the beauty shopping experience, enhancing product discovery and making tailored recommendations about foundation shades, skincare products, and more.
Beauty brands from L'Oréal to Smashbox to Benefit Cosmetics offer virtual try-on via tech by ModiFace (acquired by L'Oréal in 2018), while social media platforms like Facebook and Youtube have integrated virtual cosmetics try-on into ads and influencer videos.
In December 2020, Google launched an AR-powered cosmetics try-on tool in Google Search, partnering with brands like L'Oréal, Estée Lauder, MAC Cosmetics, and more to let users try on searched-for makeup products using front-facing mobile phone cameras.
Alongside ModiFace, Perfect Corp is a leader in the space, and its tech is used by myriad beauty and tech platforms.
Since first establishing itself as a go-to provider of AR for beauty tech in 2017, the Taiwan-based beauty company has expanded its virtual try-on offering, leveraging 3D face AR technology to let users virtually test an array of makeup products. Its AI Skin Diagnostic tool leverages AI-powered algorithms to analyze a user's skin across dimensions including wrinkles, redness, oiliness, texture, and more to make personalized skincare product recommendations.

Source: Perfect Corp
Recently, the virtual try-on space has seen a flurry of activity, including:
IT Cosmetics partnered with Skin Match Technology to deliver Skin Match's AI-powered foundation shade recommendation tech to its customers in March 2021.
Biotechnology company Amyris acquired Beauty Labs, developer of AI-powered apps for beauty brands looking to offer intelligent, personalized recommendations and virtual try-on, in April 2021.
Beyond skincare and makeup, hair and nail color also present use cases for virtual try-on tech. Hair color has seen a notable boost in the past year as lockdowns have prompted new forms of self-expression, per Sally Beauty Chief Merchandising Officer Pam Kohn. Hair color brand Madison Reed, which grew sales by 130% and nearly doubled its customer base in 2020, offers live virtual try-on on its website for customers to explore different shades.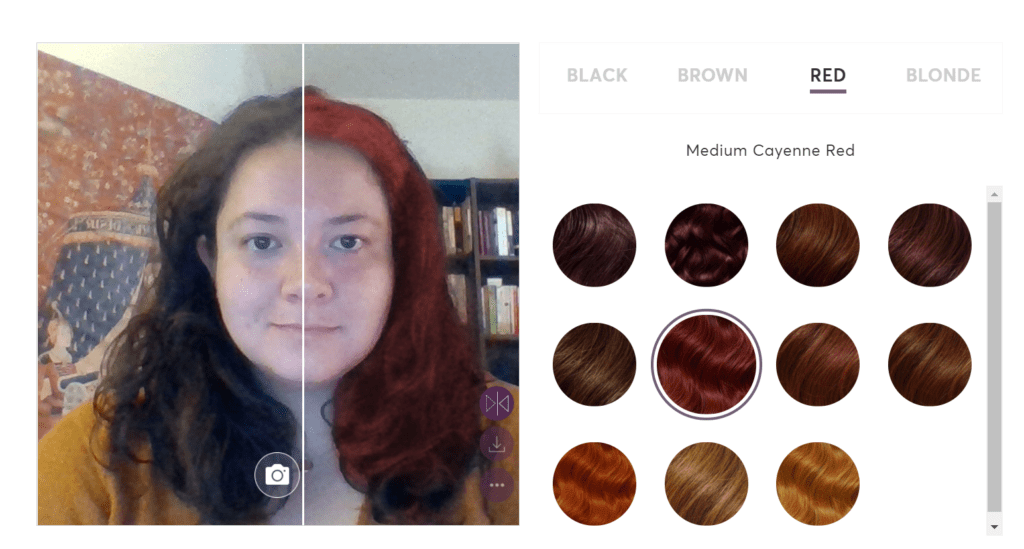 Source: Madison Reed 
Meanwhile, tools like Essie's ModiFace-powered "On Hand" tool and Anastasia Beverly Hills' The Brow App offer applications in nail polish try-on and brow shaping.
As people have spent more time working and socializing virtually, video filters could prove to be another expanding use case for virtual makeup. In 2020, L'Oréal rolled out Signature Faces, a line of "virtual makeup products." The line provides makeup filters supported on a range of platforms, including Zoom, Instagram, Snapchat, and more.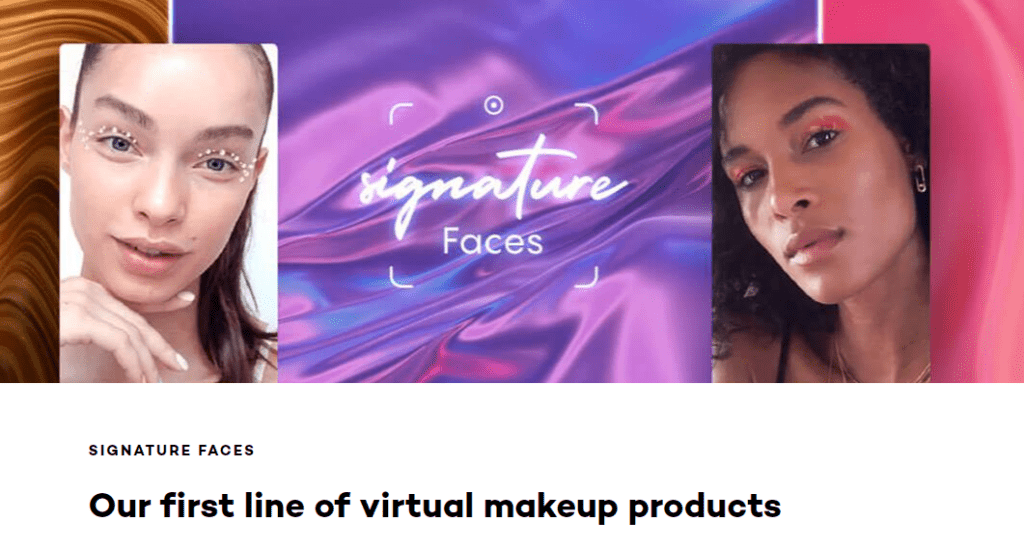 Source: L'Oréal
Virtual try-on cannot completely replace the in-store experience of interacting with a sales rep and experiencing the weight and texture of physical products. But its place in the beauty world is more secure than ever.
All at once, the Covid-19 pandemic has shifted shopping and socializing online and sparked desire for self-expression and self-care; virtual try-on technology has improved; and partnerships have made the tech more widespread than ever. Ultimately, AR is no longer a gimmick, but a proven technology integral to beauty shoppers' experiences, both online and in the store.
Going forward, expect to see beauty brands and tech giants alike turn to virtual try-on to gather shopper data and make more personalized product recommendations.
Ingredient transparency trumps clean beauty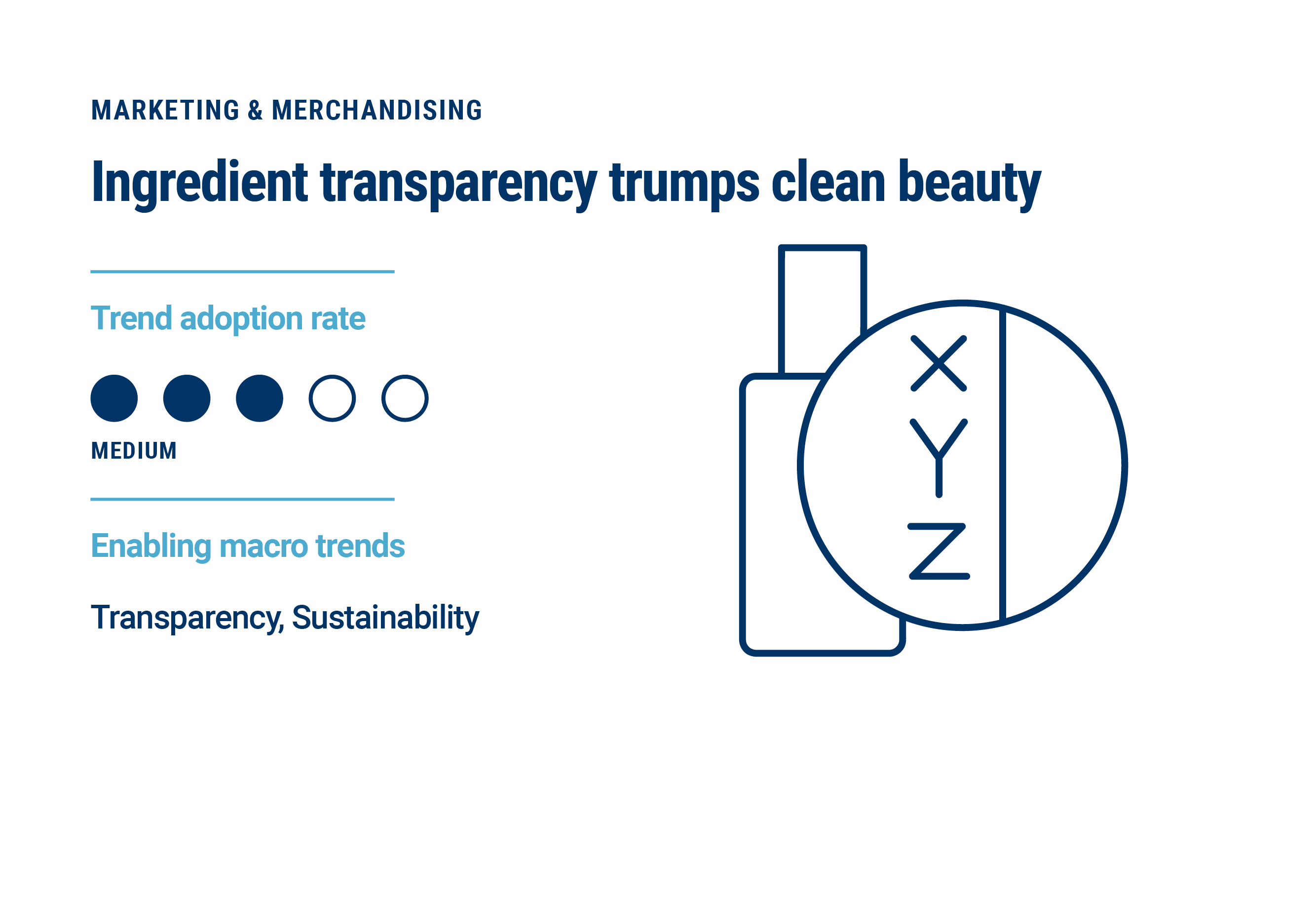 Customers are increasingly demanding greater insight into what their products are made of, and ingredient transparency has become a top priority not only for beauty and personal care brands but also for CPG and retail companies more broadly. Corporates like Unilever, P&G, and Target have all tapped into this trend through acquisitions, accelerators, internal brand incubation, and more.
In recent years, one of the biggest ways ingredient transparency has manifested is through the "clean beauty" movement, which focuses on natural and organic products. However, a lack of US regulation regarding terms like "natural" and "clean" has led to some confusion about their meaning. At the same time, consumers are increasingly realizing that not all "natural" ingredients are good for you — and not all synthetics are bad.
As a result, brands are shifting focus away from highlighting natural ingredients and toward transparency and educating consumers on the ingredients they include — or leave out.
For example, in April 2021, private equity giant Carlyle Group took a majority stake in cosmetics company Beautycounter in a deal valued at $1B. The Colorado-based beauty brand emphasizes ingredient transparency and restricts over 1,800 ingredients in its formulations (compared to the 30 restricted by US regulations).
As the emphasis on ingredient education grows, brands are also shifting toward ingredients backed by scientific methods or endorsed by doctors and clinical professionals to prove safety and efficacy. Some beauty brands are even carrying out clinical studies to test out their products: Juice Beauty and ZO Skin Health both feature real patients' results from clinical laboratory studies on their websites.

Source: Juice Beauty 
Some companies are simply revamping their labels to highlight clinical results. In February 2021, biotech beauty company Codex Beauty Labs announced a new labeling strategy to include clinical efficacy data on packaging for all its skincare products. The easy-to-read efficacy testing panel highlights the difference products have made in studies looking at metrics like hydration, firmness, oiliness, and more.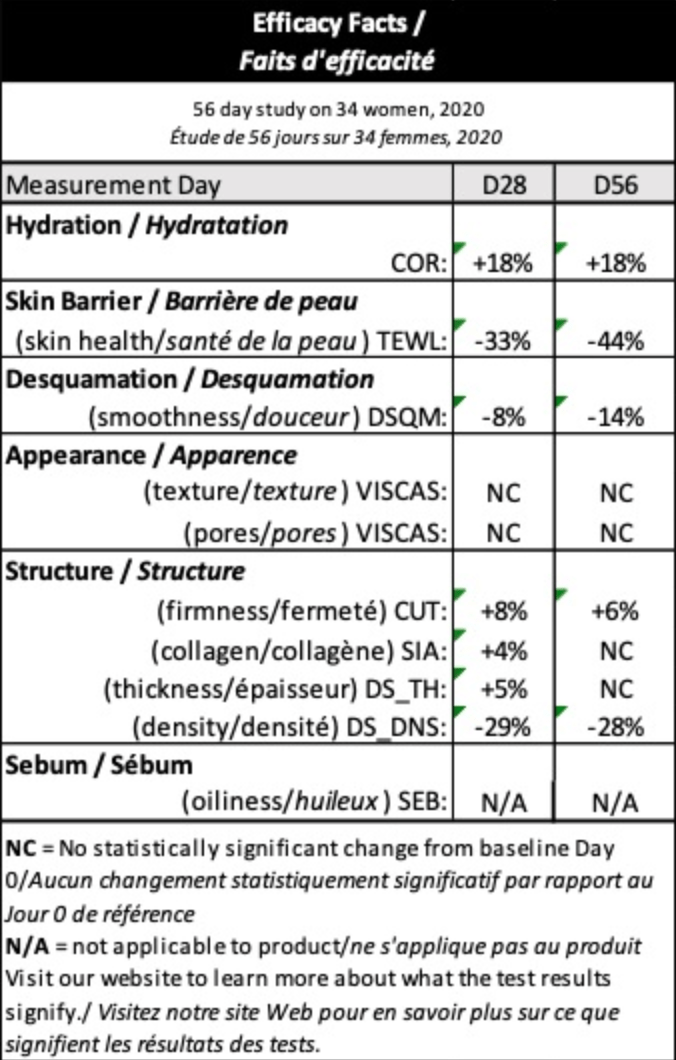 An efficacy facts panel from a product label. Source: Codex Beauty
In addition to relying on doctors' endorsements and scientific studies to prove their products' efficacy, beauty stakeholders — from brands to dermatologists to makeup artists — are relying on social media platforms to educate users. TikTok especially is gaining traction as a beauty product education and exploration platform, boosting sales when products go viral. One of The Ordinary's peeling solutions racked up over 50,000 sales in the span of two weeks following a viral video featuring the serum.
However, ingredient transparency doesn't only mean making it clear what ingredients are included, then educating users on how effective they are — it also means providing details on the ways those ingredients are sourced and moved.
Though ingredient sourcing has historically been a trade secret for beauty companies, supply chain transparency could help improve the beauty production value chain and also help brands distinguish themselves as ingredient transparency becomes more widespread.
Going forward, the beauty industry will continue moving beyond empty buzzwords like "clean" and "natural" and instead get down to the nitty-gritty of specific ingredients and their effects. Education will continue to be key as brands lean into transparency around both natural and synthetic ingredients to prove their safety and efficacy. Ultimately, the ingredient transparency trend will likely go more mass market and global across all consumer products.
Customer Experience
Unbundling the salon and spa continues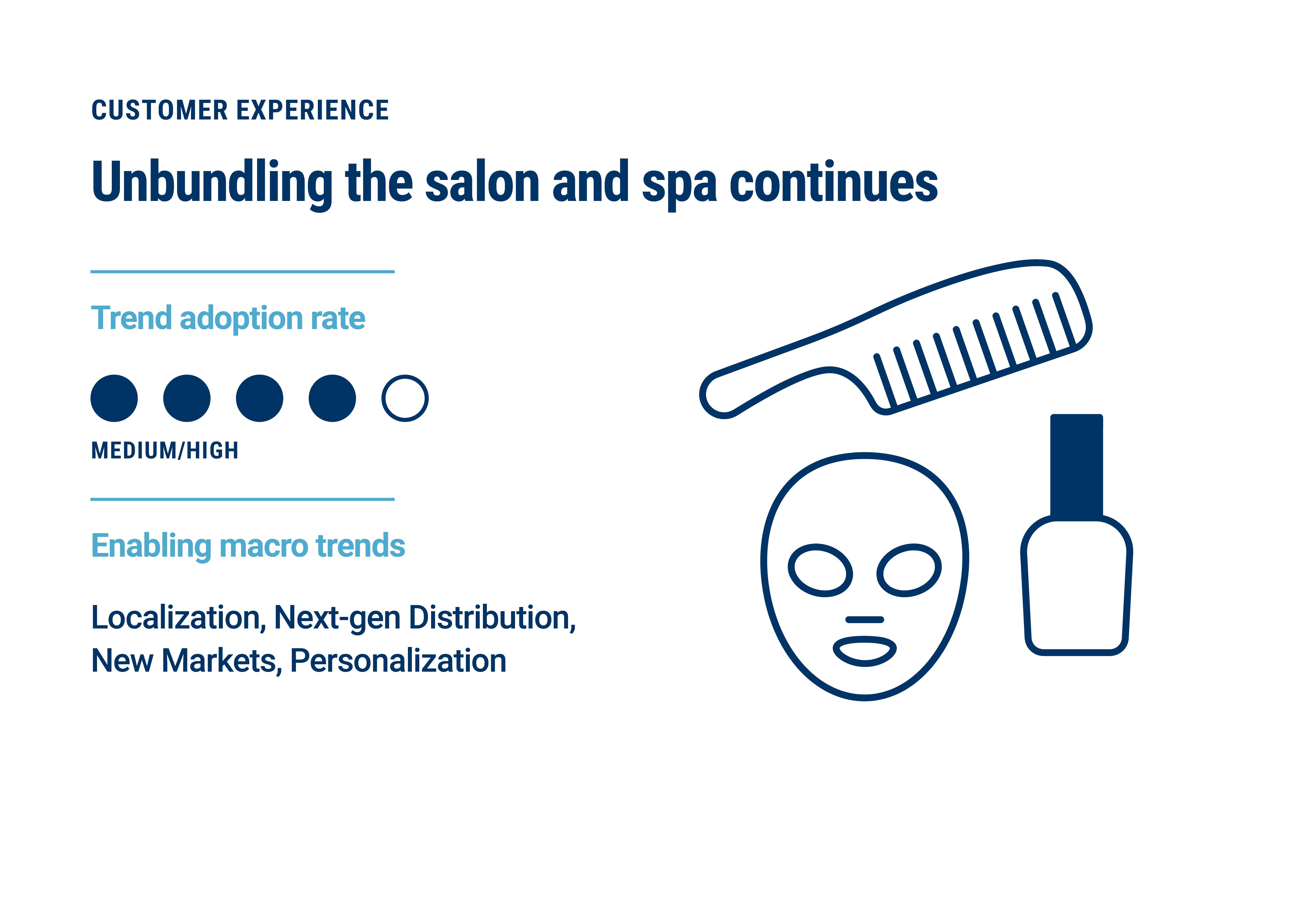 In the midst of the Covid-19 pandemic, spa and salon appointments have looked quite different — if they are available at all. But thanks to new on-demand technologies, beauty services are no longer tied to traditional locations. Now, consumers can bring the spa directly to their homes.
These technologies have caught the eyes of top beauty investors. Companies that provide business-to-business (B2B) booking and on-demand platforms for salon and spa services account for 12% and 11% of deals in the industry, respectively. These platforms typically include tools for booking and managing appointments, showcasing their work, and accepting payments.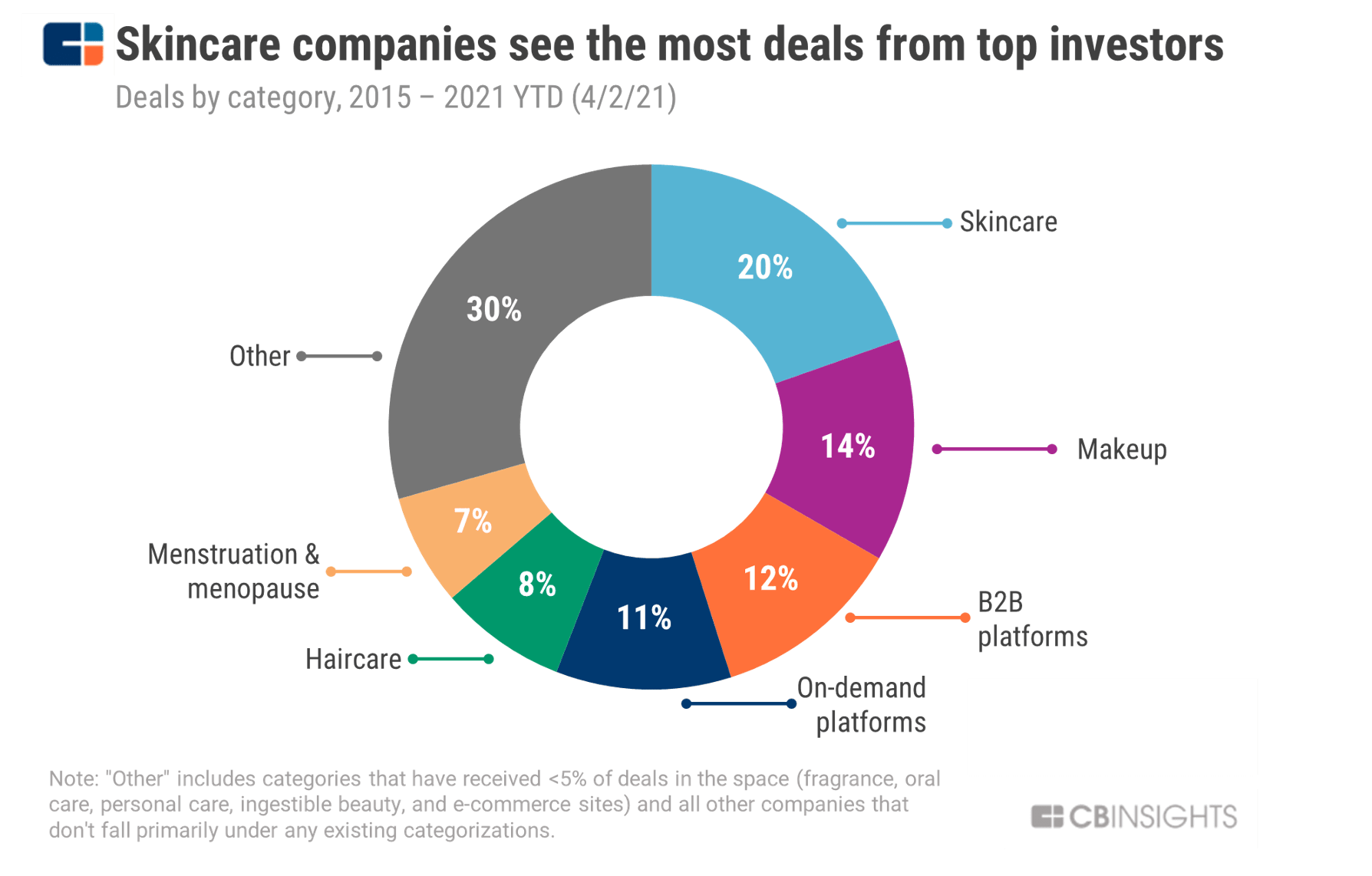 Demand for these services is not limited by geography. For example, Glamera, which offers on-demand spa and makeup services, is based in Egypt. Urban — which connects users with skincare professionals, nail specialists, and more — is headquartered in England. Both companies raised funding in Q3'20. Meanwhile, unicorn Zenoti, which raised $160M in Series D funding earlier this year, provides services management software for salons in over 50 countries.

Source: Zenoti
Customers can book a wide variety of services that would typically require going to a specific location. For example, companies like Heyday, FaceGym, and Skin Laundry offer on-demand facials. Others, including Glamsquad, send stylists directly to people's homes or offices.
Nail care is also increasingly coming out of the salon and into the home. For example, California-based ManiMe uses 3D scanning and printing technology to create customized press-on nails that are shipped to the customer. Meanwhile, Coral is creating a fully automated device that provides at-home manicures.

Source: ManiMe
Other companies in the space are developing devices for spa services at home, for example:
Tria Beauty offers products for laser hair removal and light-based skin treatments that users can administer themselves.
Foreo sells devices for at-home facial massages, blue light acne treatment, and microcurrent facial firming.
LightStim offers products that use multiple light wavelengths to treat acne and minimize wrinkles.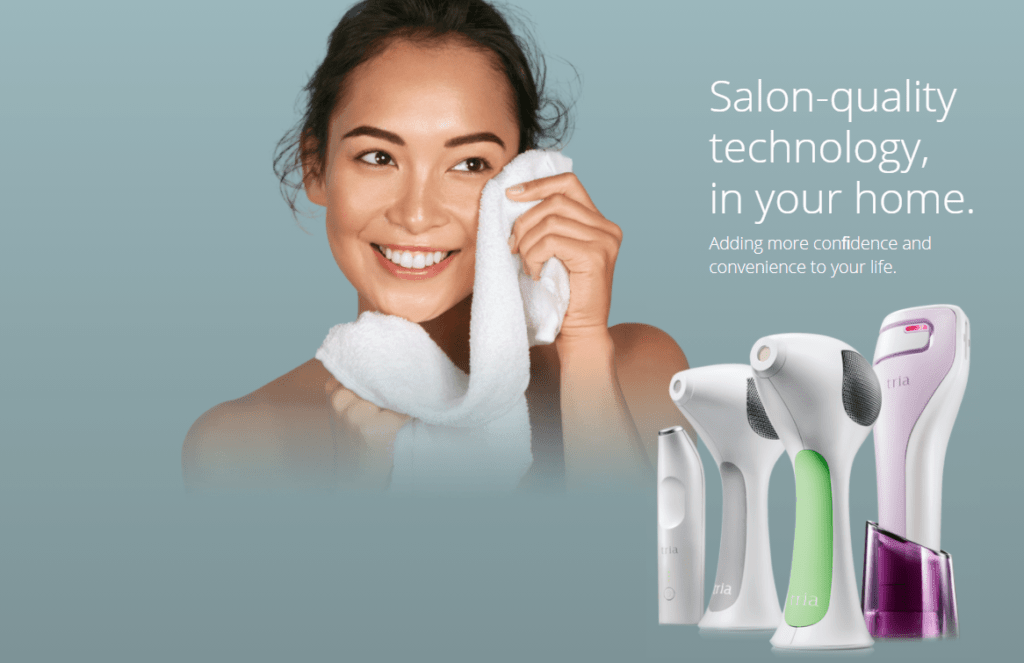 Source: Tria Beauty
But the movement isn't limited to cosmetic services — it's also expanding to wellness. Urban offers on-demand outdoor fitness, osteopathy, and physiotherapy services in addition to massages and nail care. Soothe connects customers with on-demand massage therapists who offer deep tissue, sports, and prenatal massages, among others.
As the pandemic subsides, customers are undoubtedly excited to return to their favorite spas and salons. However, because of their flexibility, convenience, and opportunities for personalization, at-home spa services likely aren't going away. Also look for on-demand wellness services to become more frequent offerings in the office as employee well-being becomes a top priority for bringing people back to the office following Covid-19.
New approaches to omnichannel for beauty take hold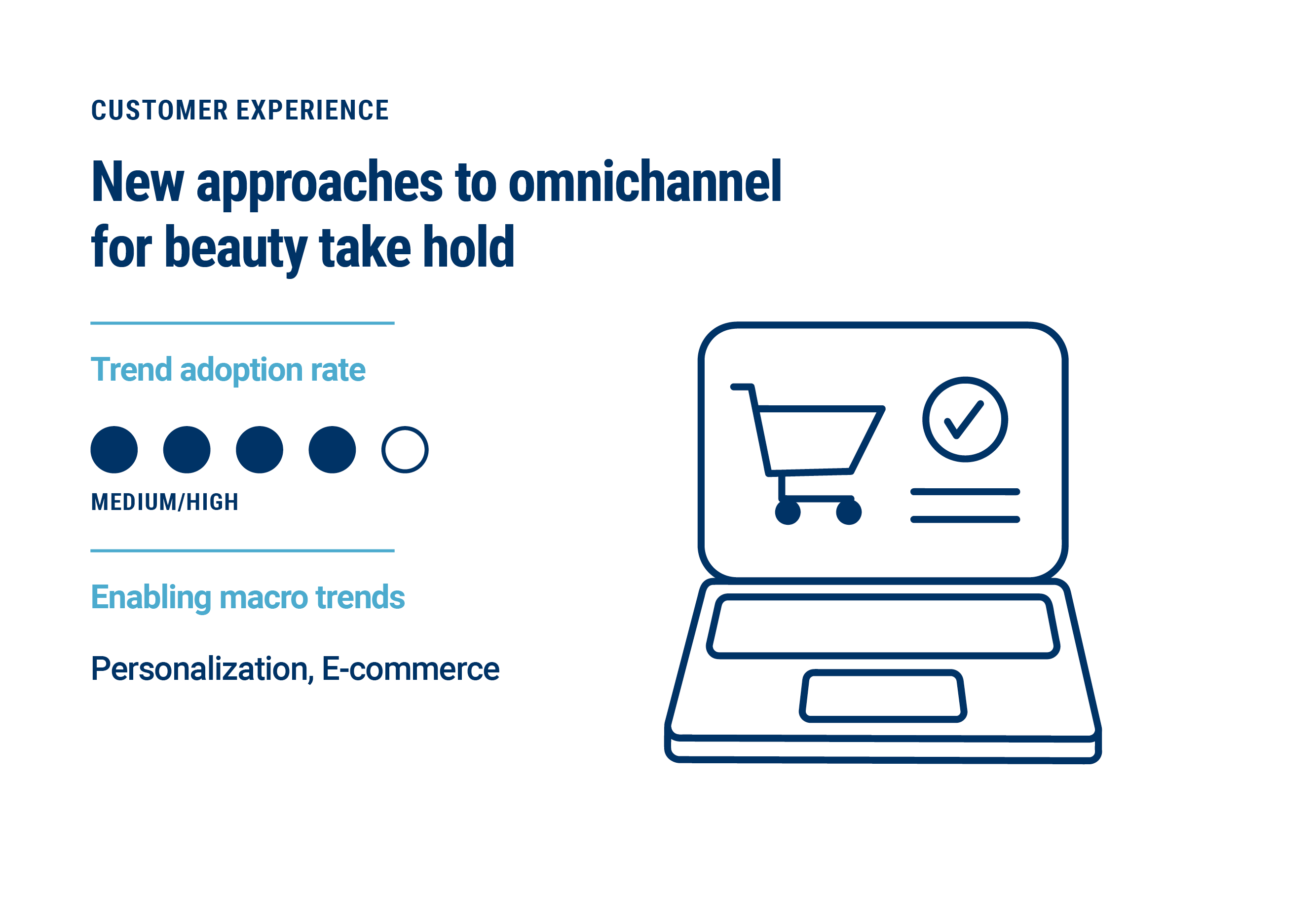 Like many other categories, the pandemic has accelerated the beauty industry's shift to e-commerce as brick-and-mortar locations have had to close. In the US, personal care and beauty online sales totaled a whopping $62.6B last year, up from $53.1B in 2019.
Even as restrictions lift, the shift to e-commerce is unlikely to reverse. However, that doesn't mean that the in-store experience is a thing of the past. Instead, beauty retailers are connecting the customer journey across their online and offline stores to create seamless omnichannel experiences.
Japan's Shiseido exemplifies the omnichannel approach. The beauty company opened its flagship store in July 2020 and launched a new virtual store on its website at the same time. The goal was to create multiple channels that provide equally satisfying shopping experiences by addressing customer needs and preferences — including the desire to limit human contact amid the pandemic and the growing preference for online shopping.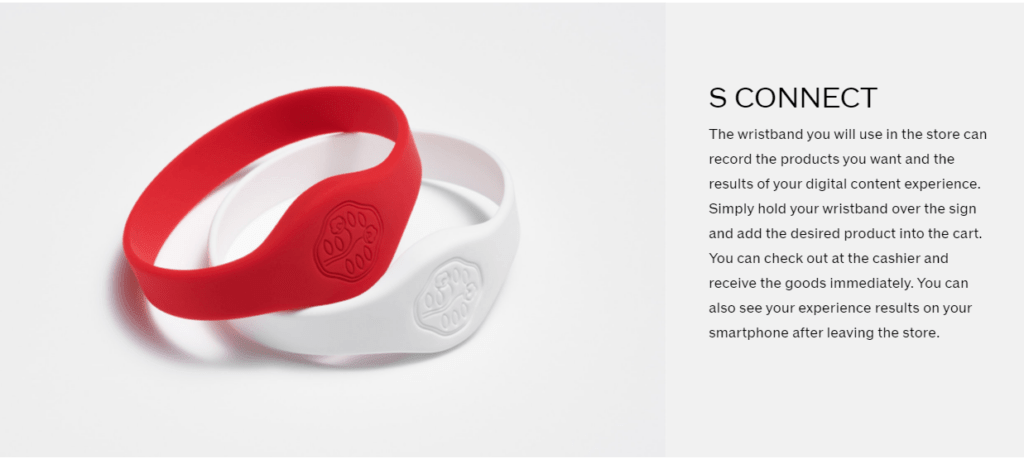 Source: Shiseido
In the physical Shiseido flagship store, customers wear connected wristbands that scan product signs and add items to digital carts. At checkout, customers scan their wristbands and receive their items immediately. They can view receipts on their smartphones after leaving the store.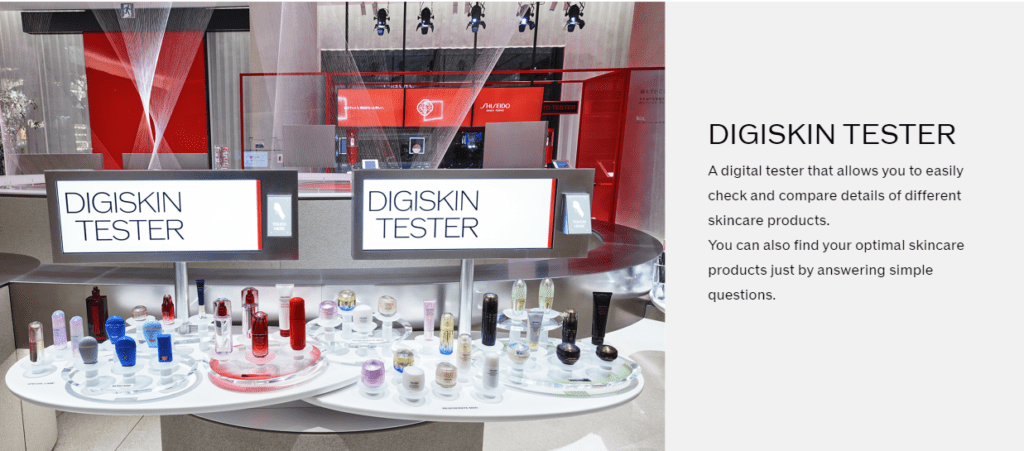 Source: Shiseido
Customers can also use technology throughout the store to get product information, digitally test items like skincare products, and find personalized recommendations by taking quizzes.
The virtual Shiseido store uses virtual reality (VR) technology to let customers browse the first, second, and basement levels of the flagship location. The website provides the same product information and customization options as the physical store.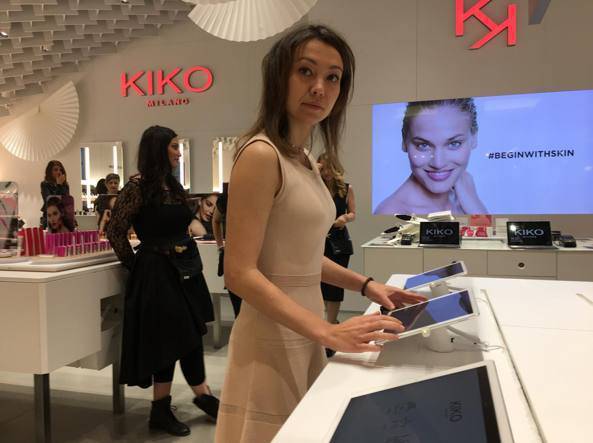 Source: Bergamo
Similarly, cosmetics brand Kiko Milano opened a concept store in Italy in 2016 featuring in-store technology from Mercaux. iPads are positioned throughout the store to provide product information and let customers digitally test makeup items. Virtual try-on is also available on the Kiko Milano website.
Another important factor in a successful omnichannel experience is the ability for store associates to connect with customers online. Clean beauty brand Credo teamed up with virtual shopping app Hero in 2019 to provide online shoppers with the same customer service — such as product knowledge and recommendations — they would find in the store. The partnership was named Best In-Store Technology Innovation in the beauty industry by Glossy.
Quality online customer service can help shoppers feel more comfortable buying new products online. And new in-store pickup options connect the online and offline shopping experiences. Many beauty brands — including Ulta Beauty, Bluemercury, and Sephora — have begun offering curbside pickup to limit germ spread during the pandemic. The service also works well for customers purchasing products they already know and love. With the added convenience and the short wait times — some brands have orders ready in as little as 30 minutes — expect the option to be available long after Covid-19 subsides.
Customer journeys that combine the online world with the offline are here to stay. The role of the physical store is still important, but its focus has shifted to experiential retail. Expect to see livestream shopping becoming more popular in the US after already taking off in China. Ultimately, the beauty brands and retailers that will come out on top will be the ones that create a unified view of the consumer's online and offline behavior.
If you aren't already a client, sign up for a free trial to learn more about our platform.