2019 has been a banner year for beauty tech. From big beauty corporates making their first tech acquisitions to an industry-wide push towards customized beauty products and experiences, technology-backed cosmetics brands will continue to transform the sector in 2019 and beyond.
It's been a big year for the beauty industry. The sector saw a slew of high-profile exits, from Unilever's $500M purchase of J Beauty company Tatcha to Shiseido's highly anticipated $845M acquisition of clean beauty upstart Drunk Elephant.
There are some questions as to whether sky-high valuations in the sector may be cooling off. But despite an increasingly saturated market, beauty has proven to be a strong investment category thanks to its high margins, recurring purchase patterns, and general resistance to macroeconomic events such as recessions. The category is also appealing to a broadening audience, including minorities, males, and age groups beyond millennials and Gen-Z.
Now, new demographics, products, technologies, and consumer behavioral insights are impacting the sector on both the startup and corporate sides.
From virtual try-on to ingredient transparency, the biggest developments in tech are leaving their mark on the beauty industry. In 2019, leading brands have embarked on high-tech overhauls across product development, manufacturing, pricing & distribution, marketing & merchandising, and the customer experience — and there's much more to come.
In this report, we look at the latest innovations across every part of the beauty space, and highlight the top industry trends to watch in 2020.
TABLE OF CONTENTS
The Top Beauty Industry Trends of 2020
Product Development
the rise of Connected beauty systems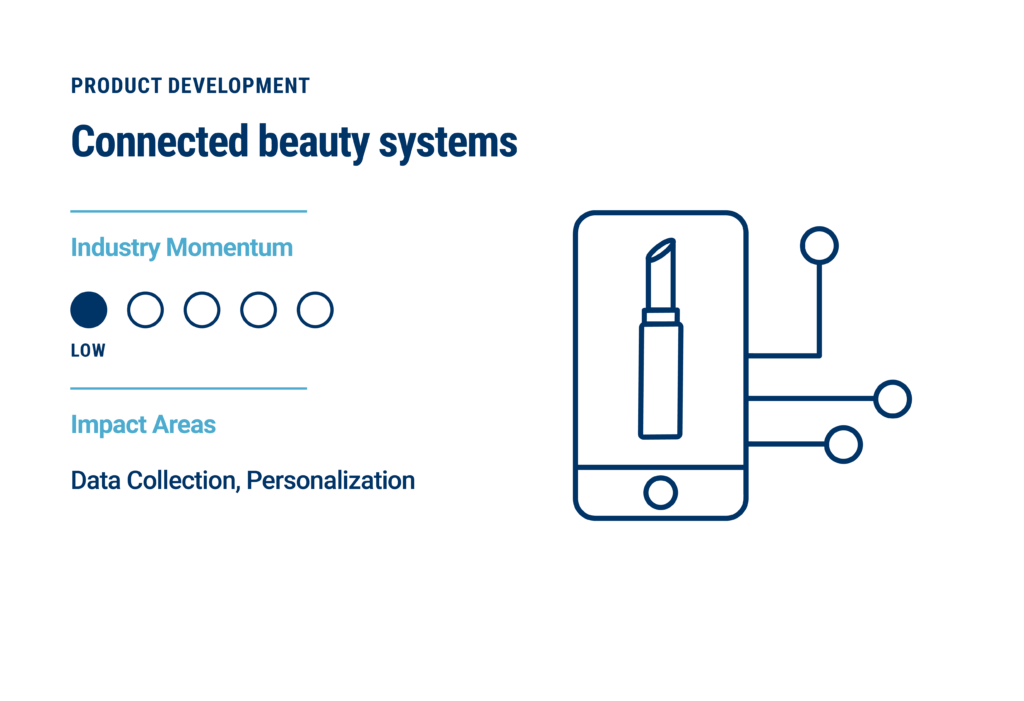 Smart beauty devices are getting smarter.
CB Insights' Industry Analyst Consensus shows the global beauty devices market represents a $74B+ opportunity, driven by the increasing prevalence and treatment of skin disorders, greater awareness of the effects of hormonal imbalance on skin, and the explosion of skincare within the broader beauty sector.
But it's not just standalone apps and devices — brands are building connected beauty systems to personalize skincare treatments, gather behavioral data on shoppers, and encourage loyalty within brand-powered skincare ecosystems.
Big beauty corporates have been keen to showcase their tech savvy in the consumer devices category. In recent years, L'Oreal has developed wearable sensors to track sun damage and skin pH levels. L'Oreal-owned Clarisonic is also trying to position itself as a high-tech, science-driven brand, according to Glossy.
Other major players like P&G, Johnson & Johnson, and Shiseido have unveiled their own tech-enabled systems.
For example, Shiseido's Optune, an IoT-powered skincare system launched earlier this year, integrates a mobile app that leverages AI to detect users' skin conditions and then dispenses a personalized formula each day. Optune is capable of delivering 80,000 possible combinations.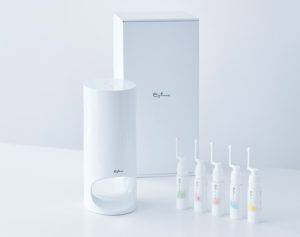 Source: Shiseido
Meanwhile, Johnson & Johnson has developed a host of personalized skincare systems, ranging from skin scanning devices such as the Neutrogena Skin360 to 3D-printed face masks through its Neutrogena MaskiD technology.
Most of these devices direct customers to the parent brand's products. Smart beauty devices that provide brand-agnostic product recommendations could more broadly appeal to consumers in the future.
Beyond corporate initiatives, more independent players have entered the beauty device category.
Swedish beauty and personal care device brand Foreo was reportedly contemplating a $1B sale earlier this year, according to Bloomberg. The company launched its first AI-enabled device, the Luna Fofo, in 2018. The device integrates machine learning and sensors to monitor skin hydration levels, and leverages the data to customize users' cleansing routines over time.
Though beauty devices enable increased personalization for consumers and data collection opportunities for brands, there are a few issues companies will need to address before the category can achieve more mainstream adoption.
For example, given that these devices could add extra steps to users' personal care routines, companies may struggle to ensure consistency of use, with skincare-obsessive consumers more likely to integrate devices into their regimens than more casual users.
Clarisonic has aimed to combat this by launching a loyalty program that features early access to sales and promotions, concierge-like services for higher-tier members for personalized beauty routines, and more. These features could not only enhance customers' understanding of how to best use a device, but also increase replenishment sales.
Affordability is also a major question, as most smart beauty devices are being positioned as premium products. For example, Foreo's device prices range from around $50 to just under $300 — with even more luxe options priced between $6,500 to $8,800.
While beauty is a hot category right now, consumer hardware is a notoriously tough space, often due to a lack of consumer demand, high burn rate, product strategy errors, and more.
The spike in mobile apps, skin scanners, and smart mirrors also begs the question of whether consumers are really benefiting from more beauty tech. With greater adoption comes a need for beauty tech companies to consider the built-in system biases that could be impacting their end consumers.
Beauty tech platforms can create a vicious cycle in which shoppers are constantly finding something to fix about their appearance. Smart mirrors, for instance, have been known to score consumers against each other, or compare them to the "average, idealized 20-year old," according to Allure.
Chinese surveillance company Face++ even offers machine vision-powered "Beauty Scores," which score the average level of men's and women's facial attractiveness.
Source: Hack & Craft
As IoT and other technologies become more widespread, expect to see beauty devices become more affordable and connected beauty routines become more mainstream across smart homes. However, companies should also keep asking whether there's a real consumer need for that system and whether it could be perpetuating unrealistic beauty ideals.
Big beauty incubates its own disruptors, ramps up tech acquisitions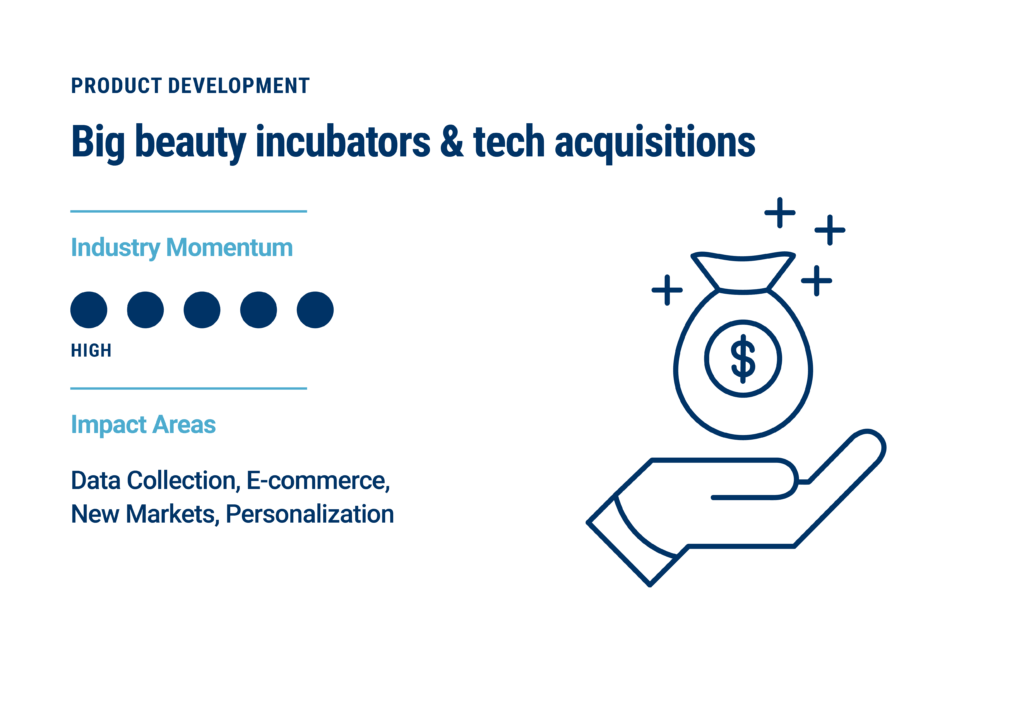 Privately owned beauty brands are experiencing growth faster than the total US beauty industry, with new indie brands popping up left and right. But big beauty companies aren't letting their market share slip so easily.
In recent years, there's been a notable increase in both incubation and M&A activity from beauty corporates.
After seeing the success of independent players — such as vertically integrated incubator Seed Beauty, which is behind ColourPop, Kylie Cosmetics, and more — big beauty corporates have followed suit with their own incubation initiatives. Revlon's Flesh, L'Oreal's Seed Phytonutrients, and Unilever's Skinsei are just a few examples of internally incubated brands.
There has also been a rise in corporate accelerators and funds, to support efforts to find the next and best in beauty.
Sephora Accelerate has been investing in and supporting female founders since 2016. L'Oreal offers a variety of internal initiatives to support its commitment to new brands and technologies, such as the Open Innovation Program, the Women in Digital Next Generation program, and the launch of corporate venture capital fund L'Oreal BOLD.
On the M&A side, 2019 has seen some very high-profile brand acquisitions, especially within the premium skincare space.
In October, Shiseido purchased cult "clean clinical" skincare brand Drunk Elephant in a much-anticipated sale worth $845M. Earlier this year, Unilever acquired J-beauty brand Tatcha while L'Occitane bought skincare brand Elemis for $900M. And Colgate-Palmolive, which has upped its M&A activity in recent years, purchased anti-aging skincare brand Filorga in a whopping $1.69B acquisition in July.
Beyond brand acquisitions, big beauty is also going after tech.
L'Oreal's acquisition of virtual try-on technology company Modiface served as a major milestone for the industry, signalling that the future of beauty is increasingly tech-enabled. Since then, companies like Ulta Beauty and Henkel have made some of their first tech acquisitions.
But while big beauty has recognized that incubation and M&A strategies are essential to compete with smaller brands and maintain market share long-term, their efforts have seen mixed results.
Notably, Coty recently announced its partnership with direct sales company Younique will terminate, and it will sell its majority share back to the Younique founders.
Though L'Oreal's Seed Phytonutrients has served as a positive story for how incubation in big beauty companies can be successful, achieving this is much easier said than done.
Clients can read more about independent and corporate-owned beauty accelerators and incubators here.
A post-Fenty society: expanding the definition of inclusive beauty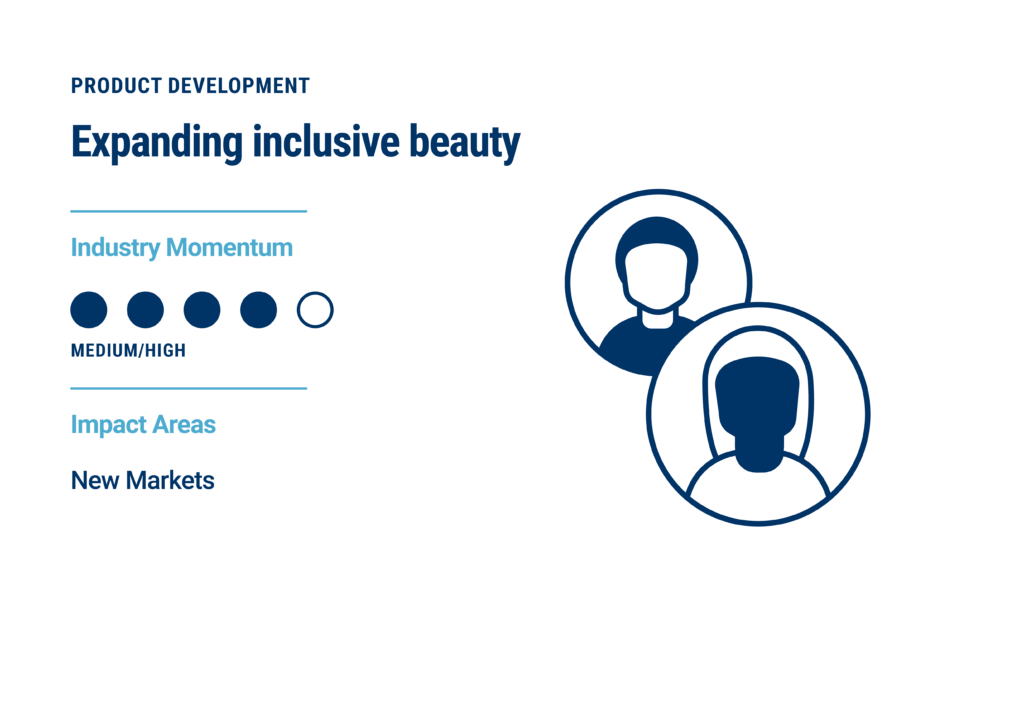 Since Fenty Beauty's launch in 2017, "inclusive beauty" has become an industry buzzword, encompassing new demographic markets that are becoming increasingly important for the beauty industry to target.
Understanding the difference between "niche" and "underserved" audiences is crucial. Expect the beauty industry to increasingly cater to more underserved demographic categories.
Below we outline a few of these markets, which are becoming integral to defining the future of inclusive beauty.
Male personal care & beauty routines
While the mainstream media has historically targeted women when it comes to beauty and grooming products, more options for men's personal care products are emerging.
Personal care and pharmaceutical companies have been selling male-focused products such as razors or hair loss prevention pills for over a century. Now, many of today's brands are employing direct-to-consumer distribution and refreshed packaging to attract a new generation of male consumers.
Since Unilever's $1B acquisition of Dollar Shave Club in 2016, M&A of men's personal care brands has spiked. In late 2018, P&G bought Walker & Company Brands, the parent company of beauty and grooming brands focused on people of color. In May 2019, Edgewell acquired Harry's Razor Company at a $1.4B valuation. Recently, SC Johnson purchased men's skincare brand Oar+Alps for a reported $20M.
ALTERNATIVE PROTEINS, FITNESS TECH, AND GAMING SURGED IN Q3'20
Consumer product startup investment activity spiked in Q3'20 as funding reached an all-time high. Download our free report now.
Private players like unicorn Hims, which aims to be a holistic male wellness brand through its suite of haircare, skincare, and supplement products, are raising capital. Meanwhile, a slew of younger men's personal care brands are launching, including Hawthorne, Lumin, and others.
Gender-neutral beauty products
"Boy beauty" and gender neutral products support this greater focus on inclusive beauty.
Companies like Asos, Calvin Klein, Yves Saint Laurent, Clinique, and others offer makeup for men, while startups like Context and incumbent brands including MAC, Tom Ford, and Marc Jacobs have all launched gender-neutral makeup lines.
To cater to this trend, beauty incumbents like Maybelline and Covergirl have also announced male brand ambassadors.
People of color
Though there's been a lot of buzz around more effectively targeting people of color in the beauty sector, there's still a lot to be done.
Beyond Fenty, a number of inclusion-focused brands have recently launched: Mented Cosmetics, Urban Skin Rx, Live Tinted, and others are making inclusive beauty a core part of their brand value proposition.

Source: Mented
Beauty companies are also thinking about how to target specific demographic categories.
For example, Latinx consumers have become an increasingly important shopper demographic for the beauty industry. The average Latinx household income has grown nearly 30% since 2005, and 45% of US-born Latinx females are under the age of 18 — presenting major opportunities for brands to better target Latinx beauty shoppers.
In targeting people of color, companies must be mindful of the risk of overlooking the complex consumer behavior dynamics across particular ethnic groups.
Ultimately, brands that can cater to these demographics without oversimplifying the nuanced dynamics of their communities will be more likely to succeed in the increasingly saturated beauty market.
Boomers
Though much of the marketing in beauty has focused on millennials and Gen-Z, major opportunity exists in meeting the needs of female baby boomers.
Even though they represent one of the most affluent segments, beauty brands and marketers have tended to ignore this demographic.
Consumers have take notice: 70% of women aged 40+ want to see more beauty products targeting perimenopausal and menopausal women, according to an AARP report.
Not only is there a dearth of product offerings targeting older consumers, but the same AARP report found that advertising in the beauty industry has also largely excluded this demographic, with 74% of boomers perceiving a lack of representation.
Be on the lookout for more beauty brands and corporate initiatives focusing on female boomers — especially as the women's health space increases its focus on the needs of menopausal women.
Teens, tweens, and children
Beauty brands are also looking to babies and children for untapped opportunities.
Though the category is much smaller than adult skincare, it grew by nearly 9% last year, according to Euromonitor. And 3 out of 4 parents say they would spend more on personal care products for their children rather than on themselves, according to Mintel.
In 2018, luxury skincare brands such as Pai Skincare, Dr. Barbara Sturm, and others expanded into baby and children's skincare products.
Source: Dr. Barbara Sturm
Gen-Z focused brands have also been on the rise, such as UK-based Plenaire and Millie Bobby Brown's Florence by Mills, which recently launched in Ulta. Meanwhile, incumbent brands like Chanel, YSL, and others are revamping their product launch and marketing strategies to attract Gen-Z shoppers.
Of course, to get into the hands of teens, brands must convince their parents that these products meet a real need and are safe for regular use.
Ingredient transparency and non-toxic options will be crucial for this category to see sustained growth.
Beauty goes global…and local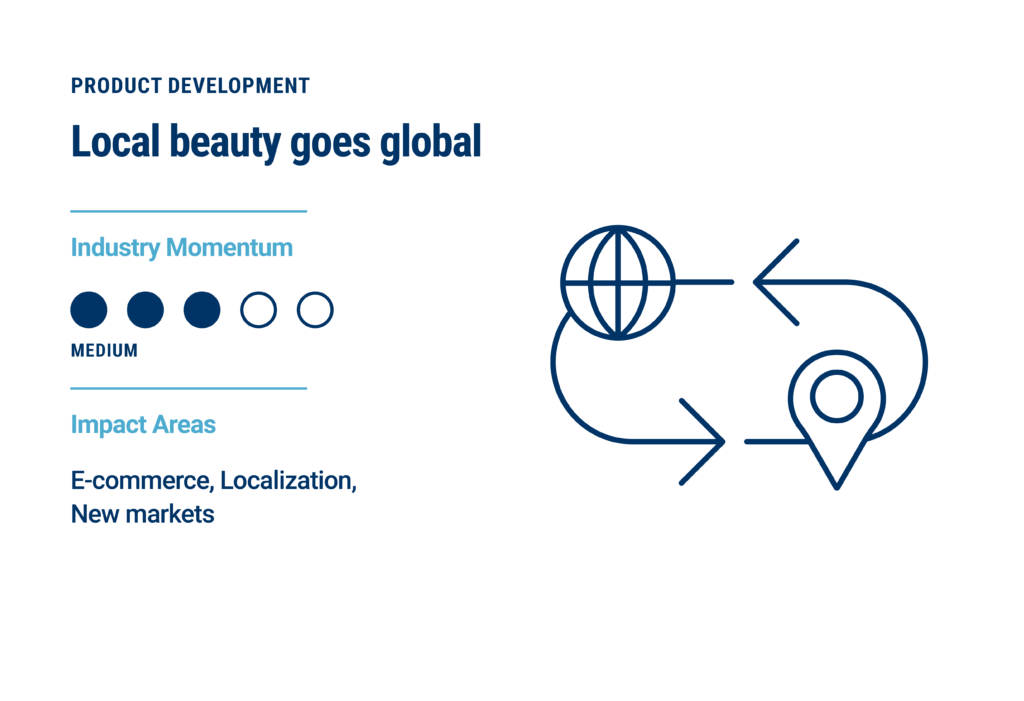 K-beauty hit the United States in 2011 when Sephora began carrying Korean skincare brand Dr. Jart+. Since then, Western shoppers have clamored for Korean beauty products.
While K-beauty shows no signs of slowing down, other markets are garnering attention for their own heritage-inspired products. Beauty markets across the globe are developing brands for internal consumption while also exporting them globally.
Other Asian beauty markets on the rise include China, which is a hotbed for virtual beauty thanks to its advanced mobile technologies and tech giants (further discussed below). Meanwhile, Indonesia offers a booming halal beauty market.
Beyond Asia, Brazil represents one of the fastest-growing global markets for beauty and personal care. Big beauty corporates are also attempting to penetrate the African beauty market, according to Business of Fashion.
Ultimately, targeting new continents — or even country-specific markets — requires hyper-localization.
Many global beauty market trends are inspiring the exportation of culture-inspired brands. For example, Germany's — or "G-beauty's" — minimalist skincare approach has garnered increasing media attention and retail distribution while Ayurvedic-inspired beauty brands such as Sahajan, Aavrani, Uma Oils, and others are targeting Western shoppers.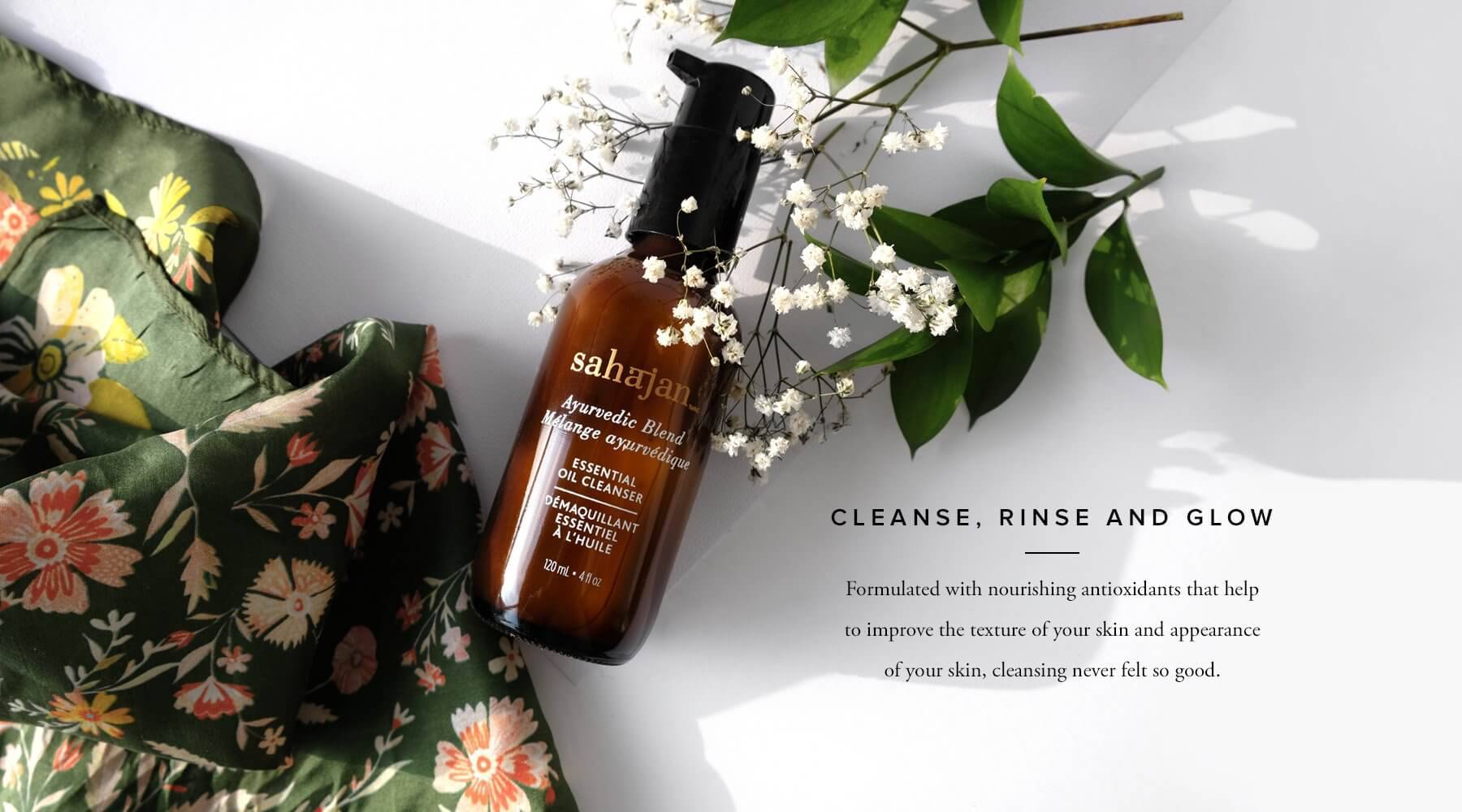 Source: Sahajan
As global beauty markets further develop, expect to see continued globalization and localization of heritage-based trends.
Manufacturing
Evidence-based skin analysis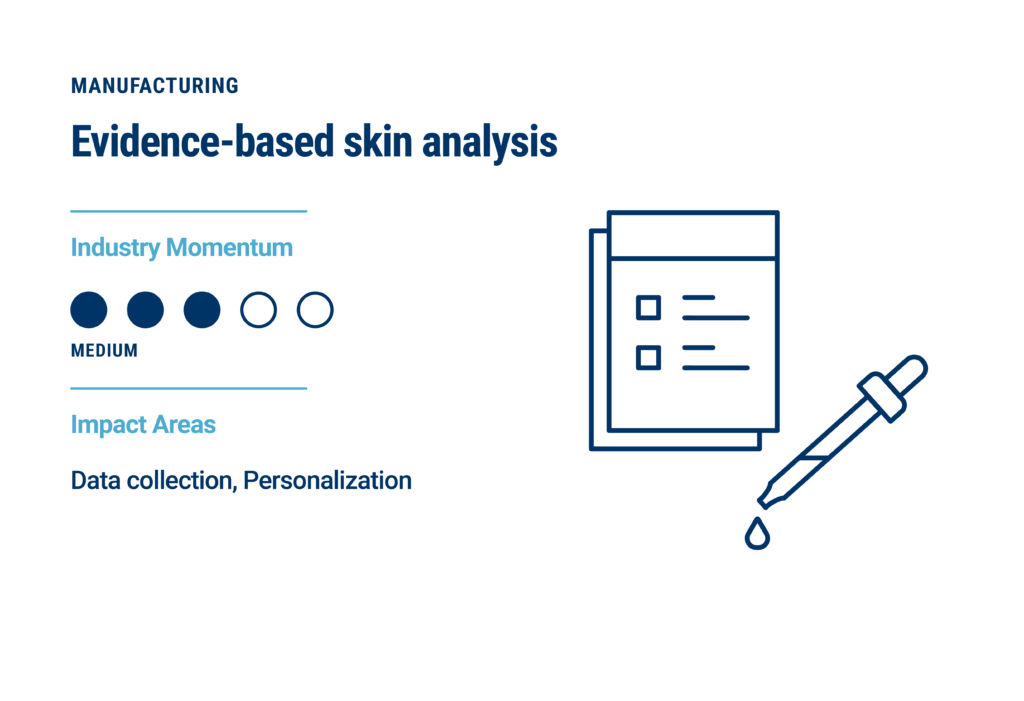 Skin tech became all the rage in 2018, with an increasing number of companies incorporating AI and other technologies for personalized skincare recommendations.
One of the major questions with skincare as a category is whether products actually deliver on their promises. Subsequently, tech brands are focusing on evidence-based skin analysis and developing mechanisms to track skin changes over time.
Many brands have used artificial intelligence to personalize skincare analysis and user recommendations.
For example, the HiMirror, originally launched in 2016 by the New Kinpo Group, offers an Amazon Alexa voice-controlled smart mirror that provides users with beauty advice. The HiMirror leverages AI to offer a daily skin analysis and personalized recommendations, as well as augmented reality to let users virtually try on makeup.
Meanwhile, Proven develops personalized skincare regimens based on machine learning algorithms, which incorporate 47 unique skin, lifestyle, and environmental factors.
Atolla, which launched in August 2019, leverages a multi-pronged tech approach to produce personalized serums. The company uses AI, a monthly at-home skin test, and a mobile app to develop users' skin health profile, which change based on the monthly test, inputs from users on season or lifestyle changes, and more.
Beyond the use of AI, Curology offers a telemedicine-based approach to dermatology by sending custom prescriptions and relying on patient photos to measure progress over time.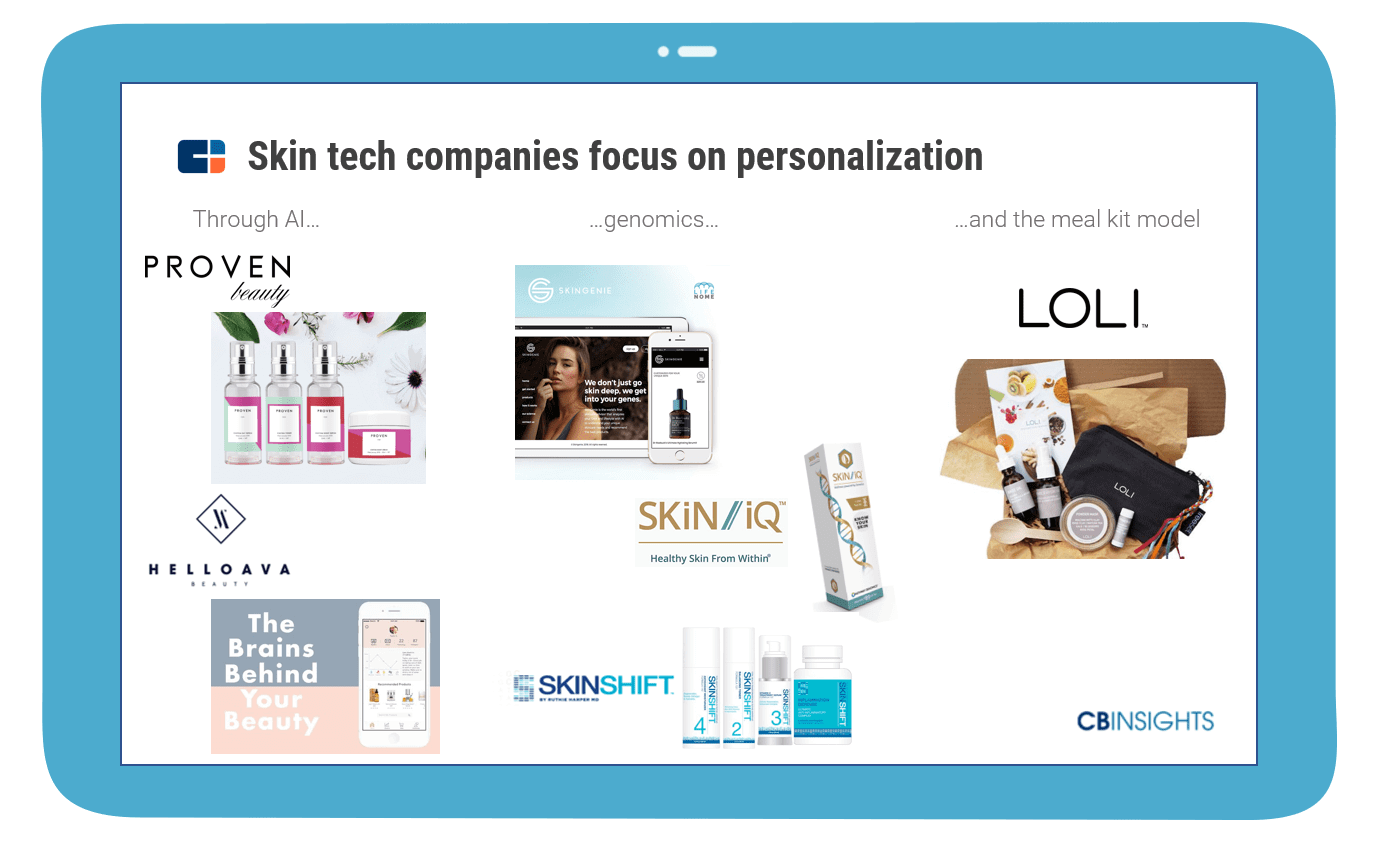 Corporates have also been active in developing their own personalized skin systems.
At CES 2019, P&G showcased its Opté Precision Skincare System, which detects skin blemishes and applies makeup to specific spots without wasting product on other parts of the skin.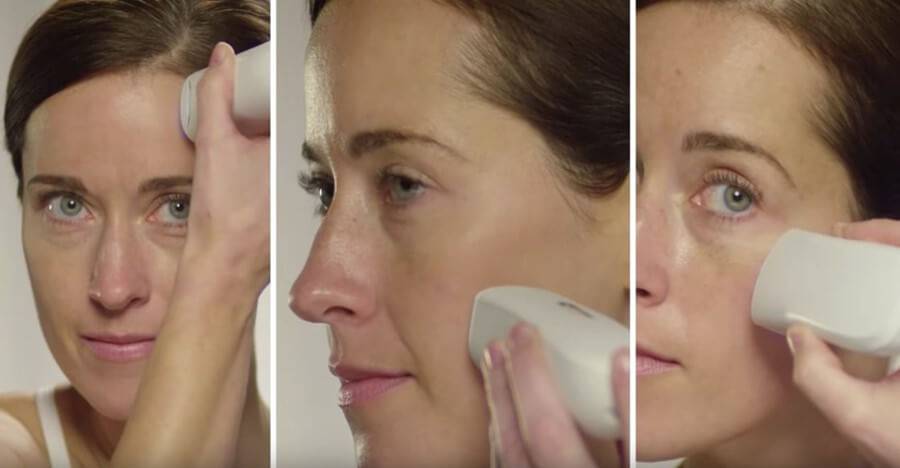 Source: Dazed Digital
Genomics is also playing a bigger role in personalizing beauty recommendations.
Companies like Pathway Genomics' SKin IQ, Allél, SKINSHIFT, and others are offering beauty-focused DNA testing kits, which can curate product recommendations or branded, personalized products based on users' specific genomic skincare traits.
Additionally, a rising focus on the microbiome's relationship to broader skin health, which has led to an explosion of probiotics-powered skincare brands, is also supporting research and investment into personalized skincare systems and applications.
For example, earlier this year, L'Oreal announced a partnership with microbial genomics company uBiome to further its research into the skin microbiome. And on the investment side, microbiome-based personalized skincare platform ELSI Skin Health just raised a seed round from Sekhmet Ventures.
Expect to see brands establish a greater focus on tracking skin health changes over time — through technologies, clinical trials, and more.
Beauty starts at the lab … and the farm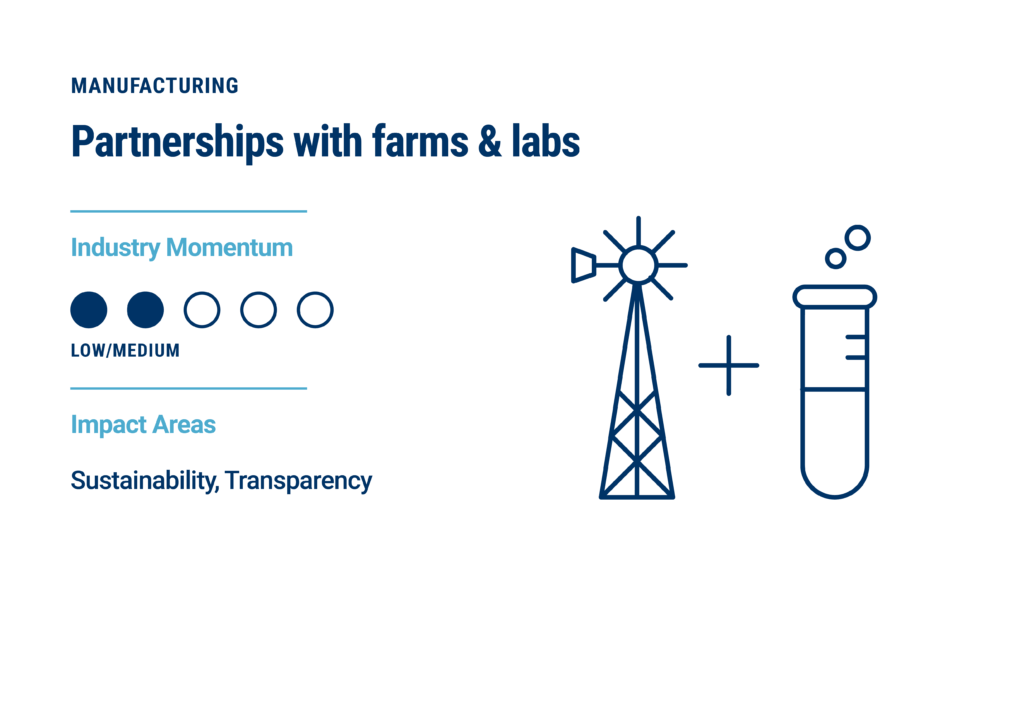 From food to beauty products, plant-based ingredients have taken the CPG world by storm.
Ingredients trending in food brands — including turmeric, moringa, coconut oil, and probiotics — have long been integrated by beauty brands, and vice versa.
As the line between food and beauty products thins, expect to see beauty brands partner more closely with farmers for ingredient sourcing.
Ingredient sourcing is a major concern for beauty brands, especially ones focused on "natural" or organic products, as environmental factors can make working with raw, natural ingredients difficult. Popular ingredients such as jojoba oil and rosehip oil have faced global crop shortages, putting brands that rely on those ingredients at risk.
To better control their ingredient supply chains and mitigate these potential risks, many natural beauty brands are employing vertical integration by working with and basing their businesses on farms, which can function as labs to test ingredients and natural technologies.
These initiatives point towards an increased focus on sustainability in the beauty industry more broadly, as transparent ingredient sourcing emphasizes eco-friendly production processes and subsequently leads to more sustainable end products.
Popular natural beauty brands such as Juice Beauty, Tata Harper, Beekman 1802, and others are furthering the farm-to-face movement by renting or buying farms to better evaluate and control the ingredient production process.
Indie brands are working directly with farms, agriculture research firms, and even universities to improve ingredient sustainability and develop new ingredients.
For example, jojoba-infused luxury organic skincare line Ogee offers a percentage of its sales to the Organic Farming Research Foundation to increase resources for bringing more organic crops to beauty ingredients. And Juice Beauty has become one of the first brands to have its organic ingredients studied by academia for their specific skin benefits.
Agro-tourism could also support consumer desire for product transparency. This has been demonstrated by companies such as Lily Farm Fresh Skincare, which makes its USDA-approved skincare laboratory available for public viewing.
Beauty incumbents have also begun partnering more closely with farmers. For example, L'Oreal's internally incubated brand Seed Phytonutrients partners with independent American organic farmers. The brand emphasizes sustainability through its compostable packaging as well as its focus on preserving heirloom seeds.
Source: L'Oreal 
Moving from the land to the lab, biotechnologies are increasingly impacting the production of future beauty ingredients.
For example, unicorn Ginkgo BioWorks has genetically engineered yeast fermentation to produce rose oil with new and unique scents without relying on expensive rose petals. Biotech company Geltor offers vegan collagen technologies specifically crafted for skincare ingredient applications.
Source: Synbio Beta
CRISPR's gene editing technology, while still nascent, could play a bigger role in beauty ingredient production in the future. While no concrete beauty use cases for the technology exist today, potential benefits — such as helping farmers grow pathogen-resistant crops or creating new species of plants — could eventually translate to cosmetics ingredient production.
CRISPR technology could even enhance the outcomes of plastic surgery procedures with its potential in areas such as tissue engineering, wound healing, gene mutations, and more.
Expect to see greater crossover between cosmetics, agriculture, and biotechnology as beauty brands seek to produce more nutrient-rich products.
Beauty manufacturing M&A on the rise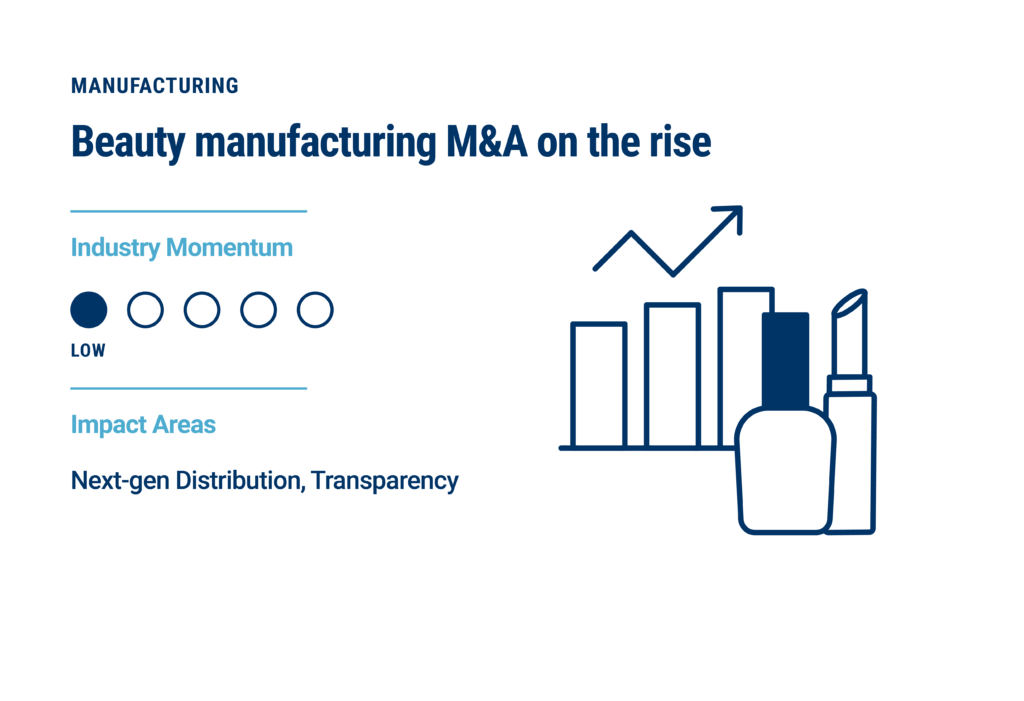 The industry conversation around beauty M&A has historically focused on indie and digitally native brands. More recently, tech acquisitions are becoming hotter targets.
But manufacturing companies could serve as the next big beauty M&A wave.
Last year, Cornell Capital acquired Canada-based KDC (Knowlton Development Corporation), which specializes in manufacturing and custom formulation for the beauty and wellness sectors.
Bain Capital bought a majority stake in private label-focused beauty manufacturer Maesa in March 2019, while Elkem ASA announced its purchase of Korea-based silicones supplier Basel Chemie for nearly $27M in August.
More recently, global dispensing company AptarGroup announced a substantial minority stake in Chinese manufacturing company BTY, which offers color cosmetics packaging solutions as one of its major activities.
So, what is causing this increase in manufacturing deals?
For one thing, there are fewer beauty brands for sale. With the potential for a beauty bubble, private equity firms are looking towards investment opportunities in more "behind the scenes deals," such as ingredients or manufacturing operations, according to WWD.
Additionally, the rise of supply chain technologies, along with major industry questions around sustainable packaging, could be contributing towards increased manufacturing deals.
Expect to see greater industry consolidation, vertical integration, and funding as manufacturing deals take center stage in the sector. Watch for increased initiatives around optimizing efficiencies in manufacturing, supply chain, and operations in the beauty industry.
The race towards sustainable packaging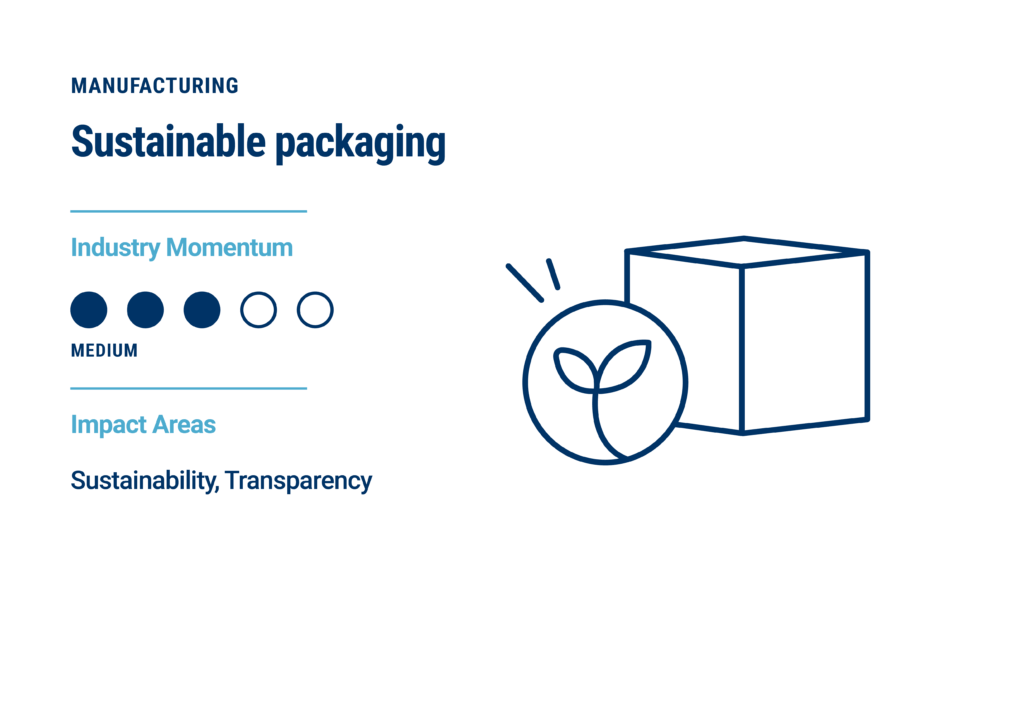 "Clean" beauty today is not just about what's in consumers' products, but also how products are produced and packaged.
Sustainability is a hot topic across virtually every sector, but it's become a particularly important conversation within CPG, an industry with replenishable products historically featuring single-use packaging.
Consumers — especially millennials and Gen-Z — are leading the shift away from single-use plastic. This shift is accelerating as government regulation in the EU and select US states pushes CPG companies towards adopting more sustainable alternatives.
To tap into the trend, beauty corporates are increasingly investing in sustainable development initiatives and technologies.
For example, Unilever has pledged to cut down its plastic usage and specifically halve its use of "virgin plastic" by 2025. Earlier this year, L'Oreal invested in biotech startup Carbios, which is developing plastic recycling technologies, and also stated it will move to paper-based cosmetic tubes in 2020.
Source: CosmeticsDesign-Europe.com
Meanwhile, beauty retailers like Sephora are testing pilot recycling programs, according to Glossy.
In efforts to reduce their carbon footprint, beauty brands both large and small are embracing recyclable and refillable packaging.
Notably, L'Oreal-incubated Seed Phytonutrients features shower-friendly recyclable paper bottles developed in partnership with sustainable packaging startup Ecologic.
A slew of indie brands are building their value propositions not just around their products but also on their sustainable packaging. Lerer Hippeau Ventures-backed By Humankind offers personal care products such as deodorant in refillable dispensers.
Companies such as HiBar are also emerging to offer shampoo and conditioner bars with minimal packaging.
Source: By Humankind
On both the big beauty and indie side, sustainable packaging is becoming just as integral to consumers' preferences as the actual product efficacy.
Keep an eye out for more incubation initiatives, indie brand launches, and sustainable development and recycling technologies to further eco-friendly packaging in the beauty industry.
We discuss big CPG initiatives to reduce single-use plastic further here. Also check out our packaging tech market map here.
Pricing & Distribution
transparent pricing & the Growth of 'masstige'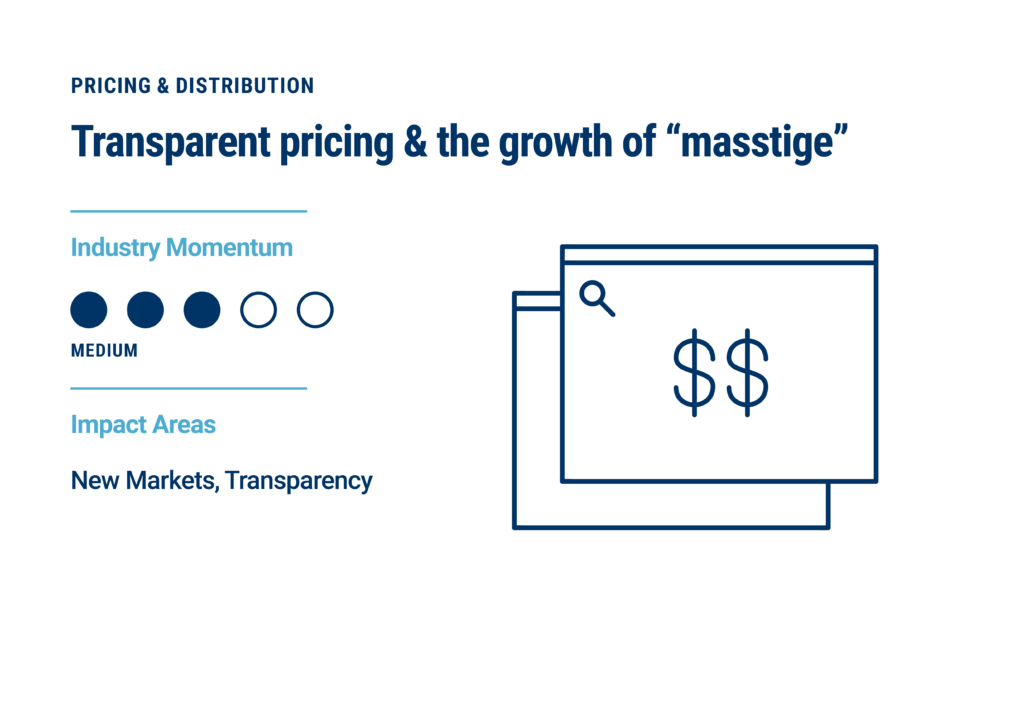 Though prestige beauty is a high-growth category, more affordable pricing models have emerged as shoppers' demand for cosmetics transparency reaches an all-time high.
For example, Deciem's cult skincare brand The Ordinary emphasizes hyper-transparency, which manifests in both its ingredients and affordable pricing. Using established, science-backed ingredients that are cheap to manufacture, the company is able to drive the price of products down to be inexpensive.
ALTERNATIVE PROTEINS, FITNESS TECH, AND GAMING SURGED IN Q3'20
Consumer product startup investment activity spiked in Q3'20 as funding reached an all-time high. Download our free report now.
Consumer desire for transparency has also inspired new models for delivering quality cosmetics minus markups. 
For instance, Beauty Pie offers a monthly beauty membership that advertises "luxury beauty at factory cost prices." Customers pay $10 a month to buy unbranded beauty products at factory cost.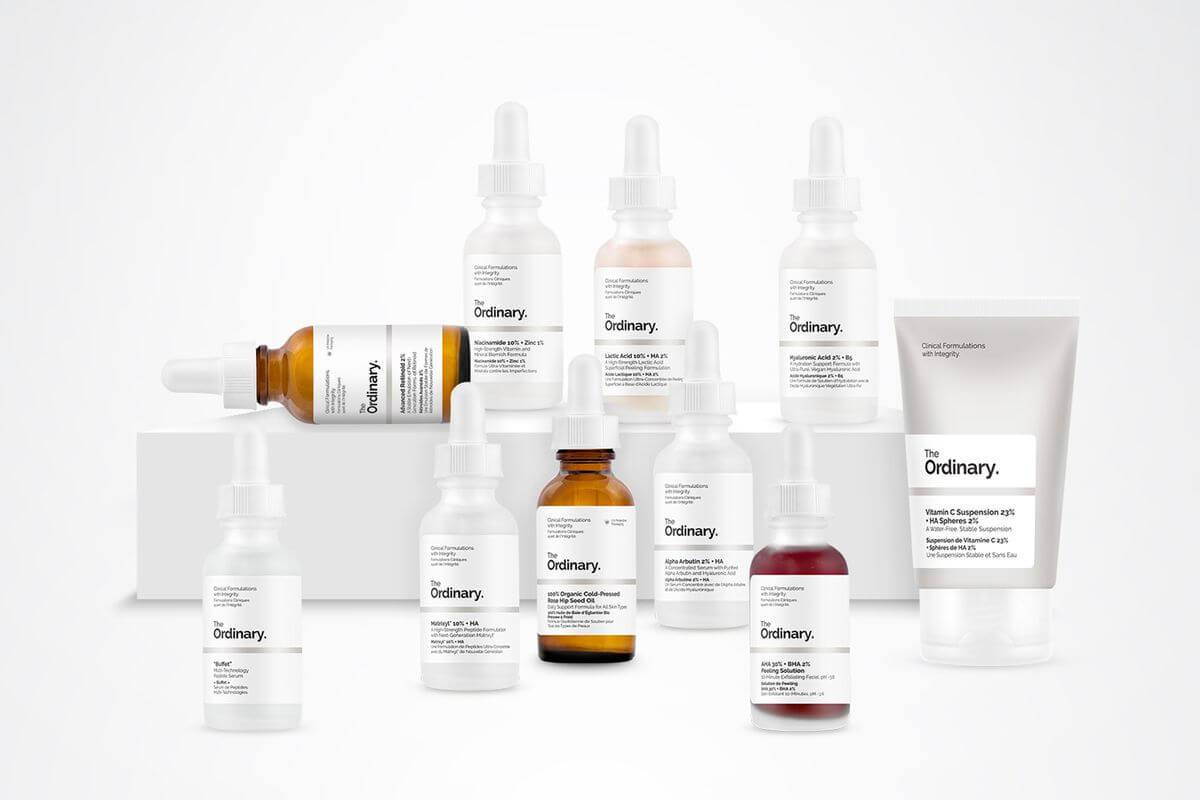 Source: Racked
Other companies, such as Brandless and Public Goods, are exploring opportunities in unbranded beauty products.
Retailers are also using private labels as an affordable entry point into more premium products. For instance, Sephora's private label plays a key role in attracting shoppers and controlling pricing and inventory. Sephora Collection is Sephora's most affordable line, with a range of nearly 500 products including makeup, skincare, fragrance, beauty tools, and more. Today, Sephora positions the brand as a gateway drug to introduce novice beauty shoppers to its collection, with the idea that they could eventually graduate to premium brands.
While many clean beauty retailers tend to offer brands with higher price points driven by more expensive ingredients and sustainable packaging, some clean beauty retailers are emphasizing more affordable offerings. Target, for example, distributes many clean beauty brands, 70% of which offer products for less than $15, according to Allure.
As premiumization advances in the sector, expect to see brands continue to emphasize transparency and affordability through new pricing models. 
Alternative retailers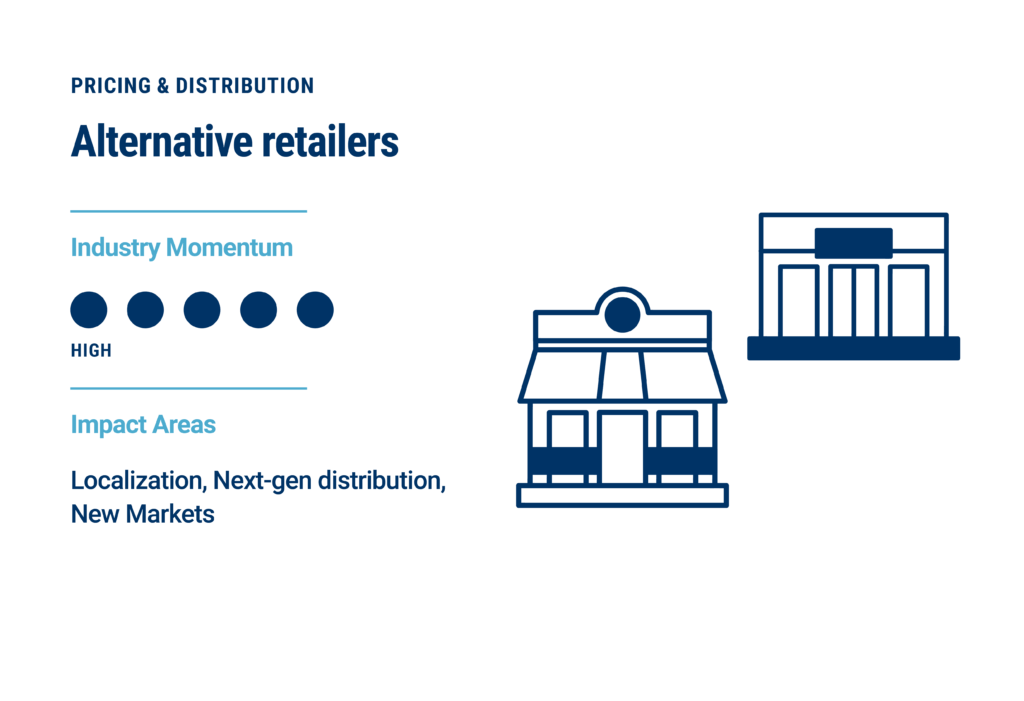 Gone are the days when high-end beauty products could only be purchased at department stores.
Retailers like Sephora and Ulta have blurred the lines between prestige and "masstige," but a deluge of alternative retailers have been aggressively expanding into beauty retail to cash in on the sector's high margins and low barrier to entry.
Below, we outline a few of the alternative retailers rapidly shifting the beauty retail landscape.
Apparel retailers 
Fashion retailers are capitalizing on beauty to complement their existing offerings and directly compete with beauty retailers like Sephora. 
Companies such as Anthropologie, Urban Outfitters, Madewell, and others have forayed into beauty offerings to enhance their stores. By catering to millennial and Gen Z beauty shoppers, these retailers could begin chipping away at traditional beauty retailers' market share.
Amazon
Over the last couple of years, Amazon has been aggressively pushing into beauty e-commerce.
From launching its Indie Beauty Shop in 2018, to inking an exclusive distribution partnership with Lady Gaga's Haus Labs brand, to developing an online marketplace for salon professionals, Amazon's beauty retail ambitions are no secret. 
Source: Beauty Independent
But it's uncertain how Amazon's presence in beauty retail will play out — and no clear consensus exists on whether indie brands should choose to partner with Amazon.
Read more about Amazon's aggressive push into beauty retail in our big tech and beauty brief.
Next-gen offline distribution: makeup booths & vending machines 
Other offline alternative distribution channels present new opportunities for beauty retail to flourish.
China's human-free retail options and even tech-enabled makeup booths could serve as a new point-of-sale for personal care products. 
A number of venture-backed startups in the country, from Bingobox to F5 Future Store, have rolled out fully automated convenience stores, while Beijing-based 17Beauty operates tech-enabled "makeup booths" across Beijing and Shanghai.
These booths are placed in public locations with high foot traffic, such as malls, offices, and transportation hubs, allowing customers to privately adjust their makeup and hair  on the go. Users scan a QR code to enter the booth, where they can then access a facial recognition system that provides personalized makeup suggestions.
The booths offer both established brand name cosmetics as well as up-and-coming brands, and they are replenished with new makeup products every couple of weeks based on users' feedback. 17Beauty plans to ultimately gather enough data on user preferences to provide feedback to brands.
Though vending machines have long been used in Asian markets, Western companies are now employing similar options for new distribution channels. For example, Vengo, which develops cash-free, touchscreen vending machines for higher-priced products, has previously partnered with beauty brands. Arcade Beauty, the largest global beauty samples manufacturer, even led Vengo's $7M Series B round in January 2019 to scale the company's use cases with a focus on beauty.

Partnerships with influencers & celebrities    
While alternative retailers may create more convenience for beauty shoppers, this over-distribution is heating up competition within beauty retail. 
It also emphasizes the importance of differentiation for both retailers and brands. 
Retailers must curate assortments that resonate with consumers, while brands must be focused about which retailers — or individuals — they choose to partner with. 
Influencer-launched beauty brands can offer retailers a competitive advantage. For instance, new brands like Haus Labs by Lady Gaga and Pattern Beauty by Tracee Ellis Ross have launched exclusively with retailers Amazon and Ulta respectively. 
Meanwhile beauty brands from Too Faced to Eos have partnered with Gen-Z-popular platform TikTok, as platform stars increase their following and influence over younger consumers. 
Ultimately, alternative retailers are blurring the lines of where consumers can buy certain types of beauty products beyond high-end department stores or Sephora — leading to increased competition and the need for retail differentiation. Expect existing players to deepen their assortments and new entrants to clamor for beauty brand partnerships.
Marketing & Merchandising
beauty meets wellness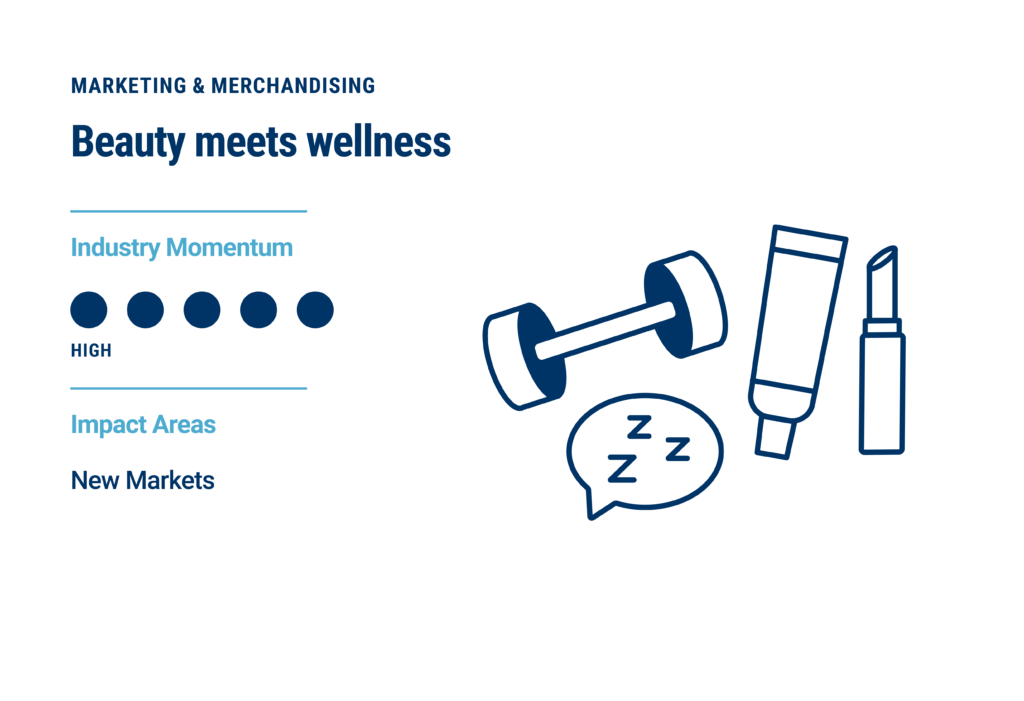 The beauty wellness connection is alive and well, with beauty products and experiences increasingly being associated with various sectors within the wellness economy.
Vitamins & supplements
While beauty supplements aren't a new concept, startups are increasingly offering suites of vitamins and supplements that promise beauty benefits such as weight loss, clearer skin, and stronger hair.  
Investors have recently backed companies in this space such as Vital Proteins, Moon Juice, and HUM Nutrition, which most recently raised a $15M Series B round in April 2019. And startups like Love Wellness, which received $4M in Series A funding in 2019, are combining beauty, intimate care, and women's health via supplement solutions. 
Fitness
From the rise of active beauty to companies like ClassPass expanding into on-demand beauty and wellness services, beauty and fitness are increasingly intertwined in consumers' everyday routines. 
Athleisure and beauty have also integrated for post-workout wellness. Startups and incumbents alike are experimenting with body, skincare, and other cosmetic products targeting consumers with active lifestyles.
As beauty brands cater to consumers' exercise regimens, fitness brands are also moving into beauty. Earlier this year, Lululemon launched a personal care brand for post-workout products ranging from an $18 dry shampoo to a $48 face moisturizer.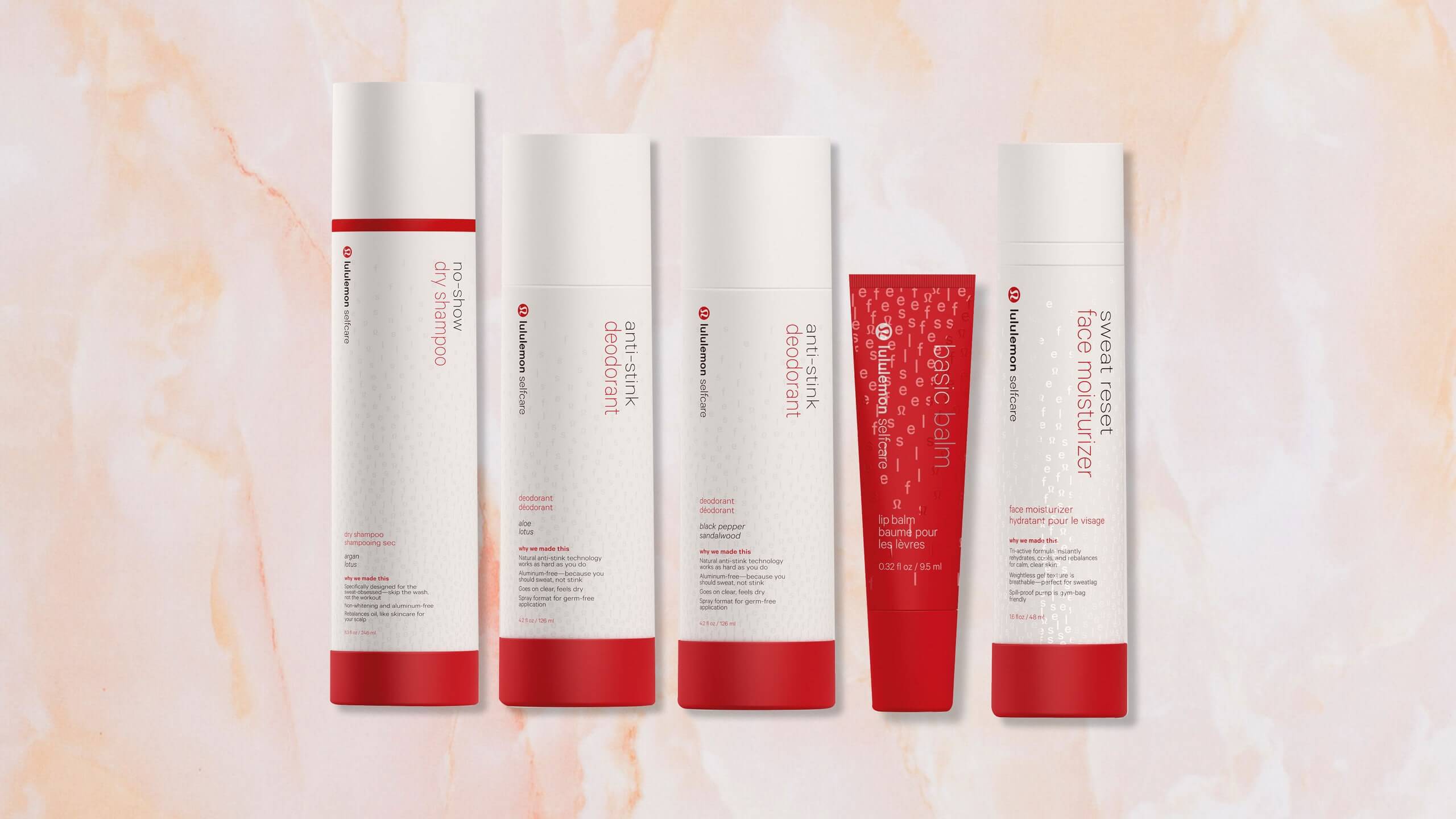 Lululemon's 5-piece beauty collection. Source: Allure
Moving forward, look for more non-Western players to jump on the trend and experiment with active beauty products.
For instance, Amorepacific recently tapped into the trend with the launch of its supplement brand CUBEME in 2018. The brand, which sold out during its pre-launch, offers beauty supplements that aims to combat urban lifestyle stressors, promote weight loss, and more. 
Expect more partnerships in this space — such as beauty and fitness brands promoting complementary products and experiences as seen with Glossier and Equinox.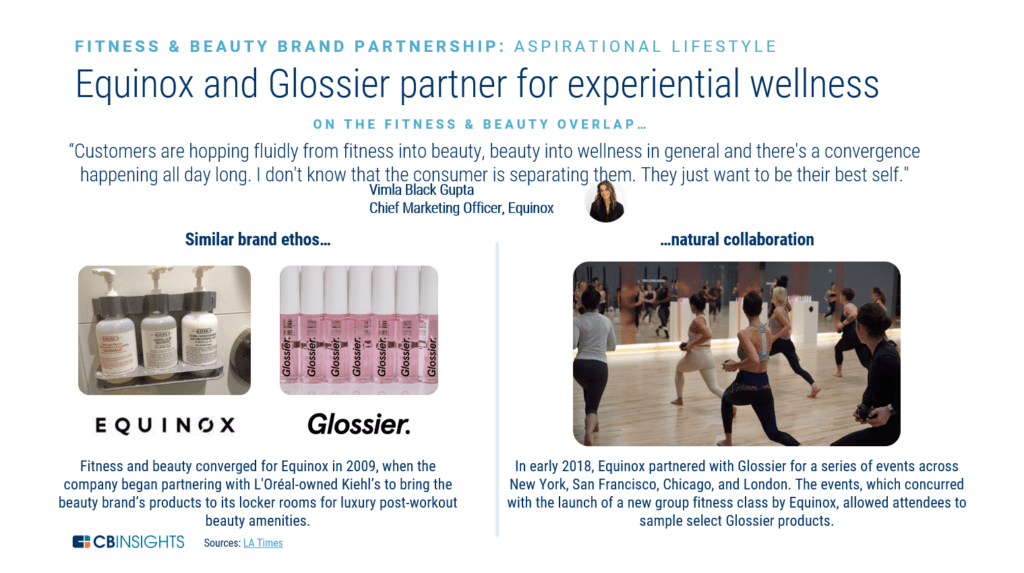 Read more about active beauty in our wellness trends report.
Medicine
While cosmetic surgery largely remains a sensitive topic in the United States, Asian markets have long embraced the practice. 
Notably, East Asian markets have seen a growing demand for cosmetic surgery, thanks to increased medical tourism and relatively affordable treatments across the region. 
Companies have raised millions of dollars for different use cases across the medical aesthetics space. This includes Eunogo, which offers a virtual assistant for arranging medical aesthetic appointments for foreigners visiting Korea; GengMei, a Chinese cosmetic surgery app; and SoYoung, an online marketplace and social network for consumers interested in plastic surgery.
Recent activity suggests that Western markets are catching up with Asia in terms of commoditizing plastic surgery treatments.
Botox bars like Alchemy 43 and Ever/Body have respectively raised $3M and $17M from investors like Forerunner Ventures, Tiger Global Management, and others. Online aesthetics marketplace RealSelf has raised over $40M.
And outside of the US, Shoppers Drug Mart, which is Canada's largest drug chain, launched a standalone clinic offering Botox injections, fillers, laser treatments, and other treatments earlier this year while Instagram aesthetics are driving increased cosmetic procedures in the UK according to Vice. 
Travel & hospitality 
As consumers look to take their wellness routines while on-the-go, the travel and hospitality sectors have significantly overlapped with the beauty industry.
Beauty brands such as Sunday Riley and Elemis (acquired by L'Occitane in January 2019) have inked partnerships with airlines — United Airlines and British Airways, respectively — to supply beauty kits for premium passengers. 
United Airlines and Sunday Riley partner on luxury skincare line. Source: United
These channels can help beauty brands access new markets while allowing traditional players to cater to consumers' increased desire for beauty and wellness products.
Brands are also targeting hotel-goers for beauty products and services.
Beauty app Nomi caters to on-the-go business travelers by sending hair stylists and makeup artists to hotel rooms, while hotels such as the James Nomad Hotel in New York have experimented with CBD-infused beauty products for travelers to use after their long journeys. 
And many wellness cruises, which have gained popularity, have partnered with luxury spa and wellness brand Canyon Ranch to offer amenities ranging from fitness classes to spa treatments.
Ultimately, the cross-convergence of beauty with other wellness sectors coupled with alternative retailers entering the space signals increased beauty co-investment opportunities with players in retail, luxury, hospitality, and wellness.
Big tech in beauty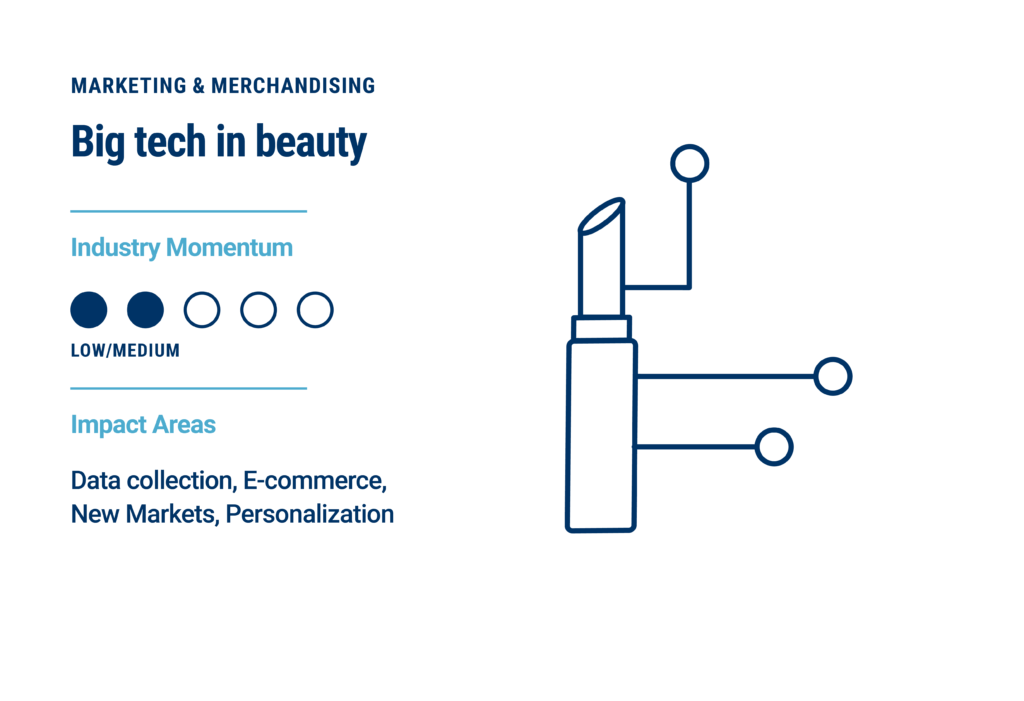 Beauty and tech are becoming increasingly intertwined.
While beauty conglomerates like L'Oréal, Ulta, Shiseido, and others are making acquisitions to become more tech-enabled, tech giants like Google, Amazon, Facebook, and Apple are pursuing the high margins in beauty through partnerships, consumer insights, e-commerce, and more.
Compatible interests exist between the tech and beauty sectors — which are fueling increased partnerships in the space.
Tech companies' search data, smart home devices, advertising and marketing capabilities, and more offer compelling opportunities to cash in on beauty shopper data.
Simultaneously, the beauty industry is looking towards tech to provide an edge in an increasingly crowded market.
Below, we note a few areas where big tech and beauty are collaborating. 
Online beauty retail channels
While Amazon has made major strides in establishing a beauty retail channel, Instagram has become paramount for the beauty industry.
The platform has played a major role in creating entirely social, digitally native brands across all consumer categories and is particularly well-suited to beauty — an industry that is inherently visual, based on peer recommendations, and has a relatively low barrier to entry.
Instagram has not only invested in partnerships with beauty brands to better monetize its platform, but the company is aiming to turn itself into an e-commerce player.
Earlier this year, the company launched in-app checkout for shoppable posts and since then, it has rolled out features such as augmented reality shopping and in-app reminders for new product drops. 
Voice assistants
Voice assistants present massive partnership opportunities for big tech and beauty. 
Amazon, Apple, and Google have launched their own virtual assistants, and mentions of "voice" or voice products on earnings calls indicate just how much these companies are betting on voice-enabled smart home devices.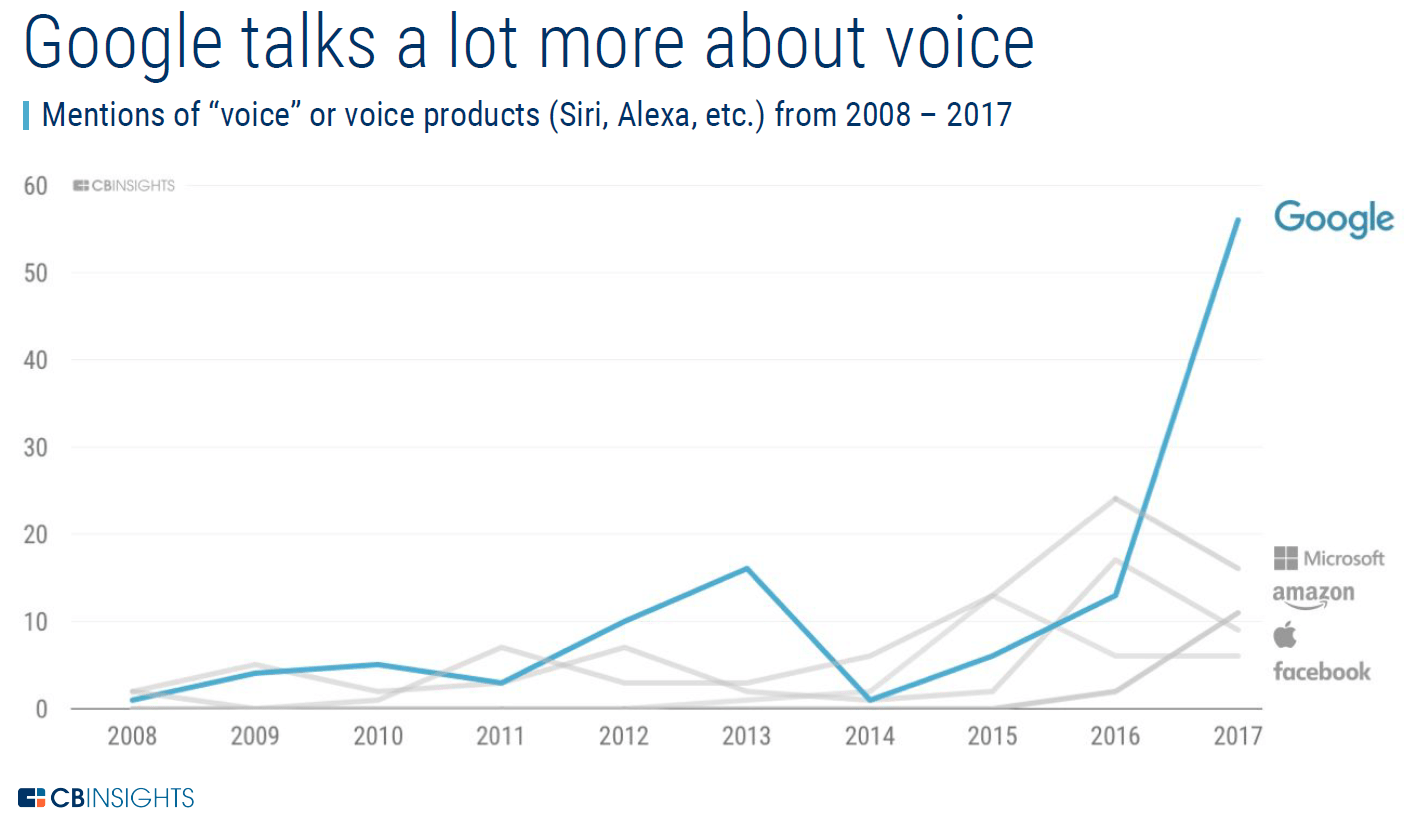 At the same time, beauty companies are looking to master voice-based shopping to ensure their brands remain top of mind for consumers.
For instance, Sephora has partnered with Google Assistant to launch its own app, which allows users to book beauty services, take quizzes, and listen to influencer-curated beauty podcasts.
Source: Voicebot
With tech giants expanding into smart home devices, voice-activated beauty skills offer new opportunities to increase consumer device engagement.
Beauty brands must continue to consider how voice technology could be used to address shopper pain points, from personalized recommendations to booking reservations.
Other initiatives 
Google has leveraged its search data to help brands better understand beauty shopper preferences. The giant has leveraged partnerships with personal care brands, industry research, and consumer insights reports, and even events to create a more data-driven process for beauty companies. 
Interestingly, sunscreen serves as another up-and-coming area that big tech companies are increasingly focusing on.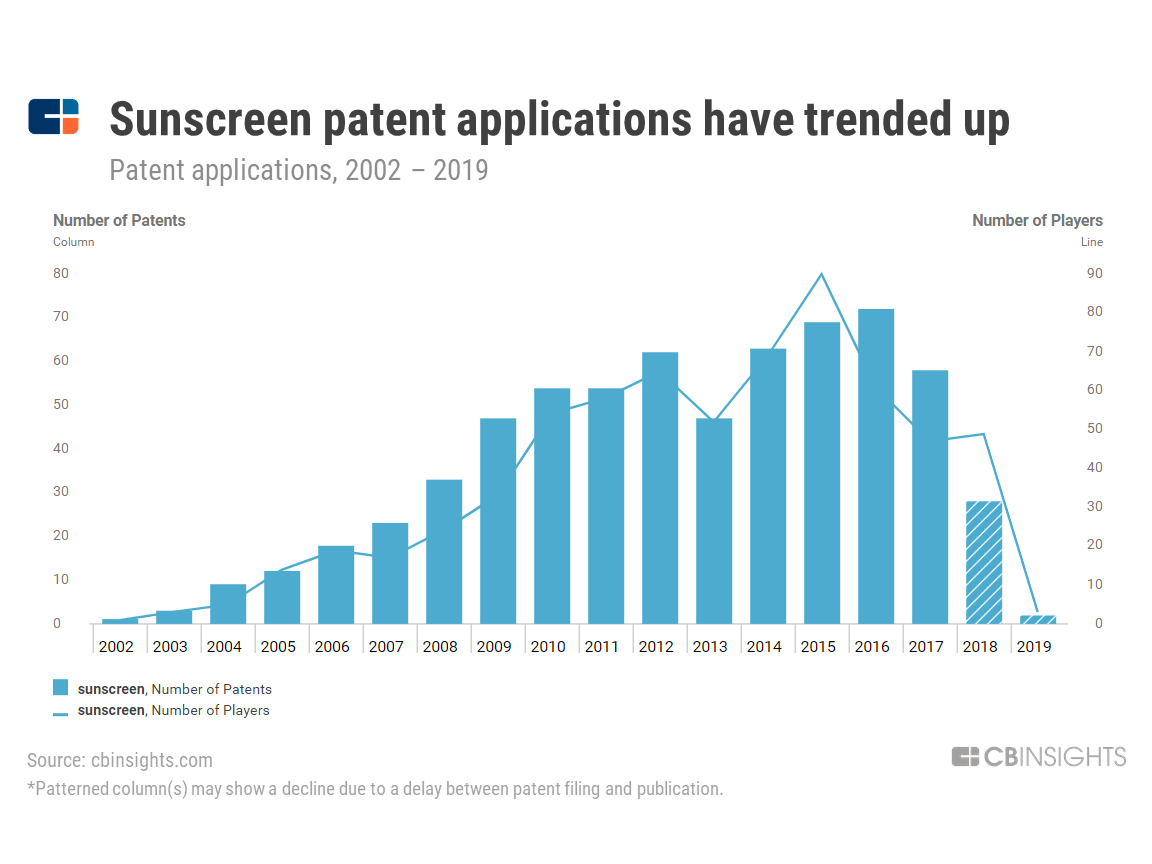 Tech giant IBM happens to hold the highest number of sunscreen patents (from 2014 to 2019), many of which focus on specific particles to enhance sunscreen application. 
Other companies are taking the partnership approach. L'Oreal partnered with Apple to launch its "My UV Patch" (launched in 2016) into Apple's stores and integrate with Apple's Health app, as the tech giant continues expanding its health metrics.
Apple's patent activity could also point to its ambitions in the sunscreen tech space. In July 2018, Apple published a patent application to build an ultraviolet (UV) and/or infrared (IR) light scanner in order to measure sunscreen protection. 
The future of big tech and beauty
Beyond Google, Apple, Facebook, and Amazon, beauty companies are exploring new use cases and partnerships with other tech companies ranging from personalized shopping experiences to AI-based digital fragrance models.
Expect to see new kinds of partnerships between tech and beauty and personal care brands — beyond some of the more obvious use cases.
ALTERNATIVE PROTEINS, FITNESS TECH, AND GAMING SURGED IN Q3'20
Consumer product startup investment activity spiked in Q3'20 as funding reached an all-time high. Download our free report now.
Though beauty and personal care hasn't historically been a focus area for tech companies, these giants will undoubtedly extend their influence in the sector — seeking to monetize their data, platforms, and devices as the beauty industry becomes more tech-enabled.
To learn more about how the big tech and beauty industries are partnering, check out our brief here.
Ingredient transparency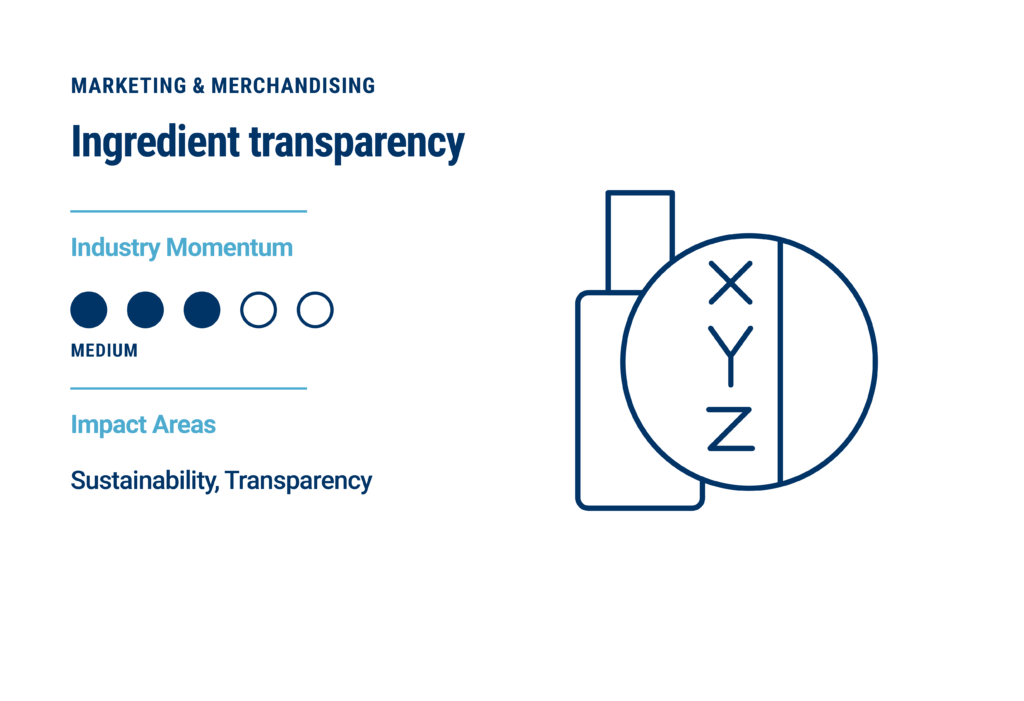 Consumers are increasingly demanding greater insight into what their products are made of — especially as the link between specific cosmetic ingredients and health issues becomes more apparent.
Ingredient transparency has become a top priority not only for beauty and personal care brands, but also for CPG and retail companies more broadly. Corporates like Unilever, P&G, and Target are tapping into this trend through acquisitions, accelerators, internal brand incubation, and more. 
And one of the biggest ways ingredient transparency has manifested is through the clean beauty movement.
Farm-to-face, seed-to-skin — whatever you call it, the clean beauty economy is booming. The global natural and organic beauty market is estimated to be a $22B global market, per CB Insights' Industry Analyst Consensus. 
Mentions in earnings calls of clean beauty, natural and organic cosmetics, and more have also risen to new highs over the last year.

But there's a not-so-green side to the clean beauty movement.
Currently, the FDA has limited regulatory oversight over cosmetics manufacturing and ingredient standards. In fact, US cosmetics regulations haven't been updated since 1938. So, despite their widespread use, terms like "natural" and "clean" are unregulated and therefore have no consistent standard across beauty and personal care.
As a result, brands have gotten into major trouble for "greenwashing," or advertising products as "better-for-you" when that may not be the case. And on the flip side, brands are playing on consumer fears by shaming ingredients like parabens, which may actually not be as harmful as marketing suggests.
In other words: not all natural ingredients are good and not all synthetics are bad. Often, ingredient concentrations are more important than the actual ingredients themselves.
Despite these issues, ingredient transparency is a trend that's here to stay. Below are 3 ingredient transparency trends CPG & retail companies should be paying attention to.
Transparency tech
Tech is aiming to do the work for consumers who don't have the savvy or patience to sit and read cosmetic labels.
Consumer-facing ingredient apps and B2B ingredient intelligence platforms are emerging to educate consumers and provide data to brands and retailers on cosmetic ingredients.
Beyond mobile, connected packaging could also play a bigger role in promoting ingredient transparency through digital content and tutorials.
For example, active beauty brand Yuni Beauty partnered with smart packaging company Thinfilm to integrate NFC tags, allowing customers to access digital experiences which showcase the brand's story and products.
Voice technologies could also support ingredient transparency.
Voice assistants — which beauty companies have already been partnering with — could start offering more ingredients-based skills in the future. (Think "Alexa, is this moisturizer formaldehyde-free?")
And with greater experimentation of blockchain technology across CPG & retail, we could see similar initiatives in the beauty and personal care space emerge.
Biotech ingredients
While beauty corporates have been partnering with the biotech industry for some time, biotech companies are increasingly catering towards cosmetics companies with new ingredient innovations.
Startups are developing new biotech ingredients for cosmetics including: 
Animal-free collagen (

Geltor

)

Sugar cane-based squalane (

Amyris

-owned Biossance, which sells its products in Sephora)

Ethically-sourced keratin (hair care brand

Virtue Labs

)

Biosilk proteins

for skincare applications (Companies like Silk Therapeutics, AMSilk, and Bolt Threads' direct-to-consumer brand

Eighteen B

)
New ingredient sourcing standards & ethical labels  
From "wild" skincare to halal-certified cosmetics, brands are pursuing new sustainable sourcing standards and ethical labels beyond organic and cruelty-free cosmetics.
Though ingredient sourcing has historically been a trade secret for beauty companies, such standards, labels, and partnerships could help consumers navigate confusion around "natural" products.
It could help improve the beauty production value chain and also help brands distinguish themselves as the clean beauty market becomes more saturated.
The future of ingredient transparency
Ultimately, the ingredient transparency trend will go more mass-market and global across all consumer products.
Upcoming regulation in the US — from the passing of the California Cruelty-Free Cosmetics Act to more recent proposals for national sunscreen reform — suggests that greater ingredient transparency is on the horizon.
The EU's ban on "free from" marketing claims also suggests a future where we move beyond today's buzzwords of "clean" and "natural" and develop more tangible standards for personal care ingredients.
In the US, California plans to implement new labeling requirements, including requiring brands to list fragrance allergens, in 2020. These rules will apply to air fresheners, dish soap, and other household categories.
Customer Experience
Virtual try-on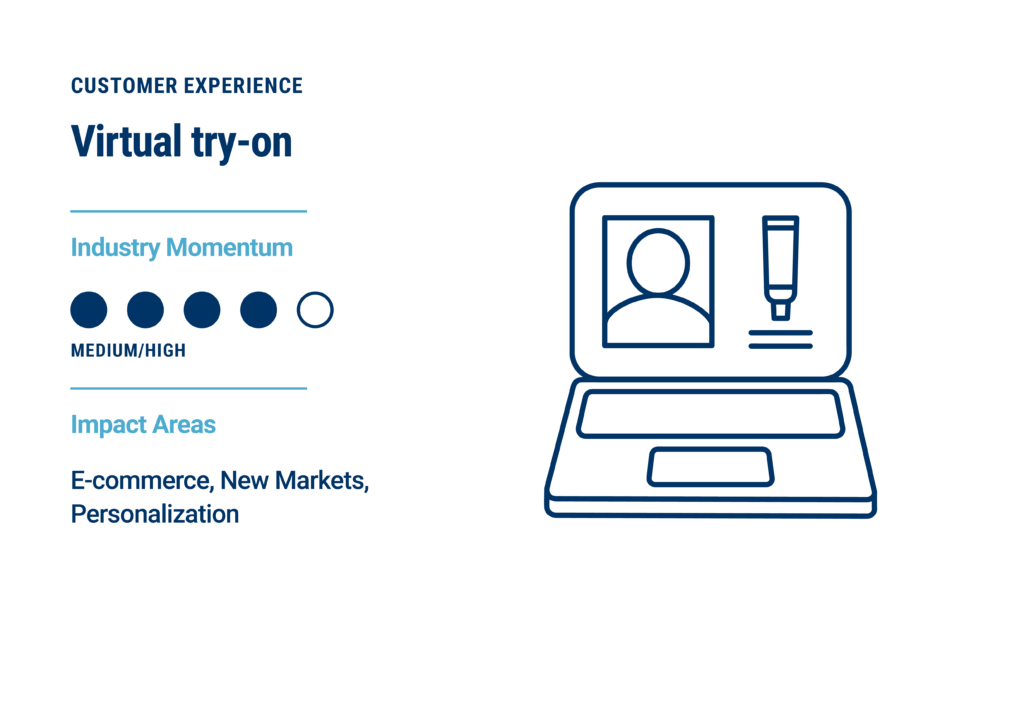 Virtual try-on in the beauty industry represents one of the best use cases for augmented reality — a technology that has struggled to achieve mainstream adoption.
AR became more widely adopted in the beauty industry in 2017 when Perfect Corp and Modiface established themselves as the go-to providers of augmented reality for the sector.
Virtual try-on serves a dual purpose in beauty retail. By combining both augmented reality and computer vision, virtual try-on allows shoppers to virtually test out different looks, while simultaneously collecting behavioral data for brands.
This technology, which collects a variety of data points around facial characteristics such as face shape, skin tone, wrinkles, and more, can help retailers determine what types of products people with specific facial characteristics are more likely to purchase, potentially predicting inventory with greater accuracy. (Read more in our AI retail trends report.)
It also personalizes the mobile shopping experience by enhancing product discovery and capitalizing on consumers' social media behavior.
Since L'Oreal's acquisition of Modiface, the conglomerate has launched a variety of AR-powered beauty experiences for L'Oréal's beauty brands.
In 2018, L'Oreal launched a long-term partnership with Facebook to create AR beauty experiences for its portfolio brands on the social network's platform. Within Facebook, users can virtually try-on products using a smartphone camera, and then be seamlessly redirected to parent sites to make a purchase. 
L'Oréal has also rolled out Modiface-powered web-based try-ons, as seen with the L'Oréal Paris brand and more recently, with Amazon.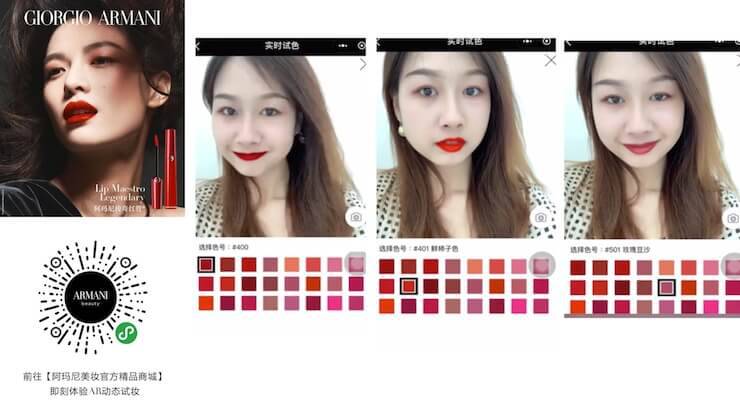 Virtual makeup try-on on Giorgio Armani Beauty's shopping site in China. Source: Beauty Packaging
AR-powered shopper tracking technologies can also increase mobile sales and conversion rates as well as help boost product recognition. 
For example, Estée Lauder-owned Smashbox partnered with Modiface to use customer eye tracking insights to heat map the areas on a screen receiving more attention by users. This helps Smashbox understand which features are the most interesting and iterate on its website to make the beauty shopping experience more relevant for consumers. 
L'Oréal previously worked with Modiface to add an augmented reality feature to its "Style My Hair" app that helps consumers visualize what their hair will look like after a coloring treatment and most recently added AR hair color try-ons to its D2C at-home hair coloring brand Color&Co.
And others are taking it a step further: LVMH-owned Benefit Cosmetics partnered with Modiface to launch an augmented reality tool to help users try on different eyebrow types before getting waxed or plucked. 
Even nail color is getting the AR treatment, with companies like Wanna Nails (owned by Wannaby) and Metaverse Makeovers specializing in augmented reality for nail polish try-on.
China dominates virtual try-on tech
Virtual try-on in China has exploded, thanks to the country's selfie culture and the dominance of WeChat. Chinese photo-editing app producer Meitu has largely powered the region's selfie culture, where photo editing is a social norm.
This consumer behavior of sharing photos while trying on makeup can liven up product demos, boosting traffic to a brand's WeChat platform and increasing word-of-mouth exposure — thereby increasing both consumer engagement and sales.
Notably, in July 2019, L'Oréal's Armani Beauty announced that it will be the first beauty brand to incorporate augmented reality (AR) into its WeChat application. 
WeChat, which rolled out its AR effects capability this summer, offers clear advantages for beauty brands — especially the app's massive scale. WeChat boasts a daily user base of 1B along with a strong influencer community.
Tencent-owned WeChat is not the only Chinese tech giant vying for virtual try-on technologies: Perfect Corp just raised a Series B round led by Alibaba. The company also inked a partnership to integrate its YouCam virtual try-on tech with Alibaba's online platforms — Tmall and Taobao.
What's next for virtual try-on
Clearly, virtual try-on is deepening its impact on the beauty industry as AR becomes more integral to beauty shoppers' experiences. 
Big tech will continue powering virtual try-on. Notably, YouTube recently launched a beta version of its AR Beauty Try-On for use in its smartphone ads — helping beauty brands measure consumer engagement of the platform's two billion monthly active users.
And major players have been experimenting with virtual beauty advisers to guide users and make specific product recommendations within augmented reality platforms. For example, L'Oreal-owned NYX Cosmetics launched its Live Makeup Consultation feature last year. 
L'Oreal and Facebook partner on AR makeup try-on. Source: MediaPost
Expect to see China continue its leadership in virtual try-on innovation, thanks to the predominance of WeChat as super-app as well as the country's beauty ideals and selfie culture. 
But whether virtual try-on will see greater widespread adoption in markets with fragmented tech platforms, increasingly stringent consumer privacy policies, and in cultures with more inclusive beauty ideals remains to be seen.
Unbundling the spa & salon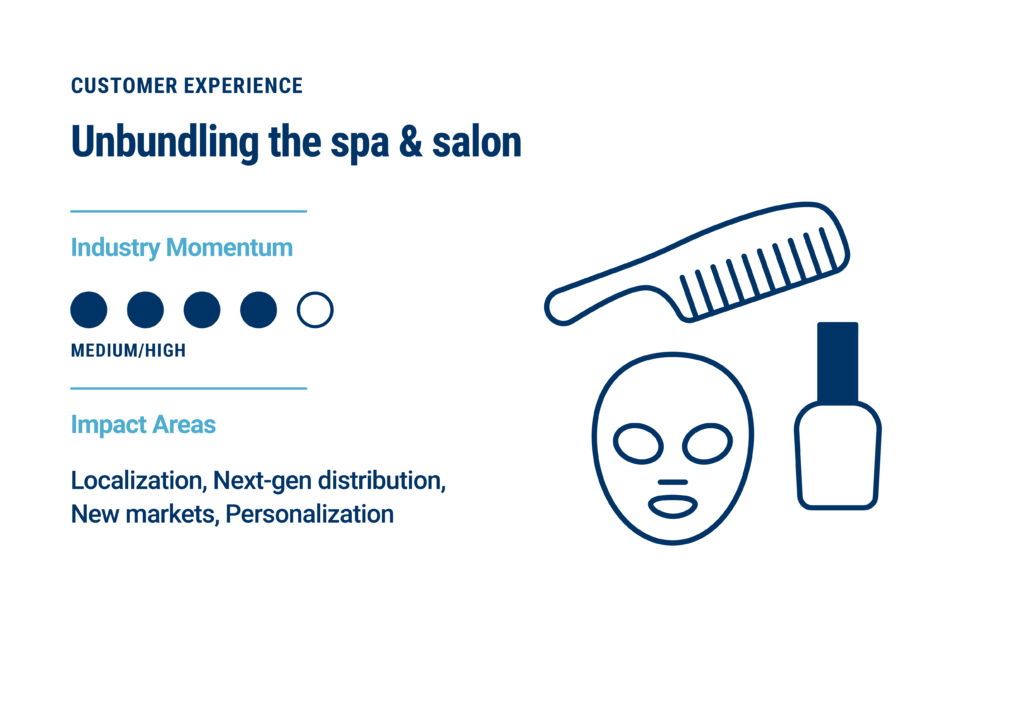 Beauty services are decoupling from traditional spas and salons, thanks to on-demand technologies.
Founded in 2008 and with 90+ locations today, Drybar upended the traditional salon model by offering spaces solely devoted to hair blowouts. 
Beyond hair care, companies like Heyday, FaceGym, SkinLaundry, and others offer on-demand facials while startups such as Glamsquad send stylists directly to people's homes or offices for makeovers, hair styling, or manicures. Glamsquad partnered with CVS in 2018 for on-demand beauty services in CVS stores. 
Beyond salons and spas, medical aesthetic procedures and wellness services are also being unbundled.
Botox bars such as Alchemy 43 and EverBody offer anti-aging injectables and aim to enhance convenience and experience compared to a doctor's visit. Meanwhile, acupuncture clinic franchise Modern Acupuncture just raised nearly $3M from Strand Equity Partners, Cameron Diaz, and other investors.
Beyond services, the rise of at-home beauty devices by companies such as Tria, Foreo, LightStim, and others similarly supports this trend.
Corporate patents also point to interest in beauty devices: AmorePacific, for example, filed a patent for a "face massaging device" that can "provide various massage functions…similar to massage carried out by human hands" to prevent aging and improve skin elasticity.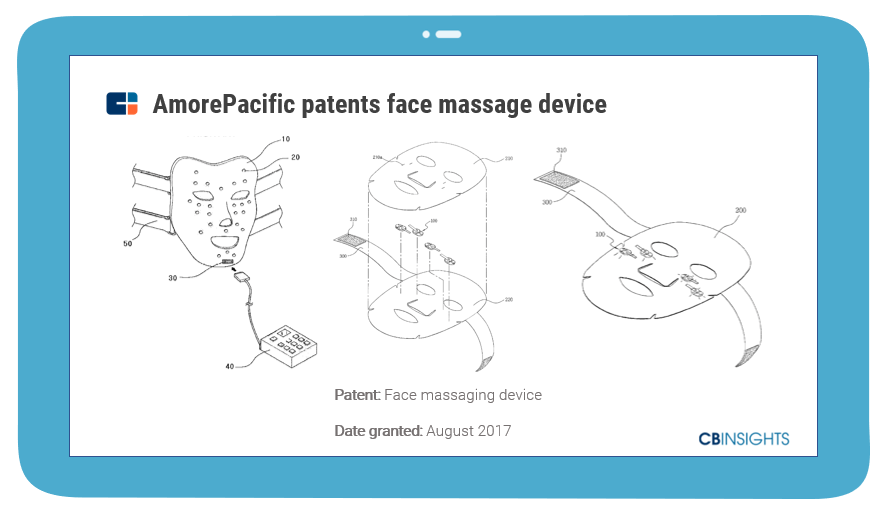 Such devices could potentially point to a future of at-home spa and salon services.
Expect unbundled beauty services to continue proliferating and new environments beyond the home to become more commonplace for traditionally salon-based beauty services.
Conclusion
To understand the future of the beauty industry, context is key. 
Consider the beauty industry in the context of broader cultural shifts. For instance, in Japan, the resale market is even hitting cosmetics — indicating the global impact of sustainability.  
Beauty is taking notes from the the streetwear space, with beauty brands increasingly leveraging tactics common in street culture such as limited edition products and collaborations. Clearly, localization will continue to play a big role as beauty brands take cue from adjacent sectors. 
Beauty retail and e-commerce will continue to evolve based on the retail climate as well as shifting consumer preferences. Nordstrom recently opened its flagship with a host of branded beauty services while Forever 21 just declared bankruptcy and announced the shuttering of its Riley Rose beauty stores.
Beyond such cultural shifts, global events will continue to play a major role in the future of the beauty industry. From the effect of Brexit on UK-based beauty brands to China's tariffs on personal care goods and ingredients, beauty companies will have to consider implications for hiring, third-party relationships, and more. 
And of course, look towards regulation and company initiatives to promote transparency — the underlying trend powering areas such as "clean" beauty and "natural" products. Expect to see major implications for cannabis-based beauty.
On the tech side, keep an eye out for new — or improved — technology applications in the beauty industry. On the theme of personalization, Mink resurfaced to make the world's first 3D portable makeup printer available for pre-order earlier this year.
And so, the beauty industry is increasingly becoming tech-enabled. Technologies including AI, 3D printing, and perhaps even blockchain, will continue to make the beauty product lifecycle more efficient and personalized for consumers.
But with all these buzzy applications, don't forget about the major opportunities around solving supply chain and operational inefficiencies across the sector. 
Between these short-term pressures and long-term changes, the beauty industry will be an exciting space to watch in 2019 and beyond. 
If you aren't already a client, sign up for a free trial to learn more about our platform.