An analysis of emerging auto and mobility trends using the CB Insights NExTT framework.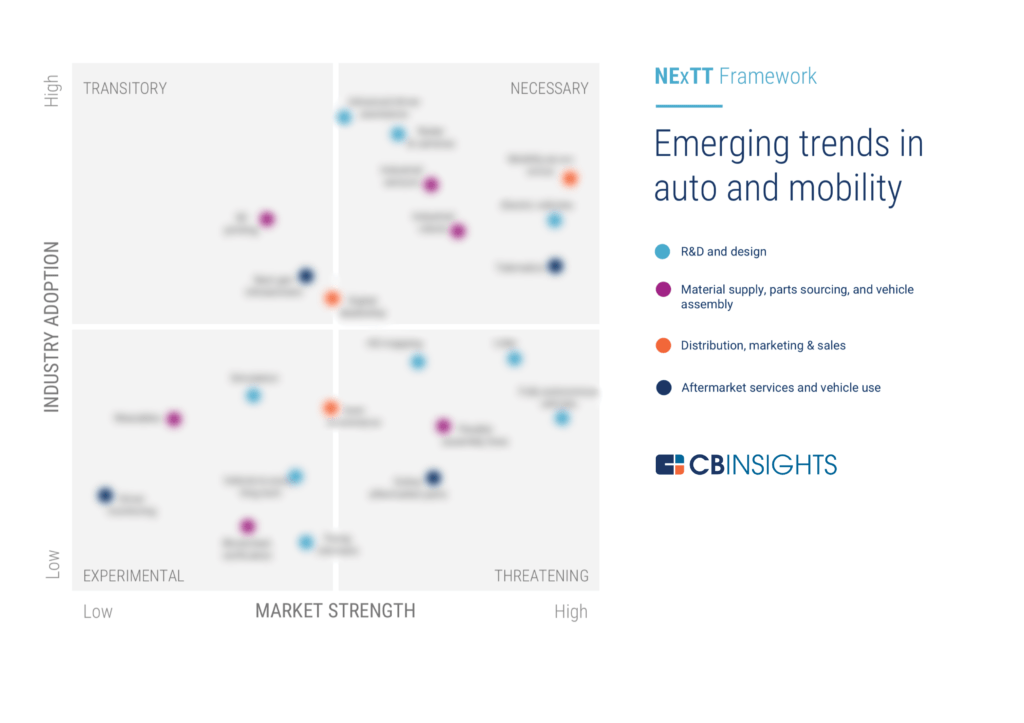 What's next for auto and mobility tech?
CB Insights examined 21 of the biggest auto and mobility trends, covering everything from flying robotaxis to next generation infotainment.
Using the NExTT framework, we looked at the industry adoption and market strength of these trends, categorizing them as necessary, experimental, threatening, or transitory (NExTT). The framework educates businesses about emerging trends and guides their decisions in accordance with their comfort with risk.
Trends highlighted in the report include:
Until full autonomy is achieved, automakers are enhancing driver safety technology to work with the human driver and minimize errors.

Driving simulation platforms are helping autonomous vehicle developers reduce the time and hassle associated with real-world road testing.

A new class of automotive sensors will allow the car to see beyond its line of sight, a crucial capability for fully autonomous driving.

Facing disruption from e-commerce giants, aftermarket auto parts retailers are increasingly bringing their parts offerings online.

And much more.
Download the entire auto and mobility trends report to see all 21 trends shaping the industry.
If you aren't already a client, sign up for a free trial to learn more about our platform.