The AI 100 is CB Insights' annual list of the 100 most promising private AI companies in the world. This year's winners are working on diverse solutions designed to recycle plastic waste, improve hearing aids, combat toxic online gaming behavior, and more.
CB Insights has unveiled the winners of the sixth annual AI 100 — a list of the 100 most promising private AI companies across the globe.
Some of this year's winners are advancing the development and use of artificial intelligence (AI) across specific industries — such as healthcare, gaming, and agriculture. On the other hand, some are developing applications to support sales, engineering design, cybersecurity, and other functions across a wide range of industries.
Additionally, a sizable portion of the companies in this cohort are developing tools, like machine learning (ML) platforms, to support AI development.
Using the CB Insights platform, our research team picked these 100 private market vendors from a pool of over 7K companies, including applicants and nominees. They were chosen based on factors including R&D activity, proprietary Mosaic scores, market potential, business relationships, investor profile, news sentiment analysis, competitive landscape, team strength, and tech novelty. The research team also reviewed thousands of Analyst Briefings submitted by applicants.
Clients can access the entire AI 100 list and interactive Expert Collection here. (If you don't have a CB Insights login, create one here.)
Want to be considered for future rankings? Fill out this initial application form (it'll take no more than a few minutes). If selected, you'll be asked to complete our Analyst Briefing Survey so that our analysts can better understand your products, customers, and market traction.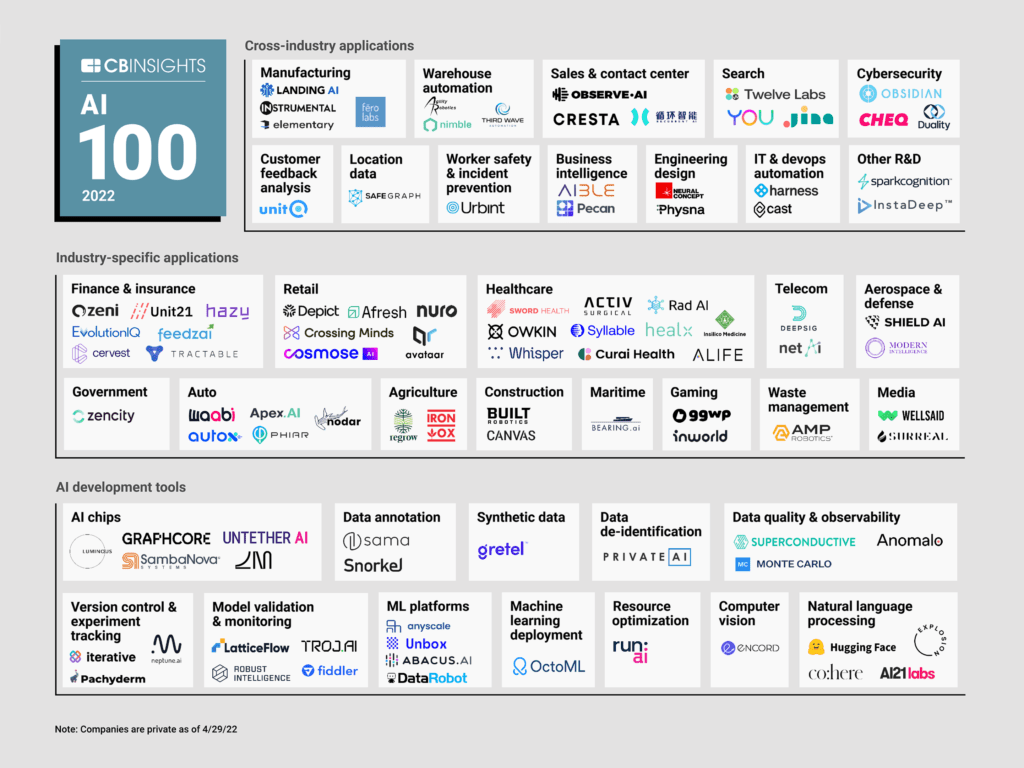 Companies are categorized by their primary focus area and client base. Categories in the market map are not mutually exclusive.
Please click to enlarge.
Table of contents
Top AI companies 2022: AI 100 cohort highlights

The AI 100 Class of 2021: Where are they now? 
Top Ai companies 2022: AI 100 cohort highlights
We split this year's cohort into 3 broad categories:
AI development tools: Nearly one-third of the companies in this year's cohort are working on solutions to support the management of various stages of the AI lifecycle, from data annotation to model training to model monitoring for algorithmic bias.
Industry-specific applications: Forty-three of the winners are focused on applying AI to use cases specific to different industries, such as gaming, healthcare, and construction.
Cross-industry applications: Vendors here are developing solutions that can be utilized across multiple industries, including warehouse & logistics robots, sales & contact center tech, and engineering design tools.
Below are a few highlights from the AI 100 Class of 2022.
Overall funding & valuation trends: The AI 100 includes a mix of companies at different stages of maturity, product development, and funding.
Overall, the cohort has raised $12B+ from 650 investors, across 300+ equity deals, since 2017 (as of 5/10/22). This year's list includes 16 unicorns with a $1B+ valuation. (Note: Neither unicorn status nor the total amount of funding raised were included among the selection criteria for this year's list.)
Global reach: This year's winners represent 10 different countries across the globe. Seventy-three of the selected companies are headquartered in the US. The UK came in second with 8 winners, and Canada followed closely with 5.
Other countries home to a winner/winners on this year's list include India, Sweden, China, and Germany. (Note: This geographical breakdown does not account for companies with multiple global headquarters.)
Early-stage innovation: Thirty-nine of our winners are seed/angel or Series A companies with promising product ideas.
To highlight a couple, GGWP, which was co-founded by former professional gamer Dennis Fong, is combating toxicity in online gaming. You.com has brought together a team of research scientists with experience at Salesforce and Stanford in order to develop a search engine that enables users to compare and sort results. 
Most-represented categories: Among the core industries highlighted on this map, healthcare holds the largest share of our winning cohort. The 10 companies featured in this category are focused on surgical tech (ACTIV Surgical), drug discovery for rare diseases (Healx), and more. Finance & insurance came in second with 7 winners, including vendors working on visual damage appraisal for cars (Tractable) and synthetic & anonymized financial datasets (Hazy).
Novel applications: A number of companies on this year's list are working on niche applications where the use of AI is not commonplace yet.
To name a few, Whisper is developing sound separation tech to improve hearing aid performance. Notably, the company's head of hardware engineering was previously a hardware engineer for Apple AirPods. Canvas Construction — founded by individuals with experience at Boston Dynamics and the MIT Lincoln Laboratory — is focused on AI-driven robotics for drywall finishing in the construction industry. Agility Robotics, on the other hand, is developing humanoid robots for warehouse and logistics use cases.
the AI 100 class of 2021: where are they now?
The 2021 AI 100 winners have accomplished a great deal since April 2021. Together, they have seen:
Over $6B in equity funding across 70+ deals
20 mega-rounds (deals worth $100M+), including a $600M round to an AI chip developer
9 exits, with some winners being acquired by tech leaders like Meta and Nvidia
6 new entrants to the $1B+ unicorn club
A plethora of new partnerships with industry leaders like Geico, Cisco, and Snowflake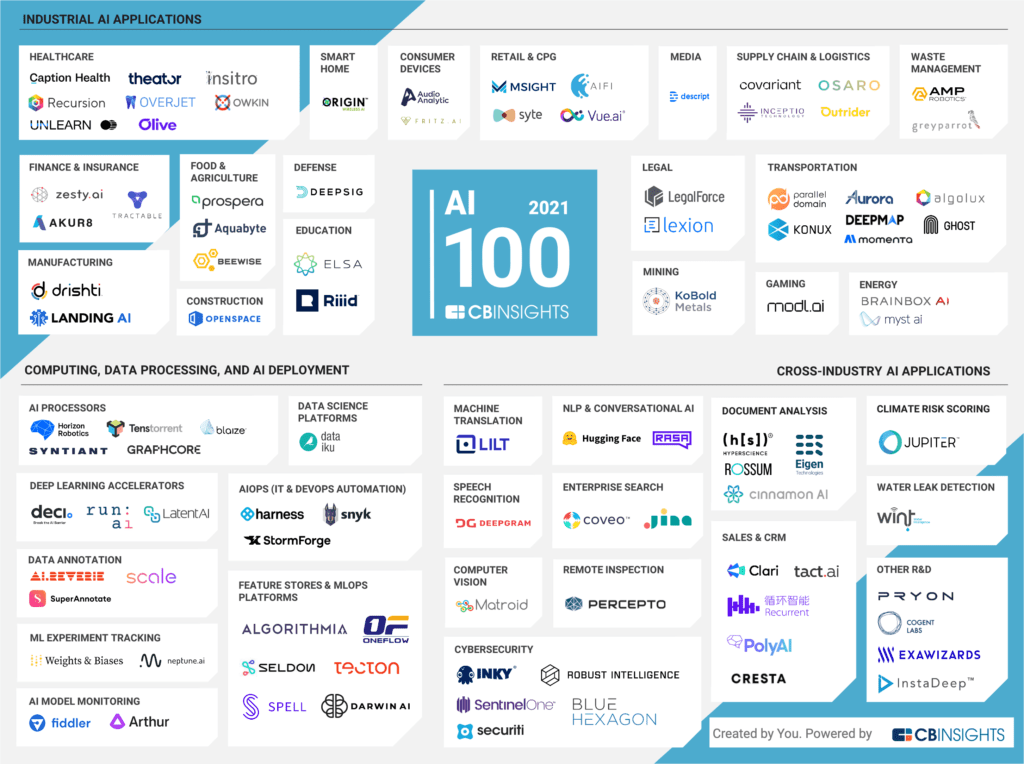 If you want to learn more about the AI 100 Class of 2021, check out the full list of previous winners.
If you aren't already a client, sign up for a free trial to learn more about our platform.