The AI 100 is CB Insights' annual list of the 100 most promising private AI companies in the world. This year's winners are working on solutions including AI transparency, climate risk, virus modeling, and more.
CB Insights has unveiled the winners of the fifth annual AI 100. This year's cohort of promising private AI companies represents 12 countries and is driving innovation across 18 industries and a broad range of cross-industry applications.
The products that this year's winners are bringing to market — from drug R&D and revenue cycle management for hospitals to autonomous beekeeping and municipal waste sortation — highlight the breadth and depth of AI's impact on industries.
---
DOWNLOAD THE FULL REPORT BELOW


---
Using the CB Insights platform, our research team picked these 100 private market vendors from a pool of over 6K companies, including applicants and nominees. They were chosen based on factors including business relations, investor profile, news sentiment analysis, R&D activity, proprietary Mosaic scores, market potential, competitive landscape, team strength, and tech novelty.
Clients can access the interactive AI 100 Expert Collection here. (If you don't have a CB Insights login, create one here.)
Companies are categorized by their primary focus area and client base. Categories in the market map are not mutually exclusive.
Please click to enlarge.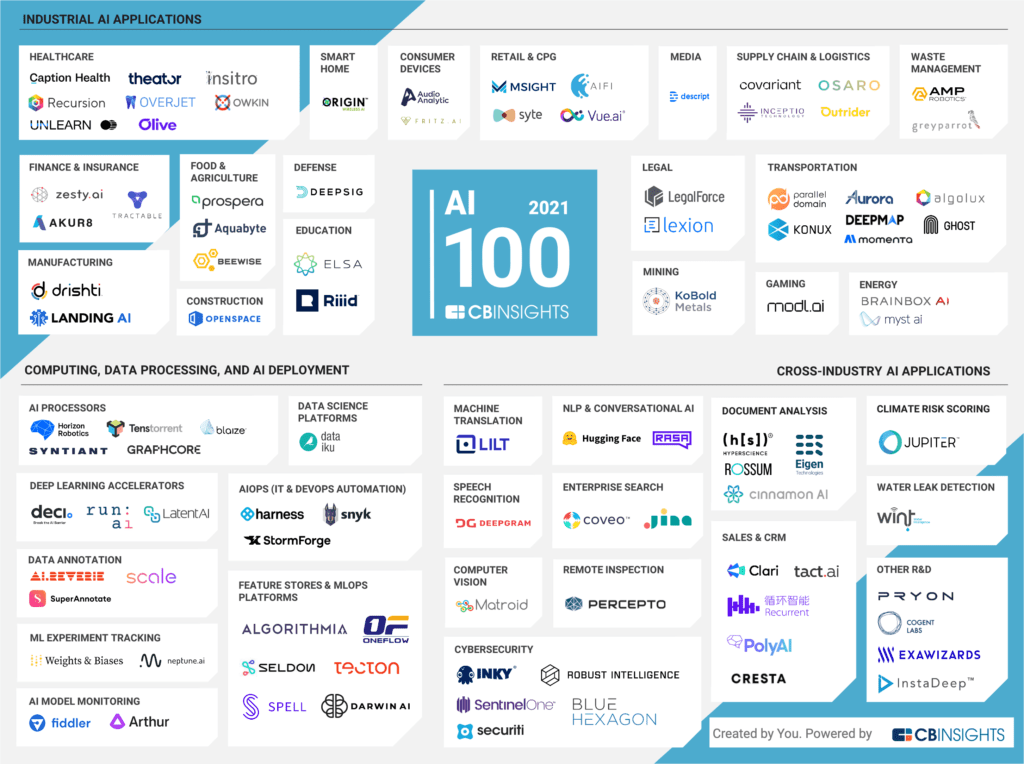 AI 100 2021 Cohort Highlights
Nearly half of this year's cohort — categorized as "Industrial AI applications" — are working on solutions across 18 core industries, from retail & CPG to legal to gaming. Many of the remaining vendors ("cross-industry AI applications") are building various business and operational intelligence tools for more than 1 core industry.
We also have selected a number of vendors developing computing, data processing, and AI deployment tools. These companies develop automation software for different parts of the data and AI development pipeline, including working with raw data, simplifying IT operations, and building and deploying explainable AI models.
Highlights from the cohort are provided below:
Equity funding and deals:

Since 2010, the AI 100 2021 cohort has raised over $11.7B in equity funding across 370+ deals from more than 700 investors.

Most-represented categories:

Healthcare is the most highly represented core industry. The 8 selected companies here are focusing on dental insurance, surgical tech, clinical trials, and more. Among cross-industry applications and deployment tools, the rapidly evolving MLOps market — which provides software to accelerate the development and deployment of AI models in enterprises — counts 6 selected companies.

37 early-stage innovators

— in seed/angel and Series A stages of funding — are working on applications like AI explainability (e.g.,

ArthurAI

), wireless signal processing (e.g.,

DeepSig

), and deep learning accelerators (e.g.,

Deci

). Among these, only water leak prevention company

WINT

has not raised any equity capital.

Top-funded vendors and categories:

The companies that have raised the most funding in the cohort are working on capital-intensive projects such as autonomous vehicles (e.g.,

Aurora

,

Momenta

), drug R&D (e.g.,

Insitro

), and AI processors (e.g.,

Horizon Robotics

,

Graphcore

). But emerging use cases such as AIOps (e.g.,

Snyk

,

Harness

) and revenue cycle management for hospitals (e.g.,

Olive

) have also attracted multiple $100M+ rounds from investors.

12 unicorns:

Companies with $1B+ valuations on the list span applications as varied as data annotation, cybersecurity, sales & CRM platforms, and enterprise search.

Geographic distribution:

64% of the selected companies are headquartered in the US. Eight of the winners are based in the UK, followed by 6 each in China and Israel, and 5 in Canada. Other countries represented in this year's list include Japan, Denmark, Czech Republic, France, Poland, Germany, and South Korea.

Covid-19 response:

A number of these companies developed new products and features directly in response to the pandemic to mitigate its impact and help clients adapt. For example,

Recursion

released SARS-CoV-2-related imaging datasets publicly to improve understanding of the virus and its impact on human cells.

OpenSpace

released a simplified version of its photo documentation product for construction companies to remotely track job sites.

DarwinAI

launched COVID-Net, a suite of neural networks for Covid-19 detection and risk assessment in chest radiography.
Interested in learning more about artificial intelligence companies in the US? Read about the top US AI companies.
AI 100 2021
Track the 100 most promising private AI companies to watch in 2021. Look for AI 100 2021 in the Collections tab.
Track the AI 100 2021 winners
AI Startups 2020: Previous winners & highlights from the AI 100 class of 2020
Unicorns: Since publishing the AI 100 2020 list in March 2020, 2 startups have become unicorns (AInnovation, Standard Cognition).
Exits: Since March 2020, 6 startups from the AI 100 2020 have exited. Of these 6 companies, 3 startups have IPOed (Lemonade, C3.ai, Razor Labs), 2 have been acquired (Mapillary, Voyage), and 1 listed via reverse merger with a SPAC (Butterfly Network).
Deaths: None of the companies on our AI 100 2020 list have died.
Deals, funding, and mega-rounds: Since March 2020, over 50 companies from the 2020 cohort have collectively raised $5.2B across 75 deals, including 16 mega-rounds (deals worth $100M+).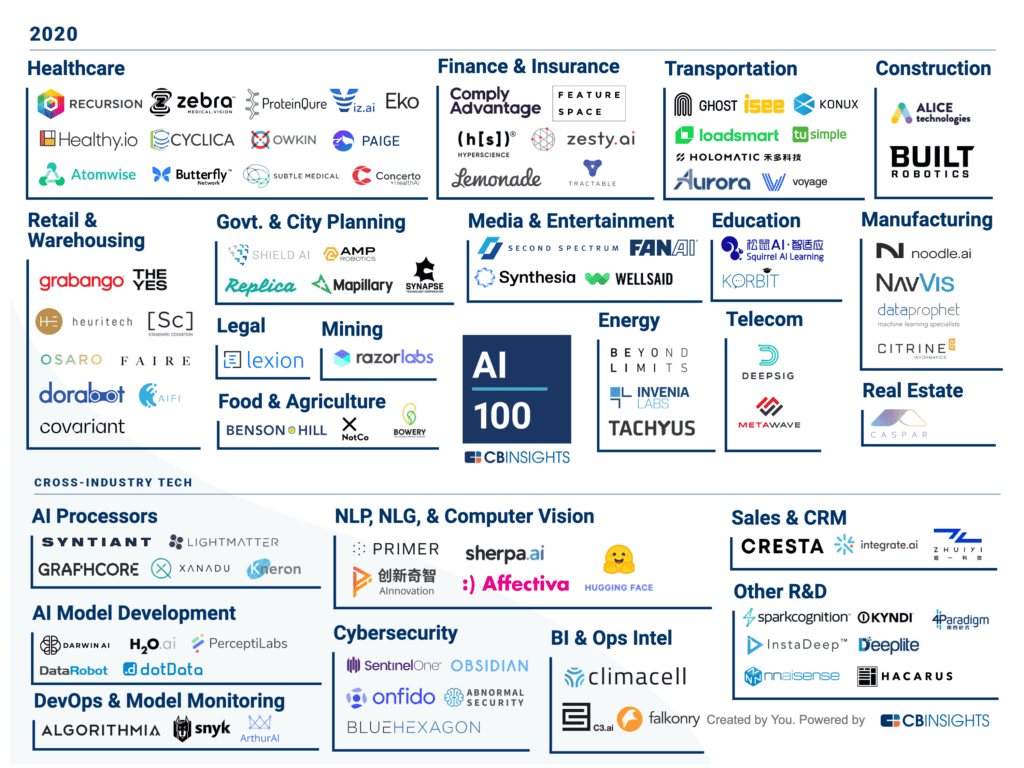 AI 100 Methodology & Datasets
The AI 100 selections are the result of a rigorous, data-informed process.
The datasets and insights from CB Insights' tech market intelligence platform that were leveraged to pick finalists include:
Licensing and reuse of content: Contact our official partner, Wright's Media, about available usages, license fees, and award seal artwork at cbinsights@wrightsmedia.com. Please note that Wright's Media is the only authorized company that we've partnered with for CB Insights materials.
If you aren't already a client, sign up for a free trial to learn more about our platform.