From payments and lending to insurance and cash deposits, Amazon is attacking financial services from every angle without even applying to be a conventional bank. In this report, we break down how these efforts impact merchants and consumers. We also dive into various initiatives Amazon is pursuing, ranging from cashierless payment terminals to health insurance for sellers.
For Amazon, making moves in financial services could have tremendous upside.
While the anticipation for the tech giant's plunge into banking builds each year, it's important to first understand Amazon's existing strategy in the sector — what Amazon has launched and built, where the company is investing, and what recent products tell us about Amazon's future ambitions.
Based on our findings, it's hard to claim that Amazon is building the next-generation bank. But it's clear that the company remains very focused on building financial services products that support its core strategic goal: increasing participation in the Amazon ecosystem.
As a result, the company has built and launched tools that aim to:
1. Increase the number of merchants on Amazon, and enable each merchant to sell more.
2. Increase the number of customers on Amazon, and enable each customer to spend more.
3. Reduce any buying/selling friction.
Amazon isn't building a traditional bank that serves everyone. Instead, Amazon has taken the core components of a modern banking experience and tweaked them to suit Amazon customers (both merchants and consumers).
In a sense, Amazon is building a bank for itself — and that may be an even more compelling development than the company launching a deposit-holding bank.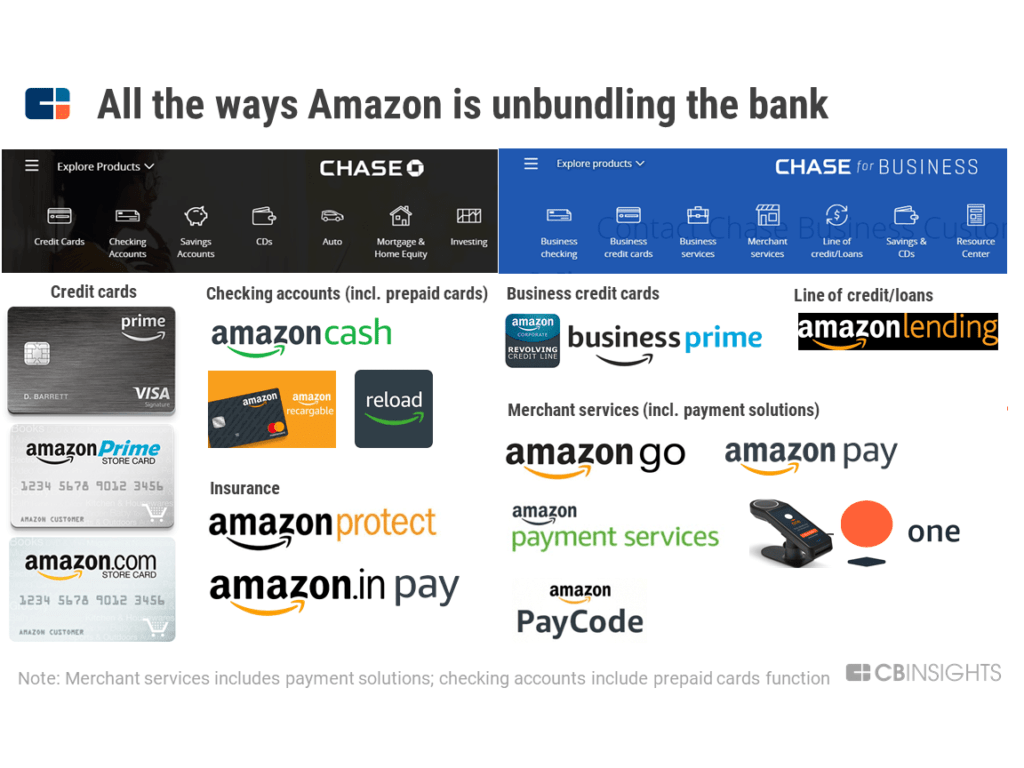 We've compiled everything we know about Amazon's foray into banking, financial services, and fintech. Dig in by downloading the full report.
Table of Contents:
Amazon's product strategy
Amazon Payments
Amazon Cash
Amazon Lending
Amazon's next financial pillar?
2. Amazon Market strategy outside the US
Amazon financial services in India
Amazon financial services in Mexico
Amazon financial services in South America
3. Rumors: What will Amazon do next?
4. Closing thoughts
If you aren't already a client, sign up for a free trial to learn more about our platform.