Alphabet is disrupting healthcare, auto, government contracts, and more with AI. We look at how it got here, where it's headed, and what this means for incumbents.
Google was relentless in its pursuit of artificial intelligence even before the current wave of AI commercialization took off.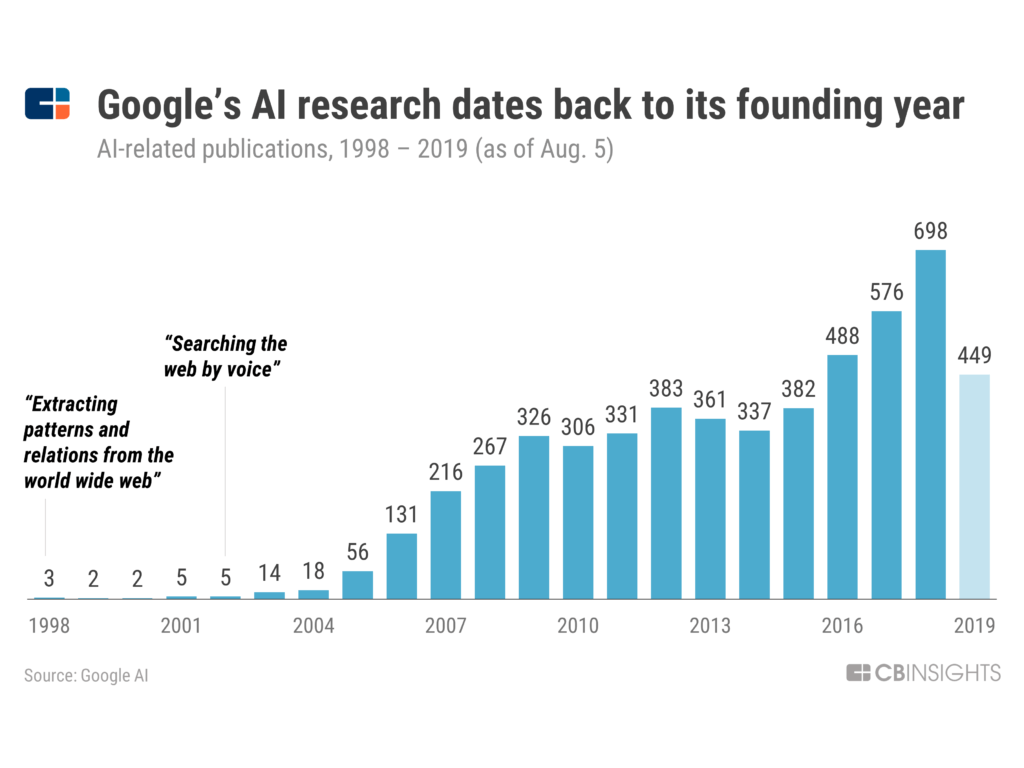 It may be hard to imagine a time when neural networks — AI algorithms initially inspired by biological neural networks — were having a dry spell. But researchers were bearish on its commercial scalability as recently as the early 2000s.
GET the enterprise AI TRENDS report
Download the free report to learn about the biggest emerging trends in AI and strategies to watch for 2021.
Google did two things well earlier on that are paying dividends today: It threw a ton of resources into the problem — both computing power and money — and it scooped up top researchers in the artificial intelligence field.
"There were inklings, early on, that Google was an A.I. company pretending to be a search company." — James Somers, The New Yorker
In this report, we look at how Google gradually went from a search engine to an $800B AI powerhouse, and what this means for stakeholders in healthcare, auto, cloud services, and other sectors Google where is forging ahead.
Table of contents
Alphabet's AI centricity
Google's ambitions and moonshot projects extend beyond its core revenue-driving advertising business, from being the earliest corporation to venture into autonomous driving to launching AI-enabled diagnostics and drug R&D.
In 2015, Google announced a new public holding company, Alphabet: a restructuring that underscored Google's AI-centricity and efforts to be more than just an internet services company.
Alphabet wants to be mile-wide and mile-deep in AI.
"Across the company, machine learning and artificial intelligence (AI) are increasingly driving many of our latest innovations, from YouTube recommendations to driverless cars to healthcare diagnostics." — Alphabet 10K filing, 2018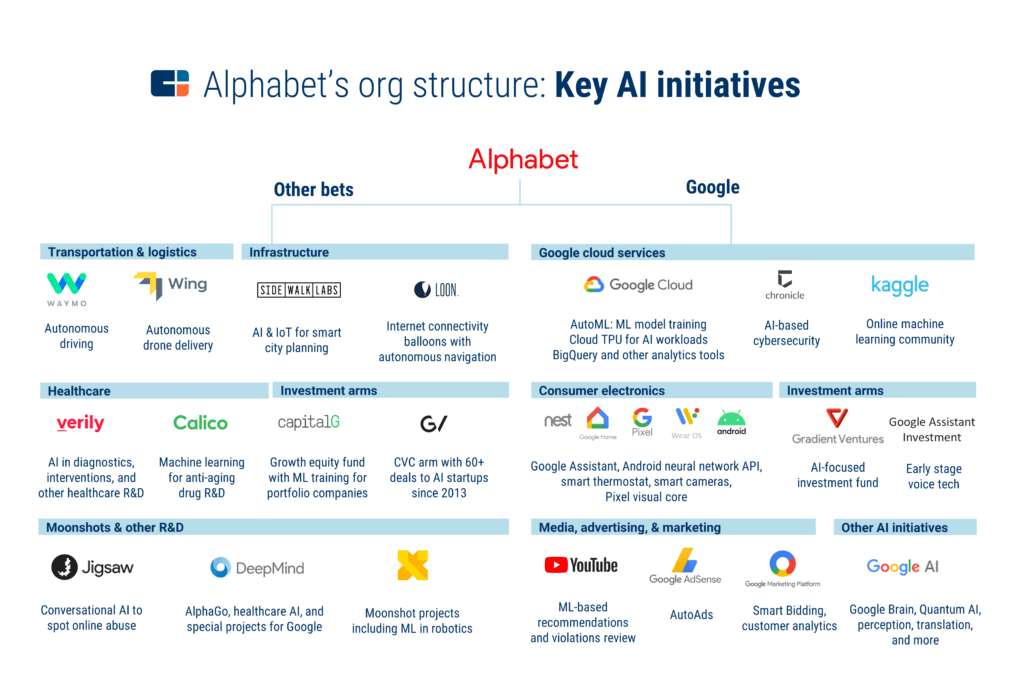 Google remains the largest company under the Alphabet umbrella, while its moonshot projects, healthcare initiatives, and non-internet services related companies have become part of Alphabet's "other bets."