Despite the generative AI boom, the AI sector sees deal volume fall to its lowest level since 2017.
Global funding to AI companies reached $8.3B in Q3'23 — a 12% drop from the previous quarter — while deal count fell 18% to 501, the lowest quarterly level since 2017.
Using CB Insights data, we dig into the latest AI trends, including:
Global AI funding in Q3'23 drops 12% QoQ to the lowest point in 4 quarters.

The average AI deal size is up 34% in 2023 YTD, driven by massive mega-rounds.

Q2'23 welcomes 4 new AI unicorns — including 3 generative AI companies.

M&A deals decrease by 24% QoQ, while public exits remain subdued.

Funding to Asia's AI startups increases by 67% QoQ.
Let's dive in.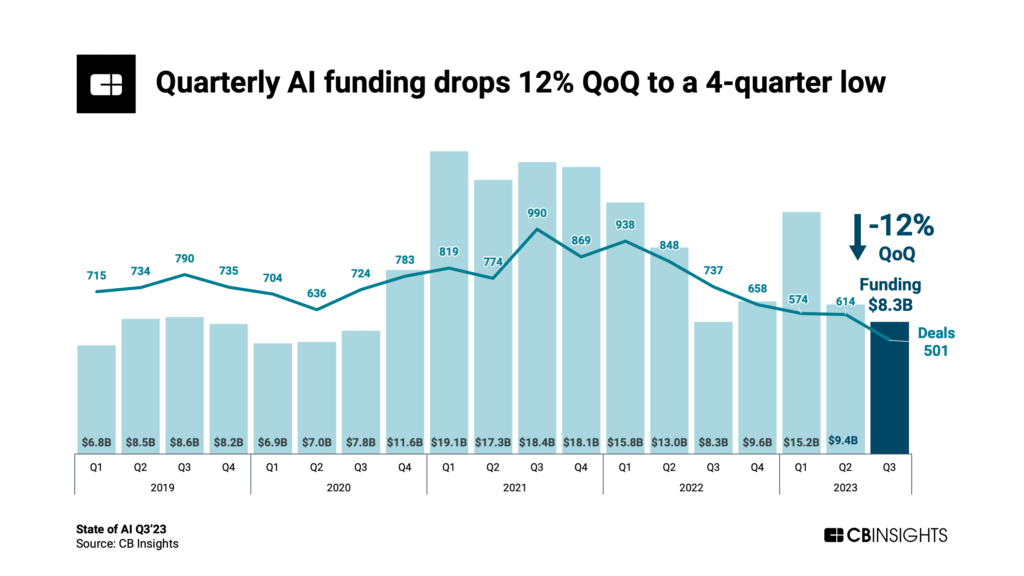 Global AI funding reached $8.3B in Q3'23, a 12% drop QoQ and the lowest level since Q3'22.​
AI deals slipped even further, declining by 18% QoQ to 501 — the lowest quarterly level since 2017.​
Despite surging interest in AI across sectors, the declines in VC activity suggest investors are focusing their bets on clear market leaders, rather than casting a wide net.
---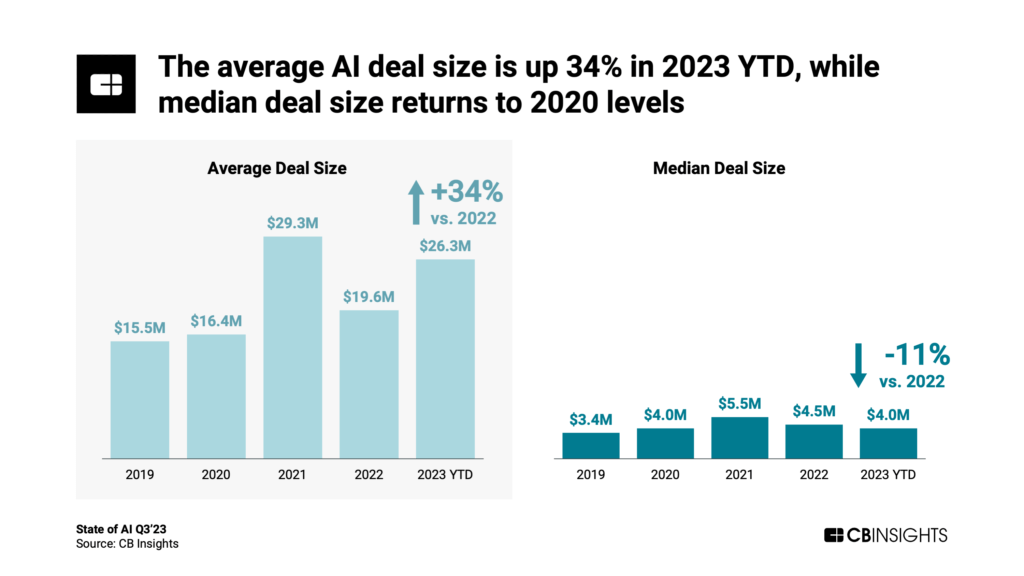 At $26.3M, the average deal size for AI companies in 2023 YTD has grown over a third compared to 2022's total. ​
This was driven by the boom in generative AI, with startups like OpenAI, Cohere, and Inflection AI raising massive rounds this year.
---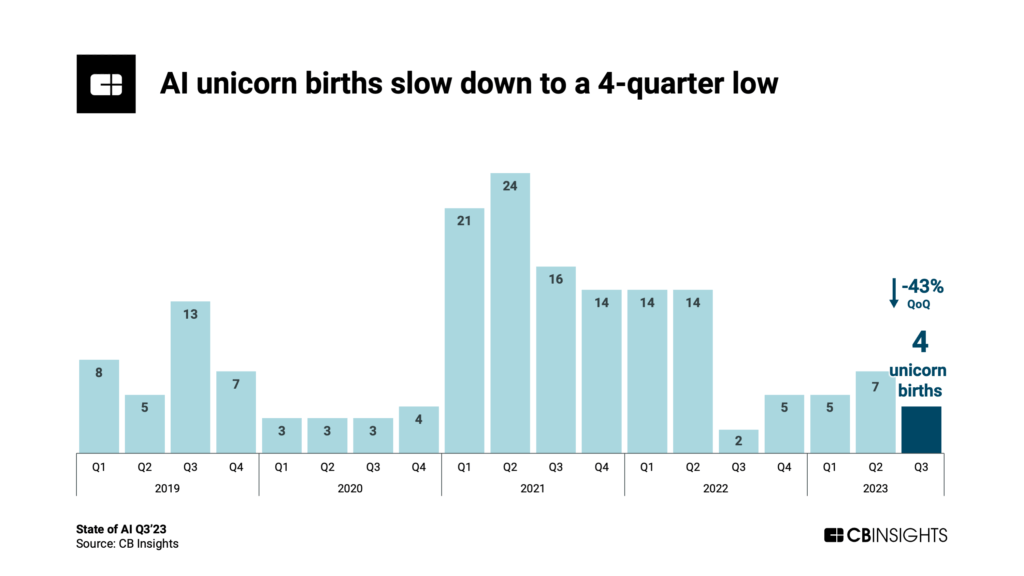 Q3'23 saw a total of 4 new AI unicorns. Three of these are generative AI companies: AI21, Zhipu AI, and Imbue all gained valuations of $1B or more. 
However, the quarter's 4 unicorn births marked a decline from Q2'23, which saw 7 new AI unicorns, including Cohere, Synthesia, and Replit. 
---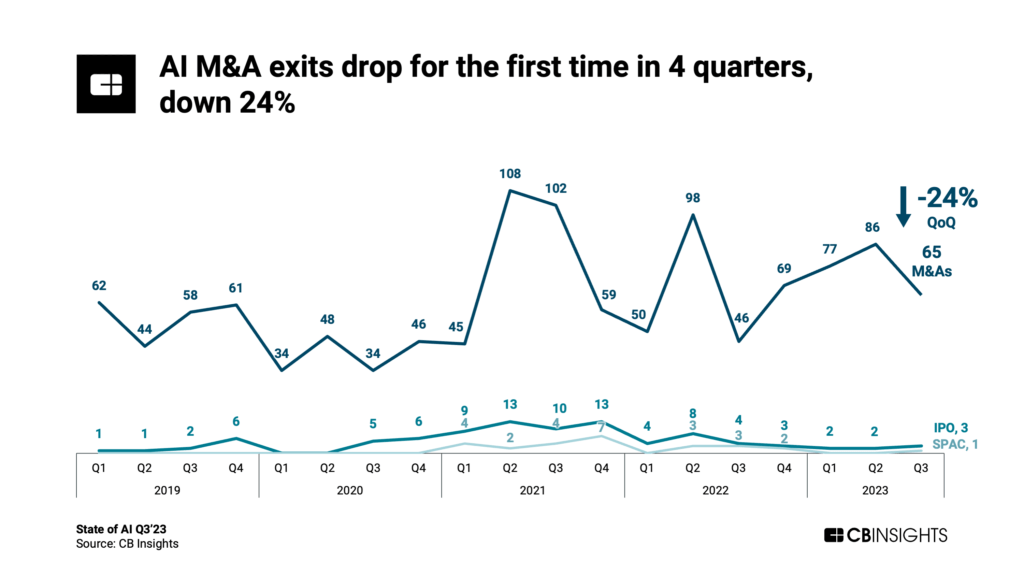 There were 65 M&A deals for AI companies in Q3'23 — down 24% QoQ — cutting the steady growth seen over the previous 3 quarters. ​
Public exits remained sparse for AI companies with just 3 IPOs in Q3'23, up from 2 the previous quarter. ​
Globally, the US held the largest share of Q3'23 M&A deals at 40%.
---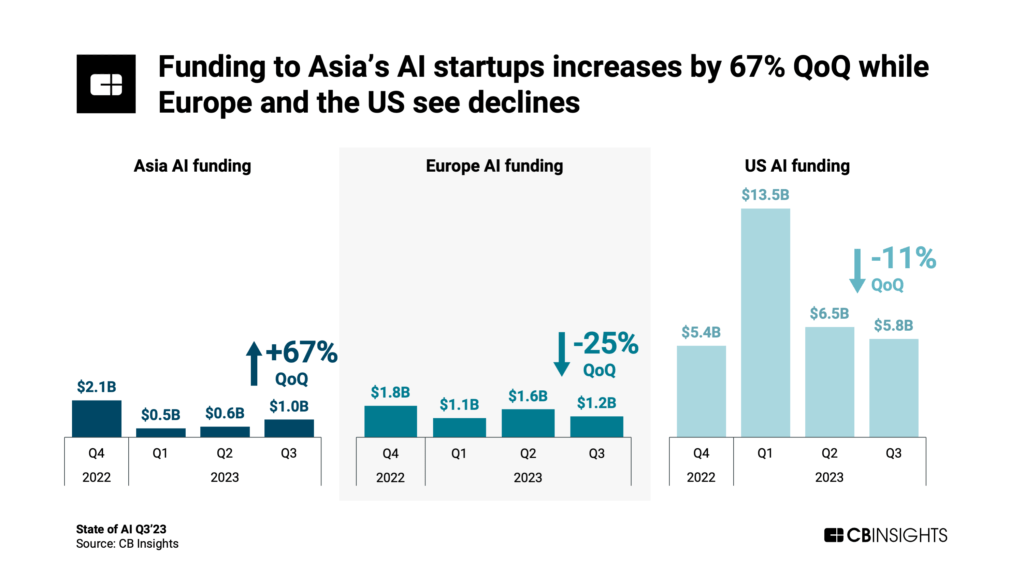 Asia was the only major region to see an increase in AI funding, which jumped to $1B in Q3'23. This was fueled by $100M+ deals to China-based startups Enflame and CloudMinds. Asia-based deals fell 8% QoQ.​
Meanwhile, the US and Europe both saw moderate declines in funding, dipping 11% and 25% QoQ, respectively. 
If you aren't already a client, sign up for a free trial to learn more about our platform.