AI startups notched another big quarter in a record-breaking year for global funding, mega-rounds, unicorns, exits, and more.
Q3'21 brought AI private market activity to dizzying levels.
In our State Of AI Q3'21 Report, we dig into global investment trends to spotlight takeaways like:
A new global funding record — for the fourth consecutive quarter

The newest AI unicorns, including 3 startups that reached $2B+ valuations

The record number of $100M+ mega-rounds this year

Which companies are exiting at multi-billion-dollar valuations

The region seeing 200%+ funding growth vs. 2020

The top AI deals in healthcare, fintech, and retail
Below, check out just a few highlights from our 168-page, data-driven State Of AI Q3'21 Report. For deeper insights, all the record figures, and a boatload of private market data, download the full report.
Global M&A triples YoY to reach 104 deals
Track the record-breaking quarter's top M&A deals. See which corporations are actively acquiring AI startups, including the financial services player that made the biggest purchase of the quarter.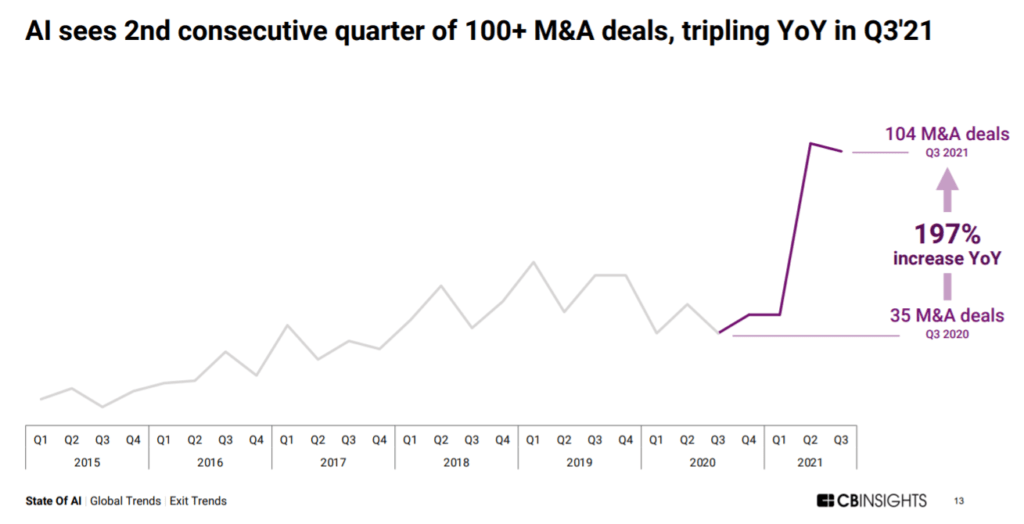 Total number of AI unicorns hits 119, up 59% YoY
Get the details on the most valuable private AI companies in the world. See which regions and sectors are minting billion-dollar startups.

If you aren't already a client, sign up for a free trial to learn more about our platform.