AI funding continues to drop in Q2'22 as quarterly funding falls toward 2020 levels.
Global AI funding fell 21% quarter-over-quarter (QoQ) to hit $11.8B — its lowest level since Q4'20. Deals also dropped for the third consecutive quarter, falling 6% QoQ to 722.
In line with this trend, $100M+ mega-rounds accounted for a smaller percentage of funding (44%) than they have since Q2'20. 
Below, check out a handful of highlights from our 185-page, data-driven State of AI Q2'22 Report. For deeper insights, all the record figures, and a ton of private market data, download the full report.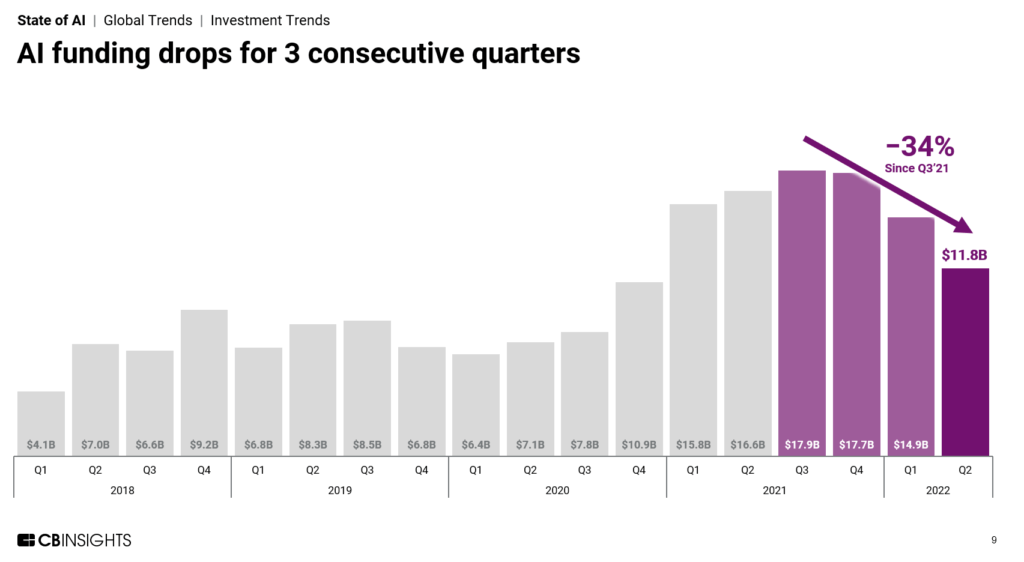 Here are some of the AI highlights from Q2'22:
Mega-round funding came in at $5.2B, a 33% drop QoQ.

Just 12 AI unicorns were born, the lowest level since Q4'20

Global exits saw a 116% QoQ jump, increasing from 51 to 110 deals in Q2'22. Among the 110 exits, 90% were M&A deals. Healthcare AI was the top category for acquisitions, capturing just over 20% of AI M&A deals. 

Insights partners was the top AI VC investor for the second quarter in a row, backing 12 AI companies. Gaingels and Tiger Global were also top AI investors, with Google Venture remaining the most active CVC in AI.  

AI funding to China-based companies dropped 53% QoQ to $0.7B in Q2'22.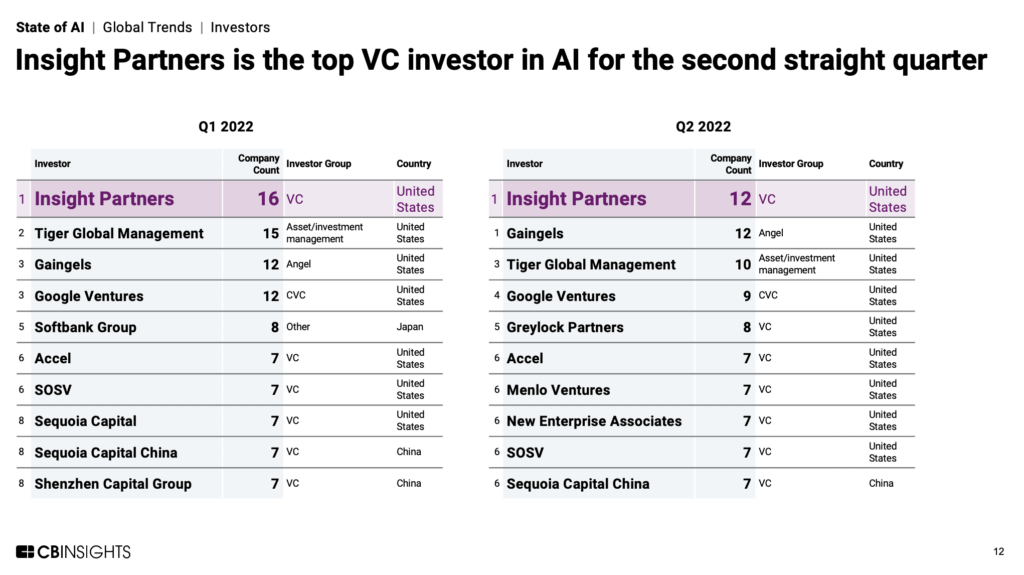 If you aren't already a client, sign up for a free trial to learn more about our platform.