Generative AI momentum isn't enough to save AI funding from a steep fall in Q1'23.
Even with notable generative AI mega-rounds and unicorn births buoying the sector, AI investment activity couldn't escape the broader venture gloom.
Using CB Insights data, we dig into the latest AI trends, including:
Global AI venture funding plunges in Q1'23
AI unicorn births hold steady at 5 — including 3 generative AI companies raising at $1B+ valuations
Median late-stage deal size nosedives in Q1'23 to $25M, significantly below even pre-pandemic levels
US AI funding falls by 27% quarter-over-quarter (QoQ), but Silicon Valley sees AI investments rebound
M&A deals increase by 12% QoQ, but public exits remain subdued
CB Insights clients can sign in and download the full report to see all the latest funding trends in AI.
---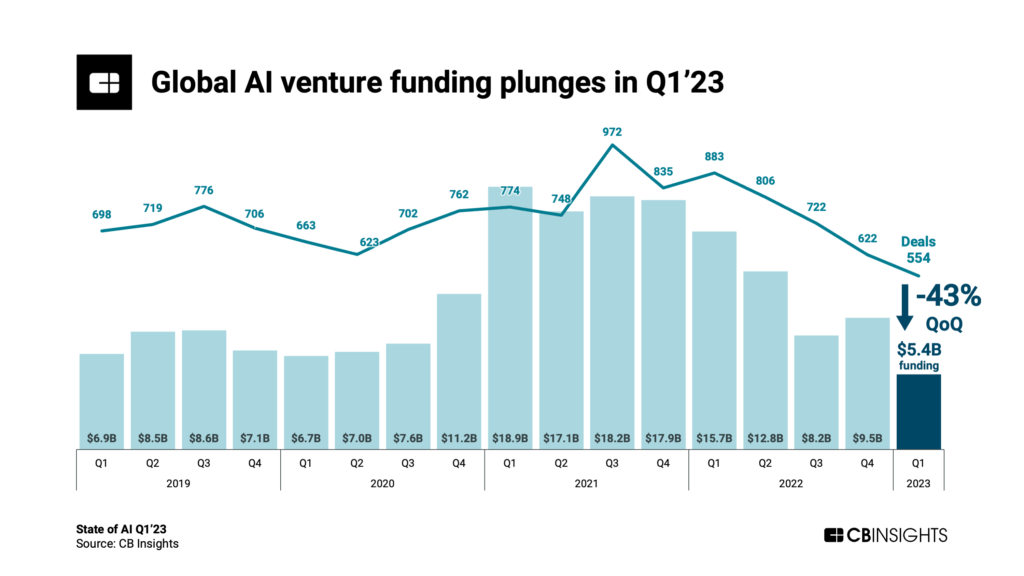 Global AI funding fell to $5.4B in 2023, a drop of 43% QoQ. This is the lowest quarterly total since Q1'18. Meanwhile, deals slid for the fourth quarter in a row to 554, the lowest tally since Q4'17.
Three of the top 5 largest funding rounds this quarter went to generative AI companies — a signal that generative AI excitement is translating into real funding momentum. However, it may take longer for the growing genAI segment to make up for the decline in broader AI funding.
---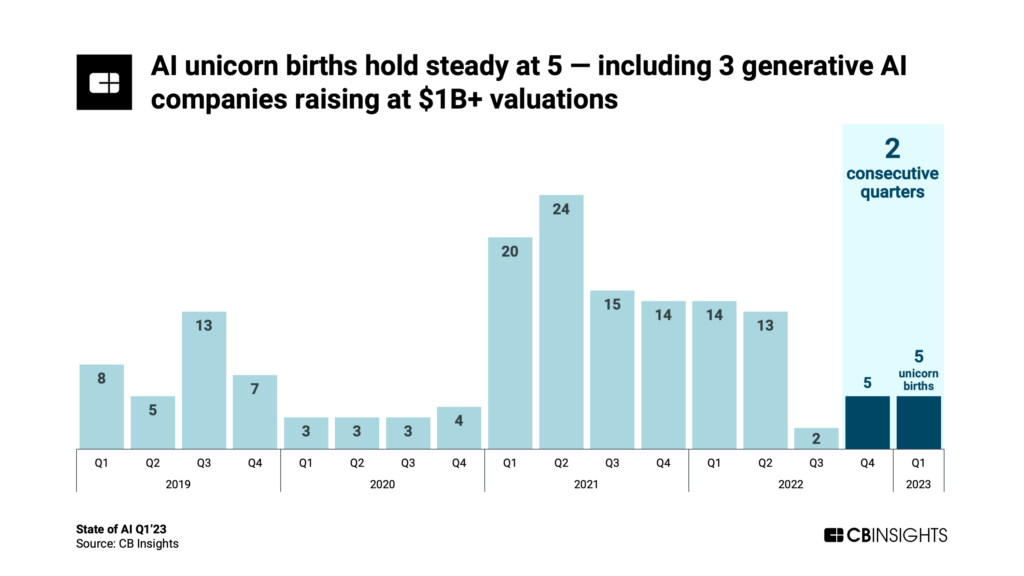 A total of 5 new AI unicorns emerged in Q1'23 — the same rate as the previous quarter.
Generative AI companies accounted for 3 of the entrants to the unicorn club with Anthropic, Adept, and Character.AI all gaining valuations of $1B or above. Of the 5 new unicorns, 3 are based in the US, 1 in Israel, and 1 in Germany. Overall, the US accounts for 64% of the 170 current AI unicorns.
---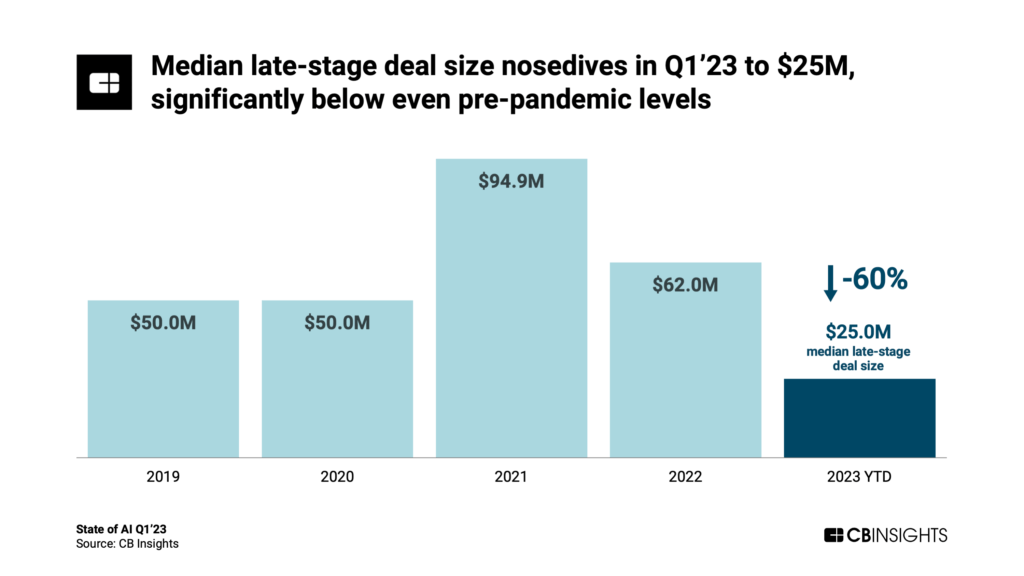 Median late-stage deal size for AI companies plummeted in Q1'23, coming in at just $25M — less than half the median late-stage deal size in 2022 and significantly below even pre-pandemic levels.
This plunge was partly driven by a slowdown in $100M+ mega-rounds to AI companies — there were only 8 in Q1'23, the fewest since Q1'19.
---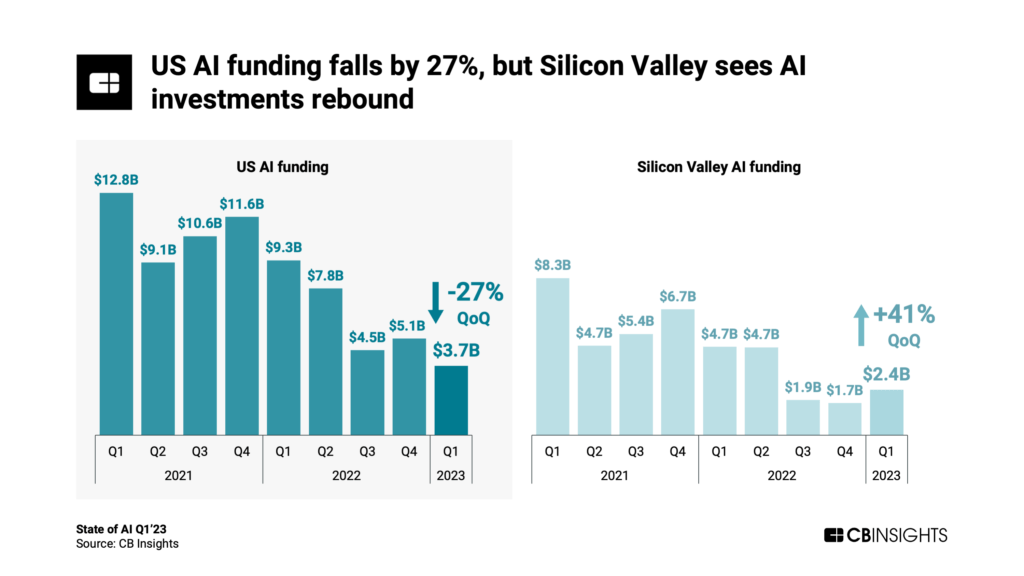 Funding to US-based AI companies totaled $3.7B in Q1'23, a QoQ decline of 27%. Deals fell for the fourth straight quarter, reaching just 232. However, Silicon Valley experienced a rebound in Q1'23, with funding up 41% and deals increasing by 20%. This funding surge was driven by mega-rounds worth $1.2B in aggregate going to a handful of generative AI companies based in the region.
Meanwhile, funding to Asia-based companies collapsed to its lowest level since Q4'16 — driven by unusually subdued AI investment activity in China. Europe AI funding also dipped but remains above the pre-pandemic average.
---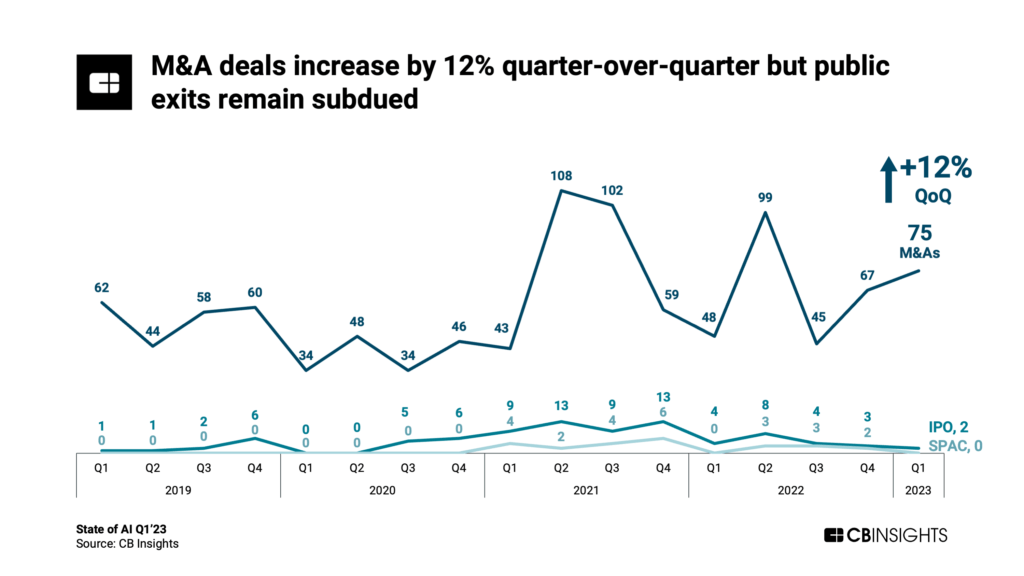 There were 75 M&A deals for AI companies in Q1'23, an increase of 12% QoQ but still below 2021's highs. Public exits continued to be rare in Q1'23 for AI companies — there were only 2 IPOs and no SPACs.
Europe accounted for the largest share of global AI exits at 38%. US-based companies represented 33% of exits, and Asia's share was 17%.