An analysis of emerging AI trends using the CB Insights NExTT framework.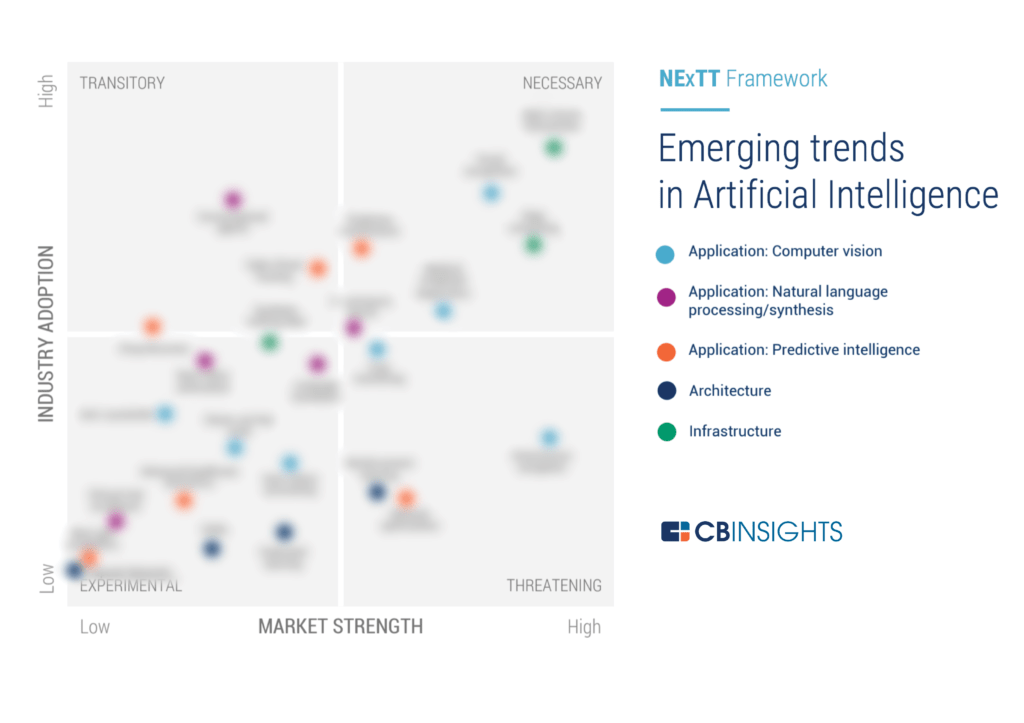 What's next for AI?
CB Insights examined 25 of the biggest AI trends, covering everything from next-gen prosthetics to crop monitoring.
Using the NExTT framework, we looked at the industry adoption and market strength of these trends, categorizing them as necessary, experimental, threatening, or transitory (NExTT). The framework educates businesses about emerging trends and guides their decisions in accordance with their comfort with risk.
Trends highlighted in the report include:
Contextual understanding of e-commerce search terms is moving out of the "experimental phase," but widespread adoption is still a long ways off.

Deep learning has fueled the majority of the AI applications today. It may now get a makeover thanks to capsule networks.

Using neural networks, researchers in advanced healthcare biometrics are starting to study and measure atypical risk factors that were previously difficult to quantify.

Access to large, labeled datasets is necessary for training AI algorithms. Realistic fake data may solve the bottleneck.
Download the entire AI trends report to see all 25 trends shaping the industry.
If you aren't already a client, sign up for a free trial to learn more about our platform.