After a record 2021, quarterly advanced manufacturing funding falls but remains elevated compared to historic totals.
In Q1'22, advanced manufacturing funding fell 17%, although total funding still exceeded $2B for the third time in the past year.
In our State of Advanced Manufacturing Q1'22 Report, we dig into global investment trends to spotlight takeaways like:
Which global regions saw the largest gains and losses
The percentage of deals that remain early-stage
The biggest deals of the quarter, including a $300M+ round for a warehouse robotics manufacturer
The region that saw funding more than triple, driven by 3 mega-rounds
The country that saw its share of deals decline by 50%
And much more
the future of the office building
The office building of 2030 is poised to operate much better than what we see today, both for occupants and building managers. Get the report to learn more.
Below, check out just a few highlights from our 109-page, data-driven State of Advanced Manufacturing Q1'22 Report. For deeper insights, all the record figures, and a boatload of private market data, download the full report.
GLOBAL ADVANCED MANUFACTURING funding DROPS 17% QoQ
Explore which regions saw the greatest funding growth and declines, as well as which startups drove the sector to another $2B+ quarter.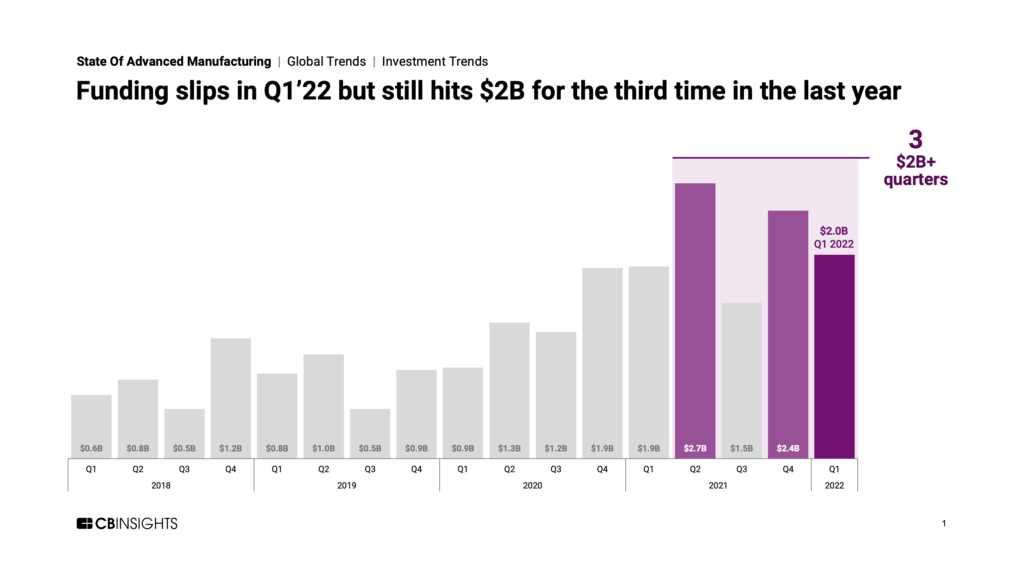 US DEAL SHARE PLUMMETS WITH SIGNIFICANT INCREASES IN Asia and Europe
See which regions fared best in Q1'22, the top investors in each region, and more deep dives by geography.