Paris-based AccorHotels is implementing an ambitious digital transformation plan. Despite some early missteps, the hotel chain's quest to build a full-service hotel platform has just begun.
France-based AccorHotels is among the biggest hotel chains in the world. Having missed out on the first major travel tech wave — the emergence of online travel agencies (OTAs) — AccorHotels is attempting to stay ahead of the next major digital upheaval to the hotel industry — the fast rise of Airbnb.
To stay on top, the company has embarked on a 5-year €225M ($280M) digital transformation, including broadening its direct booking platform, adding new services, and expanding in luxury.
The company wants to decrease its reliance on OTAs and promote its own direct distribution channel. It's significantly growing its high-margin luxury business, an area where it is actually out ahead of Airbnb. And it's adding new search features and services to its platform, aimed at travelers and locals alike.
But a cosmetic transformation won't be enough to stay relevant in the face Airbnb. In less than a decade, the home-sharing startup has dwarfed even the largest hotel chains with as many listings as the top 5 hotel chains combined, and has reached a valuation higher than 4 of the top 5 public hotel chains.
To keep up, AccorHotels' has already acquired or invested in 11 travel tech startups since it launched its digital transformation in 2014 and undertaken numerous internal initiatives, including a recently shuttered marketplace site. It is using its extensive hotel network and concierge expertise to create a new business model: the hotel-as-a-platform.
As AccorHotels celebrates its 50th anniversary, we use CB Insights' platform to dive into the company's strategy, future, and what it will mean for the hotel industry.
TABLE OF CONTENTS
From Goliath to David: AccorHotels overtaken by Airbnb 
AccorHotels is a Paris-based hospitality group which launched in 1967 with a single hotel operating under the Novotel brand. AccorHotels has since grown to 4,200+ hotels across 95 countries, representing over 600K hotel rooms. The company generated €5.6B ($6.2B) in revenue during 2016 and has a market capitalization of over $14B (as of 10/30/2017).
The company fully or partially owns over 20 brands that range from economy-level, such as ibis and the recently launched JO&JOE, to luxury, including Sofitel and Fairmont. The company also operates a number of adjacent businesses, including private rentals, concierge, dining & events services, and B2B digital booking platforms that it sells to other hotel businesses.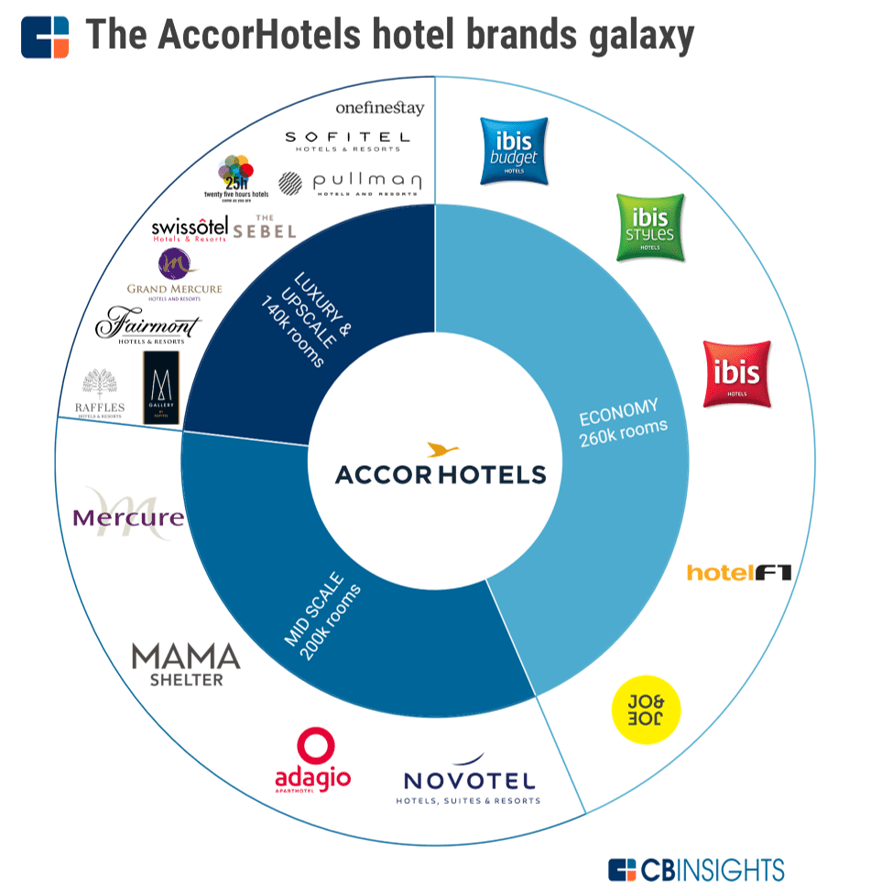 AccorHotels is a giant of the hospitality sector: it ranks 4th among the top 5 hotel chains by market capitalization (as of 10/30/2017) and 5th by number of rooms.
While its list of competitors traditionally included Marriott, Hilton, InterContinental, and Wyndham, lately AccorHotels appears to have become laser-focused on a single company — Airbnb.
It's no surprise why.
The San Francisco-based unicorn has grown listings by over 150% every year since 2009, from 2.5K to over 4M as of this summer. By comparison, over the same time period AccorHotels saw less than 3% annual growth, representing a total increase in rooms of roughly 110K.
Not only has Airbnb managed to reach a scale equivalent to the top 5 hotel chains combined in less than a decade, but it is now worth twice as much as AccorHotels, with an equity value of $29.3B compared to a market capitalization of $14B (as of 10/30/2017).
Only Marriott is still more valuable than Airbnb with a market capitalization of $44.5B.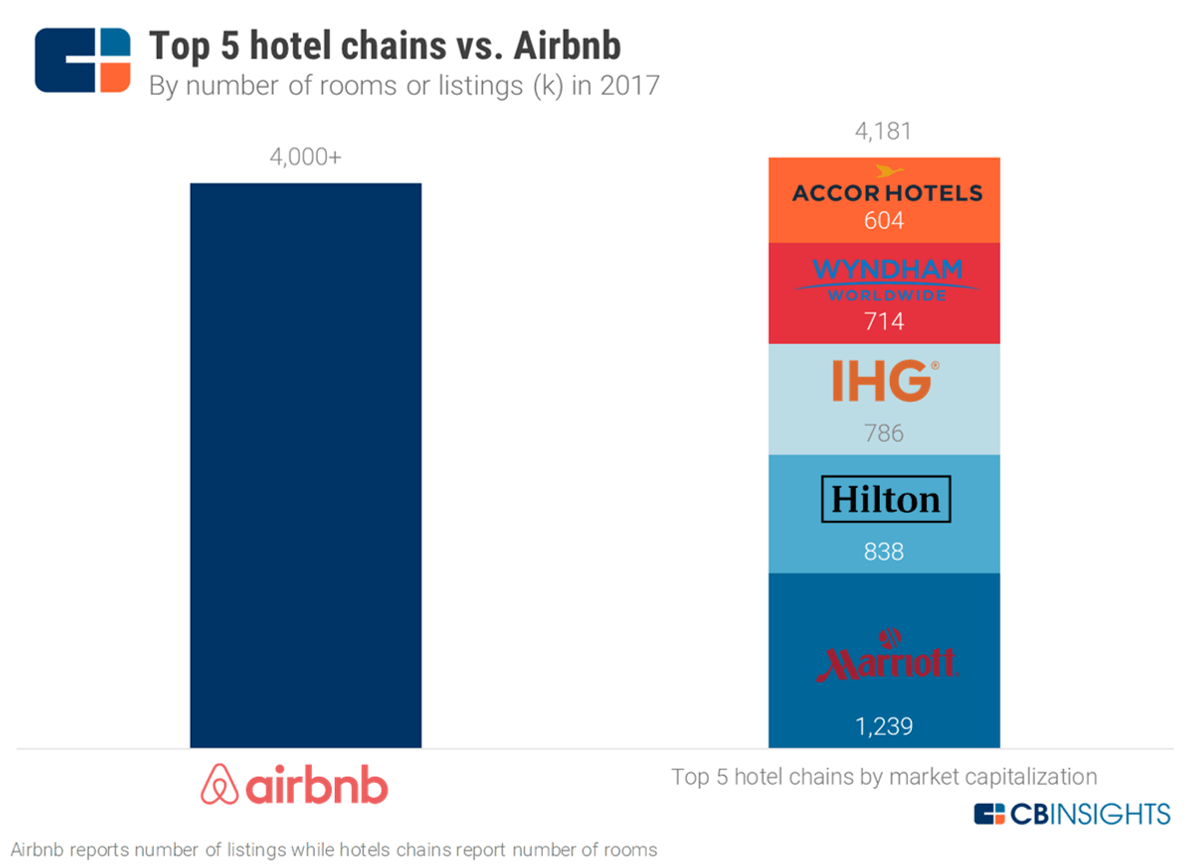 Fighting back: AccorHotels invests in travel tech startups
Overall corporate investments into travel tech startups have soared since 2013. We are on track to see a record high in corporate-backed deals to travel tech startups this year, driven in part by AccorHotels' recent activity.
Hotel chains, and more particularly AccorHotels, have significantly increased their activity in the space. Sixteen out of the 21 investments and acquisitions made since 2013 occurred in the past 2 years.
Among hotel chains, AccorHotels is by far the most active. It has made 3 investments and 8 acquisitions in the past 4 years.
The more recent acquisitions and investments have been driven in part by Thibault Viort, the former CEO of Wipolo, a mobile-focused company that AccorHotels bought towards the end of 2014. Viort now serves as Chief Disruption and Growth Officer and serves in part as a kind of internal VC, helping identify new private companies Accor should invest in or acquire.
Please click to enlarge. Orange lines represent acquisitions; green lines represent investments.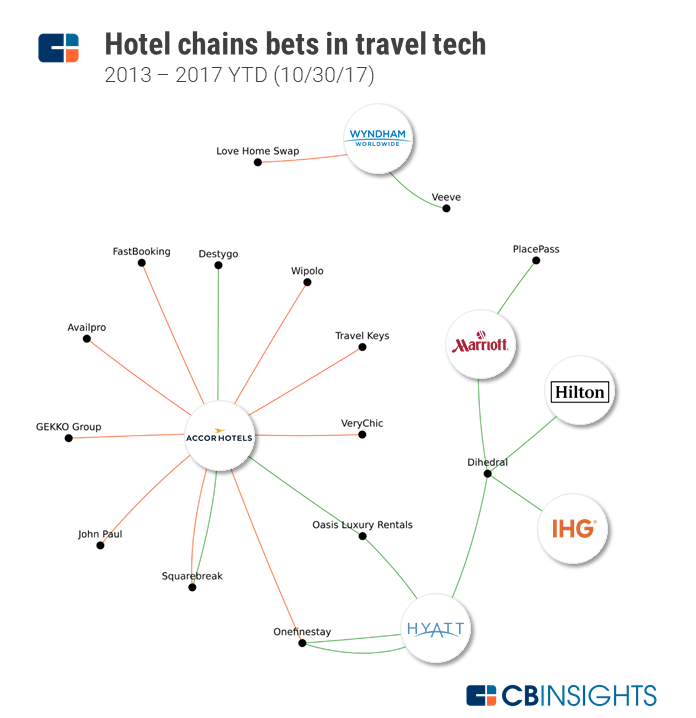 AccorHotels strategy analysis: 3 pillars for reinvention
Since announcing its digital transformation plan in 2014, AccorHotels has not only acquired or invested in travel tech startups, it has also launched several initiatives that hint where the French hotel chain is heading.
Based on AccorHotels' own comments and private market activity, we identified 3 strategic pillars on which it is building its future:
Creating new digital channels and improving existing ones
Growing the luxury business
Building a platform that offers services for guests and non-guests alike
Below, we illustrate AccorHotels' deals and internal iniatives on a timeline, tying each one to each of the company's strategic pillars.
Several deals and internal initiatives could be included in multiple pillars; we have added them to the category where they appear to have the biggest impact.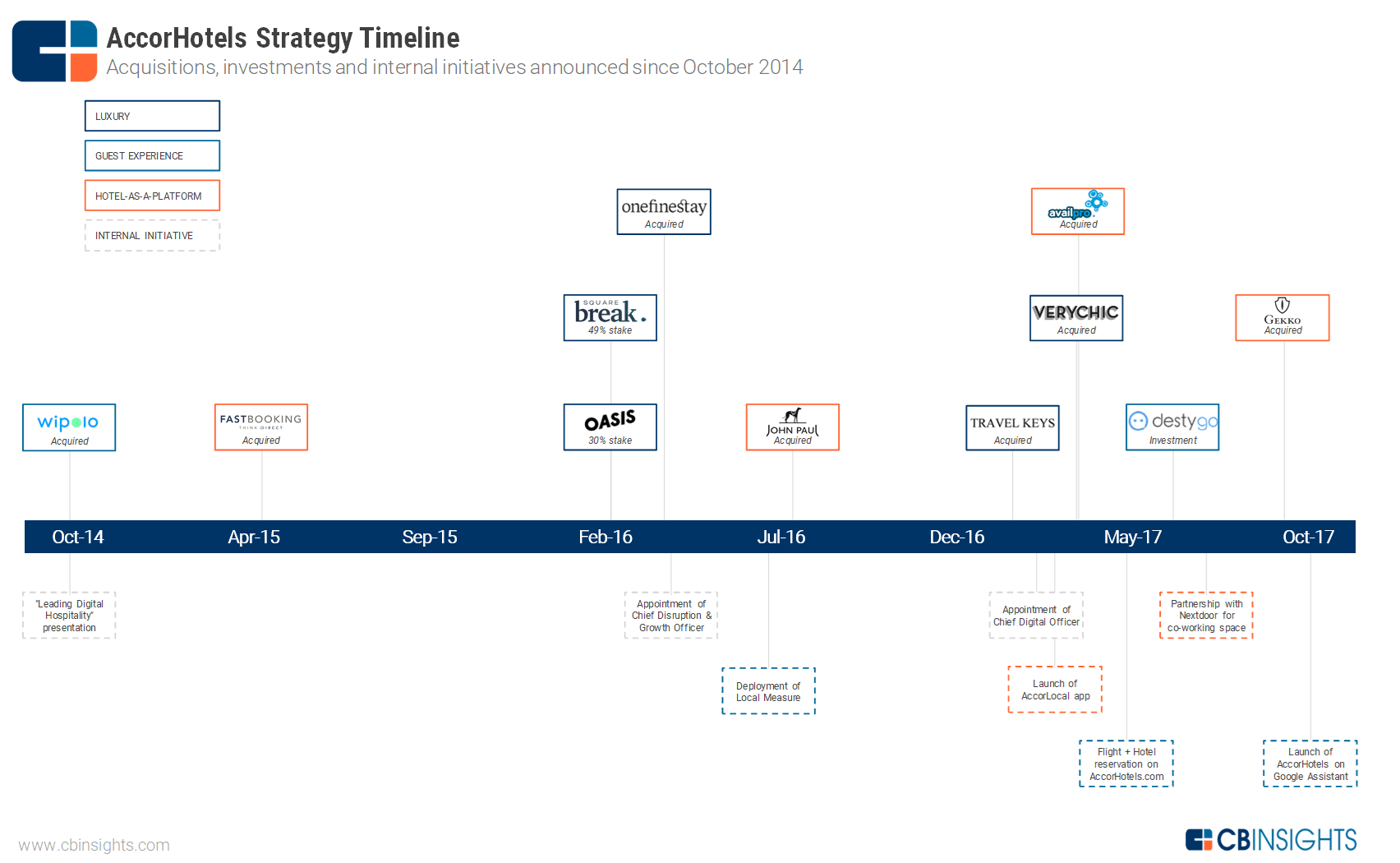 Increasing retention of loyal guests while attracting more customers seems to be AccorHotels' guiding thread. The aim is clear: AccorHotels wants to serve its customers even when they are not staying in one of its hotels.
FOCUS ON DIGITAL CHANNELS TO INCREASE DIRECT BOOKINGS

Mobile
Mobile has become a key component of AccorHotels' strategy. The company has been strengthening its mobile app with new features such as online check-in, direct payment with loyalty points, and city guides, among other offerings. The company recently announced that the mobile app had been downloaded over 5M times since its launch in 2012.
Mobile represented 18% of direct web channel bookings in H1'16, up from 12% at the end of Q4'14, but still a long way from the 40% target by 2018 set in AccorHotels' digital transformation plan.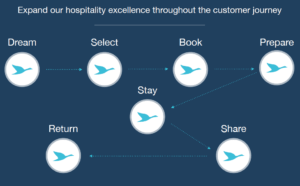 AccorHotels' first-ever travel tech acquisition, of Wipolo in Q4'14, supported this emphasis on mobile. Wipolo is an itinerary management tool for travelers, which AccorHotels aimed to integrate into its own app.
Accor has also added restaurant booking features to its app, a functionality that several OTAs including TripAdvisor and The Priceline Group have added to their portfolios over the past few years.
Mobile is a key focus for AccorHotels because it offers another direct booking channel that can help make the hotel chain less reliant on OTAs. By adding features like early-in check in and loyalty programs to the app, it incentivizes people to book directly rather than via Expedia or Booking.com. Improving mobile is also a strategy to keep up with Airbnb which is known for a particularly robust and intuitive app.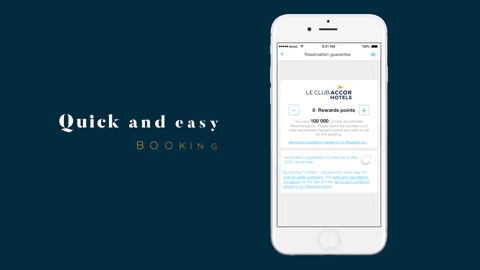 Chatbots
AccorHotels also moved into chatbots in 2017, investing in Destygo, a France-based bot development platform targeting the travel space, and launching two chatbots of its own.
Mercure Bot, a chatbot available on Facebook Messenger, provides stories about landmarks in the surroundings and Phil, a chatbot available on Google Assistant, provides information on the company's hotels such as facilities and locations. Both bots aim to increase engagement with guests and potential customers by making AccorHotels more interactive and increasing visibility. They could also be used as a booking channel in the future.
Analytics
Earlier this year, the company announced the deployment of a marketing solution developed by startup Local Measure, a platform aggregating all the content posted about a hotel such as photos, videos, and reviews from social media, based on location and in real time. This platform enables increased personalization as AccorHotels can now identify users celebrating a particular occasion such as a honeymoon, and promote specific services accordingly.
AccorHotels' mobile and chatbot initiatives not only help guests, but also provide the company with first-hand data on guests' habits, interests, and concerns, which it can use to shape its future business strategy. By building a proprietary database it can offer better personalization services. It also helps AccorHotels keep up with Airbnb's and OTAs' data advantage.
GROW THE LUXURY BUSINESS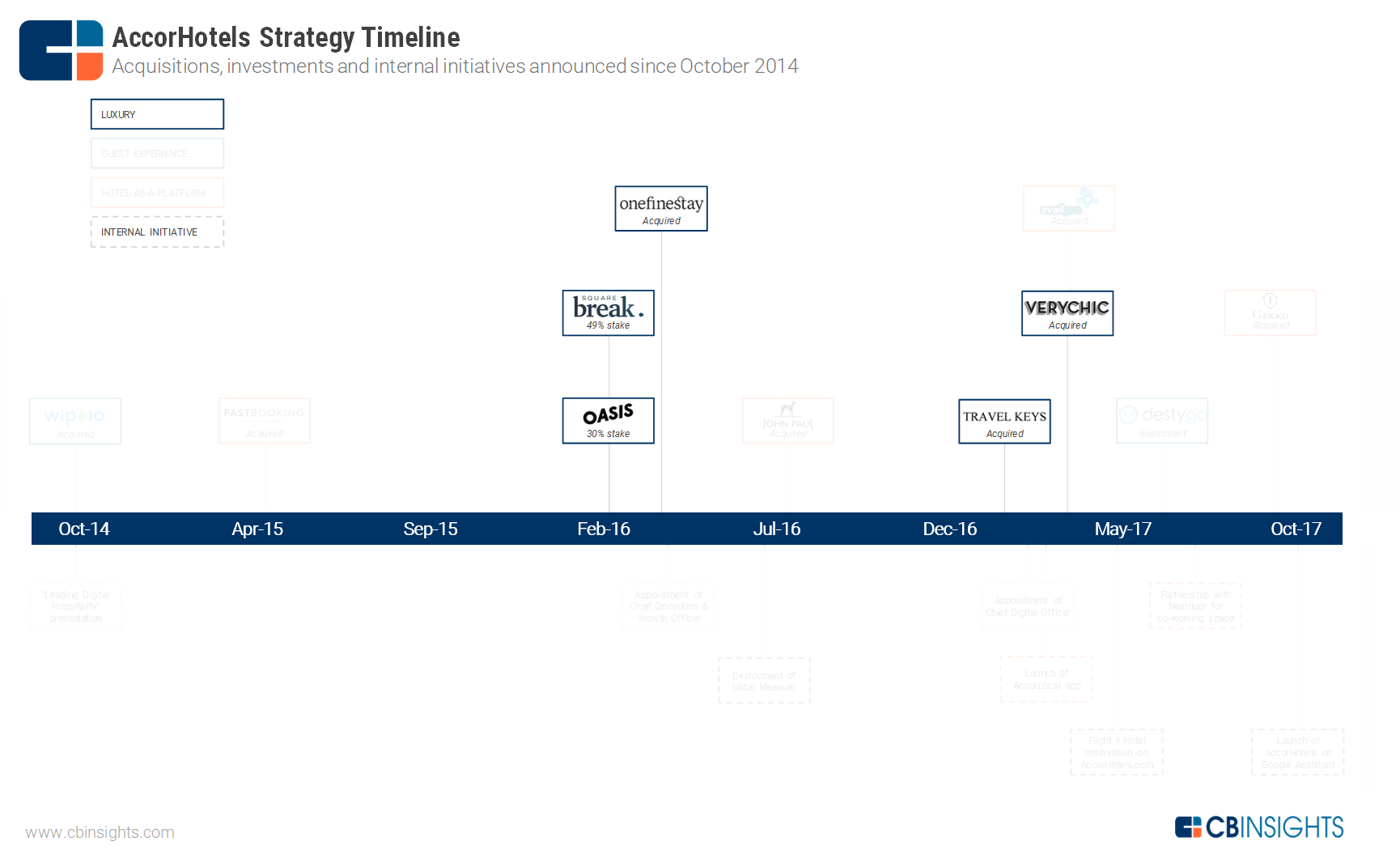 Since AccorHotels announced its ambition to add 400 high-end hotels to its portfolio back in 2013, it has spent $2.7B to purchase the Fairmont, Raffles, and Swissotel luxury hotel brands; partnered with successful Asian hotel brand Banyan Tree; and announced several appointments to beef up its luxury development team.
"This is where the stickiness is the greatest with the client because they are more loyal to a very luxury brand." — Sébastien Bazin, CEO of AccorHotels, May 2017.
Not only does the luxury segment benefit from higher customer loyalty, but its economics are also more attractive: AccorHotels revenue per available room (RevPAR) in luxury was almost twice as much as for midscale and close to three times as much as for economy during the first 9 months of 2017. Excluding acquisitions and divestments, AccorHotels luxury brands saw the highest growth of all 3 segments in RevPAR, at 5.1% over the period.
Beyond growing in the traditional luxury hospitality segment, the French hotelier has made a significant push into the luxury rentals market acquiring UK-based onefinestay and US-based Travel Keys after taking a minority stake in Oasis and Squarebreak of which it purchased the remaining shares in 2017. Earlier this year, AccorHotels divested its stake in Oasis, according to reports.
London-based onefinestay was acquired in 2016 for £117M ($170M) with the promise to inject an additional £50M ($70M) over the next few years to further scale the company. The startup had raised over $80M since it was founded in 2010, from investors such as Index Ventures, Canaan Partners as well as AccorHotels' rival Hyatt, among others.

Following AccorHotels' push into the luxury segment of the sharing economy Airbnb acquired Canadian luxury rentals startup Luxury Retreats in Q1'17 for $200M, confirming the attractiveness of the luxury vacation rentals market where higher-priced listings lead to greater profit margins.
AccorHotels has built a significant position in the luxury segment of the home-sharing market, before Airbnb even entered it. Although it remains to be seen if AccorHotels will benefit from a first mover advantage, it now has a stake in Airbnb's turf, while few other traditional hospitality players have home-sharing brands under their umbrella.
In July this year, AccorHotels announced the grouping of Travel Keys, Squarebreak, and onefinestay under the onefinestay umbrella, creating one of the largest luxury private rental markets with over 10K properties worldwide. Airbnb has recently been rumored to be in talks with Wyndham over Wyndham's European vacation rental business in order to further expand into the luxury segment as well.
As you can see in the chart, AccorHotels' luxury rentals business beats other startups in the space and Luxury Retreats, Airbnb's new brand, in terms of total listings.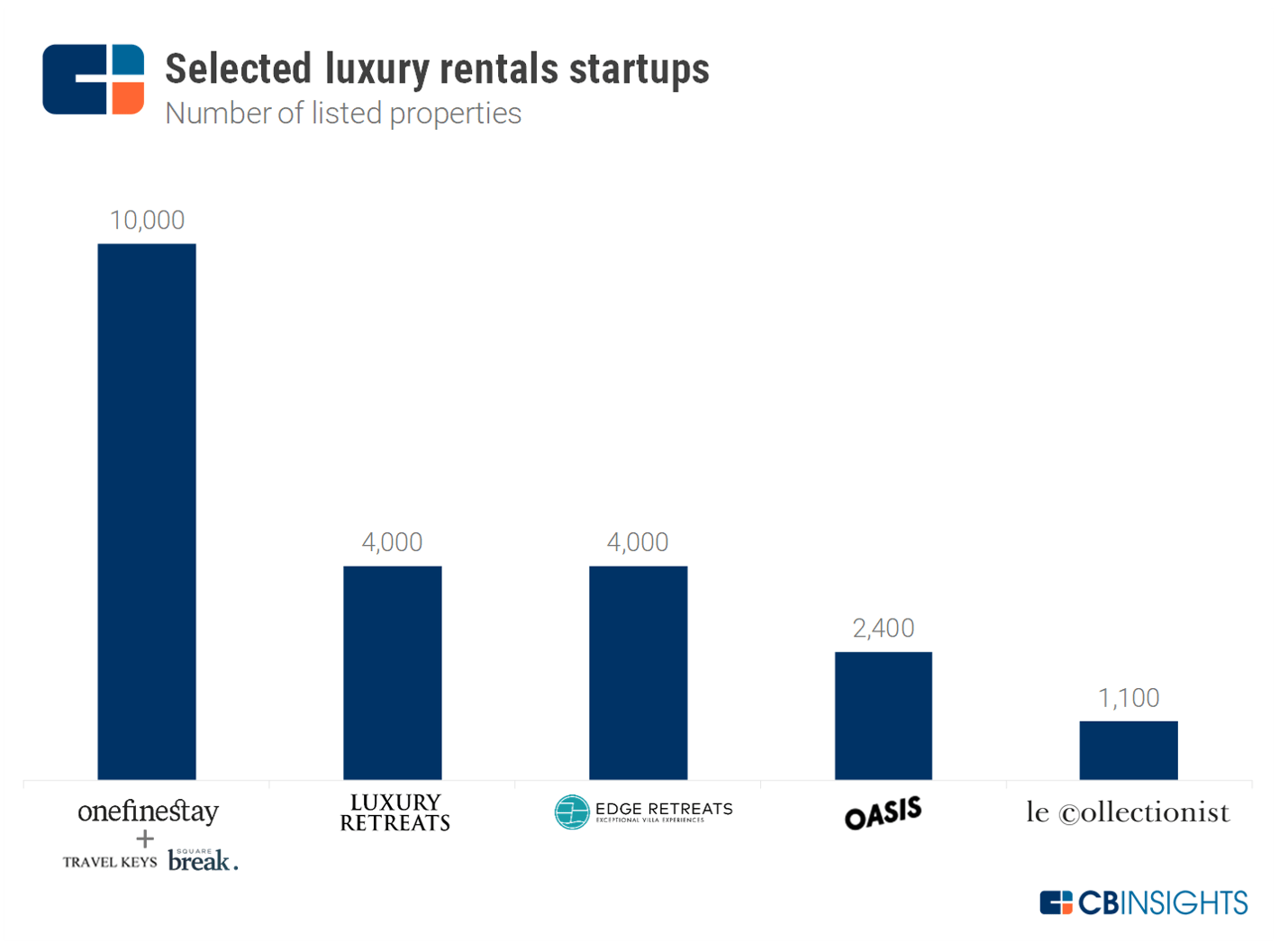 AccorHotels continued its luxury acquisition spree by buying VeryChic (acq. Q2'17), a bootstrapped Paris-based booking platform for handpicked luxury hotels and holiday packages claiming 5M members.
Beyond acquiring other luxury booking and home-share startups, AccorHotels also purchased concierge platform John Paul in Q4'16. The platform offers luxury concierge services to select clients. If opened up to all AccorHotels' luxury travelers, John Paul could help drive customer loyalty and create another retention incentive.
HOTEL-AS-A-PLATFORM: ACCORHOTELS FOR EVERYONE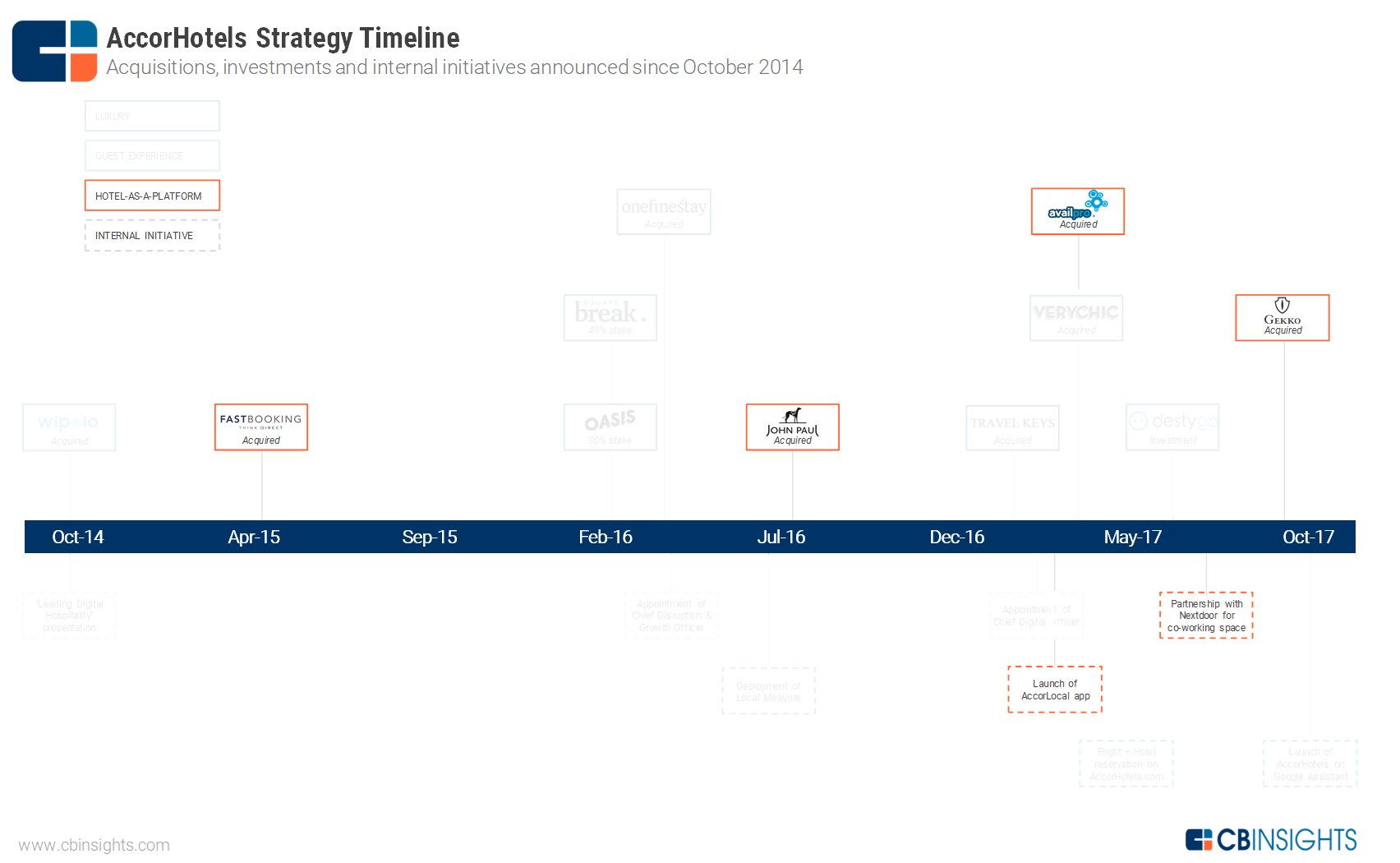 During an analyst call at the beginning of the year, CEO Sébastien Bazin confirmed that he would keep pursuing a diversification strategy that we broadly refer to as the hotel-as-a-platform approach: AccorHotels before stay, during stay, and after stay, for guests and non-guests alike.