From touchless kiosks to using your face as a passport, here are some of the innovations helping to keep passengers safe while at the airport.    
Air travel took a hit from the Covid-19 pandemic, and still hasn't recovered. 
The number of travelers in the US alone is down well over 50%, according to the TSA, as concerns around safety on planes and in airports still weigh on potential customers.  
25 Industries & Technologies That Will Shape The Post-Virus World
Get the free download to learn how industries are using tech to reimagine nearly every facet of their operations.
Airports continue to look to low-tech solutions like masks and social distancing to help reduce the risk of Covid-19, but some are also turning to technology to boost safety and bolster consumer confidence.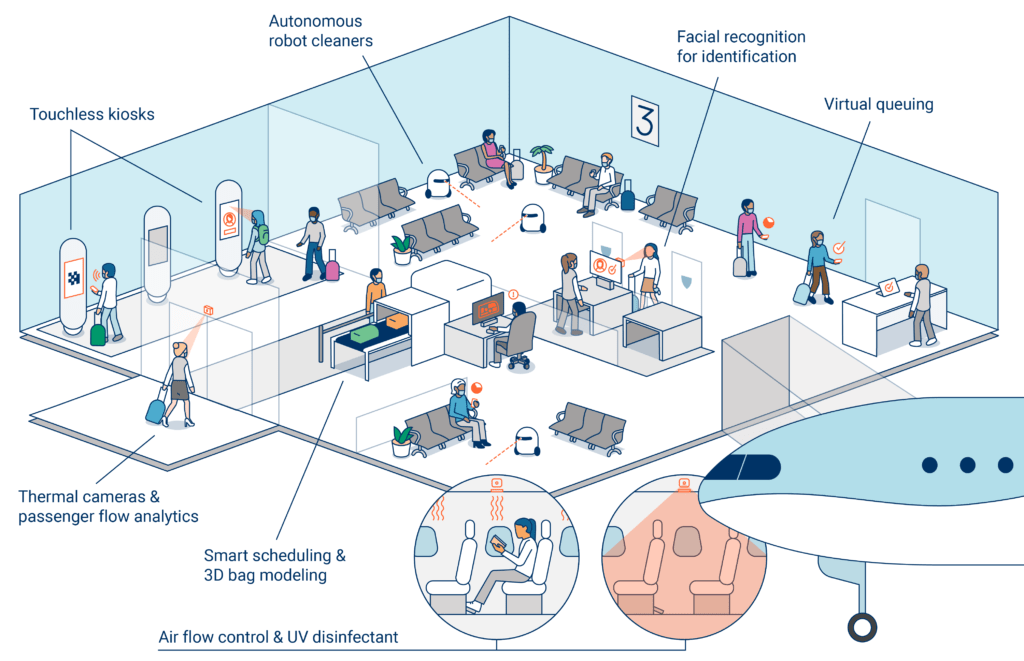 Below, we take a look at some of the technology aiming to make the passenger's journey through the airport safer during the pandemic.  
Entry: Thermal cameras & passenger flow analytics
Some airports are turning to thermal cameras to reduce the risk of infectious passengers entering the building by flagging those with potential fevers. Though not all individuals with the virus show signs of a fever, thermal cameras could help to slow the spread of disease and are already being piloted by airports like Heathrow Airport in London.   
These cameras may also track passenger entry and exit, potentially allowing airport staff to identify high-flow areas and intervene when overcrowding occurs. 
Check-in: Touchless kiosks 
Much of the airport check-in process is already completed online or at touchscreen kiosks, without the need to interact with airline staff. However, some airlines are taking it one step further. Check-in can be facilitated by self-service kiosks equipped with no-touch features like voice and facial recognition. 
This tech can also be used for passenger virus screening. For example, Elenium Automation recently partnered with Amazon Web Services to launch a touchless self-service kiosk that includes vital sign detection technology — which can measure everything from heart rate to body temperature using infrared and thermal imaging — at airports.
Security checkpoint: Smart scheduling & 3D bag modeling 
The security line is high-risk, with plenty of opportunities to spread the virus, from crowded lines to removal of liquids and electronics to TSA agents handling IDs, tickets, and personal items. 
Some airports are exploring tech that schedules passengers into a security line to prevent overcrowding, or biometrics like facial recognition to keep TSA agents from handling passenger identification or tickets.
Others are looking into more advanced screening methods to reduce in-person baggage testing. For example, the TSA recently unveiled CT scanners at the Miami International Airport that create 3D models of bags to better detect dangerous materials or threats without having to handle the baggage. The scanners also allow passengers to leave electronics and laptops within their bags, removing an additional touchpoint and helping to reduce the threat of virus spread. 
Gate & common areas: Autonomous robot cleaners
Industrial roaming robot cleaners equipped with UV light to kill pathogens like Covid-19 may become regular sights at the gate. For example, the Pittsburgh International Airport was already using autonomous robot cleaners before the pandemic, but worked with startup Carnegie Robotics once the crisis started to add a UV-C component to the robots to sanitize the floors without exposing passengers or employees to the harmful rays.
This may help provide peace of mind for passengers and allow cleaning staff to focus their sanitizing efforts on more high-touch areas like door handles or handrails. 
Boarding: virtual QUEUING
Airlines have used mobile apps for years for booking and digital tickets, but they may play an increased role in the boarding process to prevent overcrowding. Upon boarding, airlines may implement individual boarding times that notify each passenger when it is their time to board, eliminating the long lines associated with getting on the plane. "Virtual queuing" apps could allow passengers to wait in line without being physically present, creating less crowding and more opportunities for social distancing.  
Airports may also use smartphones to alert passengers of high-flow, overcrowded areas throughout the building, allowing individuals to maintain social distance while navigating a potentially busy area.  
Plane: Air flow control & UV disinfectant 
Airlines are employing low-tech solutions to limit virus spread in planes, like requiring masks, keeping middle seats empty, and using high-strength disinfectant in between flights. Some are also looking to tech to reduce risk. 
Especially on longer flights, air flow is vital to preventing the spread of Covid-19. Most planes already use high-efficiency particulate absorbing (HEPA) air filters, which eliminate 99.99% of microbes. One company also created "air shields," or devices that attach to the air vents above each passenger and can reportedly direct air flow to prevent the sharing of respiratory droplets between passengers.  
UV rays are effective in killing the coronavirus, but the typical UV-C rays are dangerous to humans, with risk of cancer and eye damage, and can only be used when a plane is not in use. Far-UV-C light, however, has not yet been shown to have the same risk, and is increasingly viewed as a potential continuous disinfectant tool on planes. Boeing, for example, is testing an airplane bathroom prototype that uses far-UV-C light to continuously disinfect the area. 
Customs: Facial recognition for identification 
Instead of requiring a formal passport for ID verification, some governments and airlines are turning to facial recognition to reduce physical contact between flyers and employees to lower the potential spread of germs. This would allow travelers to use their faces to confirm their identity, speeding up the international entry process while reducing touchpoints for both travelers and customs agents. 
Though non-contact boarding and customs were already gaining traction before the Covid-19 pandemic, with companies like JetBlue, Delta, and Air France rolling out biometric boarding, interest in biometrics by airports and airlines is reportedly increasing. 
If you aren't already a client, sign up for a free trial to learn more about our platform.