The school year is already shaping up to be vastly different due to Covid-19. Here's some of the tech that may help speed up a return to normalcy. 
The Covid-19 pandemic has shaken traditional schooling systems. 
From group "learning pods" to blended in-person and virtual classrooms, plenty of new ideas are gaining traction to keep school safe for students, teachers, and the community.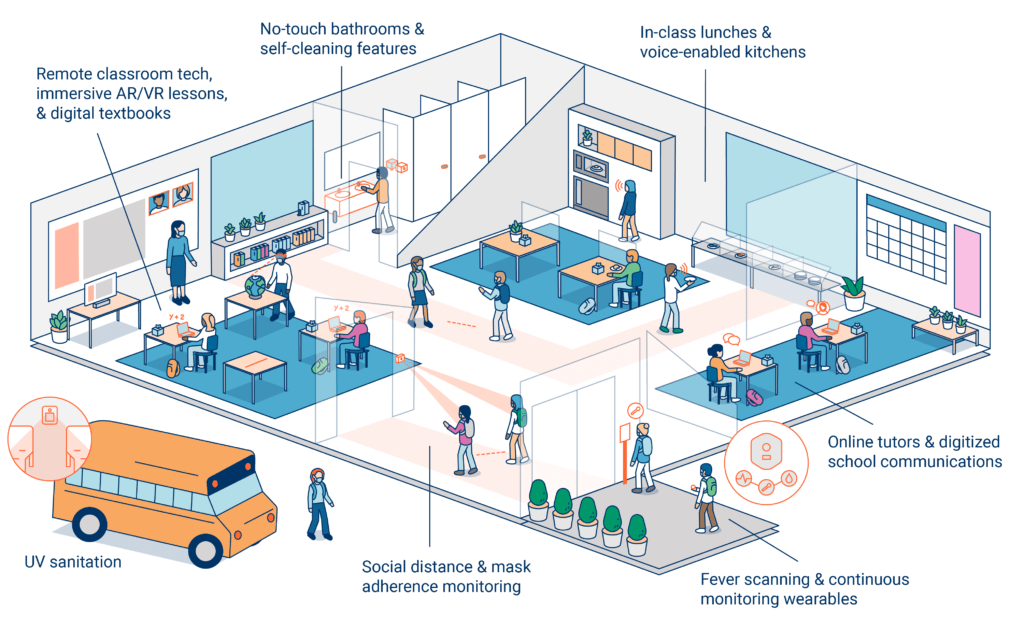 In order to reopen safely, many schools are already opting for low-tech and low-cost solutions like smaller class sizes, outdoor classrooms, plexiglass separators between students, and mandated social distancing. 
Some school systems are taking a step further and deploying new technologies aiming to ensure a safe environment in the classroom.
Below, we take a look at some of the technologies — from UV bus sanitation to self-cleaning toilets to AR/VR science lessons — that could help to reopen K-12 schools faster and safer amid the pandemic. 
Bus: UV sanitation
In a typical year, school buses transport more than 25M children to and from school, according to the American School Bus Council. 
The close quarters of school buses paired with their often poor air ventilation make them a prime location for virus spread. Furthermore, bus manufacturers recommend that only gentle soap and water be used to clean buses — typically not strong enough to effectively kill the Covid-19 virus — as stronger cleaners like bleach could harm the students on the bus and could deteriorate the materials used in seats. 
While there are some cleaning solutions that reduce the risk of Covid-19 infection and are safe for use within school buses, another solution may be UV sanitation systems, which use UV light to disinfect and sanitize spaces.
The New York City transit authority is using similar UV light systems to disinfect subway cars, and studies have shown that the technique is highly effective on certain surfaces like railings, windows, buttons, and hard seats, according to the American Public Transport Association. NJ Transit is also experimenting with the use of continuous UV light sanitation within its buses. These UV light sanitation devices, though expensive, may be effective if used across school transportation vehicles.  
Entry: fever scanning & continuous monitoring wearables
Some public school districts already employ facial recognition and other biometrics as security measures at school building entrances. However, these technologies can be repurposed to scan students at entry points for possible infection and prevent those that are potentially sick from entering. 
For example, facial recognition company PopID uses its technology to make payments and attendance convenient for students. Its fever-screening cameras are already being used in restaurants across the US and are likely to have use in educational institutions as they gradually open. Similarly, AI company Remark Holdings has a body temperature scanner that detects fevers and is reportedly deployed in a Las Vegas private school as well as in over 100 schools in China.  
Though temperature scans at the entry are one way to detect potential infection, fever detection may not be the most effective way to identify someone with the virus. In fact, in one study, 74% of Covid-19-positive patients did not have a fever.
Therefore, some schools are experimenting with continuous monitoring to prevent an outbreak.
The BioButton, developed by BioIntelliSense (part of CB Insights' 2020 Digital Health 150 cohort), is a coin-sized disposable wearable that continuously monitors a user's vital signs like temperature, respiratory rate, and heart rate, providing a "cleared" or "not cleared" status for each user before leaving for school or work every morning.
The button also reportedly assists with contact tracing for Covid-19 — it can track a user's proximity and duration of exposure to a Covid-positive user, potentially reducing the burden on administrators. 
Classroom: remote classroom tech, immersive AR/VR lessons, & digital textbooks
The classroom is potentially the most challenging area for containing the spread of the coronavirus, as students and teachers spend the day in close contact in an enclosed space. Some schools are looking to hybrid learning tech, AR/VR, and digital textbooks to help contain the spread.   
Remote classroom tech 
Many school systems are looking at hybrid solutions for learning this year, where part of the week or school day is completed online while part is completed in school. For this to work, schools' online learning systems need to allow for seamless integration of in-person schooling, to make sure that students aren't falling behind when online. 
Learning management systems (LMS) help teachers deliver online lessons, share reading materials, and grade assignments.
These platforms can streamline much of the work for teachers by centralizing a number of features on one platform, including the tools needed to run a virtual, hybrid, or in-person classroom, as well as assisting with tracking student progress and connecting with parents. 
Larger companies like Google and smaller startups like Nearpod — which helps K-12 teachers create lessons through pop quizzes and virtual reality field trips — are offering LMS products to schools across the US. 
AR/VR instruction 
More dynamic content and individually targeted lessons could help reduce contact between students and make more impactful learning experiences. 
Augmented reality and virtual reality (AR/VR) instruction can remotely bring science classes and labs to life. For example, zSpace uses AR to help students experience virtual labs across math and science topics like anatomy, basic chemistry, and the elements. 
Some startups are using gamified learning to capture students' attention: Classcraft Studios' digital games develop skills like critical thinking and collaboration, whereas Prodigy Education uses digital games to teach math. 
Digital textbooks
Removing the need to share physical books and materials, digitized content could become more common — especially if it also makes the content more engaging. 
For example, BibliU helps libraries and universities build out their e-book collections with digital features like text-to-speech and tagging. Similarly, Kognity focuses on creating interactive e-books for specific school programs. 
Hallway: Social distance & mask adherence monitoring
School systems that can afford to purchase or repurpose existing school monitoring tech are turning their attention to crowded school hallways to prevent the spread of Covid-19. 
By evaluating the flow of students across the day, schools can gain insights on how best to prevent overcrowding or how to schedule classes to prevent social distancing violations.   
Actuate, for example, uses AI-based video analytics to make sure individuals are staying 6 feet apart or to confirm that they are wearing face masks. Though the company offers this tech to enterprise clients, it reportedly has about 1,000 schools interested in the product. 
Bathroom: No-touch bathrooms & self-cleaning features 
From soap-dispensing toilet seats to hand-washing stations, the school bathroom is a place that can either help to prevent or help to spread the coronavirus. 
Every toilet flush can spread germs as far as 6 feet. For crowded school bathrooms without floor-to-ceiling partitions between each toilet, one option is to mark off every other stall to ensure proper distancing.
Another option is from Idaho-based startup Washie, which has created a toilet seat that dispenses cleaner from a sensor, potentially allowing students to clean the seat before use. 
For other high-touch areas like the sink, touchless features are ideal. Since the outbreak of Covid-19, many Americans prefer using public bathrooms with touchless features, according to a study by Bradley Corp. Self-cleaning handles and adhesive covers could also contribute to keeping schools as germ-free as possible.
Health authorities recommend frequent hand washing to prevent the spread of Covid-19, but younger students may struggle to wash hands effectively. PathSpot's solution, which has individuals place their hands under a scanner after washing, can detect whether pathogens are still present in two seconds. 
While initially designed for the foodservice space, the scanner can be used by establishments in other sectors. The company reports that businesses using its technologies see a 3x increase in handwashing — this could apply to children as well, making handwashing stations more effective and reducing risk, especially for younger students.
Cafeteria: In-class lunches & voice-enabled kitchens
Lunchtime for students, where large groups are crammed into small spaces without masks, is a potential hotbed for virus spread. There are plenty of low-tech and relatively inexpensive options to reduce this risk. 
For example, many US school systems have already discussed plans to host lunch within the classroom, providing students with grab & go meals at the beginning of the day. For others, staggered lunch times may help to mitigate the spread risk without relying on new or expensive technology. Schools in South Korea have separated students with plexiglass shields as they eat to prevent further spread in close quarters. 
However, if some schools opt to adopt similar technology as in the office, low-touch or voice-activated cafeterias could gain some traction. 
For schools concerned about the safety of harsh cleaning chemicals around food, startup Sanitizit makes a quick-drying disinfectant that is safe for food preparation areas.
Voice technology could also let teachers, administrators, or students use appliances without needing to touch handles and buttons. Sensory has been developing this kind of solution with appliance makers such as Midea. Equipped with Sensory's software, Midea's microwave can be opened and asked to heat food at a specific temperature for a specific amount of time with voice commands.
After School: online tutors & digitized school communications
Some after school activities like tutoring or extracurriculars are shifting online to reduce in-person contact, and some companies are working toward making that shift more seamless for students, parents, and teachers.  
Online tutors 
Several online platforms provide education that acts as a supplement to learning offered in schools and universities. These platforms and services can also allow students to get extra help or explore areas that they are interested in on their own time. For example, China-based Squirrel AI is an adaptive learning platform providing personalized tutoring for K-12 students. It claims that its "simulated human teacher" is 5-10x more efficient than traditional instruction.
Various online services can also reduce the need for in-person homework help, while often providing cheaper and more flexible options. This includes on-demand online tutors, such as through Varsity Tutors, Preply, and Easy Tutor. 
Digitized communications 
To avoid sending home papers and offer more dynamic connections, more teachers may use mobile devices to interact with parents and students. Companies such as Remind, Bloomz, ClassTag, and ParentSquare offer smartphone-based platforms to help centralize and manage grade school communication, including features like urgent alerts, attendance information, permission forms, messaging conversations, and general updates.
If you aren't already a client, sign up for a free trial to learn more about our platform.