Renewable energy funding has slowly expanded in recent years, though the industry has seen setbacks in 2020. Below, we look at where investors see opportunities in renewable energy tech.
The renewable energy tech space — which includes companies working with solar, wind, and green hydrogen power sources — has felt the effects of pandemic-induced economic uncertainty.
The industry is currently on track to reach about 155 deals in 2020, which would make it the least active year since before 2015. 
However, solar, wind, and biofuels are playing a growing role in global power generation. In 2019, renewable energy consumption and production in the US reached record highs, with renewable energy making up 17% of the country's total electricity generation. In Q1'20, 28% of the world's electricity was produced from renewable energy sources, the highest share in the past two decades.   
Despite the 2020 lull in deals, funding to the space has trended upward over the past 5 years, reflecting renewable energy's growing role in society. We take a closer look below.
Despite 2020 decline, funding has grown in the last 5 years
The renewable energy tech space has edged ahead over the last 5 years, with funding growing at a nearly 9% CAGR from 2015 to 2019. During this period, investors poured $7.9B across 988 deals.  
However, year-to-date (YTD) deal activity has dropped: through mid-October, VC investments in the space are at 124 deals. 2020 is projected to have the lowest funding and deal activity since 2015.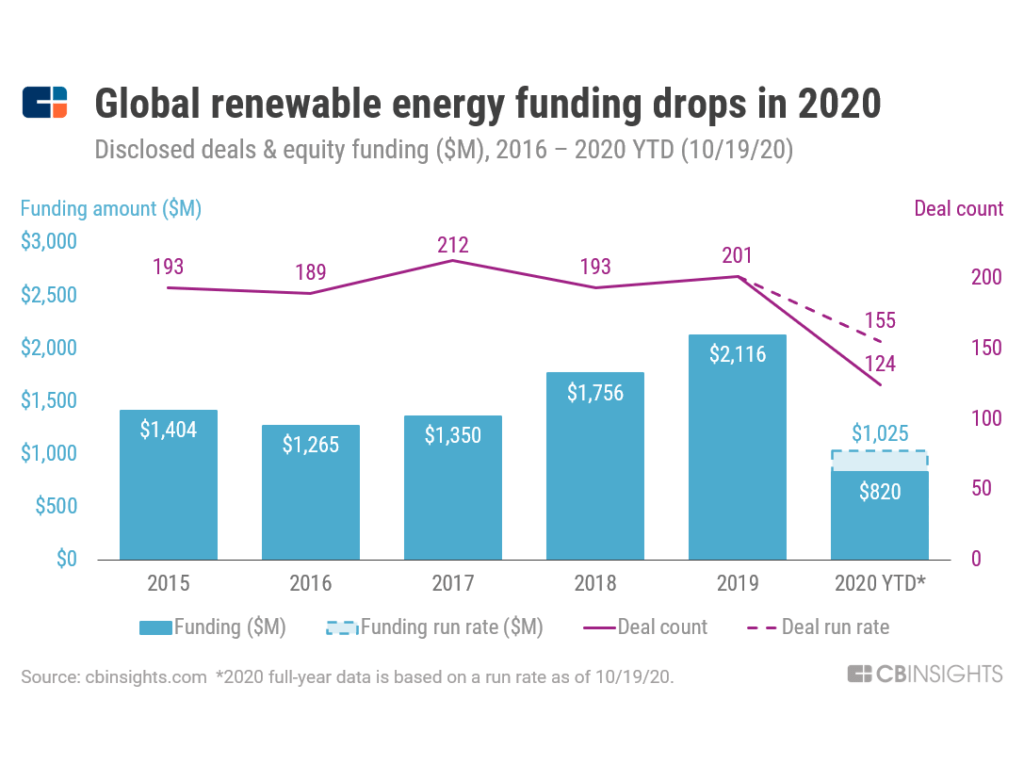 As governments and corporations work to decrease emissions, they are relying on a mix of renewables. While hydropower, wind, and solar generate most renewable energy, investors are betting on a wide variety of renewable sources. Notable deals from 2020 include:
Nuclear fusion power developer

Tokamak Energy

raised a $87.4M unattributed VC round

Solar software and fulfillment platform provider

Palmetto

raised a $4.4M Series A and a $29M Series B 

Residential geothermal company Dandelion Energy raised a $12M Series A tranche