Investors are funding the renewable energy ecosystem at record highs, supporting startups installing EV stations globally, discovering new thin-film materials, and developing energy management software. We analyze the cohort of top investors below.
Renewable energy is increasingly powering electricity generation globally and is forecast to grow 7% in 2020. Consumers are also concerned about how their homes are powered. For instance, over 40% of Americans prefer renewables-powered utilities over less sustainable options, like natural gas or coal, according to Escalent. 
Investors recognize this: global VC firms and CVCs are continuing to fund startups innovating in the renewable energy ecosystem, including infrastructure, power generation, storage, and energy management software. 
As of December 2020, renewable energy investors have backed 529 deals, a 14% increase from 2019. By year-end, deals and total funding in the space are on track to hit the highest levels in the last 5 years.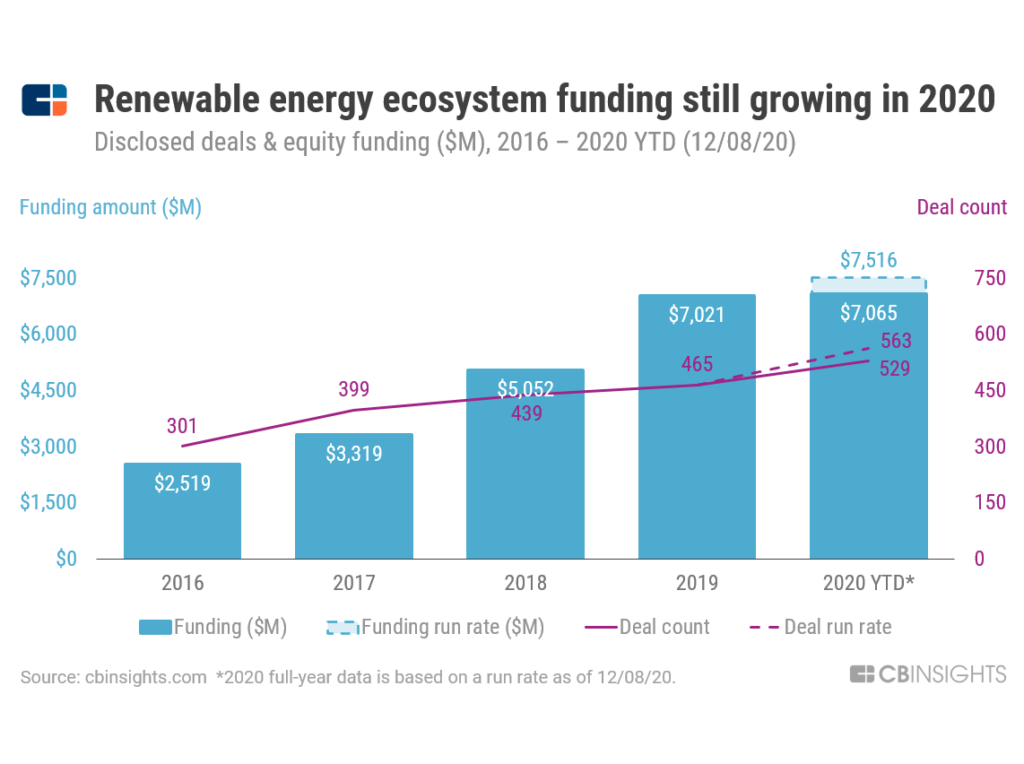 Below, we look at investment activity by top investors funding renewable energy technology, which we define as investors funding 10 or more deals in the space since the beginning of 2016. 
The full top renewable energy investor list is presented at the bottom of this post.
TOP INVESTORS IN THE RENEWABLE ENERGY ECOSYSTEM
Shell Ventures, EIT InnoEnergy, Energy Impact Partners, and Total Carbon Neutrality Ventures are the most active investors in the renewable energy ecosystem. They illustrate the breakdown of the top investors: sustainability-focused VCs and energy and industrial CVCs.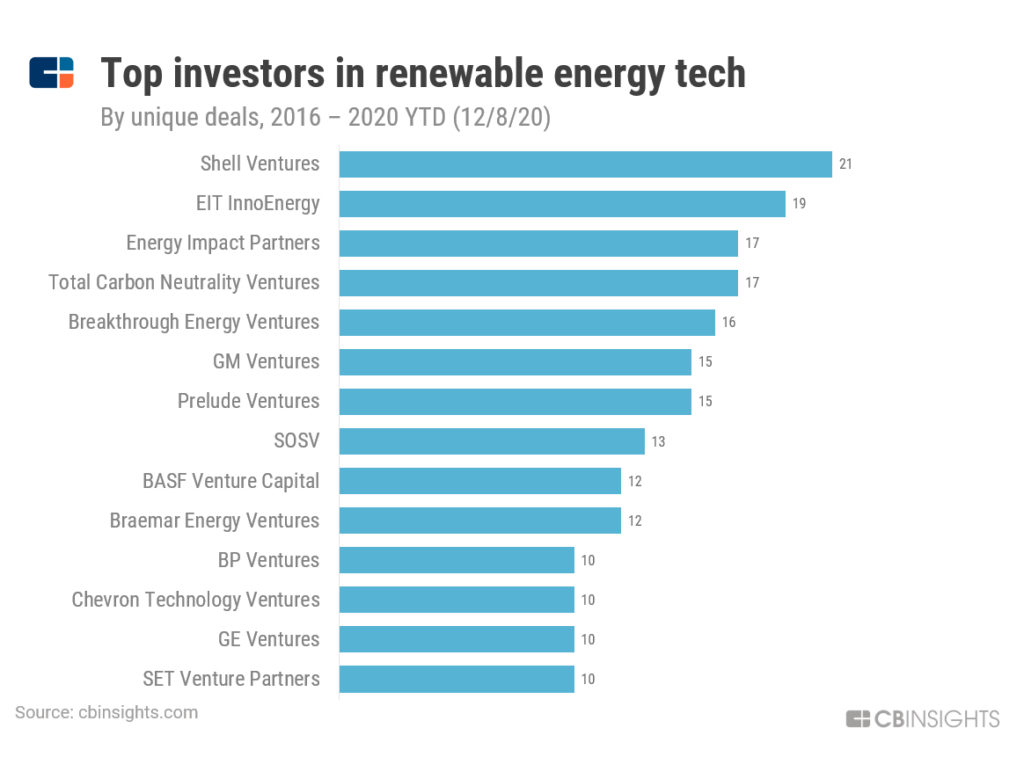 Shell Ventures – the oil and gas giant's venture arm – plays an integral part of the company's growing sustainability plan, particularly as its energy peers have started to invest more heavily in renewable energy, mobility, and other related technologies. 
With the spotlight on sustainability, Shell's venture arm can swiftly and strategically invest in and acquire startups to fortify the parent company. For instance, Shell Ventures fully funded energy storage company sonnen's Series E round in 2018, and its parent company, Royal Dutch Shell, ended up purchasing the startup in early 2019. 
EIT InnoEnergy is the EU's energy-focused innovation fund. It's working to help startups that will strengthen the renewable energy ecosystem — over 80% of deals funded by EIT InnoEnergy in our dataset went to early-stage startups in the last 5 years. For example, EIT InnoEnergy participated in solar startup SunRoof's seed VC round in late 2020 and blockchain energy management startup Flexidao's Series A round in mid-2019. 
Similarly, Energy Impact Partners (EIP) focuses on technologies to bolster clean energy. EIP partners with energy and industrial companies, including companies like Avista, Duke Energy, and Evergy, to invest in clean tech. Notably, Microsoft joined EIP's partner network in mid-2020, following the announcement of its Climate Innovation Fund in early 2020. 
EIP participated in Sense Labs' Series A, B, and C rounds in the last 5 years — enabling the company to expand its team, improve its product, and, more recently, broaden features to include repair and maintenance notifications and energy-saving automation.
Total Carbon Neutrality Ventures (TCNV) — the venture arm of France-based energy giant Total — has also actively invested in clean tech as the corporation makes strides to grow into a renewable energy leader. 
TCNV focuses on investing in low-carbon energy startups, a category that includes renewable energy, energy management software, and energy storage. For instance, TCNV participated in emerging market microgrid startup Powerhive's Series A and B, helping the company expand its reach within Kenya.