Market Map
From project management tools to video chat apps, we map 65+ startups enabling the remote workforce.
In recent years, enterprise collaboration tools have become a white-hot category for tech, culminating in a number of high-profile IPOs from startups like Slack, Atlassian, and Zoom. 
Now, the opportunity is growing even faster than imagined. Worldwide social distancing is normalizing remote work at an unprecedented rate. Zoom, for instance, reported that its video conferencing platform's daily average users (DAUs) jumped from 10M to 200M in just 3 months.
Despite the recent tailwinds, truly replacing the office experience will require new and better tools. Below, we used CB Insights data to identify over 65 startups working to enable remote work.
This market map consists of private, active companies only and is not meant to be exhaustive of the space. Categories are not mutually exclusive, and companies are mapped according to primary use case. You can find all of these companies and more in our Work From Home Collection.
Please click to enlarge.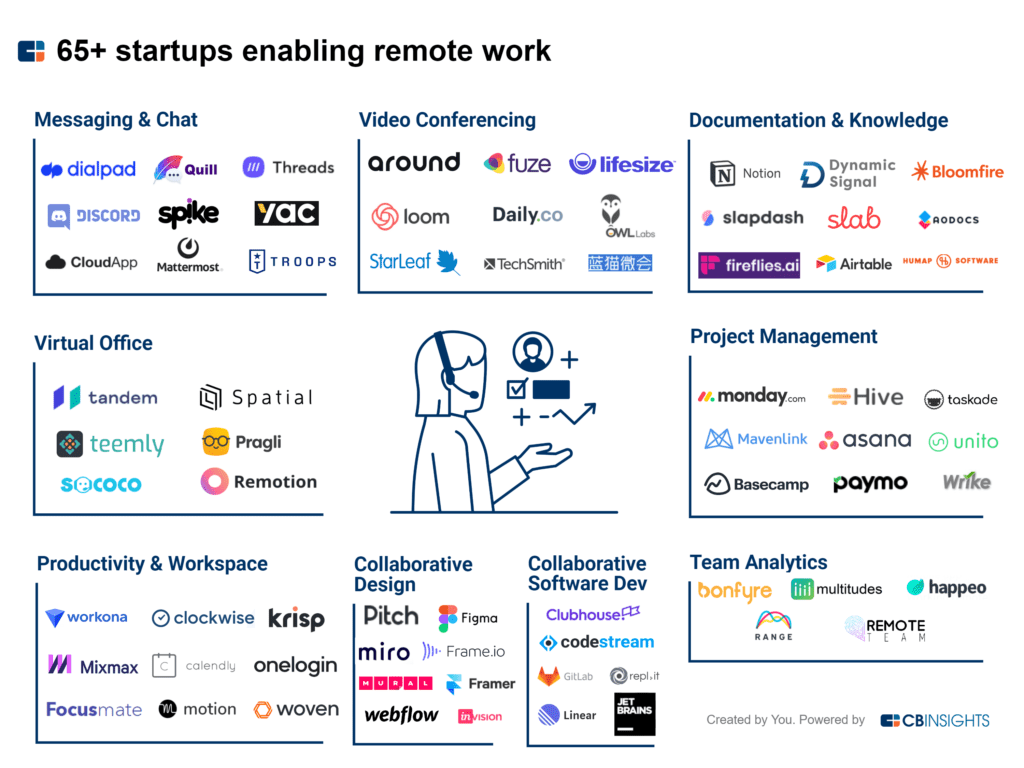 For clients with access to Market Map Maker, you can customize this map yourself here.
CATEGORY BREAKDown
Messaging & Chat: Threads ($11M in total disclosed funding) and Quill ($15M), both based in San Francisco, CA, are taking on established players like Slack and Microsoft Teams with their chat and communication platforms. Companies like Dialpad ($121M) work on enterprise voice and telephony solutions. Also in this category are startups like Yac ($1.8M), which offers a voice-based enterprise chat tool. 
Video Conferencing: This category includes startups challenging enterprise video apps like Zoom and Skype, such as cloud-based conferencing platform Fuze ($481M). Around ($5.2M), which enables video meetings, recently raised a Series A round with backing from Initialized Capital and Naval Ravikant. Adjacent to real-time conferencing, the enterprise video app Loom ($45M) enables asynchronous video messaging in workplaces.
Documentation & Knowledge: Companies in this category offer software to track internal processes or make wikis (websites that allow collaborative editing), similar to Atlassian's Confluence product. For example, Notion ($67M), which was most recently valued at $2B during its Series A, makes a documentation hub for teams.
Virtual Office: Where other startups are providing specialized tools, the virtual office category encompasses tools that act as a "digital water cooler" where workers meet and collaborate. Tandem ($8.8M) is a virtual office that enables workers to see what teammates are doing in real time and jump in on projects. Spatial ($23M) similarly provides a digital workspace, although with the addition of AR/VR capabilities.
Project Management: This category includes startups that provide tools to manage tasks and to-dos. Monday.com ($234M) is the most well-funded in the group and is currently valued at nearly $2B. In addition, there are a number of well-funded competitors like Asana ($212M) and Mavenlink ($117M), as well as newer names like Hive ($16M). 
Productivity & Workspace: This category encompasses light tools and add-ons that can make office work more efficient. Represented here are novel calendar apps like Clockwise ($11M) or scheduling software like Mixmax ($12M) and Calendly ($0.4M). SSO tools like OneLogin ($162M) help workers save time on logins. Finally, Focusmate ($0.8M) and Motion ($0.2M) develop tools that help eliminate distractions.
Collaborative Design: This category encompasses startups making design tools — often emulating programs like Photoshop, PowerPoint, and Final Cut — that feature real-time collaboration similar to a Google Doc. Figma ($83M) and InVision ($351M) are both prototyping tools, while startups like Frame.io ($84M) enable collaborative video editing.
Collaborative Software Dev: Companies here help software developers to work more efficiently. For example, Clubhouse ($39M) is a specialized project management suite, while Linear ($4.2M) makes an issue tracking system.
Team Analytics: Alongside project management tools, startups in this category track and provide high-level insights around engagement and communication. For example, Range ($8.3M) helps strengthen culture by tracking check-ins.
If you aren't already a client, sign up for a free trial to learn more about our platform.