Munich Re and its subsidiaries have been more active than rival Swiss Re on the startup investment and partnership front.
In 2016, we put together the following chart highlighting the pace of investments and partnerships by Swiss Re and Munich Re, the two largest reinsurers in the world:

A lot has changed in two years. In its November 2017's Investor Day, Munich Re said it had struck partnerships with over 30 technology startups employing a managing general agent business model through its Digital Partners program. Meanwhile, Swiss Re has spent the past several months in discussions with SoftBank about a possible multi-billion dollar investment with the promise of strategic partnerships with SoftBank's growing investment portfolio.
Both have stressed the impact of technology on the insurance industry in coming years. Ahead of Swiss Re's Investor Day, CEO Christian Mumenthaler said:
"Technology will fundamentally change the insurance value chain over the coming years. I am convinced it will blur industry boundaries and shift insured risks between insurance lines. Swiss Re's tech strategy aims to access new risk pools and manage existing ones more effectively."
Here we take a look at the different investment and partnership strategies Swiss Re and Munich Re have taken with technology companies.
Overall, Munich Re has thus far been a more active investor and partner of tech startups engaging customers digitally and developing new approaches to insurance products than its rival. While speculation over a potential SoftBank-Swiss Re deal could change that over time, Swiss Re has focused most of its recent partnerships on data analytics and risk assessment.
Munich Re
Investments
Munich Re and its corporate venture arm Munich Re/HSB Ventures have disclosed 11 startup investments. Many of these are industrial-focused and strategic to Hartford Steam Boiler, the largest provider of equipment breakdown insurance and related inspection services in North America. In some cases, these startups also announced they would look to craft customized insurance products with Munich Re. These include industrial IoT platforms Relayr and Mnubo, which created a commercial partnership with Munich Re to create risk management products for Mnubo's customers making IoT investments as well as WePredict, which planned to co-develop an insurance solution with Munich Re backed by the auto warranty analytics startup's risk calculations.
Other investments are partnered with Munich Re Digital Partners for insurance capacity, product development and data analytics. These include Next Insurance, Trov, Bought By Many, Neos and Slice Labs. Other US startups Munich Re has partnered with but not invested in include renters and surety startup Jetty, cyber insurance company At-Bay, and TLC driver insurance app Inshur, which recently said it had done $3.5M in gross written premium for its first month.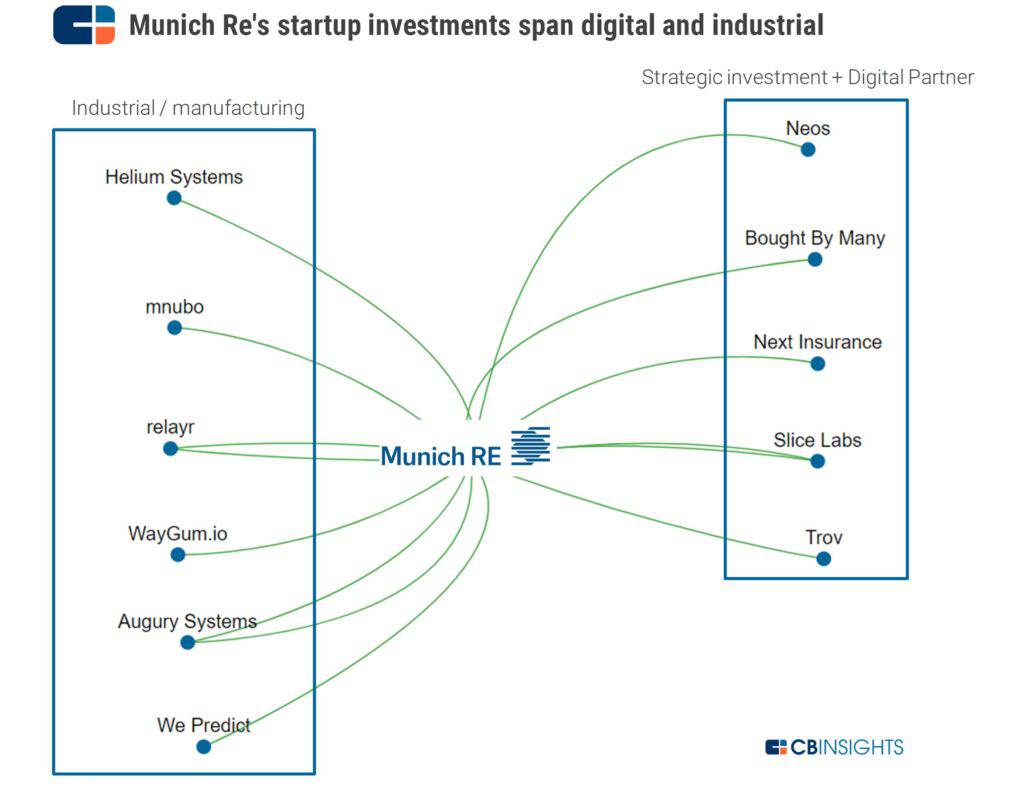 Partnerships
On the partnership front, Munich Re has become much more active in Europe over time when it comes to providing startups with insurance capacity and other services. Munich Re has added European startup partners across areas including invoice insurance, gap insurance, home insurance, pet insurance and more. Of course, it's unclear how many of the startups will eventually succeed — flight insurance partner Blink, for example, was acquired for an initial €1M a few months after announcing its partnership.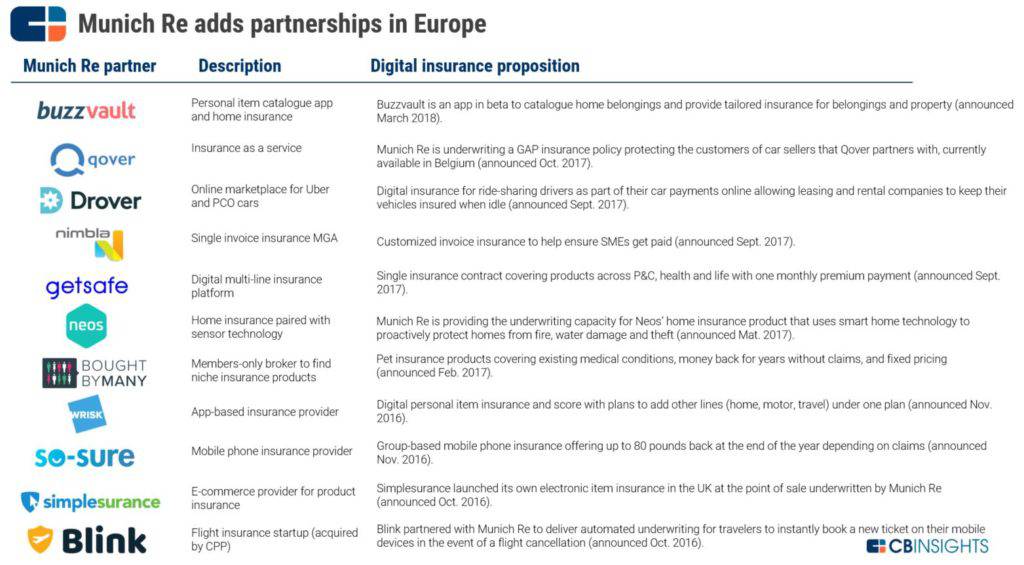 Other select partnerships Munich Re has announced since the start of last year include Hyperloop Transportation Technologies and Mobileye in mobility, Bosch in industrials, and Bestow and Tictrac in life insurance distribution and health engagement. Carrier startups Munich Re is reinsuring include Lemonade and Root in the US and One in Europe.
Swiss Re
While a potential tie-up with SoftBank has many wondering about what types of strategic partnerships might be struck with SoftBank's portfolio, Swiss Re has so far been less active on the startup investment and partnerships front.
Investments
In December 2017, Swiss Re CEO Christian Mumenthaler told the FT he was skeptical of the potential for startup investments, explaining:
"If we see a start-up that can help us, either it's very strategic and then we would buy them 100 per cent or copy what they do, or if it's not that strategic then I think we can collaborate with them. But investing 10 per cent, 15 per cent, 20 per cent in them, I can't make a case. We're not a VC fund. I don't see why my investors would prefer me to do that versus them making it."
Still, Swiss Re has made a handful of startup deals over the last few years. These include health engagement app Sharecare, personal data exchange platform Digi.me and wearable physiology monitoring company Biovotion, all of which took place in 2016.
These do not include grants made by Swiss Re's Bangalore-based InsurTech Accelerator.
Partnerships
Swiss Re has gotten more active on the partnership front as of late with companies providing data analytics and risk assessment solutions. These include:
LifeScore Labs: The MassMutual entity partnered with Swiss Re in March 2018 to offer the mortality risk scoring solution as an additional analytics option for Swiss Re's automated underwriting system, Magnum. In addition, Swiss Re will reportedly support the use of LifeScore360 in life reinsurance transactions in the U.S.
SpatialKey: In February 2018, the Denver-based company, which provides a geospatial insurance analytics platform, integrated Swiss Re's CatNet hazard data directly into SpatialKey, giving insurers using the platform access to 10 hazards including flood, earthquake, tsunami, wind, and hail.
Vandersat: The Dutch satellite imagery startup for agriculture partnered with Swiss Re in March 2018 to help create new parametric crop insurance products and work on Swiss Re's farm management software platform, opti-crop.
On the digital insurance side, Swiss Re has partnered with US-based Coalition, an MGA startup that provides up to $10M in cyber liability coverage, as well as App in the Air (which teamed up with Swiss Re and Chubb on a real-time flight delay insurance) and Cuvva (which partnered with Swiss Re to offer pay-as-you-go car insurance to drivers in the UK. Quilt, a US-based digital renters insurance startup, had previously teamed up with Swiss Re's Lumico Life to offer term life insurance though the partnership appears to have since ended.
If you aren't already a client, sign up for a free trial to learn more about our platform.