Regtech deals have hit 100+ for four consecutive years, and are on pace to reach a new high. 
Deals to regtech startups have increased steadily (if at times slowly) over the past few years, from 83 deals in 2013 to 147 last year. At the current run rate, deals in 2017 are on track to hit a new high, while funding is on pace to grow 14% to nearly match record funding levels set in 2015.
That 2017 is shaping up to be a big year for regtech is not surprising, considering the macroeconomic drivers affecting the space — including the increasing demands of the regulators and the large volume of regulation that companies are required to be in compliance with.
These select drivers, among others, were covered in our state of regtech briefing, and have driven companies to increasingly turn to new regulatory technology to navigate a shifting regulatory landscape. (You can see 100+ startups innovating in this area in our regtech market map.)
Using CB Insights data, we dug into deal and funding trends to regtech startups, 2013 – 2017 YTD (9/10/17). We define regtech as companies that focus on simplifying and streamlining compliance, risk management, reporting, data management, regulatory processes, filings, and more.
ANNUAL FINANCING TRENDS
In 2017 YTD, regtech startups have seen 103 deals worth $894M in disclosed equity funding. At the current run rate, deals in 2017 are on track to reach a new high of 148 (up slightly from 147 in 2016). Funding is also on pace to grow, potentially bringing total disclosed equity investment over the last 5 years to more than $5B.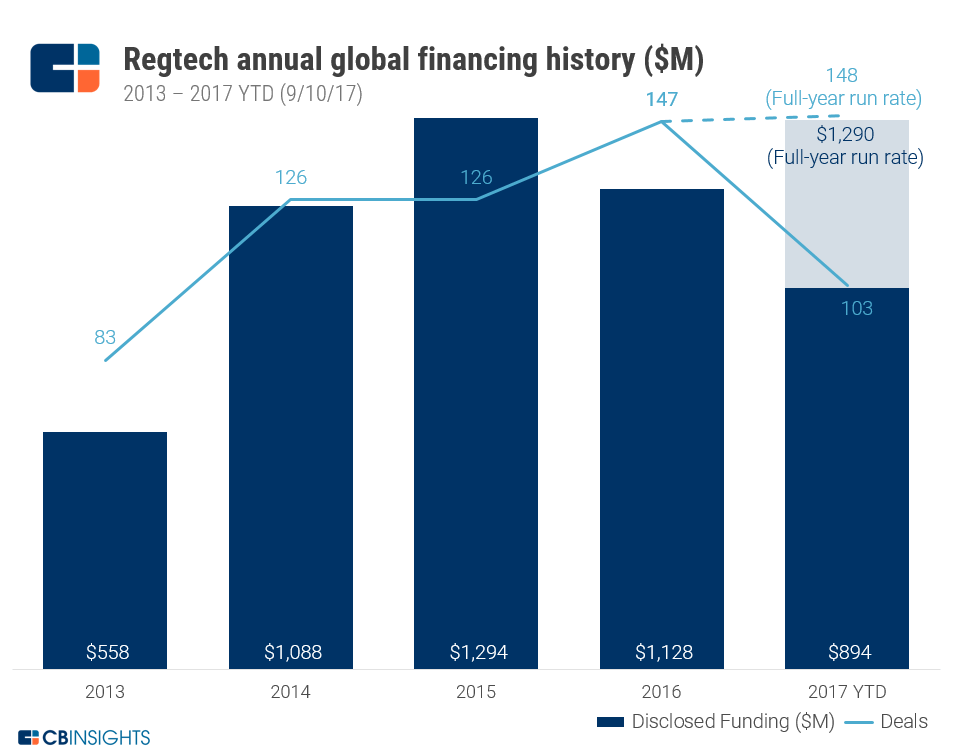 The largest investment so far in 2017 went to Druva, a cybersecurity company that provides data governance software for information security compliance. The startup raised a $180M Series F earlier this quarter, with backing from Sequoia Capital India, Nexus Venture Partners, Riverwood Capital, and Tenaya Capital.
Regulatory technology
Startups are changing how companies comply with regulations globally. Look for Regtech in the Collections tab.
Track regtech startups
QUARTERLY FINANCING TRENDS
Last quarter saw 34 deals, dipping 13% from Q1'17 to hit a 6-quarter low. Though deals were down, funding was up 14% from the previous quarter — and grew 64% year-over-year — to reach $326M.
The largest deal of Q2'17 went to cloud security and compliance automation software provider Sumo Logic, which raised a $75M Series F that included participation from smart money investors Greylock Partners, Sequoia Capital, and Accel Partners, among others.
H1'17 has seen 73 investments, up 3 deals from H1'16, while funding is up approximately 54% over the same period.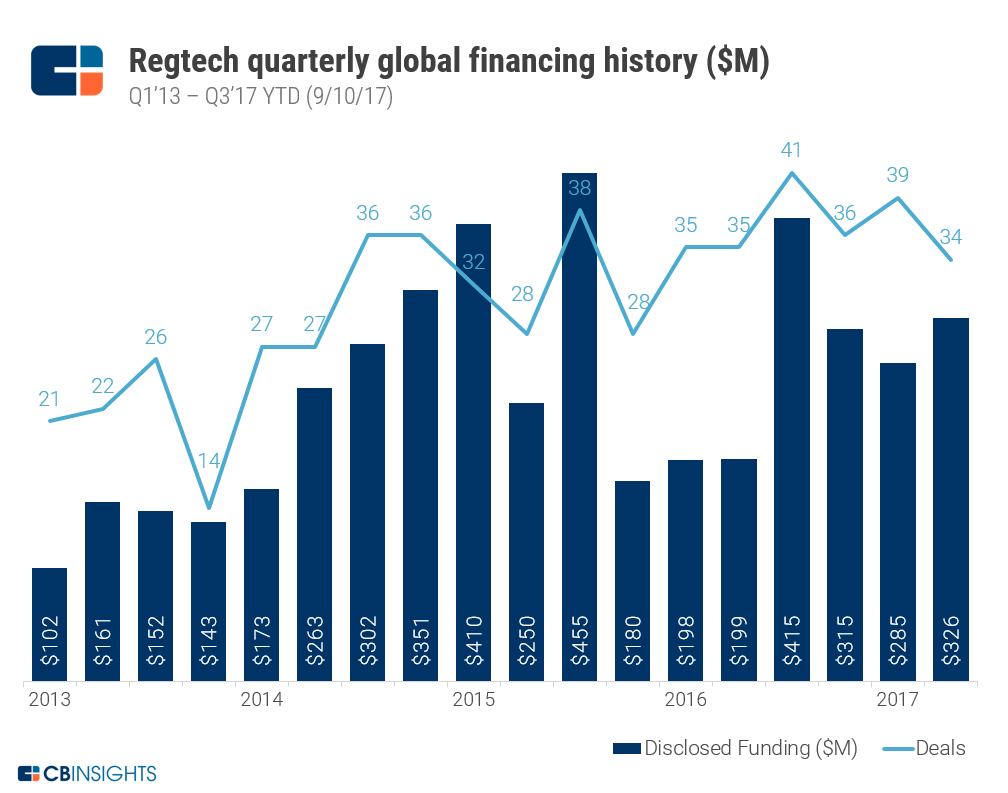 This quarter so far is off to a strong start. In addition to Druva's $180M round (mentioned above), another top investment in Q3'17 to date went to Assent Compliance, a supply chain and product safety compliance automation software provider. The Ottawa-based company raised a $31.6M Series B from BDC Capital, Greenspring Associates, National Research Council Canada, and the Royal Bank of Canada, among others.
ANNUAL FINANCING TRENDS BY STAGE
Early-stage (seed / angel and Series A) deals accounted for approximately 48% of deal share in 2016 and 50% in 2017 YTD. Meanwhile, mid-stage (Series B and C) deal share has reached an all-time low, at just 14% in 2017 YTD.
Investments to legacy software providers have contributed to late-stage (Series D and later) investments, which stand at 15% in 2017 YTD (up slightly from the average of 14% in the four preceeding years). One of the most recent late-stage investments went AxiomSL, an enterprise data management and reporting company that raised a private equity investment from TCV.
Deals falling into our "Other" category (which includes corporate minority and convertible notes) have increased slightly from 20% to 21% between 2016 and 2017 YTD.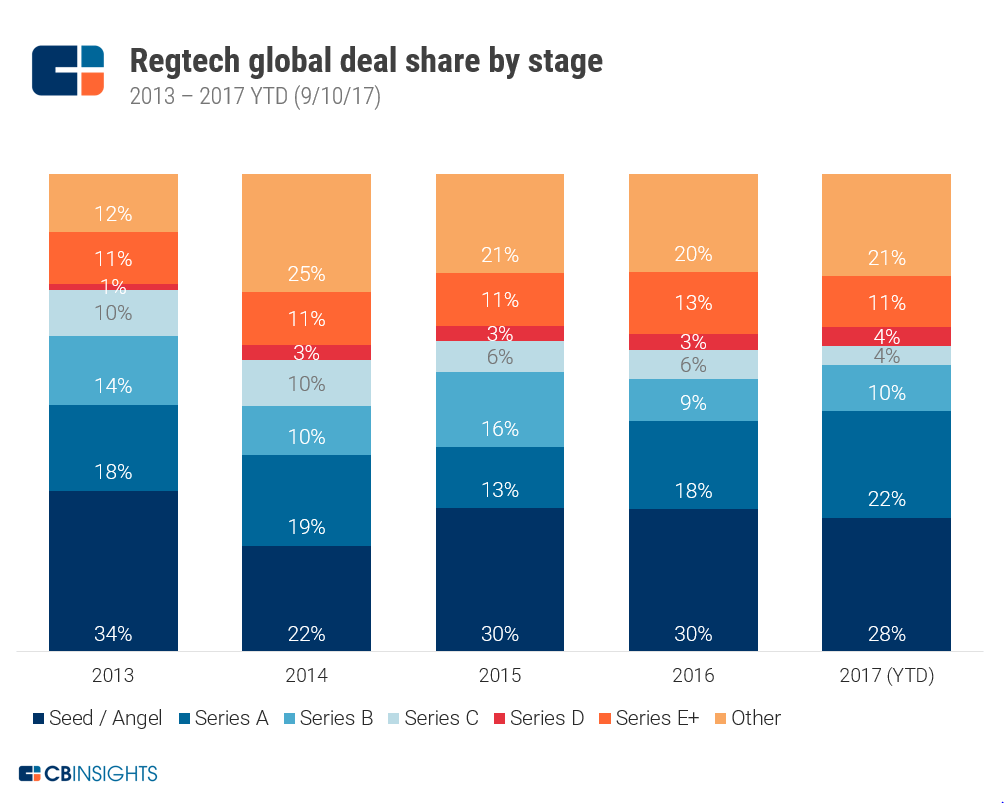 If you aren't already a client, sign up for a free trial to learn more about our platform.