Regtech companies in Europe have raised approximately $551M in total funding since 2013.
Since 2013, private regtech companies have raised approximately $4.96B in disclosed equity funding across 585 deals globally. While the US leads in regtech deals and funding, countries in Europe collectively account for 18% of global regtech deal share.
Europe has been a hotbed for early-stage regtech startups with a focus on solutions for the financial services industry. This is not surprising considering the packed calendar for impending regulations in Europe that includes the Revised Payments Services Directive (PSD2), the revised Markets in Financial Instruments Directive (MiFID II), and the General Data Protection Regulation (GDPR), among others.
With a focus on helping companies navigate regulatory mandates, a new crop of startups has been gaining traction and even garnering support from some regulators in the region, including the UK's Financial Conduct Authority (FCA).
Using the CB Insights platform, we analyzed the global distribution of regtech deals, and mapped over 60 regtech startups in Europe that provide software and services to the financial services industry. We define regtech as companies using technology to simplify and streamline compliance, risk management, reporting, data management, and more.
Regulatory technology
Startups are changing how companies comply with regulations globally. Look for Regtech in the Collections tab.
Track regtech startups
GLOBAL DEAL SHARE
US-based regtech companies accounted for approximately 74% of total global deal share since 2013. The UK came in second with 10% of deals, followed by Canada and India with 3% each, and Israel with 2%.
Looking at Europe overall, regtech startups accounted for approximately 18% of total global deal share. Europe-based regtech startups have raised approximately $551M in total funding across 104 deals since 2013.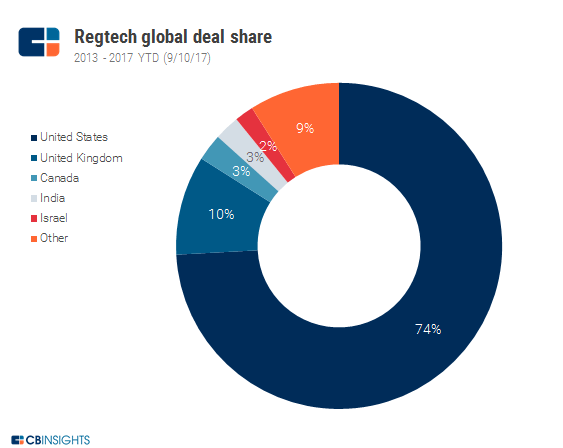 DEAL SHARE OUTSIDE THE US
Removing the US from the data, we can see that the UK leads with 37% of deal share outside the US. India came in second with 10% and in third was Canada with 9% of deals.
The largest regtech deal outside the US went to Canada-based Intelex Technologies, an Environmental, Health, Safety (EHS) and Quality management software provider. Intelex Technologies raised a $122M Private Equity investment in Q3'15 from HarbourVest Partners and JMI Equity.
The second-largest regtech deal outside the US went to Ireland-based Fenergo, an enterprise risk management (ERM) software provider that manages compliance throughout the customer lifecycle. Fenergo raised $75M in Growth Equity that included Insight Venture Partners and Aquiline Capital Partners.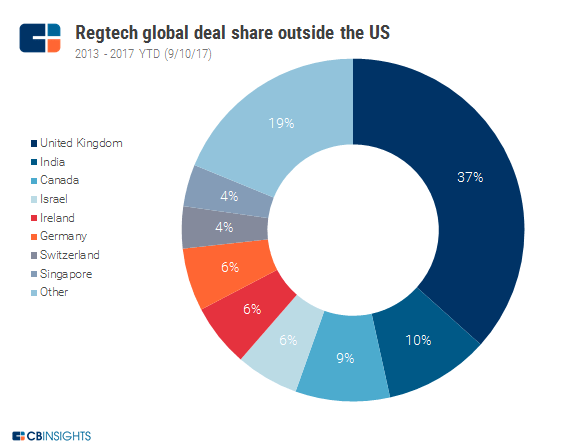 REGTECH COMPANIES BASED IN EUROPE
Nearly 60% of the regtech deals in Europe from our analysis above went to startups working on technology for the financial services industry. With this industry focus in mind, we plotted over 60+ active, private regtech companies based in Europe focused on building a solution for the financial services industry. Companies included have received equity funding or been through an accelerator program since 2013.
Map is not meant to be exhaustive of companies in the space. All companies have a use case in financial services but may also work across other areas. Click to enlarge.