Smart Money investors are backing alternative lenders, online property marketplaces, real estate investment platforms, and more. 
The real estate industry has undergone significant structural changes in the last decade as advancements in tech have created a host of new digitized products and services that are changing how people buy, sell, rent, and invest. 
Real estate tech is still growing, and companies in the space are drawing more attention and funding from some of the most successful VC firms, or "Smart Money VCs," in fintech. 
Below, we've used the CB Insights database to identify where the 25 fintech Smart Money VCs — including Khosla Ventures, General Catalyst, NEA, and others — are placing their bets in the real estate tech space. 
Scroll down to the end of this brief for a complete list of Fintech Smart Money VCs.
SMART MONEY FUNDING IN REAL ESTATE TECH PROJECTED TO GROW IN 2020
Since 2016, fintech Smart Money VCs have participated in a total of 155 deals to real estate tech companies.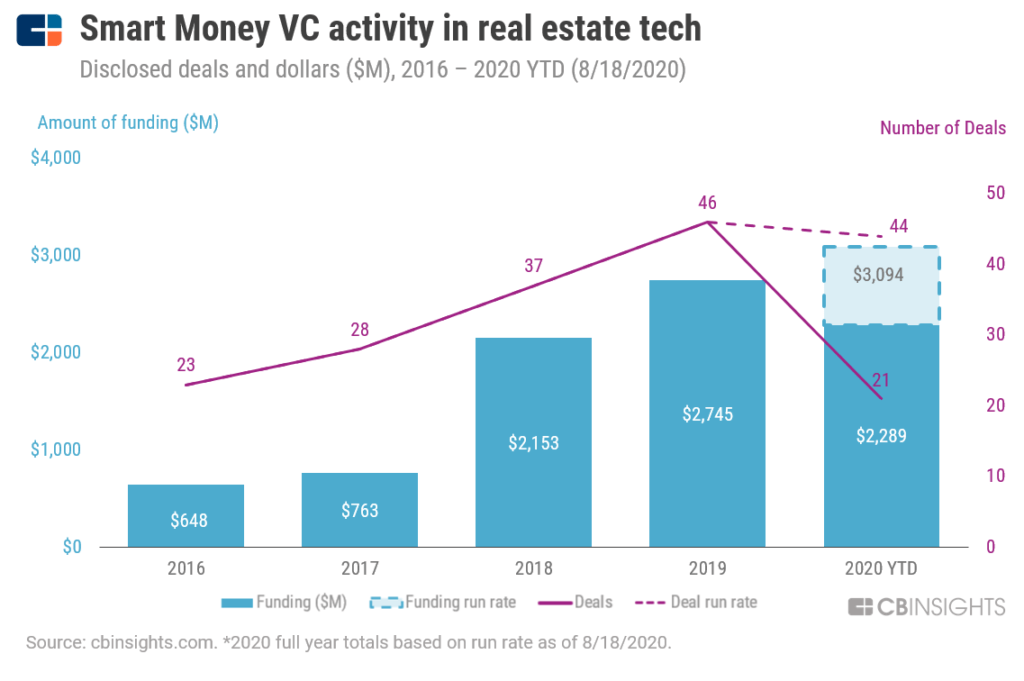 Following a similar trajectory as total funding to the space, Smart Money VC investment in real estate tech grew year-over-year (YoY) between 2016 and 2019, reaching a new record in 2019 with $2.7B invested across 46 deals. 
Despite the Covid-19 pandemic, Smart Money VC interest in real estate tech has continued in 2020, with $2.3B invested in the space so far (as of August 18) and a projected $3.1B investment by year end. 
Smart Money VCs were involved in 8 of the 20 largest real estate tech deals of this year, including Beike Zhaofang's $1.5B Series D extension, Loft's $175M Series C, Hippo's $150M Series E, and Veev's $85M Series B.