Real estate technology companies saw explosive funding growth between 2015 to 2019. Despite a pullback in 2020 so far, quarterly funding trends show ample room for growth in real estate tech.
Technology is transforming nearly every aspect of commercial and residential real estate. 
Startups in the real estate tech space offer new platforms for buying, selling, and investing in real estate. They also provide solutions for the tenant experience, property management, smart buildings, and construction categories.
Real estate tech has shown consistent growth since 2015. Funding to startups quadrupled between 2015 and 2019, with investors allocating $8.9B across more than 500 deals in 2019. Deal activity increased each year as well, growing by 61% within the same time frame.
While the industry continued its growth and set a new funding record in the first quarter of 2020, deals and dollars both decreased significantly in Q2'20 due to the Covid-19 pandemic. 
Below, we take a closer look at the most recent funding trends in real estate tech.
FUNDING ACTIVITY SHOWED STEADY GROWTH BETWEEN 2015 to 2019
The real estate tech industry has been gaining more traction each year, with both funding and deal activity trending upward since 2015.  
Funding grew particularly quickly between 2018 and 2019, jumping 65% from $5.4B in 2018 to $8.9B in 2019. In those same years, deal activity increased only 2%, as the average deal size grew from $10.9M to $17.4M.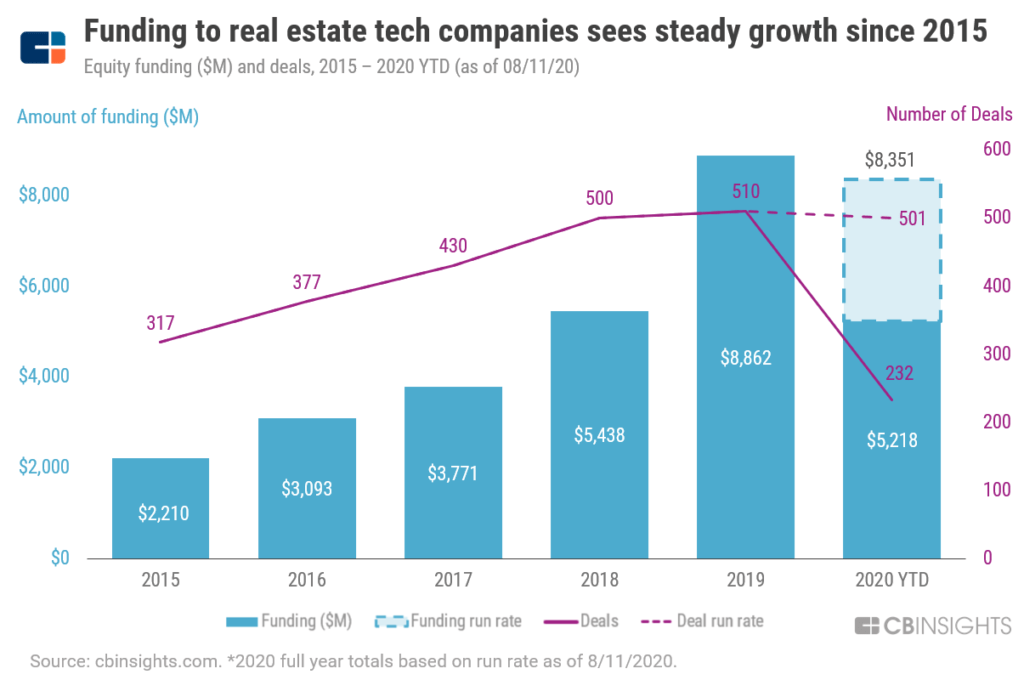 Fast forward to 2020, the impact of the Covid-19 pandemic is evident in almost every corner of the economy. Investors are for the most part shying away from risky deals in today's uncertain economic environment, and this holds true for real estate tech startups. 
Real estate tech funding year-to-date (YTD) sits at $5.2B across 232 deals, which is below 2019 at the same time both in funding and deal count. With 5 more months remaining in the year, the full effect of the pandemic on the industry remains to be seen.
BILLION-DOLLAR DEALS DROVE GROWTH EARLY IN 2020 BEFORE THE PANDEMIC 
Before the alarm bells started to ring in the second quarter of 2020, the real estate tech industry was off to a very strong start. Startups received a record $3.7B from investors in Q1'20, marking it the strongest quarter the industry has seen in the last 5 years.