Despite its limitations, SMS is the most used feature on today's smartphones. Over 25 years after the first text message, SMS and MMS are finally ready for an upgrade.
Over the last decade, dozens of messaging apps have come to market, with many seeing success — such as WhatsApp's $22B acquisition by Facebook, Line's $8.8B market cap, or Kik's $1B valuation as of 2015.
Even smaller players like GroupMe (acquired by Skype for $85M in 2011) have built successful products in the absence of a universal messaging system.
But in this sea of messaging apps, SMS still reigns supreme.
Despite powerful mobile devices, high-speed wireless internet, and the ubiquity of Wi-Fi, traditional SMS ("short message service") remains the most widely used feature on smartphones: approximately 97% of smartphone owners use text messaging in a given week, according to Pew Research Center.
However, the next generation of messaging tech is imminent.
Over the next several years, the introduction of rich communication services (RCS) will replace SMS and MMS as the primary messaging system, while offering many of the same features found in today's most popular messaging apps.
And while consumers will benefit from these advanced messaging features, brands stand to gain the most, as the media-rich capabilities of RCS will allow brands to engage their customers in new and more direct ways.
While we're still in the early stages of RCS adoption, with only a few key leaders (like Sprint, AT&T, and T-Mobile, discussed below) implementing the technology it requires, RCS is poised to fundamentally change how mobile users engage with each other, brands, and the world around them.
In this explainer, we discuss the history of mobile messaging, the introduction of RCS, what it is, why it matters, and when we can expect to see it widely deployed.
The history of messaging
While SMS technology and standards were first developed in 1982, the first text message wasn't sent until December 3rd, 1992. The message, sent by Vodafone developer Neil Papworth, simply read, "Merry Christmas."
Despite this accomplishment, it still took another decade for text messaging to become a legitimate commercial success. Until 1999, the UK banned out-of-network messaging, severely limiting consumers' ability to contact people using other carriers.
And multimedia messaging service (MMS), the companion of SMS that allowed for the messaging of photos and videos, didn't gain popularity until the widespread adoption of camera phones in the late 2000s.
Today, approximately 8 trillion text messages are sent each year. Though messages today are much larger and more media-rich than messages of the early 21st century, SMS and MMS are still the default messaging systems.
Text messages (SMS) are capped at 160 characters to limit the size of each individual message, while MMS content is often restricted to 1MB. These limitations (and a lack of innovation in the space) contributed to the rise of proprietary mobile messaging platforms like BlackBerry Messenger (BBM) and Google Talk (Gchat) in the mid-2000s.
With the introduction of push notifications in 2009, independent messaging apps like WhatsApp also started to gain popularity. This device-agnostic platform allowed for international, internet-based messaging, which became particularly popular in regions with widely accessible Wi-Fi but limited cellular coverage. It also allowed users to send pictures, videos, GIFs, current locations, and other digital content.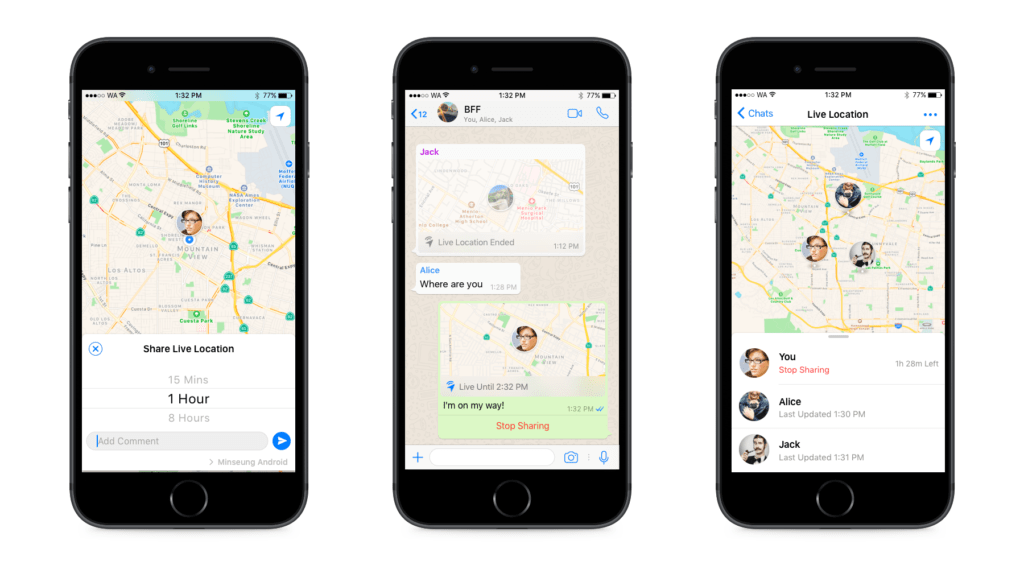 Apple and Facebook followed suit with the launch of their own platforms in 2011: iMessage and Facebook Messenger, respectively.
Though these platforms made messaging much more dynamic, the ecosystem became increasingly fragmented. Today, it's not uncommon for a user to communicate using 5+ mobile messaging applications.
This is precisely why RCS is such a compelling replacement for SMS and MMS: RCS provides an experience similar to that of today's messaging platforms, without the need for numerous platforms and applications.
What is RCS?
Simply, RCS is the next generation of SMS.
More specifically, RCS is a set of next-gen messaging standards that were first established in 2007 by a cohort of telecom professionals. The standards for RCS were adopted by GSMA (the Global System for Mobile Communications Association) in 2008 — 2009 and became the basis for Universal Profile, which was published in 2016.
According to GSMA's website, "The GSMA's Universal Profile is a single, industry-agreed set of features and technical enablers developed to simplify the product development and global operator deployment of RCS."
The intention is for Universal Profile to deliver a consistent and more advanced messaging experience to all 6.7 billion cellular consumers worldwide — meaning RCS also provides new monetization opportunities.
RCS allows network operators to compete with platforms like WhatsApp, Facebook Messenger, and iMessage, which have gained increasing control of messaging data and revenues.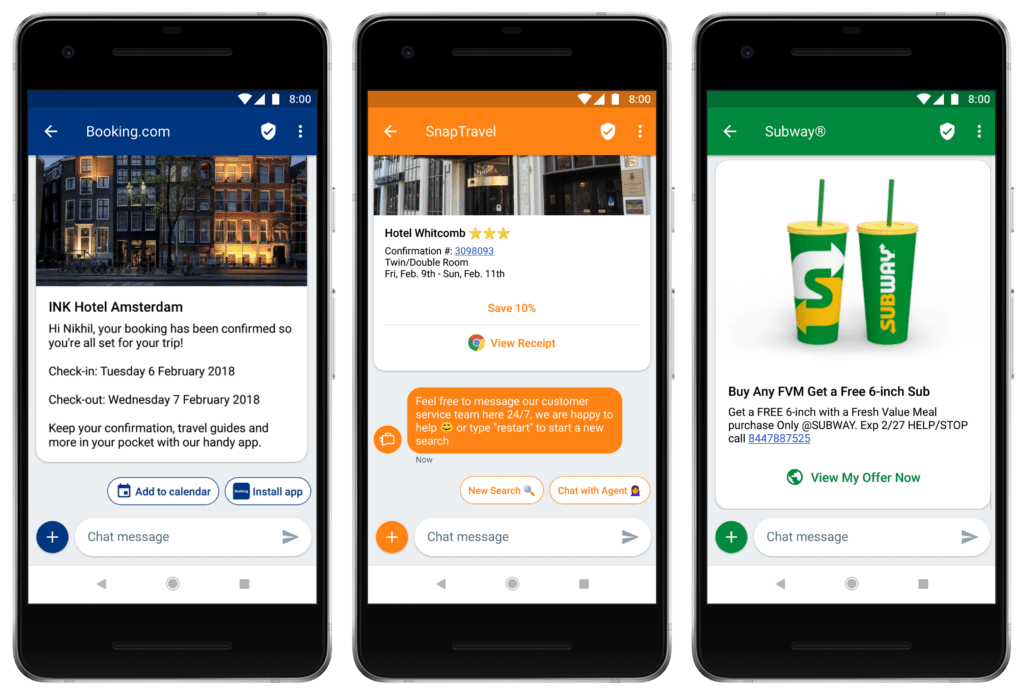 By supporting Universal Profile, wireless network carriers and smartphone manufacturers (OEMs) ensure that they meet the technical standards that support RCS (and incur the costs to do so). The proper implementation of Universal Profile also guarantees RCS interconnection with all supporting networks and devices.
In short, Universal Profile is the blueprint and roadmap for RCS adoption — and the more network operators and OEMs implement Universal Profile, the sooner we'll have a universal, media-rich SMS replacement.
Key features of RCS
RCS includes 9 major features that both consumers and brands will be able to utilize. These features will provide consumers with a better messaging experience while also allowing brands to improve customer engagement.
(However, there will be an option to toggle between RCS and SMS/MMS for those looking to avoid additional brand communication.)
Below are the expected features of RCS technology:
Rich media — With RCS, users will be able to send high-resolution pictures, high-definition videos, GIFs, emojis, and other forms of media. The technology will also allow for "rich cards," which provide content like interactive maps or seating charts all from within the default OS messaging platform.
Custom branding — Custom colors, logos, and names will allow consumers and brands to create a unique messaging experience. Header color, contact names, and thumbnail icon images will all be customizable.
Verified senders — The customization characteristics of RCS ensure that only verified brands will be able to customize banners, names, and icons. This will prevent phishing messages and put consumers at ease.
Suggested replies — To better engage customers, brands will be able to customize messages with suggested replies. Instead of typing responses, customers can select from predetermined messages like Confirm, Tell Me More, and Stop.
Suggested actions — Similar to suggested replies, brands can customize messages with suggested actions. Customers will have the ability to select from suggested actions such as Add to Calendar, Chat with an Agent, and Open in Maps.
Group messaging — While group messaging is the norm for today's messaging apps, it has not been supported by SMS or MMS. RCS will allow for group messaging across network providers, OEMs, and operating systems, without the need for third-party apps.
In-messaging payments — RCS will also allow for in-messaging payments using stored credit card information. This will make paying easier for customers and could improve peer-to-peer payments as well, potentially limiting the need for third-party apps like Venmo.
QR codes — While QR codes are often a burden, they've become the standard for travel and event ticketing. With RCS technology, brands will be able to message QR code-based tickets directly. Consumers will be able to scan boarding passes or concert tickets without needing to download multiple vendor-specific applications.

True metrics — Delivery notifications and read receipts will be standard with RCS. Brands will benefit from this "true metrics" data in addition to engagement statics. The ability to understand how consumers are engaging (received message, read message, clicked item in message) with mobile messaging content will be particularly valuable to these organizations.
How RCS can benefit consumers and brands
If RCS is adopted by all major carriers, OEMs, and operating systems, it will vastly improve the messaging ecosystem, especially between iOS and Android.
Consumers will have access to many of the same features they've come to expect with today's messaging apps: high-resolution pictures, HD video, GIFs, emojis, media-rich hyperlinks, delivery receipts, group messaging, and peer-to-peer payments.
But it's brands that stand to benefit most from the implementation of RCS technology.f
The ability to send high-quality content more directly, receive in-message payments, and better analyze engagement data will give brands a better understanding of their consumers. Moreover, customers will theoretically be more receptive to RCS-based brand communication. According to GSMA, the business RCS messaging market is projected to reach $74B by 2021.
RCS supporters: Where are we now?
Today, the Universal Profile is supported by over 50 wireless network operators, including the big four (AT&T, Verizon, T-Mobile, and Sprint), and more than 10 OEMs including Android manufacturers Huawei, Asus, HTC, LG, and Samsung.
However, while many have expressed "support" for Universal Profile, few of these companies have upgraded their messaging services to implement the technology required for RCS.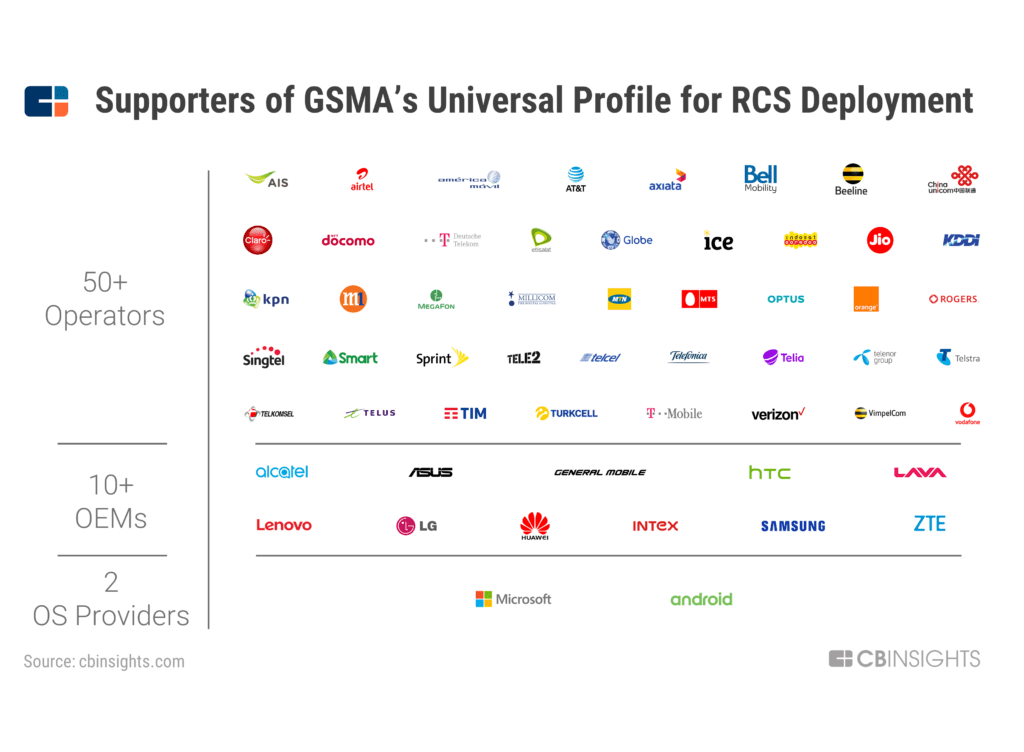 While AT&T and T-Mobile now offer RCS for certain Android phones, communication is limited to other compatible devices within their respective networks — meaning these carriers do not yet support the interconnection standards (between carriers) required by Universal Profile.
To date, Sprint is the only US carrier to fully adopt and meet the standards for Universal Profile. However, its RCS experience is limited by the lack of adoption from the broader industry.
Currently, if an RCS-compatible Android device on an RCS-compatible network communicates with an incompatible device or network, the messaging exchange defaults to SMS and MMS (for both parties).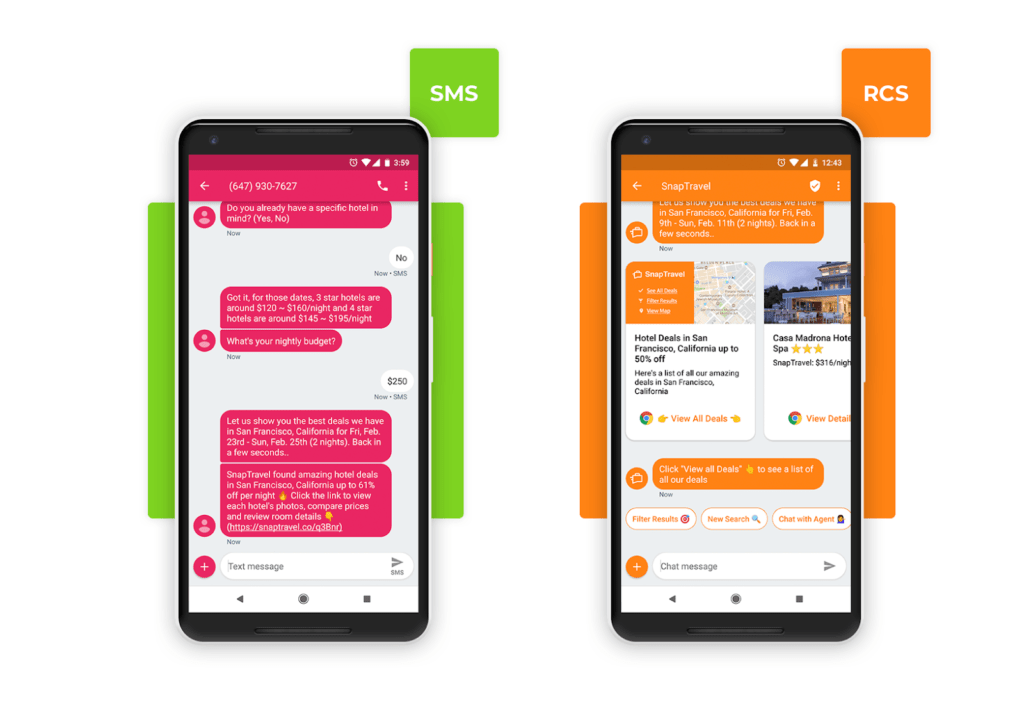 Sprint has worked closely with Google, which is the leading advocate for RCS.
Google's Pixel phones and Android operating system have fully, and successfully, implemented Universal Profile for RCS. The company refers to these new RCS capabilities as Chat. Chat (RCS) operates within the default Android messaging app, Android Messages.
After launching nearly a dozen messaging apps over the last decade, Google hopes that Chat (RCS) will become the universal messaging system to replace SMS and MMS — at least for Android. According to recent sources, the company is even dropping its most recent messaging app, Allo, in favor of its Chat initiative.
Google is so invested in Chat that it now offers a solution to improve the implementation process of Universal Profile for network operators. The company's Jibe platform offers the necessary tools to launch and manage RCS services across global networks.
As more wireless network operators and OEMs implement Universal Profile, it may grow beyond Android. Apple recently engaged with GSMA about Universal Profile adoption, after failing to show support initially. If Apple were to implement Universal Profile on iOS, messaging between Android and iOS devices would be greatly improved, and RCS would be one step closer to universal adoption.
More carriers are expected to implement Universal Profile in 2019 (so more Android users can expect Chat around this time). By 2020, GMSA predicts that nearly 86% of smartphones will be RCS-enabled. RCS is also expected to reach the most users in Asia, due to Android's overwhelming market share in the region.
However, for RCS to become truly universal, every network operator, device manufacturer, and mobile operating system developer will have to implement Universal Profile. While this outcome may be inevitable, it still could take another decade for RCS to fully replace SMS and MMS as the universal default messaging service.
---
Illustration Sources: WhatsApp, What is RCS?, Features of RCS, RCS for Consumers & Brands
If you aren't already a client, sign up for a free trial to learn more about our platform.