Advances in harnessing quantum phenomena could shake up healthcare. We look at the applications — and possible risks — to watch as the space matures.
Quantum tech is gaining momentum, and the rise of the nascent space — which includes quantum computing, quantum communication, and quantum sensing — could have far-reaching effects across several major industries.
Healthcare, for example, is a primary focus for quantum tech companies developing extremely powerful computers, ultra-secure communications, and highly precise sensors. These applications could speed up the drug discovery process, improve accuracy in diagnostics, and enhance data security.
As quantum tech gradually moves towards commercialization, its potential to transform healthcare is gaining media attention.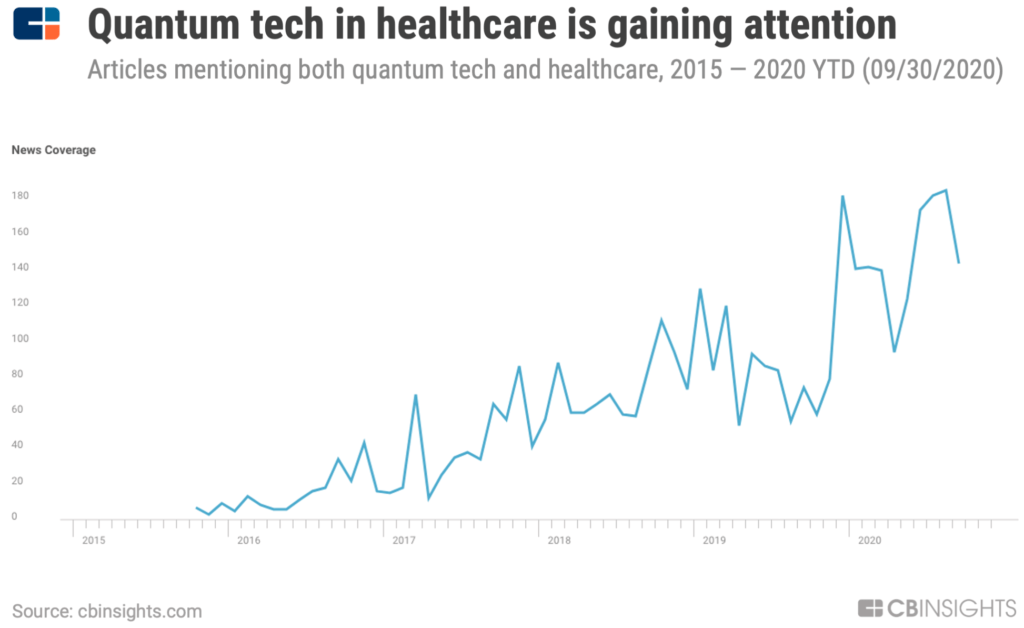 Industry players are also starting to take notice. Almost a third of life science companies said that they plan to evaluate quantum computers this year, according to a survey by SRI International.
Below, we highlight 3 healthcare sectors that quantum tech is set to impact.
For more on quantum tech, check out our quantum computing explainer and quantum tech market map.
Key takeaways
Quantum computing is set to speed up drug discovery, but most commercial advantages will only arrive gradually over the coming decade.
Emerging quantum sensors could make medical imaging and disease screening tests much more sensitive, and increase the chances of correctly identifying those with diseases.
Widely-used online encryption methods could become obsolete in 10-15 years, threatening patient data — but quantum tech is already starting to hit the market that could help healthcare organizations protect themselves.
Why healthcare?
The healthcare industry is worth $4.25T in the US alone, according to CB Insights' Industry Analyst Consensus — presenting an enticing opportunity for quantum tech companies.
For example, in big markets like drug discovery, quantum computers could tackle issues like protein folding and simulating molecular interactions more accurately. A team from Google recently performed a simulation of a simple chemical reaction using a quantum computer, a world-first that signals quickening progress in this area.
Quantum tech could also be applied to diagnostics to create MRI scanners that are thousands of times more sensitive than current offerings. Meanwhile, quantum communication could provide new levels of protection for patient data by sending messages in a way that shows if they have been intercepted by hackers.