Qualtrics' recent acquisition of Clarabridge will allow it to offer an end-to-end experience management platform. Here are the top-line bullets you need to know.
Qualtrics, an experience management provider, has acquired Clarabridge, an omnichannel conversational analytics startup, for $1.125B in stock.
WHO ARE THE PARTIES TO THE DEAL?
Clarabridge: Virginia-based Clarabridge is an AI-powered platform that collects and analyzes consumer feedback from a variety of sources including social media, emails, support calls, chats, and product reviews. Clarabridge's annual recurring income increased by 110% year-over-year. The company caters to clients such as United Airlines, USAA, Bank of America, Expedia, SharkNinja, Aviva, UnitedHealthcare, and LogMeIn.
Qualtrics: Washington-based Qualtrics provides experience management software. The platform is used by 13,500 organizations around the world, including QA, MSL Group, Zendesk, and the American Red Cross. The company's total revenue for the 2020 fiscal year was $763.5M — up 29% from $591.2M in the previous year. Qualtrics' subscription sales increased by 34% year-over-year to $575.4M, up from $430M the previous year.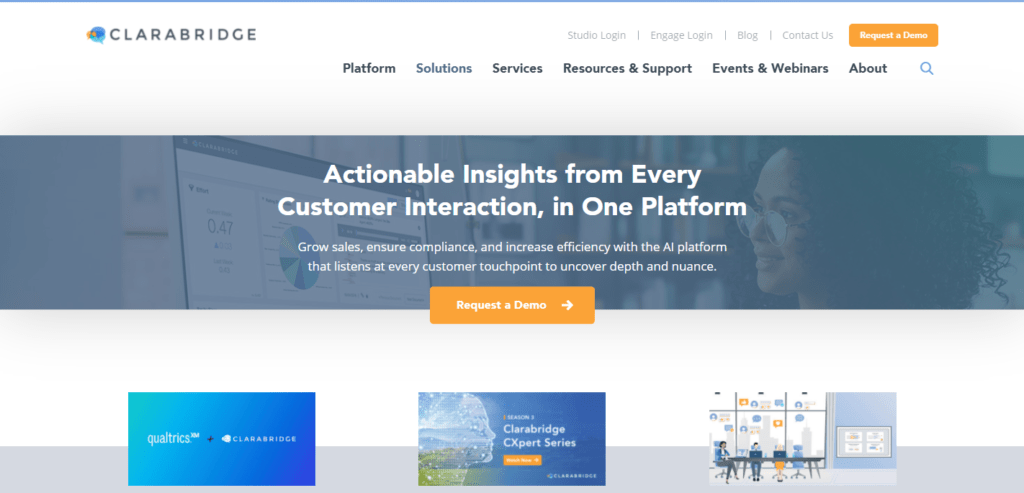 Source: Clarabridge
WHY DOES THE MARKET MATTER?
The customer experience management market is projected to grow at a CAGR of 15.03% and reach a value of $22.65B by 2027, according to research and markers.
In 2020, North America-based companies led the market, accounting for approximately 44% of total revenue. The ongoing digital revolution across many industries, such as telecommunications, retail, and banking, has contributed to sharp growth. Furthermore, increased expenditures and budget allocations for digital platforms and marketing by US and Canada-based businesses are helping the regional market expand.
Companies such as Adobe, Oracle, SAP, IBM, Avaya, and Verint Systems are among the key firms working on growing their client base internationally.