Private companies applying traditional fermentation techniques to engineer animal-free proteins are gaining traction with investors. Here are the top-line bullets you need to know.
Alternative protein startups have raised over $2.2B so far this year, an increase of nearly 82% from full-year 2019. Much of this financing activity has been driven by high-profile brands like Impossible Foods and Oatly, which both recently disclosed mega-rounds (deals worth $100M+).
ALTERNATIVE PROTEINS, FITNESS TECH, AND GAMING SURGED IN Q3'20
Consumer product startup investment activity spiked in Q3'20 as funding reached an all-time high. Download our free report now.
However, while plant-based protein has dominated much of the conversation in the alternative proteins space, companies developing protein fermentation tech are also contributing to this increase in investment. Funding to these startups surged to $379M in 2019, and has already hit $444M so far this year.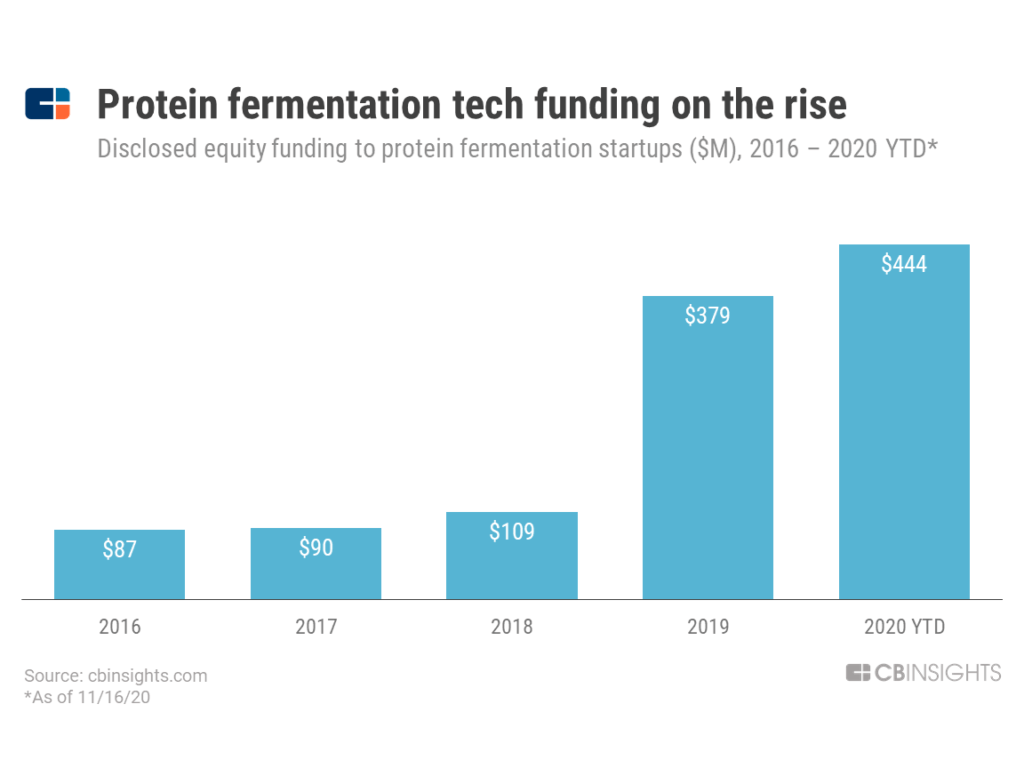 WHAT YOU NEED TO KNOW:
Greater efficiency: Unlike plant-based protein products, which still rely on a fairly resource-intensive supply chain, growing protein via fermentation requires significantly less land, energy, and water, and can be distributed across a more localized supply chain.
Consistency and precision:

Companies like

Clara Foods

,

MycoTechnology

, and

Geltor

are applying fermentation techniques to engineer customized protein solutions for CPG companies to address product needs such as taste, allergenicity, nutritional value, and ingredient reliability.

Incumbents are paying attention:

Tyson Ventures

participated in

MycoTechnology's

$39M Series D in February 2020.

Archer Daniels Midland Company

, an agricultural processing company, recently invested in

Geltor

, and

Perfect Day

reported that Fortune 50 companies have been early adopters of its ingredients.