Twenty-two of the 25 leading US P&C insurers have invested in at least one private tech company in recent years. Here's what their investment strategies reveal about the industry. 
New technologies continue to reshape the massive property & casualty insurance space, a market valued at $670B in the US alone. From property maintenance and geospatial analytics to claims automation and reinsurance syndication, private tech companies are increasingly attracting insurers' interest — and dollars.
In 2015, only 8 of the top 25 largest US property & casualty insurers made startup investments. Fast forward to 2020, and that number has grown to 22 of the top 25 insurers, with activity levels continuing to trend upward.  
Below, we look at investment activity by the top 25 largest P&C insurers in the US by premiums, and dig into what areas are attracting the most interest. Specifically, our analysis looks at: 
Allianz X
Allstate Strategic Ventures
American Family Ventures
American Financial Group
American International Group
Assurant Growth Investing
Auto-Owners Insurance
AXA Venture Partners and XL Innovate (acquired by AXA in 2018)
Chubb
CNA Financial
Erie Insurance
Fairfax Financial Holdings
Farmers Insurance Group
Geico
Liberty Mutual Strategic Ventures
Markel Ventures
Munich Re Ventures
Nationwide Ventures
Progressive
State Farm Ventures
The Hartford
Tokio Marine Holdings
USAA Ventures
W.R. Berkley
Zurich Insurance Group
These top insurers have opted to either invest directly or through strategic venture arms as they look to innovate and keep pace with technological change. 
Despite Covid-19, deal activity in 2020 is on pace to SET RECORD
As a group, P&C insurers have become increasingly active in the private market, with almost all top 25 insurers investing in startups directly or through a corporate VC arm. (CNA, Geico, and Auto-Owners Insurance are the only insurers yet to make a startup investment over the period analyzed.)
Despite the economic challenges brought on by the global pandemic, insurer investment activity has remained high. So far in 2020, top insurers have already backed 63 deals, compared to 66 in all of 2019.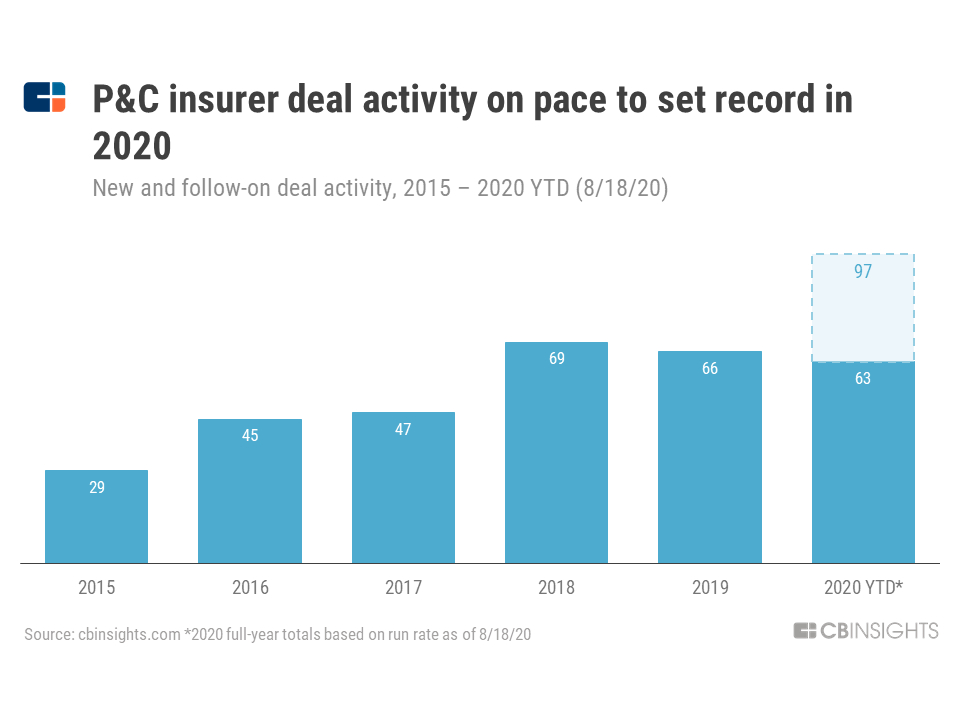 On a quarterly basis, Q1'20 was one of the group's most active quarters, with 22 deals. This was followed by a marginal drop to 21 deals in Q2'20 and 20 deals in Q3'20 to date as the market has adjusted to the impact of Covid-19.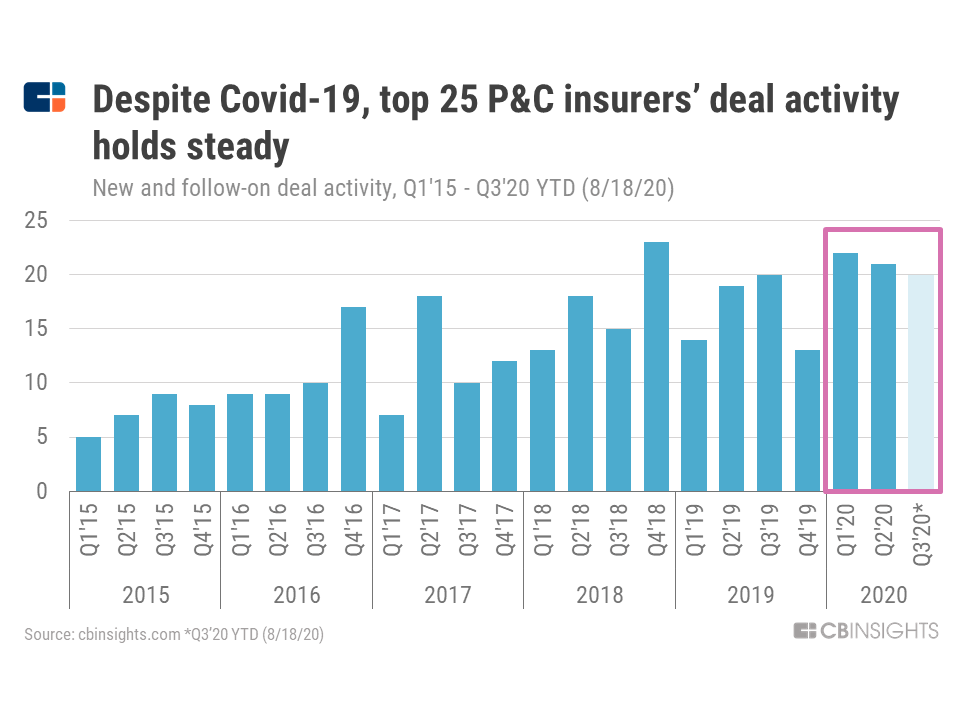 as top investors ramp up activity, AXA VENTURE PARTNERS leads
Since 2015, AXA Venture Partners, American Family Ventures, and Munich Re Ventures have been the 3 most active insurer CVCs. In 2017, they out-invested the next 22 most active insurers.
However, insurers catching onto the importance of the startup ecosystem have increasingly embraced partnerships with startups as part of their strategies. Beyond the top 3 investors, insurers share of activity has steadily grown from 28% in 2015 to 70% in 2019.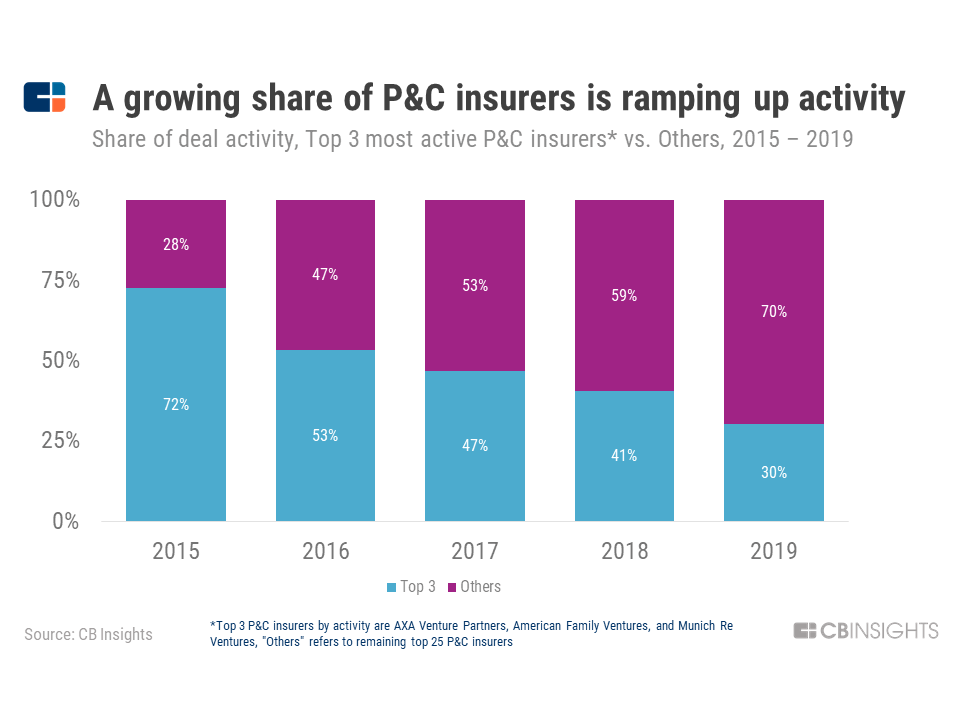 Specifically, Allianz X, Nationwide Ventures, XL Innovate, Liberty Mutual Strategic Ventures, and Assurant Growth Investing have all ramped up their activity over the years.
AXA Venture Partners (AVP) continues to lead the group, as it has since 2015.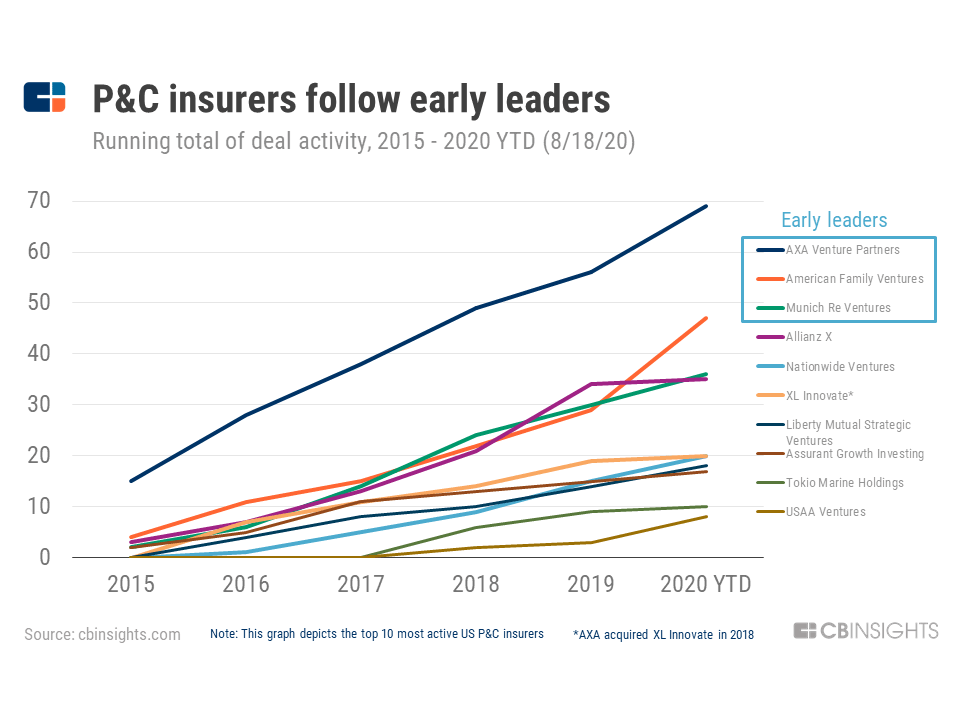 Since its inception in 2015, AVP has participated in 69 deals to 53 companies. American Family Ventures and Munich Re Ventures follow second and third, investing in 47 and 36 deals since 2015, respectively.