Chinese ride-hailing unicorn Didi Chuxing received a $5.5B round last quarter, while other on-demand startups Go-JEK, Ele.me, and Lyft also raised $500M+ mega-rounds.
In a reversal from the slowing investment trend witnessed over the last several quarters, on-demand companies saw a resurgence in both deals and dollar funding last quarter. Specifically, after only 67 and 69 deals in Q4'16 and Q1'17, respectively, on-demand companies rocketed up to 87 deals in Q2'17.
Even more strikingly, dollar funding in Q2'17 also increased to hit $10B (up 455% from $1.8B in the previous quarter). The uptick was driven in part by mega-rounds to Asian unicorns Didi Chuxing, GO-JEK, and Ele.me, as well as to US ride-hailing unicorn Lyft.
In terms of deals, Q2'17 still lagged the on-demand heyday of late 2014 into 2015, ranking as just the 7th most active quarter since Q1'13. However, in dollar terms it placed first, coming in about $1B ahead of the previous record in Q2'16.
Using CB Insights data, we analyzed funding trends in the on-demand space since 2013. We define the on-demand category as private companies that aggregate demand on mobile devices and applications, enabling near-instant access to a wide variety of offline services.
Quarterly financing history
Q2'17 represented the first quarter since Q3'15 in which there was a pronounced increase in both the number of deals and the level of dollar funding. While dollar funding increased nearly 5X from the previous quarter, more than 80% of funding was concentrated in the four largest deals.
These deals included a massive $5.5B Series G round to China-based ride-sharing company Didi Chuxing, a $1.2B Series C round to Indonesia-based delivery and ride-sharing app Go-Jek, a $1B corporate minority deal from Alibaba Group to China-based food delivery company Ele.me, and a $600M Series G round to Lyft.
Among the top ten deals of the quarter, ride-sharing and transportation continued to dominate with large rounds of funding to India-based Ola, UAE-based Careem, and Brazil-based 99. Additionally, although not included in the chart below, Singapore-based mobility startup Grab raised a $2B Series G round of funding from Softbank Group and Didi Chuxing in July 2017.
This deal may reflect Didi Chuxing's interest in expanding internationally as it looks to take on Uber, which did not raise any disclosed equity funding last quarter. The ride-sharing giant's reputational struggles and leadership dilemmas have propelled it into headlines for less-than-positive reasons, and as Uber's valuation has stagnated, competitors like Didi Chuxing have begun to catch up.
In the on-demand meal delivery space, Delivery Hero, which went public at the end of June 2017, raised its last round of funding in a $423M corporate minority deal from the London Stock Exchange Group and Naspers, in May 2017. While the meal delivery sector has struggled over the last several months, giants such as Delivery Hero which have scaled themselves in a sustainable manner and attracted a large portion of market share have fared much better.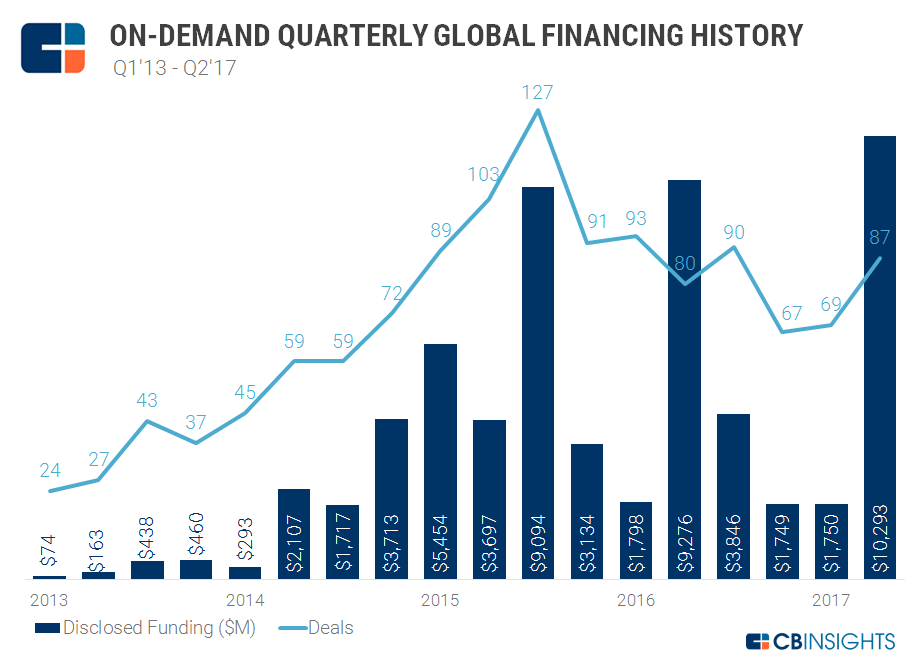 As mentioned above, dollar funding the three most well-funded on-demand startups — Didi Chuxing, Uber, and Airbnb — has heavily influenced quarterly totals over the last several years. 5 of the last 18 quarters have seen a majority of dollar funding go toward these three companies alone. This underlines the advantage and weight that many of the largest on-demand companies carry, and how their scale creates a daunting competitive landscape for smaller operators.

Deal share by quarter
Looking at on-demand global deal share by quarter, there is a clear decline in seed and angel deals to the space, falling from 45% of all deals in 2016 to only 39% in H1'17. This is indicative of a maturing industry, in which later-stage companies are increasingly receiving more investor attention and dollars. It also reflects how some areas within the on-demand space, such as food delivery, have experienced a recent string of startup deaths as well as increased consolidation.
Just as funding to later-stage deals increased in Q2'17, the proportion of deals to later stage startups also increased, from 5% in 2016 to 8% in H1'17.
Interestingly, the proportion of Series A deals in the space ticked up from 11% of deals in 2016 to 15% of deals in H1'17. Some of the largest Series A deals in the on-demand space in included a $14M round to China-based delivery startup UUpaotui, as well as a $12M round to US-based on-demand home service optimization platform Dispatch Technologies, both in Q2'17.
Within our "other" category, which contains variety of corporate deals, undisclosed deals, and convertible notes, there was increase from 9% of deal share in 2015 to 18% 2016 and 19% in 2017. This was due in part to an increase in the number of undisclosed deals to companies in Asia and North America.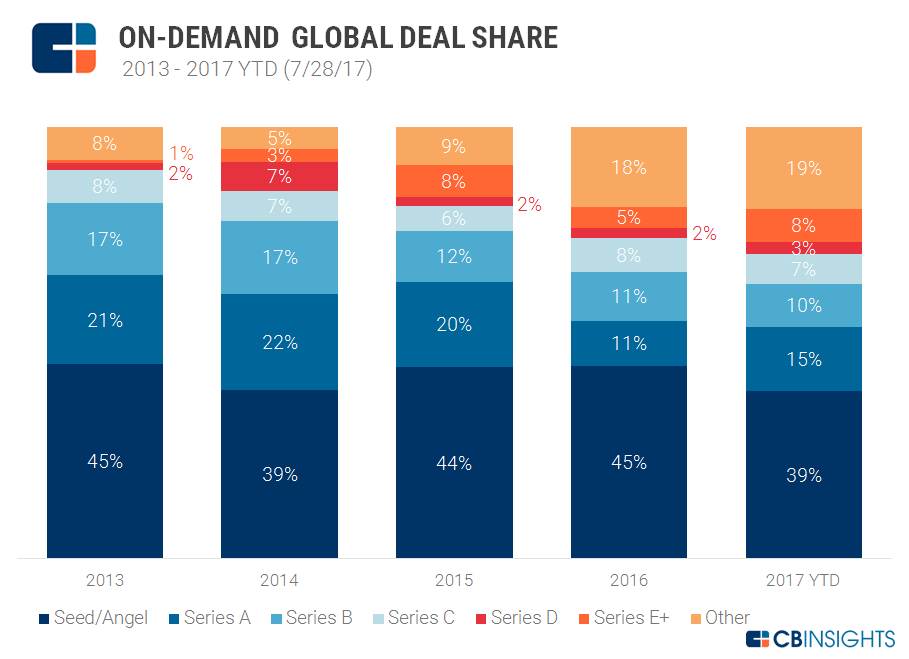 If you aren't already a client, sign up for a free trial to learn more about our platform.