We looked at the data to see which C-suiters are cussing on earnings calls.
You might expect nothing but PR-trained polish from Corporate America's C-suite, but earnings calls are still quite candid and unplanned — and CEOs occasionally let fly an expletive or two.
Using CB Insights' new Earnings Transcript tool, we looked at the use of profanity in earnings calls since 2008, when there was an early peak in curses. As the economy started to recover, swearing seemed to decline. But somewhere in the mid-2010s,  cussing started to ramp up again, hitting a maximum 133 swear words in 2015, before declining again in the last 2 years.
When we looked the companies spewing swear words — including f*ck, d*mn, sh*t, and the like — the top offenders included wheel maker Titan International, casino and hotel group Wynn Resorts, and real estate company Simon Property Group.
Please click to enlarge. 

Learn more about CB Insights' Earnings Transcripts Search Engine and Analytics. Sign up here.
Sifting through the sh*t
We drilled into some of their earnings calls to see where C-suiters were talking like sailors.
One recent S-bomb drop came from Jamie Dimon, the CEO of JP Morgan Chase. On a call in late 2017, Dimon began lamenting the state of affairs in American life:
"It's almost an embarrassment being an American citizen travelling around the world and listening to the stupid sh*t we have to deal with in this country.

Another gem came from a Scott's Miracle-Gro exec, James Hagedorn, who was evidently thrown a curveball by an analyst:

Talk about asking the tough questions.
It's worth noting the CEO of Scott's Miracle-Gro has a streak of straight talk. On a recent call, Hagedorn offered a retort to some scrutiny, inviting the analyst to do an in-person visit:

Never one to do things the traditional way, on a couple calls in 2016 Elon Musk, acting as CEO of Tesla, addressed head-on the company's "production hell" and some of its supplier issues: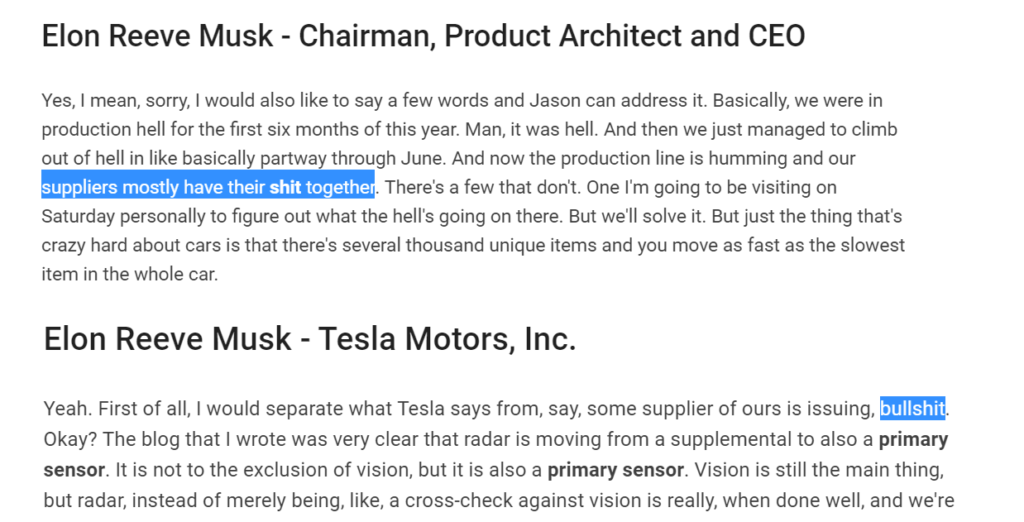 We also surfaced a vintage outburst from Carol Bartz, the "famously salty-tongued" former Yahoo! CEO. On a 2009 earnings call Bartz said the company's management structure was, well, not up to snuff.

Finally, one entertaining and clearly accidental one came from the CEO of Samsonite.

Minding their P's and Q's
We also noticed some C-suiters will supplant coarse words with something a little softer. For example, "heck" appears to be consistently beating "hell" over the years.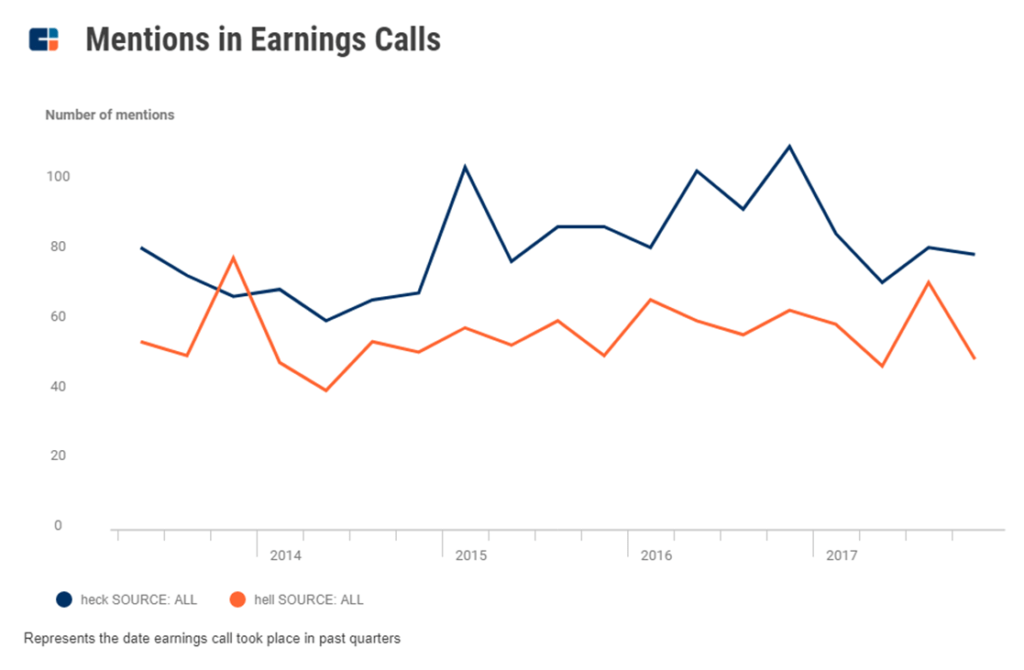 And compared to its more vulgar counterpart, "baloney" has seen quite a few more mentions.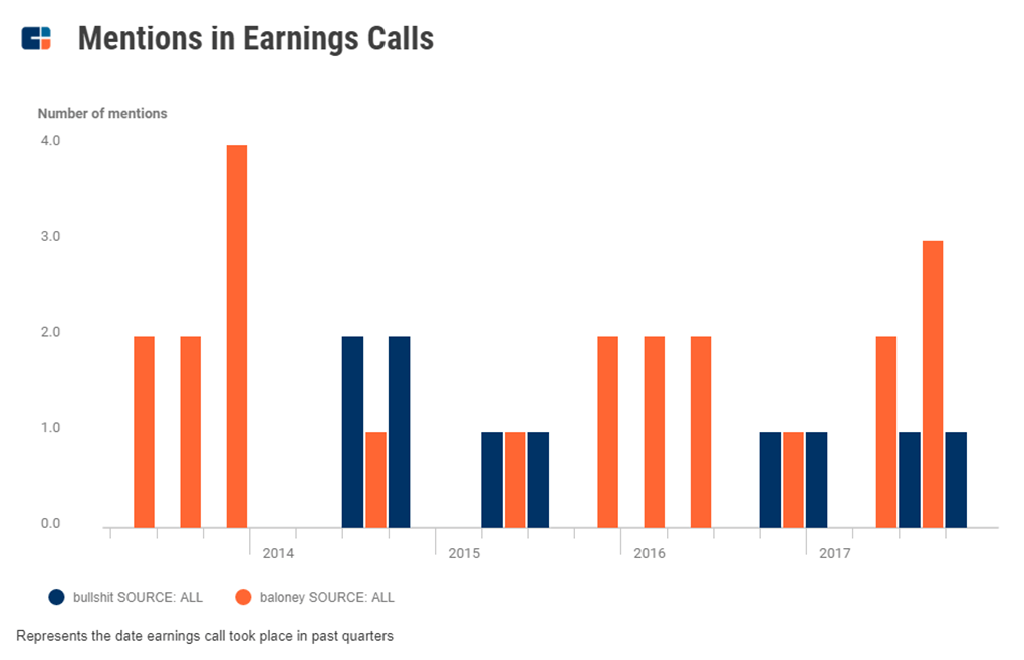 If you aren't already a client, sign up for a free trial to learn more about our platform.