Point-of-sale lending startups have seen a recent spike in funding. Here are the top players to watch.
The POS startup market is growing, as consumers seek more transparent credit options and merchants look for new ways to boost sales.
According to CB Insights data, 9 POS lenders have raised $700M+ across 14 deals since June 2017.
As competition increases and POS lending goes mainstream, startups are raising substantial funds to grab market share.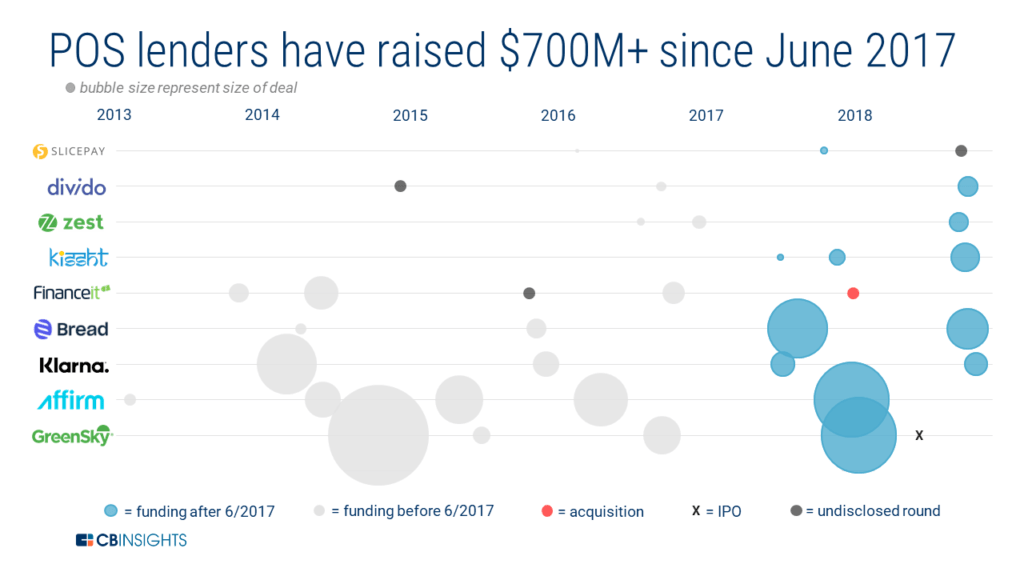 In just the past few weeks:
Here's what you should know about the POS lending trend.
a transparent alternative to credit cards
Traditional credit cards are becoming less popular among  younger consumers.
Millennials in particular struggle with credit cards — recent studies find that 3 in 5 millennials carry credit card balances month to month, while 45% don't know the interest rate on their card.
In response, startups are reinventing lending at the point-of-sale. POS lenders are partnering with merchants to provide shoppers — both in-store and online — access to capital.
For consumers, POS lending offers transparent, fixed-payment loans as simpler alternative to credit cards.
For merchants, offering POS financing can help boost sales, increase conversion rates, and smooth cash flows.
While POS installments is not a new business, the combination of consumers' aversion to credit cards and more effective underwriting algorithms has created fresh momentum in the market.
If POS lending startups are able to effectively measure their subprime risk, these startups will thrive. 
Top players
We rounded up a few key POS lending companies poised for significant growth.
Square: In October, Square announced Square Installments, a segment of Square Capital that will lend to approved borrowers through Square terminals.
Square Installments currently offers POS invoices to consumers buying products worth $250 — $10,000 in 22 states. This service allows sellers to get paid upfront, while also allowing customers to purchase products with 3, 6, or 9-month fixed-payment loans.
Approved borrowers are issued a one-time use card via Square's partnership with Marqeta. Borrowers are charged an annual percentage rate of 0% — 24%.
Greensky: GreenSky is a digital lending platform that partners with home contractors, specialty retailers, and healthcare professionals to offer consumers POS financing.
In May, Greensky went public, raising $874M on the NASDAQ at a $4.3B valuation. However, the company has traded down over its first couple months on the public markets.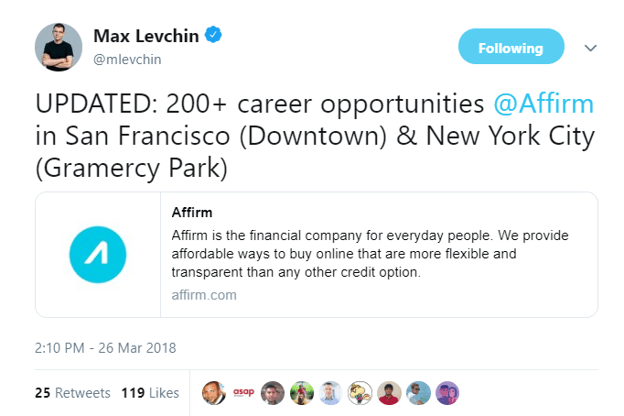 Affirm: In December, Affirm raised a $200M Series E at a $1.8B valuation, from investors including GIC, Founders Fund, Lightspeed Venture Partners, and Ribbit Capital.
As of the end of 2017, Affirm had made more than 1.5M loans at the POS for its 1.2K+ online and commerce partners.
Affirm appears to be growing, based on hiring trends.
Klarna: Swedish-based Klarna works with 70,000 merchants to power payments for 60M customers. Last summer, Klarna received its banking license in Sweden and announced plans to offer more bank-like products.
Recently, Klarna partnered with H&M to build an omnichannel payments service for all H&M's physical and online storefronts. Klarna's "try before you buy" pay later service will be included in this partnership.
It is rumored that Klarna has plans to go public in 2019.
Bread: Bread provides businesses a white-label solution for offering POS financing. In September, Bread raised a $60M Series C from Kinnevik, Bessemer Venture Partners, Menlo Ventures, and RRE Ventures, among others.
Bread claims its white-label service has boosted retailers top-line sales by an average of 15%. In the future, the company has plans to expand into in-store POS lending to become an omnichannel platform.
ZestMoney: India-based ZestMoney is a digital lending platform that enables people to pay using digital equated monthly installments (EMI). As of its recent Series A-II, ZestMoney has raised $21M from Ribbit Capital, Xiaomi Ventures, Omidyar Network, and PayU India. 
Divido: After participating in BMW Innovation Lab and MasterCard Start Path, Divido raised a $15M Series A from American Express Venture, MasterCard Worldwide, Dawn Capital, and DN Capital. 
Divido works with over 1,000 partners, enabling them to offer B2C and B2B finance to customers at checkout.
Divido notably does not provide the line of credit itself or work with a single lender, instead operating as a marketplace model. Lenders compete to offer the most suitable credit.
Other:  Kissht, Slice Pay, Zibby, and Revo are also offering POS lending products to consumers.  
If you aren't already a client, sign up for a free trial to learn more about our platform.