Beyond automating their own operations, ports in Rotterdam and Singapore are supporting startup innovation through supply chain-focused VCs and accelerators.
Ports around the world are already powerhouses of automation and supply chain innovation in their own right. Now they are also broadening their efforts to promote startups seeking to digitize the global trade supply chain.
The Ports of Rotterdam and Singapore have all helped to start or support supply chain-focused incubators and accelerators. Collectively, these investment entities have helped back dozens of startups over the past few years.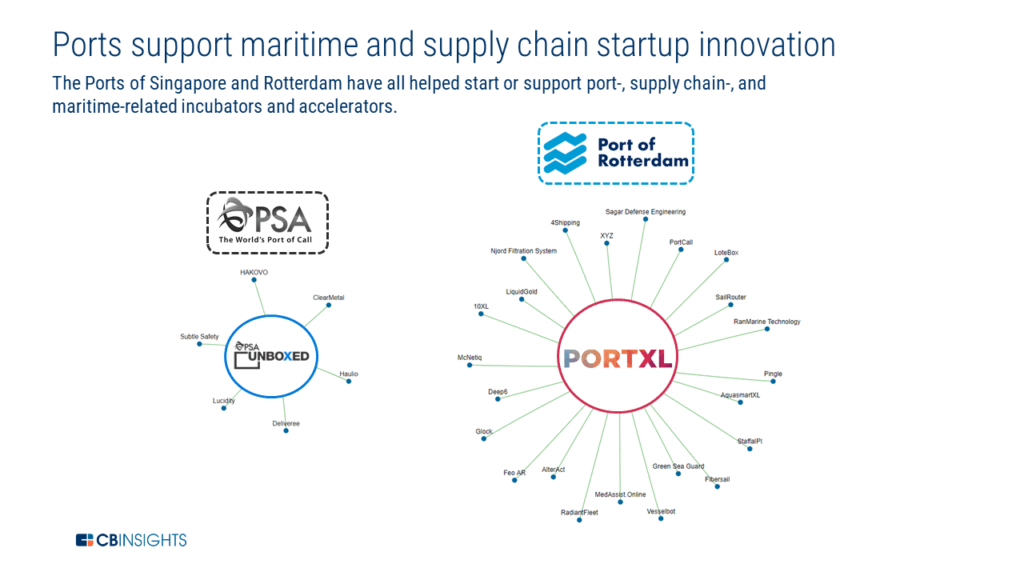 PortXL: Accelerator PortXL, which directly partners with the Port of Rotterdam, Shell Oil Company, EY, and Rabobank, among others, runs a 3-month accelerator program for startups in the port, maritime, and logistics space. The accelerator brings together an ecosystem of founders, investors, and corporate partners to help mentor startups in its program.
The accelerator is located in Rotterdam, Antwerp, and Singapore.
PSA unboXed: Venture arm PSA unboXed, which acts as the venture arm of port operator PSA International (a major port operator in Singapore among other cities), invests in port operation and supply chain management technology. The venture arm has invested in startups such as ClearMetal, which uses AI to help clients manage shipment transportation around the globe.
Most recently, PSA unboXed partnered with carrier CMA CGM's incubator ZeBox in June 2018 to collaborate further on supply chain innovation.
If you aren't already a client, sign up for a free trial to learn more about our platform.