The funding will help Pngme enhance machine learning and data processing capabilities as well as hire additional talent. Here are the top-line bullets you need to know.
Pngme, a fintech startup, has raised $15M in a Series A. The round drew participation from Octopus Ventures, Lateral Capital, Unshackled Ventures, Raptor Group, and Two Small Fish Ventures among others.
HOW'S THE COMPANY PERFORMING?
California-based Pngme helps fintech and financial organizations implement data infrastructure and machine learning models to collect, analyze, and use financial data. The platform enables real-time data sharing and credit scoring to elevate financial performance.
The company offers 3 core products, including a customer management platform, and claims to have data coverage of above 90% in countries such as Nigeria, Kenya, and Ghana.
Pngme's clients include companies like SimpleFi, Pavelon, and CashTopUp as well as several African Banks, including Kuda Bank Renmoney.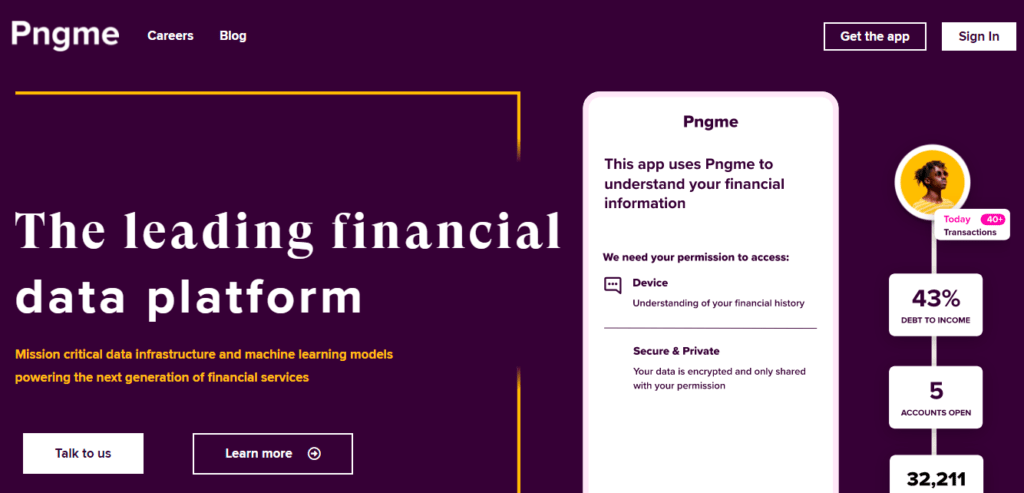 Source: Pngme
WHY DOES THE MARKET MATTER?
The fintech market is projected to grow at a CAGR of 23.4% to reach a value of $324B by 2026, according to Market Data Forecast.
The global fintech adoption rate stands at 25%, signaling the presence of growth opportunities for providers and first movers.
The market has seen a boom in funding in recent years. In Q2'21, VCs invested $30.8B in fintech companies — across 657 deals.
The Covid-19 pandemic has driven the adoption of cashless transactions and increased demand for digital payment solutions and online payment gateways.