Pizza tech is hot. From drone delivery to pizza-making robots, we look at 4 trends disrupting the pizza space.
With or without pineapple?
Thin crust or deep dish?
These debates has been dividing pizza lovers for decades. And with $134B in projected sales in 2018, the pizza market seems big enough to keep all sides happy
Now, a new set of trends is reshaping the pizza space — from how pizzas are made and delivered to the ingredients used — giving pizza enthusiasts plenty more to argue about.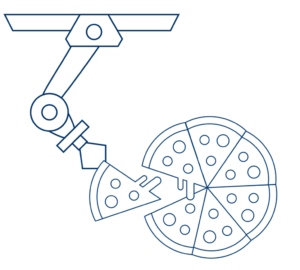 The two largest pizza chains by sales, Pizza Hut and Domino's Pizza, have recently unveiled partnerships to work on autonomous delivery vehicles (with Toyota and Ford, respectively).
Additionally, startups and emerging pizza chains are leveraging new technologies — from drone delivery to 3D-printed pizza to pizza-making robots — to disrupt the value chain.
New ingredients such as gluten-free crust and vegan toppings are also gaining traction, appealing to a broader customer base.
Using CB Insights data, we look at 4 trends shaping the pizza market to get a glimpse into how the space is evolving.
Table of contents
Food & Beverage Startups
Startups working on new foods and beverages have the potential to change how and what we eat. Look for Food & Beverage Startups in the Collections tab.
Track food & beverage startups
1. Startups are making crusts & toppings healthier
Riding the better-for-you trend, US-based startups such as Caulipower and Cali'Flour Foods have developed gluten-free frozen pizza crusts based on cauliflower.
And both these brands are growing sales fast, addressing a pent-up demand for a healthier pizza alternative.