With Pinterest going public at $19 a share, above its initial guidance of $15 to $17, we look at how much its top investors' stakes are worth. 
Visual search company Pinterest went public last month, pricing its shares above its initial guidance.
The company is now trading above the $25 mark (roughly $29 as of 5/8/2019), representing a $7+ per share uptick compared to its last round of financing, a Series H in June 2017.
For early investors such as Bessemer Venture Partners, FirstMark Capital, and Andreessen Horowitz, the IPO could mean a massive return on investment.
Breakdown of top stakeholders
Using Pinterest's S-1 filing, we calculated how much Pinterest's top investors' shares are worth, based on its $19 IPO share price. 
Here's the breakdown of Pinterest's top investors, from co-founders to key institutional investors.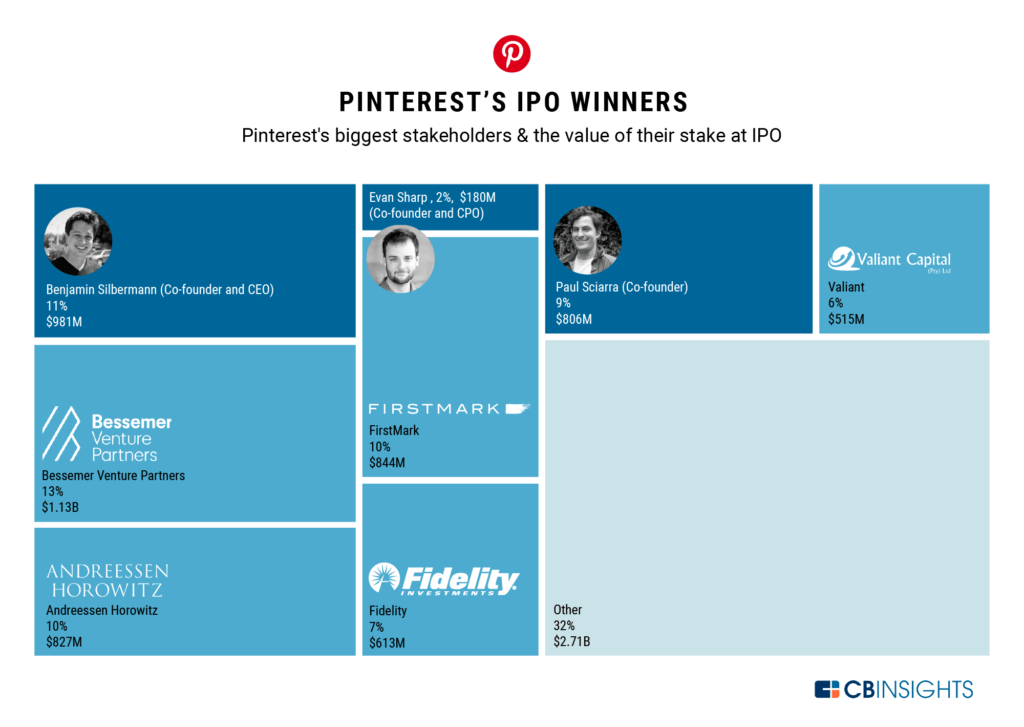 According to Pinterest's S-1 filing, Bessemer Venture Partners is the largest investor in the company, with 13% of all shares. Down the road, if the firm is able to sell its shares at the initial share price of $19, this means it could walk away with more than $1B. 
After Bessemer, co-founder and CEO Benjamin Silbermann has the second largest share at over 11%.
Andreessen Horowitz and FirstMark Capital both own about 10% each (worth $830M – $845M at the $19 price point).
All of Pinterest's largest shareholders have agreed to a lockup period of 6 months after the IPO, during which they are not allowed to sell any of their shares.
Top institutional investor timeline
While some of Pinterest's top investors bet on the company early, others adopted a later-stage strategy.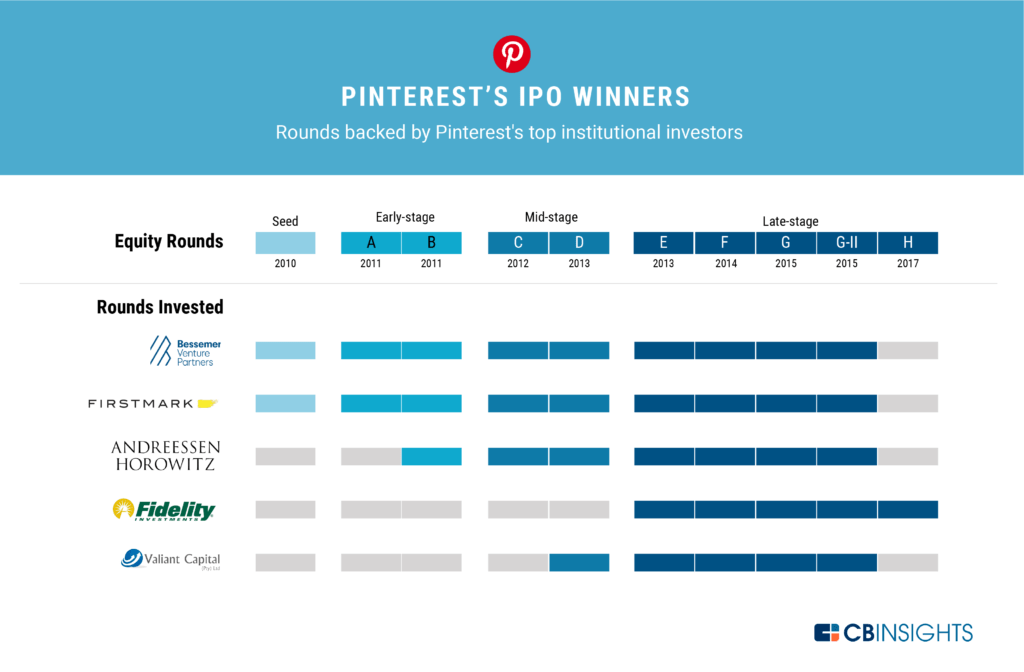 Bessemer Venture Partners and FirstMark were among the earliest investors, both backing Pinterest's seed & angel rounds in 2010. Today, these firms have the largest shares of the company compared to all other institutional investors. Andreessen Horowitz similarly invested earlier on, first backing Pinterest's 2011 Series B.
Meanwhile Valiant Capital and Fidelity took a different tack: Valiant didn't invest until Pinterest's 2013 Series D, while Fidelity exclusively backed late-stage rounds into the company.
All top 5 institutional investors backed every late-stage round, except the 2017 Series H, which only included Fidelity.
If you aren't already a client, sign up for a free trial to learn more about our platform.