Among top pharmacy retailers, Walmart has made the most deals and acquisitions, but Walgreens has been the most active in healthcare specifically.
For many consumers, the local pharmacy is long gone, replaced by big box retailers with significantly more cash and brand recognition. Today, the top four retail pharmacies by number of stores — Walmart, Walgreens, CVS, and Rite Aid — operate more than 25,000 stores.
One company in particular seems to have far-reaching ambitions in the healthcare ecosystem: the recent move by CVS to acquire major U.S. health insurer Aetna indicates a major disruption to the current status quo of healthcare delivery. Meanwhile, Rite Aid and Walgreens have been buying up smaller pharmacy chains across the country due to rising competition by private companies and the threat of Amazon.
Using the CB Insights Business Social Graph, we vizualized where the top four pharmacy retailers have made private market investments and acquisitions.
Please click to enlarge.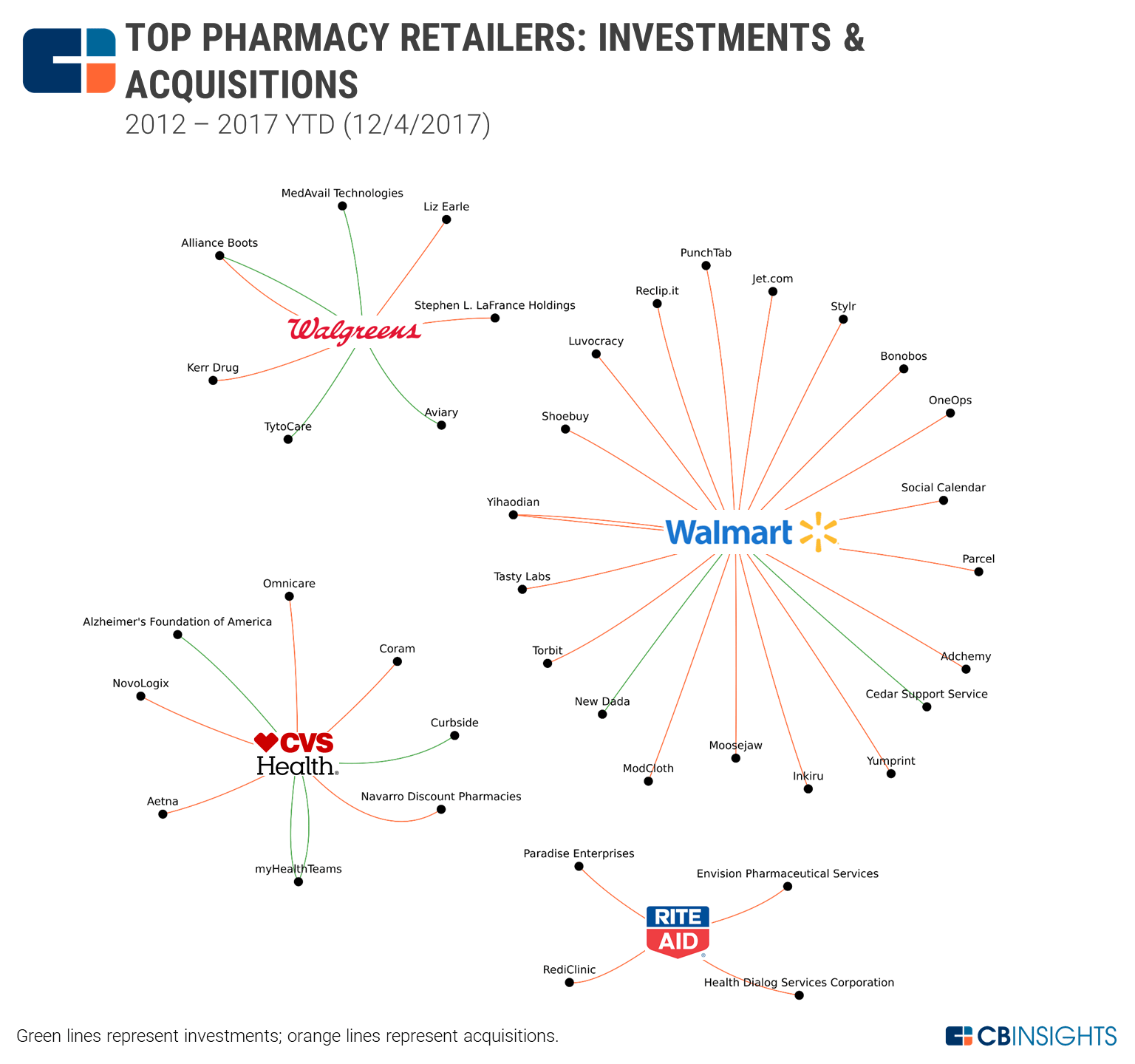 Key takeaways
Walmart is the most active of the four by far, with 21 deals or acquisitions since 2012.
The retail giant has been on a buying spree for the past two years, with deals including Parcel, Bonobos, ModCloth, Moosejaw, Shoebuy, New Dada (corporate minority), and Jet.com. New Dada, an on-demand logistics and e-commerce platform based in Shanghai, China, appears to be part of Walmart's push to strengthen its international presence.
Walmart also recently announced it will invest more than $500M to build 50 new stores across India over the next 3–5 years.
Walmart has not made any healthcare-related investments or acquisitions. Three years ago, the company announced its plan to become the No. 1 healthcare provider in the retail industry. It later announced in October 2014 a partnership with DirectHealth.com, which provides in-store licensed agents to help consumers navigate health insurance exchanges.
Walgreens' private market activity is more pharmacy-centered than Walmart's. Walgreens has invested in two healthcare companies and acquired three others since 2012.
In 2015, Walgreens participated alongside OrbiMed Advisors and other investors in the $11M Series B of Israel-based telemedicine company TytoCare. Walgreens' acquisitions include Liz Earle (skincare), Alliance Boots (health & beauty), Kerr Drug (pharmacy chain), and Stephen L. LaFrance Holdings (pharmacy chain).
While Walgreens hasn't made a private market investment in the last two years, the company did reach a deal in September to buy a certain portion of Rite Aid stores.

CVS established itself both as an insurer and population health manager with its $69B acquisition of Aetna. In June, the pharmacy retailer participated in a $7.3M Series C round to 500-Startups-backed myHealthTeams, creators of a social network for patients with chronic conditions. CVS also took a corporate minority stake in Qualcomm Ventures-backed Curbside, which develops inventory management technology in 2016.
Rite Aid has made 4 acquisitions since 2012, the most recent being the 2015 acquisition of pharmacy benefit management company Envision Pharmaceutical Services in a deal valued at $2B. In order to quickly gain footing in new regions, the company has also acquired smaller retail chains such as RediClinic, which operates in Houston, Austin, and San Antonio, Texas, and Paradise Enterprises in Eastern Kentucky.
If you aren't already a client, sign up for a free trial to learn more about our platform.