Using CB Insights' Business Relationships data, we analyze how top pharmaceutical companies are working with startups on initiatives ranging from Covid-19 vaccines to AI-powered drug discovery.
As research and development costs continue to rise, biopharmaceutical companies are joining forces with startups to bring drugs to market. 
These relationships span use cases from vaccine development to AI for drug discovery, and are vital to the drug development ecosystem. In fact, more than 70% of new drugs are developed externally and later obtained by a pharmaceutical company. 
Biopharma startups can leverage partnerships and licensing deals with incumbents to decrease technological risk and increase access to funding and resources. In turn, large pharmaceutical companies can minimize commercial risk while maintaining the option to bring the technology or drug candidate in-house for further development or commercialization. 
Over the past couple years, startup-incumbent relationships have shifted towards a licensing model, with licensing representing nearly half of these business relationships to date in 2021. This shift supports the growth of the R&D outsourcing model, which has gained in popularity over the past few years as pharmaceutical companies look to create leaner operating models.
Please click to enlarge.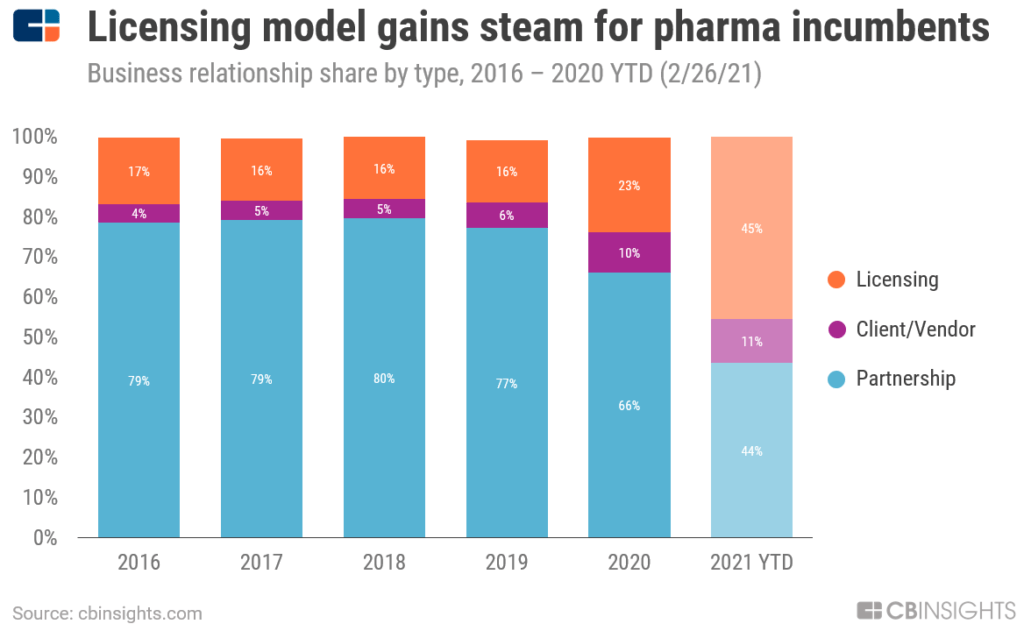 Using CB Insights' Business Relationships data, we look at how the world's largest pharmaceutical companies are working with startups and what these collaborations indicate about their strategies moving forward.
partnership trends 
Covid-19 & vaccines
Prior to the Covid-19 pandemic, the infectious disease market was growing at a slower rate than the overall prescription drug market, and many pharmaceutical companies had not built the internal capabilities needed to develop vaccines. This was particularly true for mRNA technology, which powered the first two Covid-19 vaccines authorized for emergency use by the FDA (Pfizer and Moderna).
The past year has seen existing relationships expand in scope, and many new relationships created.
One notable partnership, which saw Covid-19 vaccine approval in December, is between BioNTech and Pfizer. The partnership, which began by focusing on mRNA vaccines for influenza, launched in 2018, slightly over a year before BioNTech's IPO. Pfizer paid $120M upfront for research funding and equity, with BioNTech entitled to an extra $305M based on development milestones. 
In early 2020, the companies leveraged mRNA technology and its resulting Covid-19 vaccine became the first one authorized by the FDA.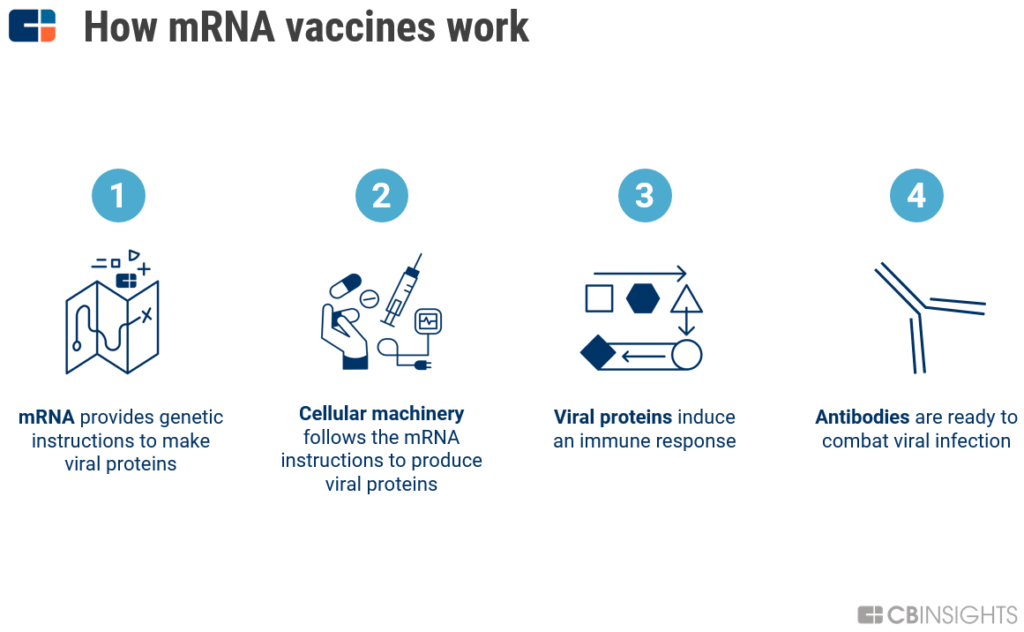 Moderna Therapeutics, developer of the second FDA-authorized Covid-19 vaccine, was also partnering before the pandemic. In 2018, it received $125M in funding from Merck to develop mRNA-based cancer vaccines. It also landed one of the earliest deals in the mRNA space, receiving $240M from AstraZeneca in 2013.
Moderna chose to independently develop and commercialize its Covid-19 vaccine. Post-approval, it is now working with partners like Uber to enable distribution and access.
Covid-19 has also sparked partnerships between incumbents. For example, Sanofi and GlaxoSmithKline announced a vaccine development partnership in September 2020. More recently, Merck partnered with Johnson & Johnson to manufacture J&J's one-shot Covid-19 vaccine. 
Cancer immunotherapy
Cancer immunotherapy represents a $116B market opportunity, per CB Insights' industry analyst consensus — so it's no surprise that many large pharmaceutical companies have multiple pipeline candidates for various cancer types.