Big Pharma is looking to digital innovation to tackle the industry's most pressing problems — from speeding up the R&D cycle to creating apps that help patients manage medications.
When it comes to making changes within the pharmaceutical space, it can be a slow process. With long research and development cycles and prohibitive startup costs, it's traditionally been left to select big names to make sweeping industry-wide changes.
Today, that's not quite the case.
Some of the biggest names in pharma have turned their focus to creating innovation labs that look for better solutions to the most pressing challenges and to further the development of therapeutics.
While many are focusing on ways to shorten the time from idea to development, others are providing full lab setups to encourage smaller digital startups to innovate and disrupt.
Below, we look at how some of the biggest names in the industry — from Bayer to Novartis — are doubling down on innovation.
---
We've covered corporate innovation labs here before. Here are lists for innovation labs in healthcare, insurance, and finance.
---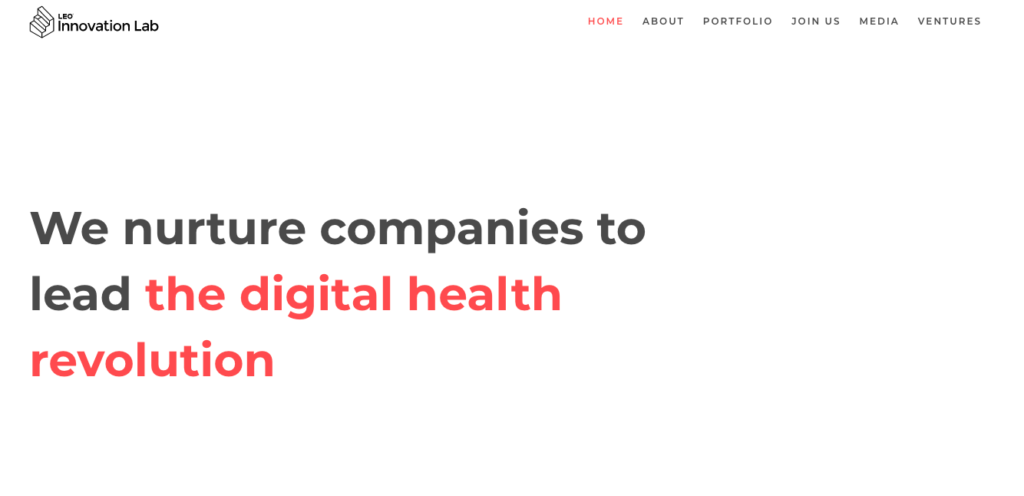 Founded: 2015
Key people: Joel Dudley, Director; Kim Kjøeller, EVP, Global R&D
LEO Innovation Lab developed out of its parent company, Denmark-based LEO Pharma. It originally began with approximately 60 million Euro in initial funding. The stated goal of the Innovation Lab is to focus directly on improving the lives of people with chronic skin conditions ,including psoriasis. Working with digital companies and healthcare brands, the Lab looks to create digital solutions or add-ons to existing products. To do this, the Lab works directly with affected people to determine needs and to develop potential solutions out of the idea phase within 100 days.
Tied into the Innovation Lab is the LEO Ventures program. Here, the goal is to "invest in and give grants to startups that can contribute to finding and developing solutions that can improve the lives of people living with psoriasis." The initial setup is going to focus on grants and mentorship as the primary means of support. But over time, the Ventures Program may look to other funding methods or acquisitions of digital tools and apps that improve the lives of those impacted by skin conditions.
Notable projects or investments: Imagine is a "core project" for the Lab. It's an app that helps patients document their skin conditions and helps track progress over time to easily spot new symptoms or changes. On the venture side, LEO has invested in SkinVision. Run by a Dutch company that specializes in teledermatology, it's an app that helps assess skin cancer risks.
---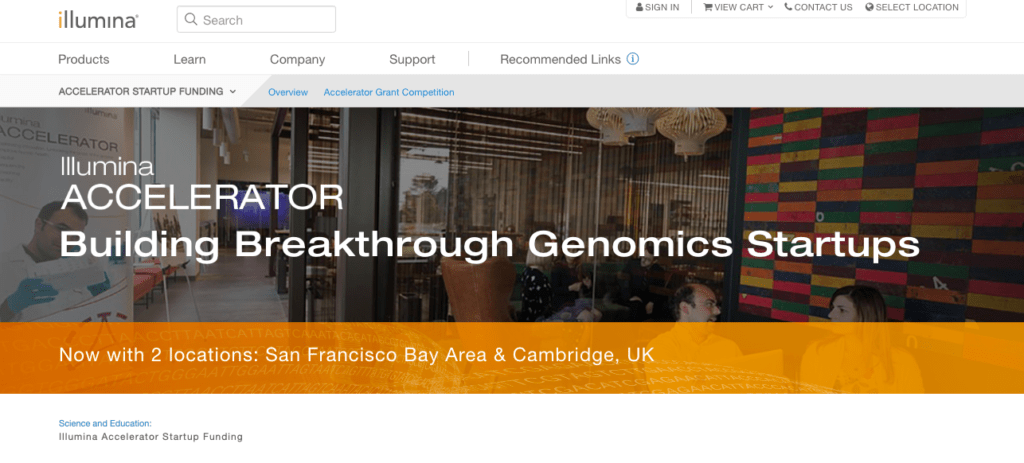 Founded: 2014
Key people: Mostafa Ronaghi, Senior Vice President & Chief Technology Officer; Amanda Cashin, Head of Illumina Accelerator
At Illumina, the focus is all on the genome. The accelerator looks to invest in "emerging startups, advancing breakthrough applications in genomics," including therapeutics, cancer, and women's health, to name a few.
For chosen brands, the accelerator provides financial support, mentorship, lab space, and "access to Illumina sequencing systems and reagents, genomics experts, a subscription to BaseSpace Correlation Engine and BaseSpace Cohort Analyzer." Illumina is working, through the accelerator, to create an ecosystem that benefits startups launching in the San Francisco Bay area. In 2019, Illumina announced the opening of another accelerator program in the UK.
Notable projects or investments: NextGen Jane is a graduate of the accelerator program. It's developing a way for doctors to detect endometriosis via '"smart' femtech products." It recently closed $9M in a Series A round of funding.
---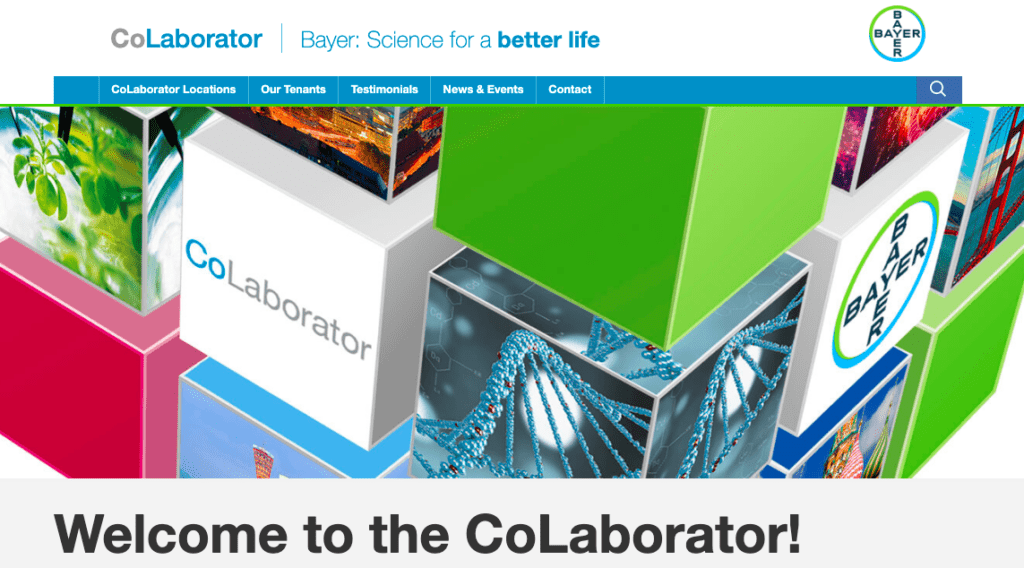 Founded: 2012
Key people: Chris Haskell, Head of CoLaborator, San Francisco; Cora Scholten, Head of CoLaborator, Berlin
Bayer's CoLaborator is an "incubator space for life science [startups]." The incubator offers startups laboratory and office space to rent to work on and develop new research in both pharmaceuticals and agriculture. Members also can network with other professionals in research and academia, access shared communal space, and gain access to Bayer's experts. There are currently five CoLaborator offices in the US, Japan, Russia, and Germany.
Notable projects or investments: Explora BioLabs is a tenant out of the San Francisco CoLaborator. It is a "preclinical contract research organization (CRO) that provides in vivo discovery pharmacology and OnDemand and OnSite vivarium services."
---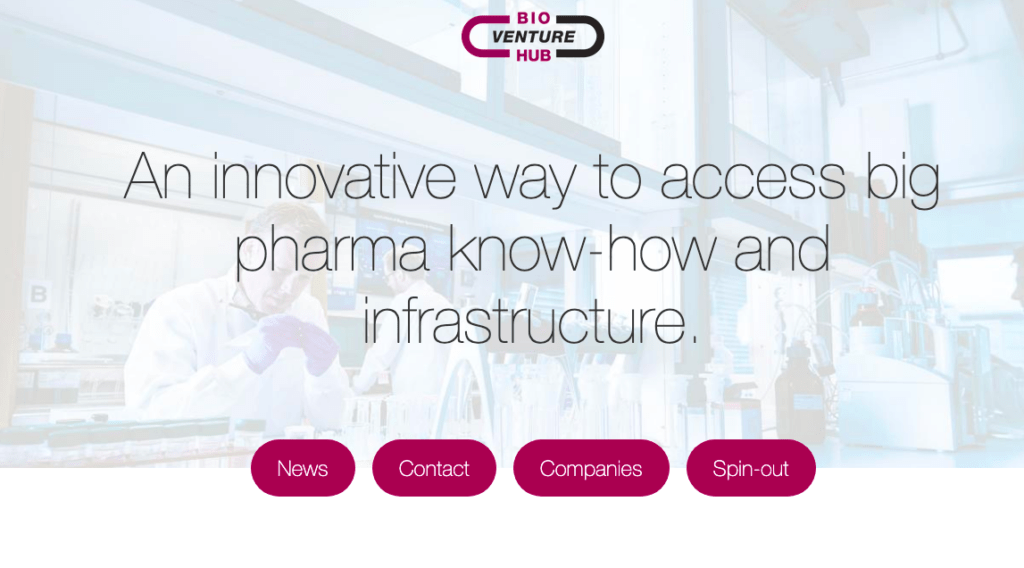 Founded: 2014
Key people: Magnus Björsne, CEO, AstraZeneca BioVentureHub
AstraZeneca's BioVentureHub falls under the company's expanding Open Innovation concept. The Hub is embedded in AstraZeneca's Gothenburg location, and the goal is to create "an open and collaborative scientific community." In the Hub, biotech startups and academic groups can work with AstraZeneca's employees and also have access to the company's lab equipment and supplies as well.
Notable projects or investments: One of the startups out of the Hub is Sweden-based Athera Biotechnologies. It is developing an anti-inflammatory antibody that can help improve treatment in patients suffering from cardiovascular disease.
---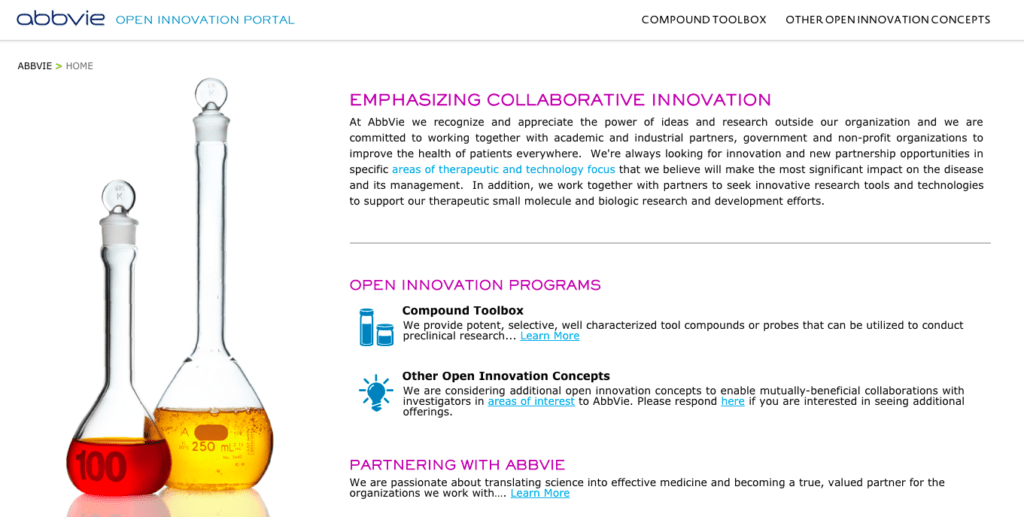 Founded: 2013
Key people: Richard Gonzalez, CEO
AbbVie separated from Abbot Laboratories in 2013. Since then, AbbVie has developed a focus on innovation, particularly on promoting it outside the company. With the Open Innovation Program, AbbVie provides collaborators outside the company specific compounds and probes used for conducting preclinical research. Those who can request access include non-profits, academic researchers, and government agencies. The company is also exploring additional concepts to add to the open innovation portal.
Notable projects or investments: The "Compound Toolbox" is the central open innovation program currently underway by AbbVie. It allows for collaborators a database of compounds that can be requested by outside parties for research purposes.
---