Pharma incumbents like Merck and Roche are investing in healthcare AI startups to enable precision diagnostics, scour medical literature for clinical support, predict optimal drug structures, and more. 
The pharma space has grown quickly in recent years and is now worth more than $1T, according to CB Insights' Industry Analyst Consensus. Going forward, AI will be key to improving time-consuming and expensive industry tasks like parsing through vast genomic databases and simulating complex drug interactions.
This potential has attracted the attention of both agile startups and tech giants eager to chip away at the pharma value chain.
In Q3'20, AI-powered drug R&D companies received the largest individual investments among healthcare AI startups, including drug discovery startup XtalPi's $318M Series C. Meanwhile, Google-owned DeepMind recently published findings from its protein structure prediction algorithm, AlphaFold, in an open database to help combat the coronavirus that causes Covid-19.
Investing in artificial intelligence is becoming a competitive necessity for pharmaceutical companies. In this brief, we look at where pharma players are placing their bets in healthcare AI, from computer vision in companion diagnostics to machine learning for drug R&D.
Our analysis includes the following pharmaceutical companies:
Amgen

Bayer 

Bristol-Myers Squibb

Eli Lilly

Johnson & Johnson (Janssen Pharmaceuticals)

Merck

Novartis

Novo Nordisk

Pfizer

Roche 

Sinopharm
These companies were selected based on healthcare AI investment activity, revenue, strategic focus, and other metrics. 
Pharmaceutical giants' funding trends
Pharma companies' overall venture investments have grown steadily over the last 5 years — but AI has emerged as a standout area of investment, with pharma incumbent-backed healthcare AI funding growing more than 10x since 2018.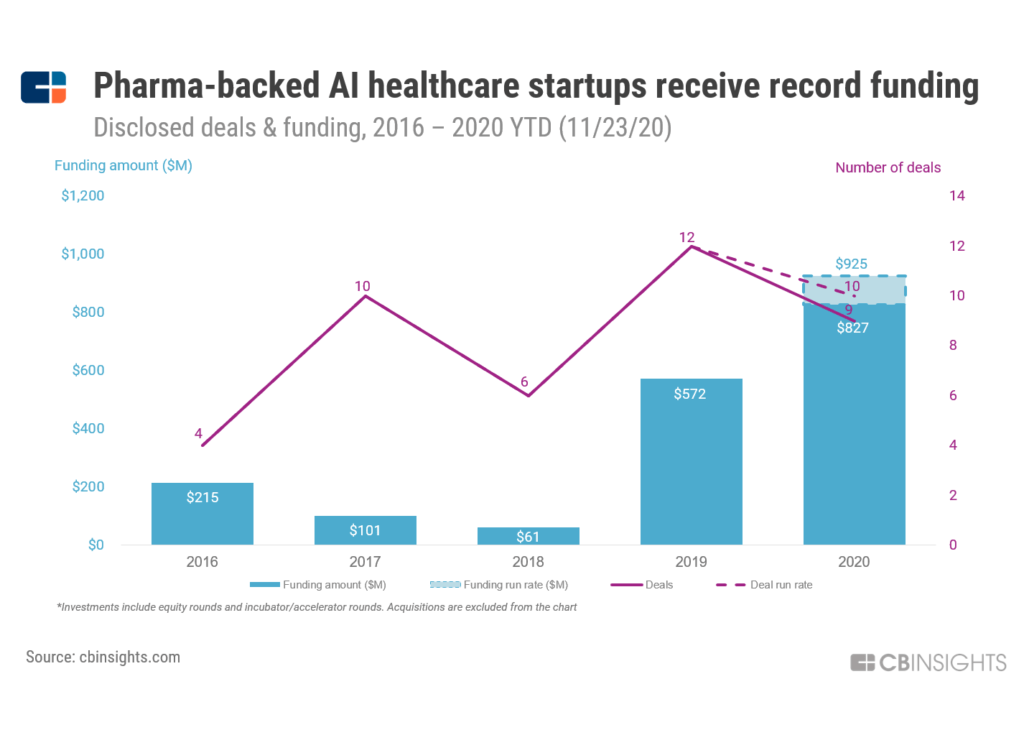 This year, pharma incumbents have participated in 9 healthcare AI deals, just short of 2019's record. These pharma-backed deals represent more than $800M in funding, a new annual high.
Furthermore, the number of major pharma companies investing in healthcare AI has steadily increased over time, tripling from just 3 investors in 2016 to 9 in 2019.