Celgene and Boehringer Ingelheim Venture Fund are two standout corporate investors ramping up their cancer therapeutics portfolios.
2018 is already seeing big deals in the cancer therapy space with Celgene's recent buyout of Impact Biomedicines, which develops a key drug for treating complex cancers.
Other big pharma names like Pfizer, Novartis, and GlaxoSmithKline have also been active in the last 5 years with key investments to cancer startups as they make bets to avoid missing out on strengthening their cancer drug pipelines.
But overall, corporate investors — which we define as corporations and their venture arms (CVCs) — slowed down their participation in 2017 from the previous year.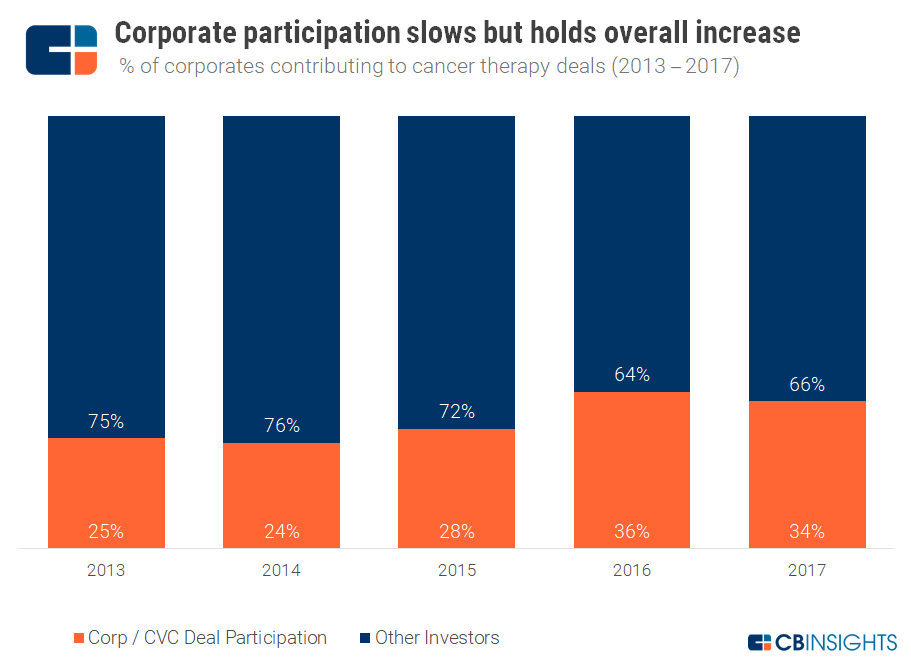 While CVC deal participation dipped slightly, it still contributed to more than a quarter of all deals in this space since 2015.
We used the CB Insights Business Social Graph to highlight the corporate investors that have expanded their cancer therapy portfolio the most in recent years.
We define the cancer drug startup space to include pharmaceutical and biotech companies in the drug discovery and/or development phase with a stated focus on cancer therapeutics. We exclude areas such as medical devices & diagnostics (e.g. instrumentation, delivery systems), genetic testing platforms, and digital health.
Track all the Cancer Therapeutics Startups in this brief and many more on our platform
Startups working on the discovery and development of cancer therapeutics could transform the landscape of future treatments. Look for Cancer Therapeutics in the Collections tab.
Track Cancer Therapeutics Startups
top corporates INCREAse cancer therapy portfolios
Out of the top 12 corporate investors in our analysis (ranked based on recent number of cancer therapy investments), 9 expanded their respective portfolios in 2014-2017 from 2010-2013.
The graph below shows the activity of Celgene and Boehringer Ingelheim Venture fund, the two companies that saw the greatest increase in number of investments across the time periods among other corporate players. Pfizer Ventures followed with the third most significant increase.
Please click to enlarge. Green lines indicate investments. Orange lines indicate acquisitions.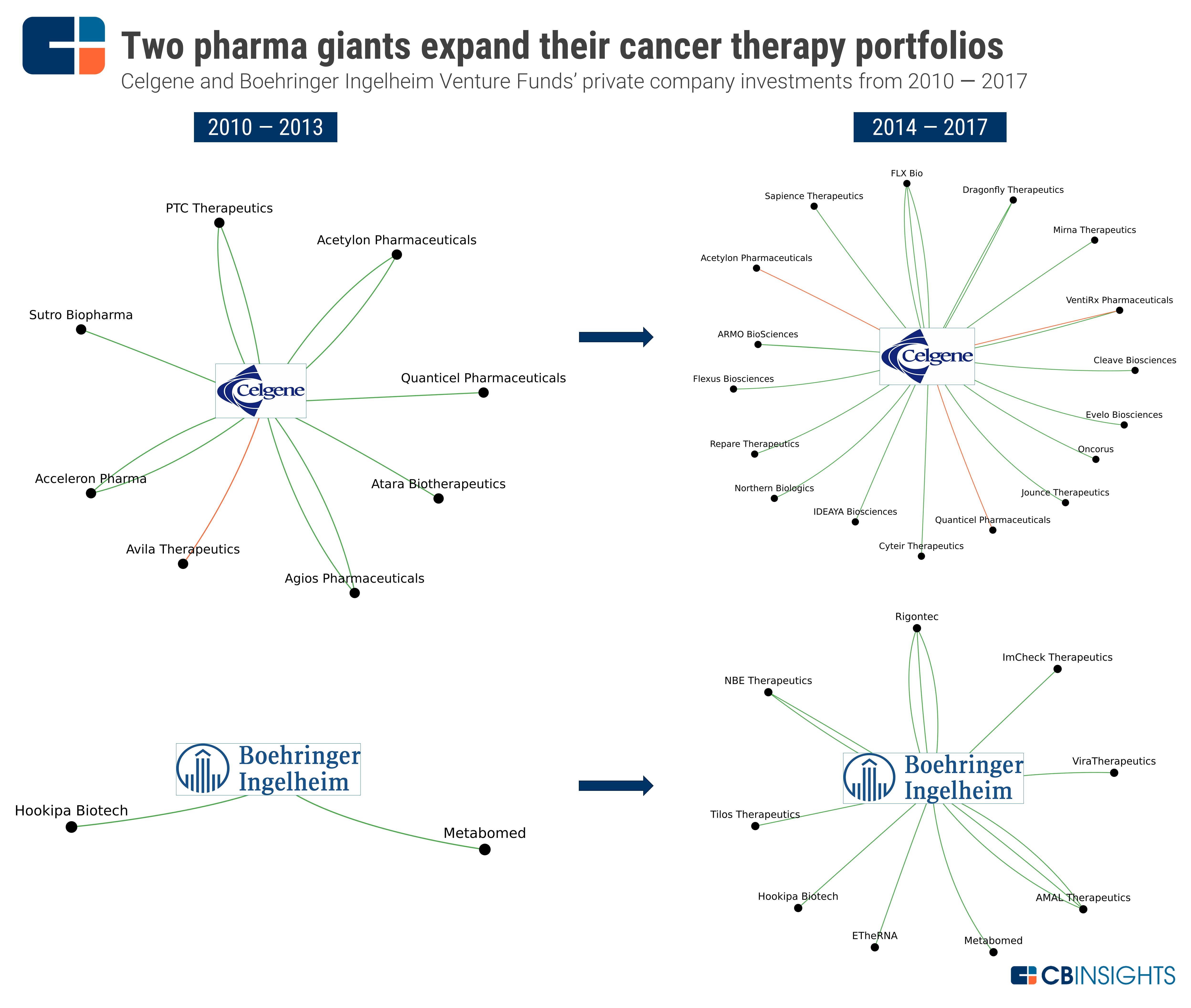 In contrast, Amgen Ventures backed away from cancer therapy deals as its involvement shrank to just 5 deals seen from 2014-2017 compared to 15 deals in 2010-2013.
Here are the key takeaways from the last 4 years (2013-2017): 
Most active investors: Celgene has been a key player in cancer therapeutics with its participation in 23 investments. Other active corporate investors include the venture arms of Novartis, GlaxoSmithKline, Pfizer, and Boehringer Ingelheim, each with over 15 participating deals in this space.
Most well-funded companies backed by AstraZeneca: AstraZeneca participated in late-stage funding rounds for the top 2 most well-funded companies, Moderna Therapeutics ($1.3B) and ADC Therapeutics ($475M). They are also AstraZeneca's only cancer therapy investments in the last 5 years.
Focus on mid-stage deals: 7 of the 12 top corporate investors participated in more mid-stage (Series B, Series C) deals over other stages. SR One, venture arm of GlaxoSmithKline, contributed to 12 such deals out of its total 18 cancer therapy investments.
Key early-stage investors: All 13 of Merck Ventures' cancer therapy deals were either Seed / Angel or Series A rounds. Another early-stage player is Boehringer Ingelheim Venture Fund with its participation in 12 of these deals out of its total 16 cancer therapy investments.
Novartis leads co-investments: Novartis Venture Funds (NVF) co-invested with other big pharma venture arms in 5 out of its 12 unique cancer therapy companies. For example, Bicycle Therapeutics, which develops targeted drugs that deliver toxins to tumor cells, had backing from NVF, SR One, and Astellas Venture Management.
MOST ACTIVE CORPORATE AND CVC INVESTORS IN CANCER THERAPEUTICS 2013-2017

| Ranking | Investor | Number of participating investments |
| --- | --- | --- |
| 1 | Celgene | 23 |
| 2 | Novartis Venture Funds | 19 |
| 3 | SR One (CVC of GlaxoSmithKline) | 18 |
| 4 | Pfizer Venture Investments | 17 |
| 5 | Boehringer Ingelheim Venture Fund | 16 |
| 6 | Merck Ventures | 13 |
| 7 | Astellas Venture Management | 12 |
| 8 | Lilly Asia Ventures | 11 |
| 8 | Wuxi Healthcare Ventures | 11 |
| 10 | Johnson & Johnson Innovation | 10 |
| 10 | Amgen Ventures | 10 |
| 10 | Roche Venture Fund | 10 |
If you aren't already a client, sign up for a free trial to learn more about our platform.