From CPG to retail to insurance, companies across industries are looking to exploit the growth of the pet care sector.
Even before the pandemic hit, the pet industry was booming.
Over the last decade, Americans have doubled their spend on pet care services like training, grooming, and pet sitting, while global pet food sales have increased 61% since 2010 to just under $100B each year.
ALTERNATIVE PROTEINS, FITNESS TECH, AND GAMING SURGED IN Q3'20
Consumer product startup investment activity spiked in Q3'20 as funding reached an all-time high. Download our free report now.
The Covid-19 pandemic has created even stronger tailwinds for the industry. According to a survey of US consumers, since the start of the pandemic, 37% of those surveyed had adopted a pet. Covid-19 restrictions have also given life to the pet telehealth space, as they have for human telehealth.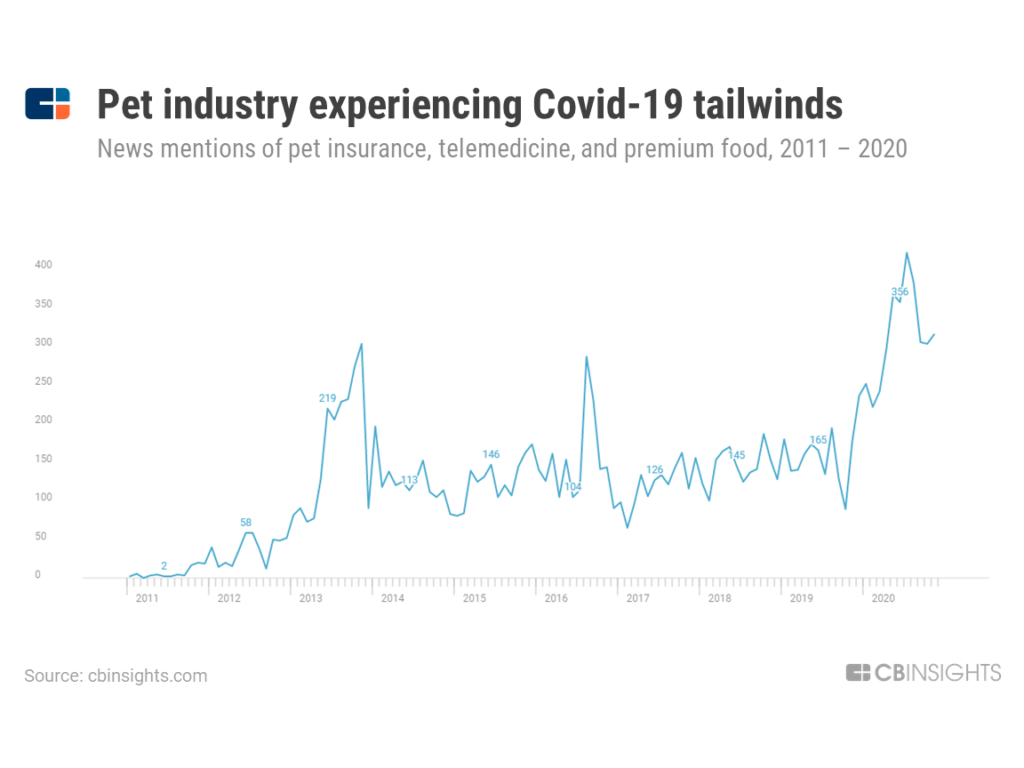 WHAT YOU NEED TO KNOW:
WHAT'S NEXT?
Consumer brand portfolio reshuffling:

As large CPG companies sell off underperforming brands to refocus efforts on higher-growth businesses, anticipate more M&A and new product development within the clean ingredient and human-grade pet food categories.

Long-term opportunities in pet telemedicine:

While the end of the pandemic will likely result in fewer pet telemedicine appointments, the convenience of a virtual consultation and the potential to avoid unnecessary emergency vet bills could make these services more than a "nice-to-have."

Untapped potential of pet insurance: Compared to the UK, where 25% of pets are insured, the US and Canada present a largely underpenetrated market with just 1-2% of pets having coverage.

Distribution will be a continued area of focus, whether through employer voluntary benefits, direct-to-consumer channels, or partnerships with retailers.
For more, check out our pet care market map, which identifies 75+ startups in the space, here.